Carleton, UMass, Stanford, Auburn, Northwestern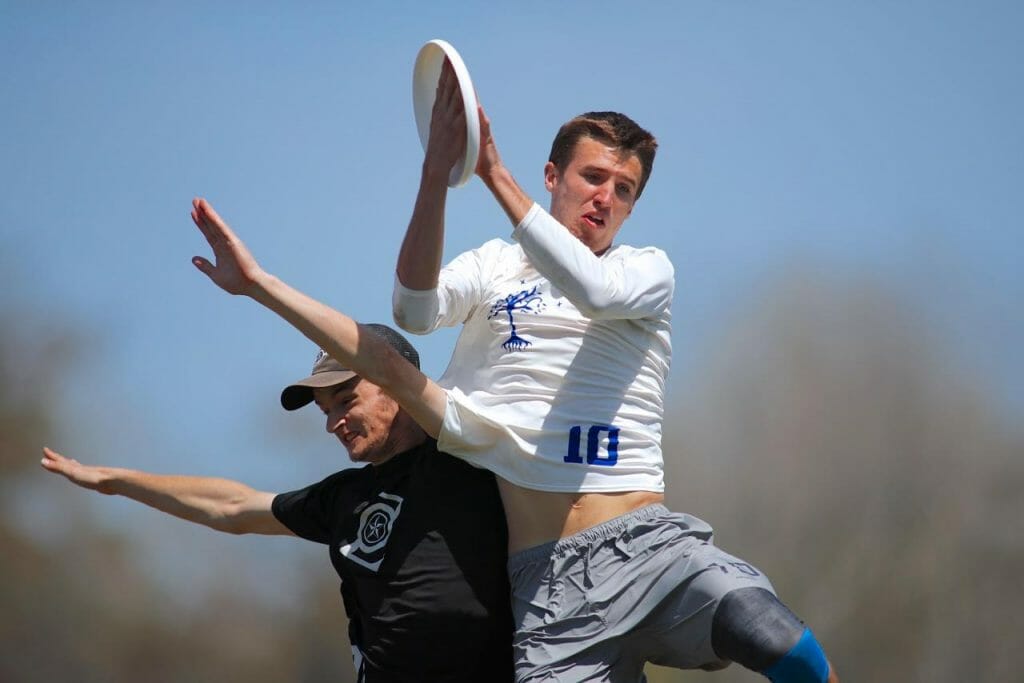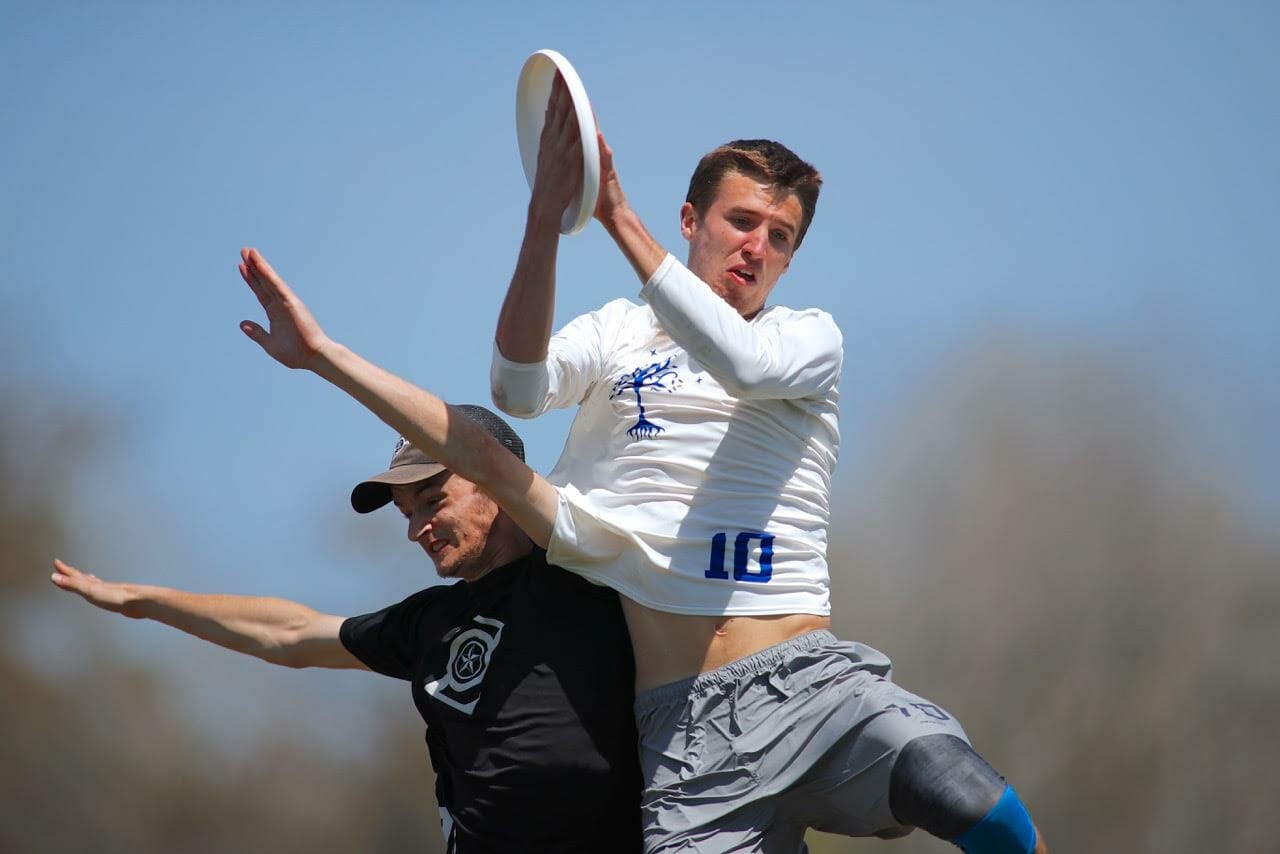 Coverage of the Men's Division of the 2018 D-I College Championships is presented by Spin Ultimate as part of their season-long support of our coverage. All opinions are those of the authors. Please support the brands that make Ultiworld possible and shop at Spin Ultimate!
As it has been since the College Championship field was expanded to 20 teams, Pool A brings together the No. 1, 8, 12, 13, and 17 overall seeds. On paper, it looks like easy money for the No. 1 overall team, but, in practice, the top seed has only won the pool four out of the last seven years.
That said, don't hold your breath on an upset this year. The 2018 iteration of Pool A boasts the reigning champion, Carleton, who is making a strong case for a repeat title let alone the pool win and bye into quarterfinals. But past them it should be a fierce battle featuring three regional runners-up and a wildcard underdog from the Great Lakes– and it's anybody's guess who will emerge from that fray to claim the two spots in prequarters.
Carleton CUT
Seeding: A1, Overall No. 1
Power Ranking: #1
Overall Record: 33-2
Against The Nationals Field: 14-2
Against The Pool: 2-0 (15-7 vs Auburn, 15-8 vs UMass)
Watch: On USA Ultimate, 10:30 AM Friday vs. UMass
The defending national champion Carleton CUT enters nationals as the top overall seed in the tournament after a dominant regular season that saw them claim tournament titles at Warm Up and Easterns. Aside from their season-opening, double-game-point loss to Brown at Warm Up (that they later avenged 15-10 in the finals), CUT has a single blemish on their record– a 13-8 rout at the hands of tournament No. 2 North Carolina. And that's without Joe White– arguably the USA Men's U24 team's most valuable player this winter–not lacing up until the Series! That kind of production, coupled with an borderline-unfair collection of talent means that Carleton's sights are set on nothing short of a second straight title.
The standard line on Carleton is that they play the long game during the regular season, opting to peak at the right time. While that adage may still somewhat describe the current squad, even a process-focused CUT has managed to dismantle nearly every team they've come across.
Part of the explanation for that success is certainly attributable to their talent. Carleton boasts four players who competed for the gold-medal winning USA U24 teams in Perth this January: White, Alex Olson, Eric Taylor, and Tim Schoch. Three of those players, plus three additional players–Henry Fisher, Dillon Lanier, and Sol Yanuck–got experience at Club Nationals in Sarasota this fall1. Six Club Nationals players are more than the rest of the pool has, combined.
On top of the on-field talent, Carleton continues to be led by Phil Bowen, a coach who has guided them to two nationals titles (2011, 2017) and two semis appearances in the last seven years. Oh, and the rest of the sophomores are pretty good too.
With their depth of talent and leadership, Carleton is obviously a force to be reckoned with. Offensively, their spacing is outstanding. They often set up in a horizontal or side stack initial set, but the cutters do a beautiful job of clearing and activating at the right time to yield the active cutters 30 yards of space to work with.
Personnel wise, Alex Olson and Chris Padilla have all the throws to power their isolation cutting attack from behind the disc, and the cutter group features a bevy of talent in its own right. Dillon Lanier is a two-way threat who can shoot deep off of unders, while Stanley Birdsong and Henry Fisher–not exactly slouches with the disc themselves–command respect on their deep cuts.
With the amount of top-to-bottom disc skill and athleticism on their O-line, really the only way a defense is going to get the disc from Carleton is to bait them into a bad decision (often a speculative huck). The CUT throwers are simply too skilled to be trapped in a sideline situation or a tight-window dump set. Every thrower on their offense can confidently break the mark or hit open away shots. If CUT's offense plays a mentally disciplined game, they will be nearly impossible to stop.
On the defensive side, the same depth of talent that shows in Carleton's throwing prowess and spacing manifests itself as defensive intelligence. Just like last year's, this year's CUT squad is one of the best in the country at playing help defense. Their defenders routinely demonstrate superb recognition of where the dangerous spaces are on the field, what spaces the offense is trying to attack, and which spaces the offense is least comfortable entering. They capitalize on that awareness by executing poaches that offenses struggle to punish, stifling offensive flow.
On top of that, they also play solid help defense for each other. Switches are routine both downfield and in the handler set, and back-of-the-stack defenders dynamically quarterback the cutter defenders into brackets. The level of sophistication in CUT's matchup defense is one rarely seen in the division and is a testament to the development of the game at the college level.
Finally, to complete their game, Carleton is as athletic on the defensive side as they are on offense. Sol Yanuck, Eric Taylor, Tim Schoch, and Ethan Bloodworth headline a deep defensive unit that can match up with the best in the country across all positions.
The stage is set for Carleton to redeem their loss to UNC and defend their national title; anything less than an appearance in the finals would be a substantial underachievement. With the No. 1 seed in hand, their path to a showdown with North Carolina is clear, but it starts with taking care of business in Pool A.
Massachusetts ZooDisc
Seeding: A2, Overall No. 8
Power Ranking: #9
Overall Record: 21-6
Against The Nationals Field: 7-5
Against The Pool: 1-1 (11-4 vs Northwestern, 8-15 vs. CUT)
Watch: On Ultiworld, Saturday 12:30 PM vs. Stanford; On USAU, Friday 10:30 AM vs. Carleton
This Memorial Day weekend will mark UMass ZooDisc's fifth straight appearance at the College Championships (coming on the heels of a 27-year drought), and, for the the third consecutive year, Zoo begins their journey in Pool A. But unlike the previous two years when they were the tournament's No. 1 overall seed, UMass enters this Nationals as a humble two-seed and the No. 8 team overall.
That placement feels fair for a squad whose regular season was solid, if a little lackluster at times. The year began at the abbreviated Queen City Tune Up, where they took a pair of respectable losses but otherwise turned in reasonable results. They followed that with a slight underperformance at the Tally Classic where, playing without U24 selection and captain/Callahan nominee Brett Gramann, they escaped a few tight pool play games only to exit prematurely in the semifinals at the hands of Georgia.
But, as one might expect from a Tiina Booth and Russell Wallack coached team, Zoo seemed to end their season peaking at a good time: the made a run to the finals of Easterns–where they lost handily to CUT–but not before they picked up solid wins over Pittsburgh, Brown, and Minnesota (all top-nine seeds at Nationals). While Brown went on to avenge the Easterns loss with routs over their (South) New England Conference and regional rival twice during the series, UMass remains on the quarterfinals radar for their trip to Milwaukee.
It's hard to prescribe a particular narrative to this year's group. On one hand, they're a relatively young team, featuring just four seniors and a single grad student, that's had to cope with the loss of their dominant center handler and 2017 Player of the Year Ben Sadok. On the other hand, they're the end product of when a group of rising-star underclassmen role players comes of age to take the reigns of a program. The names of those we once considered breakout players– Gramann, Chris Bartoli, Pat Barron, and Tannor Johnson– all logged Club Nationals experience this fall2 and, in guiding their team to a top-eight seed, have proved themselves capable of being the pillars of a program, not just the supporting cast.
An interesting result that follows from the combination of these two story arcs is that the heir-apparent star pipeline that once was clear at UMass is less defined than in the past. From 2015-2017, even Zoo's #4-10 guys were getting buzz. This year, with the promotion of that tier to the top, the hype has thus far been much quieter. But perhaps as the season reaches its apex, the middle of the ZooDisc roster will rise to the occasion.
Two players that look prime to do just that are sophomore handlers Jake Radack and Elijah Mishkind.
Radack returns as a starting handler for the O-line, while Mishkind is an AC All-Freshmen transfer from George Washington. The two form the starting handler battery for the UMass, displaying impressive poise and showing off wide throwing repertoires. Downfield, the Zoo O-line runs vertical, horizontal, and side stack sets (though the seems to favor the isolation patterns of the latter two), but regardless of formation the leaders of the cutting corps are seniors Soloman Maerowitz-McMahon and Pat Barron, as well as Mixed Club Offensive POTY (and USA U24 Mixed selection) Johnson. Maerowitz-McMahon and Barron are fearsome deep cutters, while Johnson is a two-way threat who is at his best when distributing the disc deep off of under cuts.
With much of the veteran talent (and the faster-rising youth) concentrated on the O-line, the D-line has become a situation aptly described as "Gramann and the kids." Zoo leans heavily on their captain and former Rookie Of The Year to take a big matchup on defense and to drive the offense on turnovers. Schematically, UMass has seemed to favor frequently throwing a transition junk look to stop pull plays before falling into matchup D.
In their junk set, Zoo marks the handler who catches the center pass, but puts handler guards on either side of him who face upfield and actively move to intercept and double-team initiating cutters attacking the underneath space. After a couple throws, they fall out of it and find their matchup shape again. Perhaps the biggest surprise on film has been the sparse attendance of the fierce 1-3-3 zone that has been UMass' calling card for the past four years–though it's possible that it's simple a card that they've been holding close in order to maximize its efficacy at Nationals3.
While this year's UMass team doesn't look to be the title threat that past iterations have been, they have too much skill and experience to be overlooked by even the best of teams. They're a legitimate quarters contender, but have yet to show a level of dominance that makes it feel like a sure bet.
Stanford Bloodthirsty
Seeding: A3, Overall No. 12
Power Ranking: #11
Overall Record: 25-8
Against The Nationals Field: 2-5
Against The Pool: N/A
Watch: On Ultiworld, Saturday 12:30 PM vs. UMass

Stanford returns to Nationals for the second straight year, in the exact same seeding position they held last year. Bloodthirsty's 2017 results were all chalk–losses to the top two seeds, wins over the bottom two–but they were eliminated from the bracket when they took the back seat in a three-way tie. In the wake of graduation, there were questions about the work it might take for Bloodthirsty to replace the services of 2017 Offensive POTY runner-up Elliott Chartock and two-way star Nolan Walsh, but those have all been answered by the duo of Callahan nominee Gabe Hernandez and star junior Nick Hirning.
The only two Bloodthirsty players to play elite club last summer4 have carried this year's team back to Nationals. Though Stanford put together respectable performances at the Santa Barbara and Stanford Invites, it was not until their final tournament of the regular season, the Northwest Challenge, that Bloodthirsty forced its way back into the national spotlight–and a bid-earning position. They did so by putting the fate of the team firmly in the hands of their stars. On the final day of NWC, facing a must-win situation, Hernandez played 24 of 24 points against Washington (Hirning played 17/24), willing Stanford to an upset 15-9 victory, and posting a 9A/3G/2D stat line. In the final vs Oregon, Hernandez played 25/25 and Hirning took just one point off.
The same blueprint delivered Stanford a comeback victory in the game-to-go to Nationals, where Hernandez completed a singular performance (on a torn ACL!) to hoist his team up from an 11-8 deficit to a 13-11 win that sealed the Southwest regional championship. His final line: 23/24 points played, 8A/2G/2D (Hirning played 20/24). When the chips are down, Stanford leans as hard as they possibly can on their playmakers, and in the high-rest Nationals format, they may be able to parlay the strategy to even greater success. Miraculously, Hernandez looks to be in shape to play his last college tournament at near full-speed, torn ligament and all.
Tactically, Bloodthirsty is a side stack first team on offense. The primary throwing fulcrum is Hirning, whose 6'5'' frame and break throws honed in Seattle's youth scene open up the offense. Downfield, Drew Mathieson and Kevin Tien work as the primary isolation looks. Mathieson, in particular, is a lightning-quick cutter who can strike deep or bully his way open underneath and hit continue looks.
If a team manages to knock Stanford out of their preferred side stack (or if they get near the endzone), the offense quickly settles into a vertical stack. The downfield cuts still come but the primary mover of the offense is the 3-man handler game, largely driven by Hernandez and Hirning's stellar break throws and crafty cuts. In a short yardage situation, they are extraordinarily difficult to defend, which is reflected in Stanford's atypically high red zone efficiency.
Defensively, Blood's preferred look is regular matchup defense. Generally, it's Hernandez and Allan Ndovu who take the big matchups for the D-line, with Ndovu using his speed to earn run-through blocks as well as to catch up to contest hucks. However, as much as it's a limited group of people touching the disc on offense, it's a team effort on the defensive side. As a program, Stanford takes pride in developing young defenders (development which showed well in their regional final) and will try to win each of their matchups on defense. This year, to complement their young depth, they also got the gift of 5th year graduate transfer Spencer Hodson from BYU, who provides strong D and savvy veteran cutting on a turn.
When they need a change of pace, Stanford has favored running the UMass 1-3-3 zone as their junk set. They run a reasonably tall cup that clamps tight on crashers and poppers, encouraging throwers to look over the top. But, waiting in the hammer spaces are the speedy Mathieson and Hernandez, who try to use their athleticism to shrink the field in their best Jeff Babbitt impressions.
With a year of Nationals experience under their belts, this year's Stanford team is certainly looking to break through to prequarters, but their chances are heavily tied to the as-of-now questionable health of Hernandez's knee. If their Callahan nominee is ready to go, Stanford is a force to be reckoned with and could challenge for a spot in quarters (Pool A crosses with Pool D so their to-seed prequarter draw would be Washington, against whom they already have a win). But the more Hernandez's injury prevents him from carrying his usual load, the more missing the bracket becomes a real possibility.
Auburn Aetos
Seeding: A4, Overall No. 13
Power Ranking: #12
Overall Record: 24-11
Against The Nationals Field: 1-6
Against The Pool: 0-2 (10-15 vs Northwestern, 7-15 vs CUT)
Don't look now, but Auburn Aetos has qualified for Nationals four years in a row. Yeah, you heard that right. After qualifying via Tulane's disqualification in 2015, the boys from Auburn have kept right on going. Names like Ryan Landry, Blake Galloway, Garris Bugg, and (the man, the myth, the legend) Hank Womble no longer grace the roster but the program that they helped build has kept on growing.
It's been an amazing thing to see a program go the distance5 and reach such heights in the middle of an ultimate desert. That said, here's a amusing fact about Auburn: in their four years of qualifying, Aetos has never earned a bid for the Southeast. Instead, they have wrestled one away from an unlucky bid earner (usually Florida) every year6. As much as the community gives CUT the credit for #TrustTheProcess, it's really Auburn that's walking the walk. They play a rocky regular season every year to develop their squad, on the faith that they will make their money at Regionals. Doubt if you'd like, but lately business has been good.
That partially explains why every year we keep writing about Auburn as a dangerous four or five seed in their pool. Because their regular season ranking is often lower, they don't get top billing at Nationals but since they have often just come off an "upset" win or two at Regionals, consensus opinion is that they're a tough draw. The evidence supports it– as a four seed in both 2016 and 2017, they broke seed and advanced to the bracket (and in 2016 they did so by winning their pool and in the process beating eventual champions Minnesota!). All of which is to say Auburn is not to be slept on. In fact, Auburn might be keeping Stanford and UMass up late this week.
Aetos' early season performance was somewhat deceiving. They turned in a strong CCC and a respectable (yet abbreviated) Queen City Tune Up before a disheartening performance at Warm Up. But there was an important caveat to those results–their best player, reigning Southeast POTY Eric Sjostrom–missed most of the tournament after coming down with the flu. Auburn was idle again until Easterns, where they re-established themselves with wins over Cal Poly, Virginia Tech, and NC State. The rode their hot hand into Southeast Regionals and eventually felled Florida in a backdoor game-to-go.
The turnaround introduced by Sjostrom's return speaks to how much he means to the success of the team. He's a masterful thrower and a tough cover behind the disc, and the Aetos offense relies on him and Chain Lightning's Martin Newman to throw receivers open in tight spaces. Michael Strobel adds additional throwing power, and James Hersey is a cutting force downfield (not to mention the new contributions of 6'5'' ATLiens twin freshmen Luke and Sam Smith), but the heart of the team remains Sjostrom and Newman. They marshal the Auburn vertical stack attack, often with Newman making the first cut.
On defense, Aetos has been a heavy zone team this season. At Warm Up, they used a diamond zone look in the middle that aggressively forced middle on the sidelines (pressuring the first reset with the off-point in the cup) to generate their turns. At Easterns, they favored a similar middle set but with a trapping four-man cup on the sidelines. In the breezier conditions of Easterns, it earned them turnovers. The subtle key to both looks, however, is that they allow Aetos to stash Newman and Sjostrom in the wing positions, which keeps them on the field to convert breaks without needlessly draining their energy in matchup defense.
Finally, the strength of Auburn has always been their mentality. They're a group of friends who play with the joy, competitiveness, and faith in each other. You'll rarely hear a louder or more positive sideline, regardless of the score of the game. The ability to maintain that type of energy, even amidst the pressure of Nationals, is what continues to separate Auburn from the pack. With that and their top end talent in hand, it's easy to see them breaking seed and jumping into the bracket for a third straight year.
Northwestern NUT
Seeding: A5, Overall No. 17
Power Ranking: #25
Overall Record: 23-16
Against The Nationals Field: 3-4
Against The Pool: 1-1 (4-11 vs UMass, 15-10 vs Auburn)
2018 has certainly been the year of upset Nationals qualifiers, and representing that trend for Pool A is bottom-seeded Northwestern. NUT is a wildcard for nearly everyone in the sphere of Nationals, having avoided being filmed since Warm Up 2017 and having missed the bracket in nearly three out of four tournaments on the year (and losing quarters at Huck Finn).
NUT claimed their place in Milwaukee by winning the lone bid out of the Great Lakes region, on the strength of a 15-13 win over Notre Dame in the game-to-go. Though Michigan entered the series as the nominal favorite, Northwestern's hot hand carried them through the bracket and landed them their inaugural trip to Nationals just an hour away from their campus in Evanston.
Coach Kevin Yngve leads a squad who has rebounded from the loss of 1st Team All-Region player Ben Spielman last year (and three additional 2nd Team All-Region players the year prior) to record their best season in program history, but NUT didn't come from nothing. Last year, Northwestern reached the semifinals of Warm Up and finished the regular season ranked #37. So it's fair to say that something has been brewing there for a few seasons.
If 2017 is any indication, NUT will deploy a horizontal stack offense. And if the all-region hype is any indication, the attack will be led by junior Kyle Rutledge, a practice player for Chicago Machine this past summer, who will initiate the cutting downfield and look to drive the offense with his throws afterward. Fellow junior Jeff Holm will also be a force in the downfield cutting space. On defense, look for 5th year Chris "Rozo" Rozolis to supply the fireworks on the strength of his athleticism.
Though we know relatively less about Northwestern than the usual suspects from Nationals, it will certainly be an adventure to watch them navigate their maiden voyage. While no Men's five-seed has won their pool since the field expanded to 20 teams, nearly a quarter of them have made the bracket, and one has even made it as far as the quarterfinals7. Plus, with so many upset qualifiers in the field this year, a prequarter run could easily match them with a fellow underdog.
---