Brown, Washington, Pittsburgh, Victoria, Florida State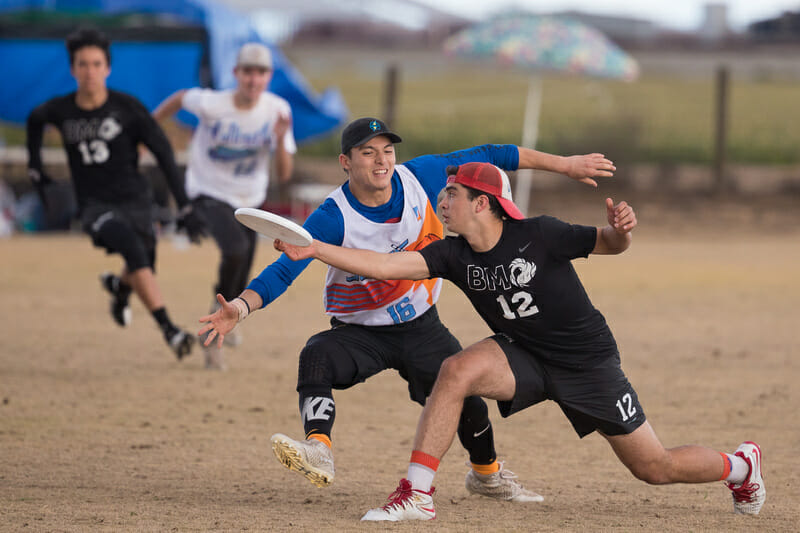 Coverage of the men's division at the 2018 D-I College Championships is presented by Spin Ultimate; all opinions are those of the author. Please support the brands that make Ultiworld possible and shop at Spin Ultimate! 
Hard to imagine this grouping is going to go chalk. Brown has looked great all year but lurking close behind is Washington, who blew them out at Stanford. Pitt is a sneaky third seed with 13 years of institutional knowledge on how to ready for the season's culminating event. Would any order of Brown-Washington-Pitt shock when pool play is complete? The potential for shakeup is alive and well in Pool D.
Pool A Preview
Pool B Preview
Pool C Preview
Brown Brownian Motion
Seeding: D4, overall No. 4
Power Ranking: #6
Overall Record: 22-7
Against the Nationals Field: 7-6
Against the Pool: 0-1 vs. Washington, 1-0 vs. Pittsburgh
Watch: On Ultiworld, Friday 4:30 PM vs. Washington; On USA Ultimate, Saturday 8:30 AM vs Pittsburgh
It's not often you see a team end a decade-long hiatus and enter Nationals as the No. 4 seed. Yet, here's Brownian Motion, back with a vengeance.
While they've failed to qualify for 10 years, Brown hasn't been a doormat. They've been in the mix in the New England Region. They've played meaningful games on Sunday. But nothing that would lead you to believe they could come out at Warm Up and hand a loss to defending champs Carleton (one of CUT's two losses on the season). Brown is the breakout team of 2018, if such a superlative exists. How did they get here?
The last two seasons have brought a tidal wave of new talent to Providence. 2017 brought BMo a fantastic class that included lightning quick handler Ken Noh, Henry Laseter, and All-Freshman Solomon Rueschemeyer-Bailey.
With a bumper crop of young contributors, Brown took steps to build towards the future.
"Last year we chose a season that was much more challenging than seasons in the past," said head coach Jake Smart. "We played pretty open lines, so freshmen in those games [were] getting reps against top 10 teams."
Smart and the leadership put together a tough 2017 schedule—Florida Warm Up, Northwest Challenge, and Easterns—and indeed took their lumps.
"We lost a lot of those games but realizing they could play at a high level and—not win the game but not get blown out—was important for building confidence."
Youngsters got quality reps, strides were made, and Brown ended up losing to Massachusetts in the final of a one-bid New England region. Progress.
Enter the 2018 rookie class. Brown doesn't have a Freshman of the Year. They have Freshmen of the Year. Seriously—check out these highlights. The most notable rookies are Dylan Villenueve (a Bay Area WJUC player) and John Randolph (WJUC and Seattle Cascades) who, after the final at Warm Up, Carleton head coach Phil Bowen told Ultiworld he had been recruiting since ninth grade. Azeez Adeyemi, Jackson De Campos, and Benjamin Turoño round out a plug-and-play rookie class that has been integral to Brown's 2018 success.
This is the kind of class of polished rookies you might expect to see at a big university with a huge youth scene like North Carolina or a cultural holy land of ultimate like Carleton. For an ivy league school with a student body of just over nine thousand and strick admission standards, this is a generational unit for BMo.
Brown's offense will look to start with handlers Noh and Laseter. Both have the yardage-gaining break throws that make it even harder to guard Mac Hecht. Though he's only a junior (though on such a young team he seems like a haggard old veteran), Hecht might have the best flick placement in the open division. He will be relied on to do much of the shooting for the offense. "We're going to be expecting [Hecht] to be making throws," Smart said with a chuckle.
Defensively, Brown can be dangerous because of the varied looks they can use. They have the personnel to run person-to-person—with playmakers like captain Eli Motykca leading the way—but they also have a zone that's been giving teams fits. Rain and wind in Milwaukee will help BMo's zone. But according to Smart a similar look from the opposition may not have the same effect because of the critical thinking nature of someone at Brown.
"I have all these analytical minds on the field," Smart said. "Against zones—especially against zones we haven't seen before—we're naturally pretty good at it."
After all, their team name is a physics term for how particles move in a fluid…which I'm just now realizing is a pun.
In the program's heyday, Brown won two national championships (2000 and 2005) and produced three Callahan winners in Fortunat Mueller, Justin Safdie, and Josh Zipperstein. There's a lot of success in Brown's history—just not a lot of recent success.
This 2018 squad has already done a lot to change that.
This is likely the first of (at least) a few consecutive trips to Nationals for an uninitiated BMo. When most first year qualifiers break through they're typically in the back half of the field and unburdened by any real expectation. Top five seeds don't have that luxury. Brown will need to fight tooth and nail to hang on to the pool and put themselves in the best position to make a run at the title.
Washington Sundodgers
Seeding: D2, overall No. 5
Power Ranking: #4
Overall Record: 34-7
Against the Nationals Field: 8-4
Against the Pool: 6-0 (wins against all teams in the pool other than Florida State)
Watch: On Ultiworld, Friday 4:30 PM vs. Brown
If you're a Sundodger fan you've got to love this draw. Washington is 7-0 against the pool; with wins over Victoria, Pittsburgh, and a 13-7 thumping of top-seeded Brown at the Stanford Invite.
The challenge for head coach Mark Burton and his team will be to avoid the pitfalls that come with reflecting on past success.
"I tell them to ignore the pretty lights," said Burton on keeping his team focused on the moment and away from the hype.
There has been no shortage of pretty lights for Burton's bunch this season. Washington started the spring on an absolute tear. After a flawless victory at the Santa Barbara Invite, Washington made it to 12-0 before finally dropping a game to Cal Poly-SLO at Presidents' Day.
"Everything went wrong and it was a good thing to get hit in the mouth," Burton said. "It was humbling for us to be knocked down but know to put in the work at practice."
"I like getting those out of the way and knowing that you do bleed. You are human."
Better late than never for the kind of valuable teachable moment that a loss can offer. Since Prez Day Washington is 21-5.
The Sundodgers' fifth overall seed at Nationals is a program best and much of that success can be attributed to a concentration on improving defensive fundamentals and concepts. Areas that have received extra attention at practice: recognizing opportunities to help, sandwiching on deep shots, footwork, and energetic marking. It also never hurts to have someone dedicated to lead a position group. Recent alum DY Chen has returned to the team to coach the defense.
The Sundodger defense is deep but has a nice mix of specialists sprinkled in. Porter Jones is a pesky handler defender who can get his matchup dancing in the dump space. The big-bodied Reed Hendrickson is coming into his own in his second year (via Whitman) with the team. Towering pulls from Derek Mourad will force the opposition into uncomfortable starting positions. With a format that gives ample rest, expect to see Manny Eckert cross over from the O-line to provide an intimidating mark.
As it relates to the rest of the pool, Washington took down Brown at SBI with a lot of these themes. They played lockdown defense on the handlers. In transition they looked to fast break and hit hucks.
It also doesn't hurt that Nick Roberts, a fifth year transfer from Tufts now at UW, has seen Brown's act in New England a time or two. Roberts has been a fantastic addition in Seattle.
"He's been the glue. He's the vet that everybody needs," Burton beamed.
A handler in his four year career with Tufts, Roberts was challenged by Burton to take on more of a downfield role with his new team.
"[Roberts] has just been that gel that has really complemented [Steven Benaloh], Manny [Eckert], as well as some of our receivers down the field. I can't applaud him more for stepping up and wanting to get better this season."
Along with Roberts, Washington's Callahan nominee and creative thrower Steven "Benny" Benaloh will anchor the offensive backfield. Lucas Chen, a small speedster, will exploit matchups with a lethal first step. Efficiency will be the name of the game for the Washington O-line…if they can hold with minimal effort, that will allow them to bring help over to spell the defense or find a ripe matchup.
This is a deep, young team. The Sundodgers took 29 players on the A team this year and only five of them will depart after Nationals.
Keeping a group of college aged players on task, positive, and in the moment has to be one of the hardest jobs in sport. It can mean the difference between victory and collapse.
"We are a weird team," Burton said slowly. "Me and Benny, we saw that. We went out and bought some blowup things and decided to celebrate everything… if shit hits the fan we can go back to that weird style and we can get out of that so we don't get down on ourselves."
Burton also promised a special surprise in Milwaukee to add to Washington's menagerie of weirdness. Whatever works. We saw UNC ride hand towels to a title in 20151 Keeping an even keel throughout the inevitable highs and lows of the weekend will be critical to any team's success. If that means stuffing your teammate into a giant donut, so be it.
Pittsburgh
Seeding: D3, Overall #9
Power Ranking: #7
Overall Record: 25-7
Against the Nationals Field: 2-7
Against the Pool: 0-2 (losses to Brown and Washington)
Watch: On Ultiworld, Friday 8:30 AM vs. Pittsburgh; On USA Ultimate, Saturday 8:30 AM vs. Pittsburgh
It is unusual to see Pittsburgh this far down in a pool at Nationals. In fact, it hasn't happened since 2010.
It was a bit of an inauspicious start to the season for Pitt. At Queen City Tune Up, they stumbled out of the gate and dropped their first two games. Maybe the standards are just so much higher. Pitt is usually good for a major tournament win during the regular season. Last year they won Warm Up and Stanford. What's changed?
"What's different about this year is that I am 100% certain that we have not played our best yet and I'm also 100% certain that it is ahead of us," said long time Pitt head coach Nick Kaczmarek.
Perhaps more than any other team contender in the field, Pittsburgh has had to do some serious line shuffling this season. Once again Kaczmarek and company have had to find a way to overcome substantial roster turnover. Unlike years prior, a lot of those extra points have been picked up by rookies.
"The growth this season has been tremendous and we knew that it would have to be at the beginning," Kaczmarek said. "We knew that we were replacing a lot of experience and that we would really have to accelerate the experience of our freshmen."
Pitt's coaches threw everything at this class early on and kept expectations high. The strategy seems to have paid off. Several rookies have found themselves in starting roles.
Harry McNamara and Marcel Oliart have earned legitimate D-line scratch, along with Kevin Tsui, a DEVYL handler who can play both ways. A couple tall guys, Will Hoffenkamp (6'4") and Will Helenski (6'3"), have been doing some cutting. Then there's Myles Cooper, a true rookie (a rarity at Pitt) who has shown a defensive aptitude. Kaczmarek said Cooper might be the best raw athlete Pitt's had since Tyler DeGirolamo. That's ridiculously high praise.
Pitt has shown some strange, unexpected line combinations over the last few months. Subbing and roles have been more fluid than ever (something like 18 players have seen time on both sides of the disc) and there has been more attention on specific matchups—but this is no accident. Pitt is one of the most filmed teams in college ultimate and has been mixing up the roles of their players to keep things… less predictable. Kaczmarek was unwilling to share much more.
"We honestly just have 23 great ultimate players and they're going to be all over the place in terms of where they're playing this weekend. It's going to matter who we're playing. It's going to matter [the] situation."
The stakes of the tournament are obviously high, but the layout of the tournament is easy on the players. You would have to imagine that Pitt's U23 players Mike Ing, Callahan nominee Dylan Best, and Jonah Wisch be playing plenty of points in crunch time.
Don't let the seed fool you. This is the same old Pitt. All of their losses came to against other nationals caliber teams. That's a high floor. As for the team's ceiling? Pittsburgh defeated North Carolina at Easterns—Darkside's only loss of the season.
Pittsburgh has losses to Brown and Washington but, heading into their 14th straight nationals, Kaczmarek's group is best equipped to maximize the extra prep time after regionals to make one final push for improvement.
Victoria
Seeding: D4, Overall 16
Power Ranking: #16
Overall Record: 16-10
Against the Nationals Field: 1-6
Against the Pool: 0-4 (all losses against Washington)
The University of Victoria' inaugural men's division appearance at college nationals is a bit of a redemption story from the team's high hopes in 2017.
"We should have gone last year. Screwed up our shot and then knew what needed to change for this year," said coach Malcolm Bryson, recalling a double game point loss to Utah in the backdoor bracket.
"[This season] when we notched wins against Dirt and UBC at the Northwest Challenge it was just pretty clear to us that that bid was ours for the taking."
Bryson, who is still at the university but without eligibility, became one of those necessary changes when he stepped in to take on coaching duties. Last season this team was uncoached, which is rarely a recipe for success in the college game.
Victoria doesn't historically attract skilled freshmen like the teams seeded above them in Pool D, making the addition of U20 players Sean Bennett and Justin Pettenuzzo an impactful shot in the arm. This year's rookie class helped to take pressure and points off of fifth year studs like Trevor Knechtel and Callahan nominee Ben Burelle.
In this year's game to go in the Northwest (and without Burelle due to injury), Victoria was able to battle back from a multi-break halftime deficit. Receiving on double game point, the Vikes marched down the field with clinical offense to claim the final bid to Nationals.
It should be noted that Knechtel, a captain and center handler, battled through elimination play of regionals with a broken throwing hand. He is expected to play in Milwaukee.
Victoria has achieved Nationals. Will they be able to avoid the fanfare that can distract first timers?
@Ulti_world Dozen bro'n down at the Reds game pic.twitter.com/99nusPrXHy

— Texas A&M Ultimate (@DozenUltimate) May 23, 2014
Time will tell. Expect them to come out fired up. Victoria will play regional rival Washington on Friday morning for the sixth time since January.
Florida State DUF
Seeding: D5, Overall #20
Power Ranking: Unranked
Overall Record: 19-17
Against the Nationals Field: 1-3
Against the Pool: 0-0
Watch: On Ultiworld, Friday 8:30 AM vs Pittsburgh
Take a look at Florida State's score page. Lots of losses there. Even when the dust had settled after the bid-stealing frenzy in the Atlantic Coast, there was nowhere else to put FSU but dead last.
Hey, none of that dull red on the USAU page matters now. DUF is Cinderella and Milwaukee is their ball.
"We've definitely gotten better at every tournament we went to, every game we played," said Florida State coach Kody Cotton.
"Every time we would come back from a tournament no one had their heads down… the team would all look at each other like 'Alright. That means we have to work that much harder.'"
There was no shortage of motivation for Florida State: going 1-6 at Easterns and mustering only two wins at Huck Finn2.
DUF made a few important strategic adjustments. The first was moving handler Tim Lootens to the drive the D-line's offense. The second was getting back to a style of play that was synonymous with Florida State when they made semis in 2015: an athletic brand of person-to-person defense that tries to generate blocks.
"Our whole goal this year was to get back to that same mentality," said Cotton, who was a player on that memorable DUF team. "We kind of instilled that from practice one, which was awesome."
The defensive renaissance has been effective but also came at a price. Cotton says it actually scared away a lot of perspective players at the beginning of the year. This is the first time there were no A team cuts. The 25 guys on the roster are the ones who stuck around after tryouts.
It's been a rocky road for DUF and the fact that they were able to put it all together at Southeast regionals is pretty remarkable. Then again they are coming off their best game of season, an upset win over a prohibitively favored Florida… maybe they're heating up.
---
This had nothing to do with Jonathan Nethercutt. It was the towels. ↩

Against Winconsin-La Crosse and Saint Louis, neither of whom are exactly worldbeaters ↩