North Carolina, Minnesota, Texas, William & Mary, Connecticut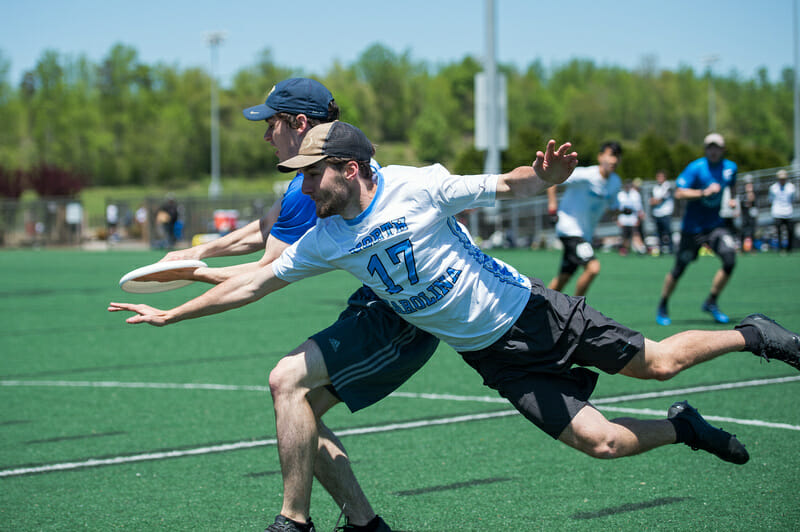 Coverage of the men's division at the D-I College Championships is presented by Spin Ultimate; all opinions are those of the author. Please support the brands that make Ultiworld possible and shop at Spin Ultimate! 
Pool B should offer one of the most exciting chases for bracket play at Nationals, as three underdogs will all likely be competing for the final berth into the bracket behind two recent National champions in North Carolina (2015) and Minnesota (2016).
North Carolina Darkside
Seeding: B1, Overall No. 2
Power Ranking: #2
Overall Record: 35-1
Against the Nationals Field: 13- 1
Against the Pool: 1-0 vs. William & Mary
Watch: On Ultiworld, 12:30 PM Friday vs. Minnesota
North Carolina Darkside have been every bit as dominant as we all thought they would be this year, with just a single loss on the season. They didn't only win, they often won big, even against elite opposition. 13-8 over Pitt, 14-7 over Wisconsin, 13-8 over Carleton.
These are the kind of wins that scream title contender. And in any other year UNC would be the clear frontrunner, but this season they are ever-so-slightly behind the defending champions Carleton.
With so much hype over  a potential UNC v. Carleton showdown in the finals, is it possible that UNC might overlook some of their Pool B opponents and drop a game they shouldn't? Perhaps, but don't count on it. This Carolina team is uniquely equipped to handle the tumult of pool play without needing to hit top gear.
It starts with their depth, as UNC has several players who may not be the biggest blips on their opponent's radar, but who can nonetheless take over a game when given the opportunity. Marc Rovner, Norman Archer, or Alex Davis could put up huge numbers in any one game if Darkside's top players dial it back at some point in pool play. Davis in particular has been a revelation, providing killer speed and easy goals the O-line. A big weekend for Davis could cement his Breakout Player of the Year candidacy.
UNC already has experience playing without many of the starters this year, as Matt Gouchoe-Hanas missed the first half of the season recovering from playing with the U24 National team, while fellow offensive stalwarts Walker Matthews and Anders Juengst similarly were absent until the later in the season. UNC didn't miss a beat while missing three of their O-line focal points from last season, so if they rotate legs during pool play it shouldn't be anything out of the ordinary for a team that has managed to find that elusive balance this season between developing depth and winning games.
If there's a cause for concern with UNC, it would be their tendency to sometimes get caught up playing longball. In their lone loss this year, to Pittsburgh, they fell into an early break hole by trying to huck their way through offensive malaise. Kai Marcus in particular has been trigger happy for most of the season—with the unique power and shape on his throws its easy to see why—but it could potentially be a problem for UNC if he gets cold and keeps shooting.
It's not necessarily just the threat of missing that is the problem, it's a question of how North Carolina reacts to those misses. Last year in their semi-final loss to Wilmington, Darkside got suckered into a shootout and threw away several possessions down the stretch on questionable deep shots. If UNC does run cold at some point this weekend, they are going to need a better way to turn the momentum around then just hucking and hoping.
Minnesota Grey Duck
Seeding: B2, Overall. No. 7
Power Ranking: #10
Overall Record: 31-7
Against the Nationals Field: 2-6
Against the Pool: 1-0 vs. Texas, 0-1 vs. Connecticut
Watch: On Ultiworld, 12:30 PM Friday vs. North Carolina
It's been an up and down season for Minnesota. The 2016 champs started out strong at Florida Warm Up, putting together convincing wins over BYU, Auburn, and Virginia Tech. They followed that showing up with an undefeated run through middling competition at Centex, before the wheels fell off in a big way at Easterns.
The nadir of Minnesota's season, and maybe their program the past few years, was no doubt the 15-8 whalloping they suffered to a Connecticut team that can generously be called "scrappy". Two more losses that weekend dropped Minnesota precipitously from their #3 ranking, and put their bona fides as title contenders into question. That questioning got louder when Grey Duck came in third at Regionals, after getting upset by Wisconsin and seeing out a nervy elimination game with unranked Marquette. After a promising start to the season, Minnesota hasn't beaten another Nationals team since March 10th.
It wasn't just the results over the second half of the season that have cast a doubt over Grey Duck's prospects, it was the way that the problems that had manifested as benign during their early season success become malignant.
The foremost, and perhaps most fundamental problem is how Minnesota's roster fits together. The talent is there, but it often times appears to be redundant. Wyatt Mekler, Sam Kaminsky, and Tristan Van De Moortele give Grey Duck a tremendous amount of skill around the disc, but their skill sets overlap. Without dominant cutters downfield, Minnesota can sometimes get stuck dinking and dunking their way towards the endzone, and as good as their handlers are they can run out of space in a hurry. The biggest thrower on the team is Codi Woods, but as a transfer who hasn't played with the team's offense before, he has largely played on the D-line this season. And even more than skill set, there is the obvious problem that all five of Minnesota's best players are under six foot.
But while a team that came into the season ranked #3 probably wasn't too happy about finishing third just in their region, Minnesota fans still have reasons for optimism. The team's lineups haven't totally clicked thus far, but the talent is undeniable. In most games, they will have three or four of the best players on the field, and that can go a long way when rotations tighten up at Nationals. If a few positional tweaks here and there can unlock the full potential of Minnesota's top players, then Grey Duck could be off to the races.
It also could only take a breakout weekend from one of Minnesota's less heralded cutters to really knock this team's ceiling up a level. Zach Trosvig has shown some flashes this year, and if he can consistently deliver in Milwaukee, then Minnesota's offense could find itself back at the championship level it was just two seasons ago.
Texas TUFF
Seeding: B3, Overall No. 11
Power Ranking: #17
Overall Record: 25-12
Against the Nationals Field: 2-3
Against the Pool: 0-1 vs. Minnesota, 1-0 vs. Connecticut
The South Central regional crown seemed almost certain to end up in the hands of either Colorado State or Colorado, with maybe an outside shot of Texas A&M swooping in if a few breaks went their way. Texas TUFF upended that narrative and came out of nowhere to reclaim the South Central for the first time since 2013.
After a run of quarterfinal appearances at Nationals, Texas fell off the map the past couple seasons following the departure of stars like Will Driscoll, Chase Cunningham, and Dillon Larberg. This year however, they have retooled their team around a balanced and less star-driven approach.
"This year's team has had a great work ethic, which has been invaluable since we lost three stars from our team last year," said TUFF coach Calvin Lin. While Texas may not have a player that can take over a game like some of the teams seeded above them, they have coalesced over the course of the season and peaked at the right time.
Will they continue to rise at Nationals? Despite the fact that most of the players on the team lack Nationals experience, coach Lin has been there before and is feeling good about his team's development late in the season. "We've been fine tuning a couple of minor things, but we've mostly been trying to maintain intensity at practice" said Lin. "One of our practices was the best post-Regionals practice we've ever had."
Texas will need that intensity if they are going to continue to surprising people this season. They have solid players, and Henry Furuta may be more than just solid, but if Texas manages to make a run into the bracket it will be because their whole was greater than the sum of their parts.
William & Mary Darkhorse
Seeding: B4, Overall No. 14
Power Ranking: #15
Overall Record: 35-7
Against the Nationals Field: 2-2
Against the Pool: 0-1 vs. North Carolina, 1-0 vs. Georgetown
Speaking of teams that came out of nowhere… here are the tournaments that William & Mary Darkhorse attended before the series.
Mid-Atlantic Warmup

Eastern's Qualifier

Oak Creek Invite

Coy Harlingen Memorial

Atlantic Coast Open
I only made one of those up. It suffices to say that Darkhorse have pursued a road less traveled to Nationals.
That kind of schedule makes it tough to tell how William & Mary will stack up against the competition in Milwaukee. What do you make of a team that took losses to Indiana, Illinois, and Tufts, but then beat Virginia Tech four times in the span of two weeks to make Nationals?
Well, for starters, it seems pretty clear that they match up well against Virginia Tech. But other than that, it's tough to tell where they stand. They beat UNC Wilmington at Regionals, but at a time when the Seamen were in complete free fall. They beat Maryland at Oak Creek, but at a point in Maryland's development when they were also taking L's against Vermont and South Carolina. The results are inconclusive.
So what can we look at besides results? Unfortunately, the biggest indicator is probably the health of their most notable player, Truck Stop's Jonny Malks. Someone who would have been in the FOTY conversation, Malks was injured on a rough bid in the game-to-go at Regionals and x-rays confirmed a broken wrist that will keep him out of action. Malks had formed an effective backfield partnership with sophomore Gus Norrbaum, and it was striking when watching Darkhorse play just how much they relied on those two to move the disc at all. Without Malks, it will take a herculean effort from Norrbom to carry William & Mary into the bracket.
A more likely path to success for Darkhorse is a teamwide approach. Their role players were able to step up and close the door on Virginia Tech after Malks went down at Regionals, and the team has carried itself all spring like a team that belongs with the best at Nationals. We'll find out if they were right this weekend.
Connecticut Grind
Seeding: B5, no. 18
Power Ranking: Unranked
Overall Record: 24-14
Against the Nationals Field: 3-6
Against the Pool: 0-1 vs. Texas, 1-0 vs. Minnesota
It is telling how wild Pool B turned out that fifth-seeded UConn from the perennial punching bag Metro East is one of the teams with the most elite experience in the pool. Making a third straight trip to Nationals, UConn has made the Metro East their own, but struggled to break through once they get to the big show.
As has been the case in previous years, there isn't much on UConn's resume that makes them seem like a candidate for a deep bracket run. They are only 3-7 against Nationals competition, but one of those wins did come against Minnesota. UConn does bring good size to the table and if they can bully their opposition the way they did against Grey Duck at Easterns, they could emerge with a win or two.
The institutional experience that Connecticut has gained by going to Nationals over the past two years will be crucial to any success they have, as they bring a roster full of players who are now used to the pressures of Nationals. With no John Wodatch or Mike Rice on the team this year that can single-handedly change the course of a game, UConn's hopes will rest on their upperclassmen's ability to play cool under the bright lights of Nationals and take their chances if and when others wilt.