North Carolina, British Columbia, Pittsburgh, Whitman, Florida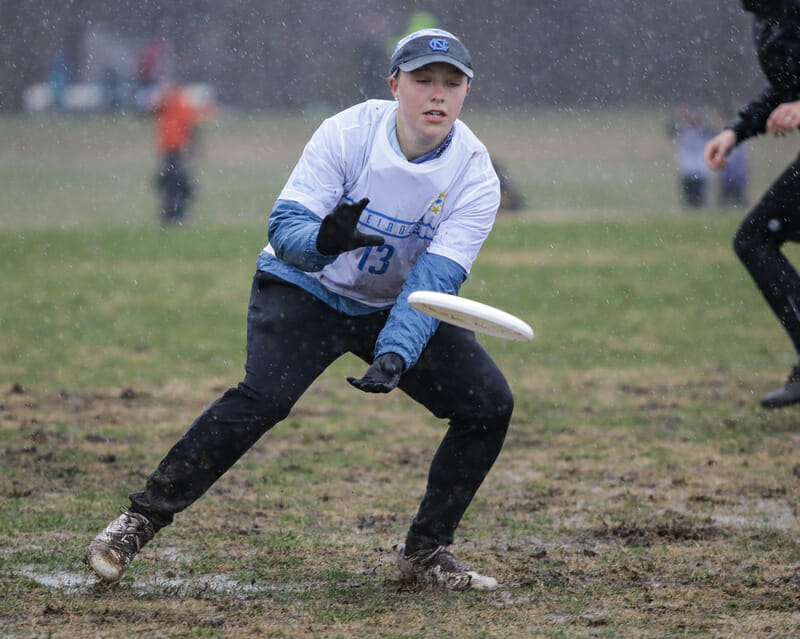 Coverage of the Women's Division of the 2018 D-I College Championships is presented by VC Ultimate as part of their season-long support of our women's coverage. All opinions are those of the authors. Please support the brands that make Ultiworld possible and shop at VC Ultimate!
Pool C is arguably the strongest pool in the women's division, boasting numerous quarterfinal quality teams, four of which have Championships experience. The remaining team that didn't compete at Nationals in 2017 was a finalist in 2016. There's a high ceiling for the teams in the pool, but they'll first have to navigate the pitfalls of competing against one another.
Many of the tournament's biggest stars will be lined up against one another in Pool C competition. Three Player of the Year candidates–Carolyn Normile, Jenny Wei, and Ellen Au-Yeung–will do battle in an effort to claim a bye into quarterfinals. But their teams have enough depth that it will likely come down to small margins to decide who advances and whose dreams of a deep run end after pool play.
North Carolina Pleiades
Seeding: C1, Overall No. 3
Power Ranking: #5
Overall Record: 27-1
Against the Nationals Field: 10-2
Against the Pool: 1-0 vs. British Columbia, 1-0 vs. Florida
Watch: On Ultiworld, Friday 4:30 PM vs. British Columbia, On USA Ultimate, Saturday 12:30 PM vs. North Carolina
The rise of North Carolina Pleiades has happened quickly over the past two seasons. After years of dampened results despite clear potential, UNC qualified for the College Championships in 2017, and a year from then, is positioned as the overall no. 3. They lost a single game during the regular season—to no. 4 Stanford—and had an argument for an even higher seeding. It was surprising to see them land atop Pool C.
They won't mind their draw, where the second team in their pool is one they've defeated this season, No. 6 UBC. The two faced off at NW Challenge, and UNC notched their biggest win of the season, by a score of 15-8. It's a change of pace after UBC took down Pleaides twice in 2017, including a rout in pool play at Nationals.
"Both teams have changed," said the UNC captains. "We figured out some good ways to work against their defenses and it will be fun to see them again at the peak of both teams' seasons."
One of the changes since last year is the experience garnered from the 2017 Nationals appearance. Not only did it aid in developing Pleaides', who is replete with youngsters-turned-vets, but it familiarized them with the mechanics of the tournament, which differ from all others. "There's a huge advantage in knowing somewhat what to expect when we get there," said the captains.
Meanwhile, Jenny Wei is a showstopper and Elisabeth Parker a known commodity as a gutsy thrower, and both have improved alongside their younger teammates. UNC has cultivated depth, producing quality role players, but also some dynamic, albeit less known, names. Anne Worth and Rebecca Fagan have both demonstrated the pliability to attack opponents from various angles and create matchup problems.
"We are a lot deeper than we were last year, relying more on chemistry than individual stars," said the captains.
That plays out true on field. Chapel Hill comes equipped with a variety of defensive looks to confuse opposing offenses, zone and junk looks that thrive off of cohesion. Their horizontal offense exposes break side weaknesses, with throwers qualified to attack the mark and cutters with the timing and awareness to present sizable windows.
British Columbia Thunderbirds
Seeding: C2, Overall No. 6
Power Ranking: #6
Overall Record: 19-5
Against the Nationals Field: 9-5
Against the Pool: 0-1 vs. North Carolina
Watch: On Ultiworld, 4:30 PM Friday vs. North Carolina
High marks were given to British Columbia to start this season. With five losses accrued prior to Nationals, it's hard not to see their current form as a little disappointing. For a roster stocked with major contributors from last year's semifinalist team, to see them stay on the treadmill behind the top tier of the division is disconcerting.
But perhaps that's just how they build up the strength to make a late season run. It's not dissimilar from the 2017 paradigm: they went 20-5 (nearly exactly the same as this year), a bit of a shock slip at NW Challenge (in 2017, a loss to Notre Dame; in 2018, blowout losses to Dartmouth and North Carolina, and a loss to Western Washington), and a lone loss during the postseason to a fellow Nationals qualifier. But when they got to Nationals and hit full stride, they upset a higher seeded team who had defeated them during the regular season to claim their pool and reached the semifinal round. Running it back this year would require taking down UNC, who worked them over at NW Challenge.
"For every tournament…winning our pool and/or making it to semifinals is always an outcome goal, but again, the process is most important to us," said the UBC captains. "Nationals will be a success if we can execute all of our offensive and defensive goals, and if we can do the simple things well. "
Doing the simple things well has been the defining line between British Columbia's successes and struggles. Not only are many of the names the same, but the game's built on many of the same strengths: team speed, chemistry, skill, and execution. Janelle Siwa, Judith Yeo, Brianne Wager, and Serena Tam give the T-Birds the tools to get to the break side. Naomi Morcilla, Ellen Au-Yeung, Naomi Johnson, and Julia Zhang provide the athleticism and versatility to force defenses into tough decisions downfield. The development of Kaitlyn Harper and Paige Muir enhanced their matchup defense.
But despite their talent and experience, UBC has been undone by hurried miscues and overzealous choices. If their decision-making is sharp and they play with discipline, they have the potential to follow the footprints of last season's track to a deep run.
Pittsburgh Danger
Seeding: C3, Overall No. 10
Power Ranking: #10
Overall Record: 19-5
Against the Nationals Field: 6-4
Against the Pool: 1-0 vs. Whitman
Watch: On USA Ultimate, 12:30 PM Saturday vs. North Carolina
Pittsburgh Danger put together a strong regular season, earning them tens for both overall seeding and Power Ranking. But they will attempt to do something they haven't done in the past three years, all of which they've qualified for Nationals: perform well at the big show.
Danger's struggles at the 2017 Championships are fairly well known; they were a popular underdog selection after an unspectacular regular season, but finished last in their pool. But their underperformance dates back further. Over the past three seasons, they've amassed a 3-12 record at Nationals, finished last in their pool twice, and have finished below their initial seed in all three instances. All in all, that means in three tries, Pitt has yet to reach the vaunted elimination bracket.
"This year we are going to attack…immediately. We will start every game with power, strength, and skill," said Pittsburgh captain Annie Koch. "I think we are now mentally prepared to step on the Nationals fields and bring the full force of Danger 2018 to the first point."
Getting their mental game right would enable Pittsburgh to utilize the talent and experience they've collected on their roster. Carolyn Normile's bona fides are unquestioned. But Sarah Russek, Abby Bomberger, Jessie Sun, Hannah Blizzard, and a deep cast of role players surround Normile's playmaking. Pitt is not lacking at any position and they've spent the season developing versatility to complement their depth.
"Why limit players to only be a handler or cutter when they could be both?" said Koch. "We have multiple, strong hybrid players and hope to capitalize on the unpredictable play hybrid players exhibit."
That dynamism could prove to be the missing piece for Pittsburgh. Bracket play is within reach, and most teams in Pittsburgh's pool share similarities where Danger might simply be able out-execute them. Their only matchup with a Pool C squad was a narrow victory over Whitman at Stanford Invite. Pittsburgh's efforts to create more options for their personnel have given Normile more opportunity to get into space and made all of their lineups more resilient. We've believed before and been disappointed, but when you look at the components, it's hard not to be refilled with optimism.
Whitman Sweets
Seeding: C4, No. 15 overall
Power Ranking: #14
Overall Record: 14-9
Against the Nationals Field: 2-8
Against the Pool: 0-1 vs. Pittsburgh
After a high-profile hiatus in 2017, the Whitman Sweets has returned to Nationals with far less fanfare than their unsuccessful bid last year garnered. A 4th place finish in-region–even if the division's best region–will do that to you. As will a 2-8 record against the Nationals field and 14-9 overall record. The turnover on this roster means less name brand stars and more building talent. Expectations are, for very good reason, vastly different than the ones they were saddled with last year.
With a lighter load to weigh on them, Whitman can focus on the task at hand. The only team they've seen in their pool is Pittsburgh, who they tangled with back at Stanford Invite. While they did drop that one, they were in it late, as close as 11-10. If they can get a few bounces and make minor adjustments, they could get the edge in that matchup, and given their relative positions in Pool C, that could make a massive difference in Whitman's final finish.
For the modern Sweets, their biggest names are some of their smallest players: the Soo twins. Alissa and Linnea provide a one-two punch few teams have the wheels to match, and their transition into the backfield has changed the pace and momentum of the offense. Hannah Filley and Livia Amorosi keep the disc moving and Kaileah Akker can't be missed on defense, particularly in Whitman's effective zone sets.
Without a ton of success against elite competition, it's tough to see Whitman presenting a high ceiling. With second year coach Rohre Titcomb joined by Cassie Swafford at the helm, perhaps they can lead the Sweets to a pleasant surprise.
Florida FUEL
Seeding: C5, No. 19 overall
Power Ranking: #20
Overall Record: 23-12
Against the Nationals Field: 3-7
Against the Pool: 0-1 vs. North Carolina
Florida FUEL is making their second straight appearance at Nationals after winning their region again. After a swashbuckling run through the Southeast last year, Florida's 2018 had a few more growing pains. The team had a 4-7 record two tournaments into the season and they looked a long way off from being Nationals contenders once again. But they progressed steadily over the next couple of months and were able to put together an impressive Centex. The crown jewel of their weekend in Austin was a 13-12 over Colorado in quarters, but they looked like a much improved team all tournament long.
They built off of their Centex performance with an undefeated run through the Series to take the lone bid out of the Southeast. Florida is playing their best ultimate of the season right now, but come into Nationals as the bottom seed in a tough pool. It's tough to see a way out of Pool C for FUEL, but they fought through adversity to even get to Nationals.
Without some of last year's key vets, it seemed like Courtney Testa might be left to go it alone, but Lauren Bahng and Gabby Krajniak have stepped up, in the backfield and downfield, respectively. Bahng is likely to surprise defenses with her range of throws. Even with Lucy Berman on the shelf, Florida has displayed a variety of eager cutters ready to take on more minutes. Back at Nationals with some experience and plenty of heart, they won't be an easy mark for any of their higher seeded foes.