Will Oregon manage a clean run to quarters? Or will their hunt for a 2018 title get disrupted by some strong competition?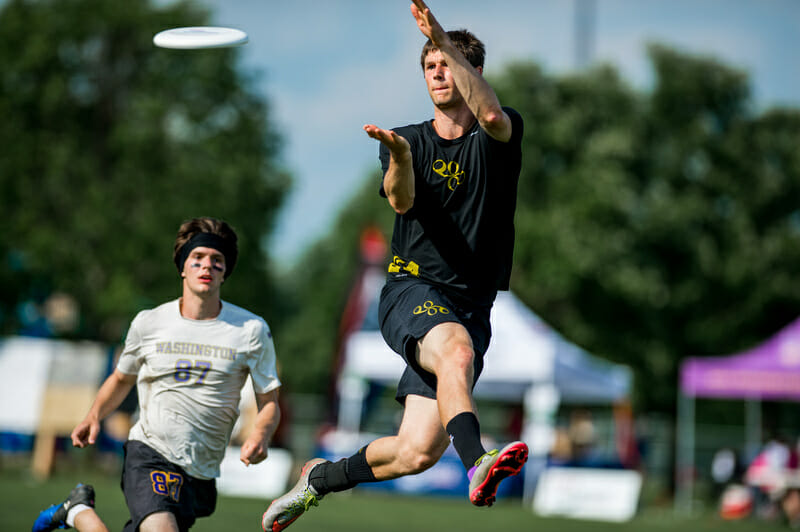 Coverage of the Men's Division at the D-I College Championships is presented by Spin Ultimate; all opinions are those of the author. Please support the brands that make Ultiworld possible and shop at Spin Ultimate! 
Can the competitors in Pool C take down the most talented Oregon Ego team since their 2015 run to the finals? Ego might have the right tools to go undefeated into quarters, but some unique skillsets and interesting matchups suggest that this pool could go topsy-turvy. Georgetown owns the most recent matchup against Maryland. Maryland has an abbreviated win over Georgia. Wisconsin gets a top cutter back in time to try and avenge losses to Ego and Jojah. We'll have the highlight Oregon vs. Wisconsin game on the Ultiworld stream live at 10:30 AM Central on Saturday.
Let's dive in.
Oregon Ego
Seeding: C1, Overall No. 3
Power Ranking: #3
Overall Record: 31-3
Against The Nationals Field: 7-3
Against The Pool: 1-0
Watch: On Ultiworld, Saturday 10:30 AM vs. Wisconsin; On USAU, Friday 2:30 PM vs. Georgia
Another season of success, with fewer slip ups, is already in the books for Oregon Ego. The Eugene powerhouse arrives in Milwaukee more consistent than they were in 2017, earning themselves the top of Pool C with a better winning percentage on the season and a better record against the Nationals field.1 The goal is—as reiterated by Ego co-captain and Callahan nominee Adam Rees—the same as always: win a title.
The last time Oregon got a good look at a National title was in 2015, when a short-handed roster survived bumps and scrapes in pool play to push through the bracket, eventually losing to North Carolina. 2018 is the first year since that the team feels as dangerous—they have the same offensive dynamism, but this squad makes better decisions. And the young guns can really play defense. Their small cluster of losses came at the hands of #2 North Carolina and #4 Washington. That's it.
Oregon's offense has been nearly untouchable. When they've lost, or they've gone down, it's largely been at their own hands. The team is entirely capable of charging down the open side sideline, breaking the mark in the red zone, and scoring in flow against any team in the country. It's when the early-stall hammers, the hucks to cutters already too deep, or push passes in wind over the front cone come out that the team stumbles. And that's mental.
Three particular moves seemed to have shored up the mental mistakes for Ego's offense. Fifth-year Braedon Petrus, long Colton Clark's trusty reset man, has moved the D-line to play handler cover. Sophomores Ted Sither and Noah Stuart have both stepped in to fill that role admirably, bringing a bit more length to the role. Rees has often rotated to the backfield to let Clark play downfield when he draws defenders more comfortable on handlers. The handler flexibility keeps opponents guessing, just long enough for Will Lohre and Xander Cuizon Tice to juke defenders out of their shorts and break free for deep scores.
On defense, Leandro Marx has been a revelation. He pulls, he takes top matchups, he gets blocks, and he scores. Duncan Fitzgerald continues to growth as a lengthy, athletic defender has learned quickly how to provide extra pressure. Petrus and Colby Chuck matchup on speedier players. Notably, Connor Matthews has also joined the D-line almost exclusively. His firebrand style, perhaps matched only by Lohre, has been fuel for the defense where it was often too unpredictable in previous years for the O-line. The move has benn beneficial for both lines.
Washington has managed to find one spot to attack Oregon: height. As athletic and speedy as 2018 Ego is, Clark is the tallest player who sees consistent minutes. The Sundodgers got the ball to their throwers early and often in their pair of wins against Ego (the teams are 2-2 against in their season series), and those throwers had license to chuck. With Reed Hendrickson, Jacob Steen, Spencer Lofink, and Peter Johnson in chase, the strategy paid off. As Oregon adjusted to cover the deep space with help, Washington let Lucas Chen go to work on the unders.
In Milwaukee, teams will certainly try to go over the top on Oregon. Georgia and Wisconsin both appear to have the strength, height, and style to do it, but they'll need to keep their hucks-to-turnovers ratio slim to none. Give Ego an inch and they'll blow through you to the bracket. All 23 rostered players will be ready to run.
Georgia (Jojah)
Seeding: C2, Overall No. 6
Power Ranking: #8
Overall Record: 17-4
Against The Nationals Field: 1-2
Against The Pool: 0-1* (5-4 loss to Maryland at Queen City Tune Up, game called due to weather)
Watch: On USAU, Friday 2:30 PM vs. Oregon and Saturday 2:30 PM vs. Wisconsin
Georgia did a bad job of getting started in 2018. Poor weather should temper the interpretation of win-loss records from Queen City Tune Up, but something felt off internally for the team from Athens, GA.
"We lost a couple games early in the season that took some of our veterans by surprise, and the sense of urgency that resulted struck variable chords with the rookies," said team president Sam Batson. A player who was transferring told the team he thought they lacked direction.
"We took that to heart, and the light-hearted spirit of half our team and aggressive will of the other half have put a lot of trust in each other, and I think it has brought us not only back to a program which in years past has won but more importantly has grown us past those teams into a team that loves the time we spend together," said Batson.
Jojah got themselves turned around after QCTU. They've lost only one game since—a tight, 15-14 game against UNC-Wilmington in the final of Tally Classic. The schedule wasn't stuffed full of teams that they'll see in Milwaukee, but the run to the Southeast Regional title stands in as a crowning pre-Nationals achievement in place of a banner win at a major tournament. The 15-9 drubbing they handed Florida was an exclamation point, where Georgia put a lot of their skill on display.
The offense looks solid. Georgia flows pretty naturally out of a good variety of looks into vert stack, and they've got a thrower with a cannon in John Langstaff. They are fast downfield, although a number of bodies will be missing in Milwaukee.
One of those absentees will be Hunter Cutts, key downfield defender and cutter, who is out with a broken leg. Still, co-captain David Petmecky helps lead a strong, tall defense that favors some force middle matchup and zone looks. These approaches worked beautifully against a team like Florida, who wanted to run the disc through a few top players. With a 2-3-2-type look, featuring the height in the front wall, opposing handlers could have a tough time finding the sidelines for yardage—the zone will dare them to go over the top and through the wall where other Georgia defenders can mix it up opposing cutters and hunt for blocks.
Georgia has a high floor, and they believe in sharing the ball. They'll need to, since the bench in Milwaukee will be shortened to 21 rostered players. Here's the rest of the attendance report, as written by Batson and lightly edited for punctuation. Take it with a grain of salt.
We're missing a primary handler, Patrick Trent, as he is in Colorado spelunking, go figure. Another one of our O-line starters may be missing some or all of Nationals due to personal decisions. Out of the remaining 21, a handful of us have tweaks and bunions, and the universe is always out to get Jojah, so I'm certain one of our players will be struck by lightning during warmups or arrested in the Milwaukee mall. Also for real one of our players said, 'See you later,' after a practice a week before sectionals and no one has ever heard from him since.
Yikes. Holding seed might be a tall order for Georgia.
Wisconsin Hodags
Seeding: C3, Overall No. 10
Power Ranking: #5
Overall Record: 27-11
Against The Nationals Field: 3-9
Against The Pool: 0-2 (one loss apiece to Oregon and Georgia)
Don't let the pockmarked Florida Warm Up schedule and the losses against the Nationals field fool you: Wisconsin might be the most dangerous pool three-seed on the men's side. Four of those losses were at the hands of Carleton. Two were to North Carolina. One was to Oregon. And, according to Wisconsin coach Andrew Brown, the team is just reaching full health now.
"Despite a raft of injuries that plagued the Hodags in 2018, Nationals will see us as healthy as we've been all year," said Brown. "Since Warm Up, the only teams our we've lost to are the top three seeds at Nationals so we're excited to see what we're capable of at nearly full strength."
Those losses account for seven of the nine noted above. The Hodags are otherwise well prepared hang tough with just about anyone.
Top-flight cutter Nicholas Vogt will be back in the fold at Milwaukee as well. He adds the kind of deep threat that could take down Oregon, especially with lefty Callahan nominee David Yu breaking marks to free up other throwers in space.
"For the Hodags to try and match the pace of Oregon would be a huge mistake for us. We need stick to our own strengths offensively and use our schemes to slow them down as a defense," said Brown.
Though the faces continue to change, the now-legendary defensive pedigree persists for Wisconsin. They like to slow the game down. Success for the Hodags begins with their defense taking opposing O-lines out of flow and getting turns through strong defense and good communication. They have the firepower to go over the top of Oregon and the strength to outlast a team with a short Nationals bench like Georgia.
As health and chemistry has returned for the Hodags, expect them to be ready for the poaches, clams, and force middles that the two teams above them in Pool C will undoubtedly test out. The Wisconsin coaching staff expects the team to be locked in from the sidelines to call out help and adjustments.
Even with upsets in the pool within reach, there might be more at stake for Wisconsin at the 2o18 D-I College Championships. Their exits in 2016 and 2017 have been unceremonious and disappointing. And they've historically been underwhelming playing at home.
"In 2016 against [Pittsburgh] we melted like the Wicked Witch of the Midwest when the rain arrived halfway through our quarterfinal. Since then, the coaches have made a point to stress throwing (and catching) outside of practice when raining in addition to execution during our rainy practices," said Brown. 
The way the Hodags see it, 2017 was no better.
"In 2017 we had UNC bent over a barrel late in the second half, only to wither under the pressure of holding out on offense, something that had seemed so easy in the first half. As good as UNC was, this was every bit a mental failure on the part of our O-line, and certainly more difficult to address as coaches than wet hands. Still, we've stressed mental toughness in 2018 with tougher, more mentally demanding practices and expecting more from our O-line, particularly defensively," said Brown. 
In Milwaukee, Wisconsin will try to thread the needle between using those exits as motivation and staying focused on each game as it arrives. Fueling competition with vengeance is a dangerous gambit, but in Pool C the circumstances are ripe for the strategy to pay off.
Maryland Space Bastards
Seeding: C4, Overall No. 15
Power Ranking: #20
Overall Record: 26-14
Against The Nationals Field: 5-6
Against The Pool: 1-2 (1-1 with Georgetown, 1 loss to Wisconsin)
It's been three years since Maryland made program history with their first College Championships appearance in 2015. Now, with new faces and a new coach in 2017 Club Coach Of The Year runner up Darryl Stanley, the Space Bastards are literally right back where they were: at Nationals in Milwaukee.
The Space Bastards put themselves on the map—if just the cardinal extremes—early on in 2018, with a 10-9 win over Pittsburgh and abbreviated first-half win over Georgia at back in February at Queen City Tune Up. That performance put them in bid-earning range and they've hung tough around the margins of  the USA Ultimate rankings' Top 20 ever since. Stanley said the strong start changed his plans for the team.
"We decided, 'Hey, why not this year?' Privately I was excited but I was never certain about our end result this season. I think what I've learned about this team is that you give them a challenge and they rise to it," he said.
And there have been an abundance of challenges.
Most of those 14 losses have come at the hands of teams with at least a Nationals pedigree. Maryland's 2-5 weekend at Easterns featured only one win over another 2018 qualifier. That final regular season tournament doesn't tell the whole story, though.
Maryland put away three bid-earners on their road to Milwaukee: UNC-Wilmington, NC State, and Virginia Tech. They pride themselves on adaptation and variety—the kind of Xs and Os goodness bolstered having a coach like Stanley on the sidelines. The Space Bastards can observe and opposing strengths and weaknesses in the stream of play, throw a different look on defense, move players around on offense, and start to take advantage.
"We have worked all season to develop our depth and get reps against the best teams in the toughest of circumstances. We've changed our style a few times as we learned about better pathways to success," said Stanley.
His team will need all the adaptability they can muster in Pool C. Oregon has the talent to outplay the rest of the pool at each position; Georgia and Wisconsin have the strength and pedigree to muscle into the bracket, and Georgetown own the most recent win in their season series with Maryland.
Georgetown Catholic Justice
Seeding: C5, Overall No. 19
Power Ranking: #21
Overall Record: 25-15
Against The Nationals Field: 2-5
Against The Pool: 1-1 (Both games against Maryland)
Take a cursory look at Nationals newcomers Georgetown Catholic Justice's record and it would be a no-brainer to write them off. But there's a scrappiness to this team that's manifested at just the right time for them. As a crazy as a bobbled greatest to go to Nationals is, the play could also be read as sheer, never-give-up-on-the-game grit. Whether you think playing with that kind of wild abandon is joyful and smart, or flies too close to the sun, is up to you.
Still basking in the glory of qualification, Georgetown captains Max Cohen-Casado and Christian Boxley admitted on Deep Look that all this would be new to them. Since, the team has gathered their wits about them. Boxley said that practices have run smoothly and that some support from the school has combined with an over-the-moon alumni network to make the trip to Milwaukee possible. As for figuring out how to amp up their play, that's been the simple part.
"Competing hard is easy when you have a group of 20-something guys that want to get better individually and as a team every day. We've spent late nights practicing and early mornings lifting, so we're going to make the most of our opportunity to compete against the best teams in the country," said Boxley.
Health has returned to Georgetown's roster as well. Injuries may have played a bigger story in the team's unremarkable regular season than any one outside of D.C. could have known. April might have just been the month when it all started clicking. Since the postseason kicked off, Catholic Justice is 10-1. That lone came at the hands of UNC Darkside. Of those 10 wins, only UNC-Wilmington, in the fateful game linked above, snuck within one point of a win.
Teams like Georgetown, fresh faces with no College Championships experience, don't often catch much of a break in their Nationals seeding and schedule, but they may have found one in Pool C. With Atlantic Coast neighbors Maryland seeded just above them in the pool, Georgetown has a puncher's chance to get a win and force Maryland to beat someone else in the pool to break into prequarters. Catholic Justice won the most recent meeting at Conferences 13-8, a much stronger showing than 15-13 loss they took a week earlier at the Oak Creek Invite.
"In those two games, the biggest difference was the weather," said Boxley. "The first game was a still, sunny morning, and the second game was windy and rainy. In our first game, we decided to run vanilla offensive and defensive sets knowing we'd see Maryland again later in the season. For our upcoming game in Milwaukee, we'll be sure to bring out all our tricks."
However you read the incredible play that capped a tremendous postseason surge from this pool five-seed, expect them to grit out every point they can in search of continued surprise greatness.
---
Last year, Oregon went to College Championships 32-6 on the season, 11-5 against the field. ↩