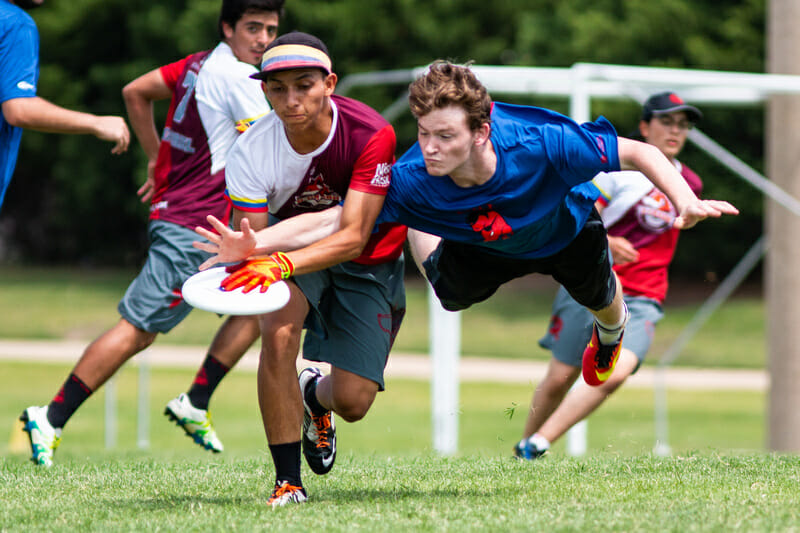 During this 2018 summer and fall season, we will publish a bite-sized weekly recap of the action across the Club Division. This will serve as a supplement to our standard tournament reporting and will offer a high-level look at the latest happenings and the biggest stories of the week.
I go through the annals of score reporter so you don't have to!
Want your tournament listed here? Submit a recap of what happened right here.
—
Happy Fourth of July everyone! This was a quiet week with only two sanctioned tournaments so read this quick and get back to explaining to your relatives how what you do is not "the frisbee golf." That's a real quote from about an hour ago.
But before you dive into those awkward conversations, make sure to purchase a team video subscription! This year it has new benefits including a Mini Subscription for your entire roster and a guarantee of a getting your team on film if you attend an Ultiworld-covered tournament!
Men's Division
Quick Hits
Winnipeg General Strike bounced back from a pool play loss to Chicago Black Market to beat Madison Mad Men 11-10 in the final of Spirit of the Plains.
Overall one-seed Dallas Nitro won their pool on tiebreakers and then swept through bracket play with two-point wins in quarters and semis to win Texas Two Finger.
Mixed Division
Quick Hits
At Spirit of the Plains, Iowa Chad Larson Experience went undefeated with a 13-10 win in the final over Omaha Woodwork.
Similarly, Austin Cosa Nostra capped their own undefeated weekend with a win over Chicago Shakedown 11-7 at Texas Two Finger.
Women's Division
Quick Hits
In a two team, two-game showdown,1 at Spirit of the Plains, Minneapolis Crackle beat Iowa Wild Rose in both games. First 13-7 and then 11-4.
Texas Showdown gave up only a single point across five games in a six-team round robin at Texas Two Finger
Looking Ahead
This coming weekend will be the kickoff of the 2018 Triple Crown Tour with Pro, Elite, and Select flight teams coming from around the country to Denver, CO to face off at the Pro-Elite Challenge. For most teams, it will be their first elite competition of the year and give us the first glimpse of the landscape of the division. It will also be a chance for teams to earn a bid to the Pro Championships in August. Will any teams be able to challenge Seattle Riot and Denver Molly Brown for the Women's crown? Which of the second tier of Men's teams will show enough to be considered contenders with San Francisco Revolver? Will any of the Mixed teams who missed Nationals last year earn any big upset wins to claim a bid for their region?
Ultiworld will have previews and recaps from each division. Also, we will be filming games for our video package and USAU will be live streaming multiple games on Sunday.
Elsewhere:
Huckfest and Swan Boat will have competition in all three divisions in Alabama and Florida, respectively.
Motown Throwdown and AnterLock will feature teams from the Men's and Mixed divisions
Finally, Philly Invite, located in Not-Philadelphia Norristown, PA will host Mid-Atlantic and Northeast mixed teams
---
both interestingly on Field 12 and played back-to-back ↩