There's a lot of uncertainty going into the U.S. Open as teams jockey for position.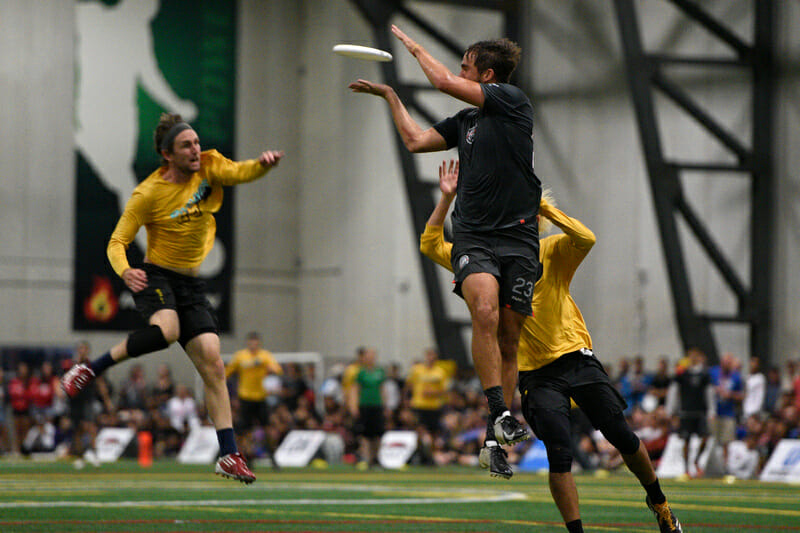 The 2018 World Ultimate Club Championships are over, #1 San Francisco Revolver remain the rulers of their division after adding the WUCC jewel to their crown, and it's officially early August. So what now?
Continue on with the Triple Crown Tour!1 It's U.S. Open time. Tune in this weekend for USA Ultimate's mid-summer long weekend of semi-international competition, the ever-exciting and growing Youth Club Championships (YCCs)2, and some top end club teams trying to stake their North American claim after international attempts at glory.
Tournament Profile
Date: August 3-5
Location: Blaine, MN
Weather: Temperatures in the 80s with requisite chances of T-storms all weekend long
Top 25 Teams: 9
International Teams: 3
The WUCC-Weary: What's At Stake For Revolver, Ring, And Doublewide?
San Francisco Revolver, #3 Raleigh Ring of Fire, and #11 Austin Doublewide will all arrive in Blaine after a grueling week in Cincinnati, replete with upsets and wild scheduling challenges. Whether these teams arrive with full rosters, skeleton crews, or something in between, don't be surprised if the results they turn in look inconsistent with overall season expectations.
Revolver is starting to build a history of losses at this tournament. While they still are the rightful favorites to win this weekend's competition—especially if the team is healthy—dropping a game or two this weekend does almost nothing to the overall outlook of their season. The Pro Championships loom as the season's big finish, and a West Coast-friendly Nationals in San Diego are on the horizon. With no one in the region anywhere close to threatening an upset, the reigning division champs could rest on their laurels this weekend and it wouldn't matter much.
Of course, that's not really Revolver's style. The reason San Francisco has the overflowing trophy case and magnetic draw on top-level talent is their incredible reputation for being competitive freaks of nature. This team doesn't do losing—it's not in their DNA. They don't take tournaments off. So don't count them out.
But despite the jokes about actually being robots,3 Revolver is a team made up of humans. They are fallible. That makes this weekend a nice chance for Raleigh Ring of Fire to rebound after their early exit WUCC. And Ring lands in Blaine with something to prove.
While this team isn't exactly a facsimile of the AUDL's Raleigh Flyers, the rosters are very similar, the leadership is nearly the same, and the semi-professional outfit suffered an even more recent (and perhaps more frustrating) early exit after a playoff loss in the AUDL's South Division Championship game last weekend. So maybe the U.S. Open presents an opportunity to place a satisfying tournament title on Ring 2018's mantle on the way to challenging Revolver again in the postseason. Or maybe they're tired, too.
Austin Doublewide faces an equally weird choice this weekend—the team is a mish-mash of the AUDL's Dallas Roughnecks (now preparing for the semi-professional league's championship weekend) and Austin Sol (now eliminated). They still haven't practiced much. Kurt Gibson is headed for Chicago Machine now that WUCCs are over. Fielding a full the roster for this mid-season affair looms as a particularly difficult challenge for this team.
But this team has proven they have plenty of talent to compete, despite a rocky start to the season. Jay Froude, Dalton Smith, Kaplan Maurer, and Matt Bennett are the new generation in Texas. People seem to have forgotten that the 2017 squad that made the title game back in Sarasota. That's a high bar to set, but with room to grow, it's possible this team exceeds last year's capabilities.
PoNY Adds Talent, But Are Still Incomplete
Speaking of AUDL conflicts, the New York Empire are still alive in the semi-professional postseason. That means #12 New York PoNY still has players they can't roster for club play, such as premium deep threat Ben Jagt. The team hasn't spoken on the record about access to their players engaged in the AUDL, but casual fans can compare rosters, read in between the lines, and make an educated guess.
On the upside, Chris Kocher and Jimmy Mickle are both set to get their first run as members of PoNY. That's a massive leg up for a team that played short-handed to underwhelming results the first weekend in July at Pro-Elite Challenge. Both join New York after a run to the WUCC final with Sydney Colony and both look to be in fine form. So begins the process of adding more elite talent back to the club roster and—after a week of showing how comfortable they were being team focal points—Kocher and Mickle should help take 2018 PoNY from a loping walk to a healthy trot.
Another Look At Johnny Bravo, Machine, Sub Zero, and Truck Stop
The rest of the States-based delegation to the U.S. Open represent a broad spectrum of success and failure so far this season.
#4 Denver Johnny Bravo roared out of the gates at Pro-Elite, #7 Chicago Machine missed semifinals, #14 Minneapolis Sub Zero looked scrappy at times but couldn't hang for the entirety of games, and #19 D.C. Truck Stop managed a miserable debut a month ago. The PEC champions from Denver will have to play at sea level this weekend and adjust their hammers accordingly. Sub take their turn as the hometown team, a chance to ramp up their efforts over the course of a slightly-less rigorous weekend than playing at 5,000-plus feet in near 100-degree heat. And Chicago, who typically do a great job of integrating all of their players into a system, will add Gibson into the mix.
For Truck Stop, the task is different. They will have a roster free of semi-professional scheduling conflicts and have likely made progress since struggling in Colorado. But this is a team that looks and plays differently than the 2017 iteration that made semifinals back in Sarasota last October. It's hard to know what to expect and it's fair to wonder if the team themselves are aware of what they can do.
The Visiting Clubs
The Bunka Shutter Buzz Bullets, back in action after a hiatus imposed by the JFDA last year kept them from international competition, headline the lineup of international competition in the men's division. The Buzz Bullets are known for their particular brand of break throw-savvy, high-speed play—just the sort of tactical stuff built to dismantle teams that like to try and out-muscle opponents. They've had a lot of success against North American clubs over the years, and there's a lot of excitement about their return. Two more Japanese clubs, Loquitos and Osaka Spirits, will be in the mix as well.
And finally, Fire of London join from the United Kingdom. They failed to qualify for UK Nationals, making a run at a tournament this competitive and unforgiving look like a long shot.
---
Yelled everyone? Yelled no one? ↩

Seriously. These kids are good. ↩

Or is it sharks? I really don't know. This team is weird. ↩