Three undefeated teams remain, but there were a lot of unexpected results on Friday.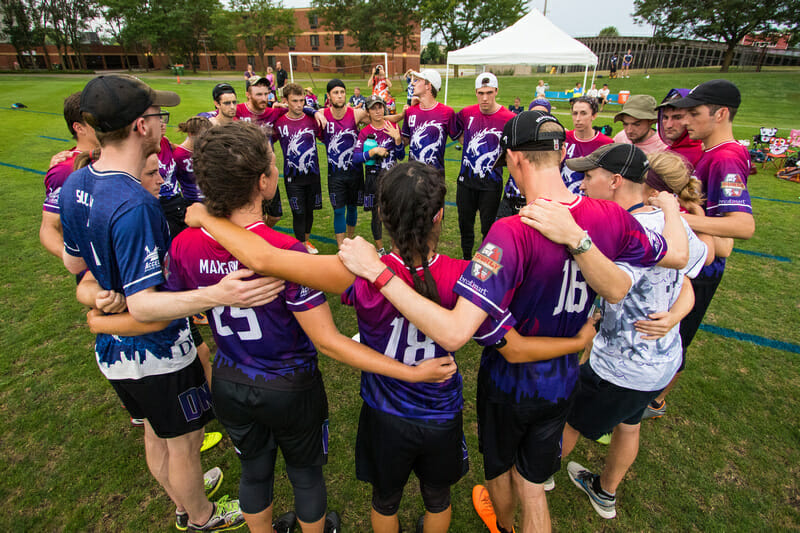 Ultiworld's coverage of the 2018 Mixed Division is presented by Universe Point cleats; all opinions are those of the authors. Please support the brands that make Ultiworld possible and shop at Universe Point!
Additional reporting contributed by Joe Ling.
BFG Goes 3-0, But Barely
Despite two double game point wins against Public Enemy and Mixtape, #1 Seattle BFG finished with a 3-0 record. The big contributors played well: Rena Kawabata, Jeff Pape, and Adam Simon were the distributors, while Kieran Kelly1 and Lindsay Simon Fox generated the downfield yardage. BFG jumped out to a early lead against Public Enemy with good downfield defense, forcing low percentage Public Enemy throws. Against Mixtape, BFG's ability to work the break side and take high percentage shots overcame Mixtape's athleticism.
While it might have been nice to end up with more comfortable victories, BFG has tremendous depth all across their roster, and they are in good position heading into their final pool play games tomorrow.
AMP Asserts Dominance
#4 Philadelphia AMP had games against top six teams Love Tractor and Slow White. Against Love Tractor, AMP finished on a 9-4 run to win convincingly 15-9. Carolyn Normile anchored the D-line, finishing with two goals and two assists. Nicky Spiva, as expected, continued being a huge addition to the O-line with his versatility as a handler and cutter.
AMP absolutely throttled Slow White by a 14-4 margin. Switching up defensive looks frustrated the stagnant Slow White offense. Philly's D-line offense was versatile, mixing hucks and break throws while utilizing their tremendous D-line depth. AMP enter Sunday as the lone 3-0 team in Pool B, having already defeated the top ranked teams in their pool.
Has Drag'n Thurst Returned?
In their morning game against Mixtape, #8 Minneapolis Drag'n Thrust looked dominant. They jumped out to a 3-0 lead in a wire-to-wire 15-10 win. John Groess, the new head coach of Drag'n, had a lot of praise for his team, noting that the win came in large part from his team's depth, especially in terms of athleticism. Drag'n Thrust allowed their depth to shine in the isolated one-on-one matchups they created.
Drag'n Thrust proceeded to defeat Storm and Germany Mixed by a combined fifteen goals to finish the day 3-0. They will match up against 2-1 Public Enemy and 3-0 BFG tomorrow in two crucial games at the top of Pool A.
Slow White Battling With Small Roster
Despite not having O-line handler stalwarts Jeff Smith, Rosalyn Año, and Vicki Chang today, #5 Boston Slow White finished with a 2-1 record. Alex Trahey tallied a spectacular eight assists against Steamboat. Against NOISE, hucks and athleticism were dominant; points consisted of multiple huck looks. Yet on double game point, Slow White took the patient approach: after a block and Slow White timeout, the team consciously looked off several deep cuts, working unders to break and take the game, 15-14.
Captain Hannah Baranes was impressed with Slow White's defensive pressure and athleticism, while noting offensive handler Chang's return tomorrow will be welcomed. Both Baranes and Trahey left their final game against AMP with injuries, so it remains to be seen how that will impact the team tomorrow.
Is NOISE for Real?
#15 Madison NOISE went 2-1, playing great games against higher seeded teams. They played a double game point game against Slow White; Ian Hahn scored four goals in the loss. Later, NOISE outscored Love Tractor 7-3 in the second half of that game. The Wisconsin team's sideline marks and downfield defense forced several turnovers; Dayu Liu's dime hucks and Ria Becker's handling and cutting versatility led NOISE offensively.
NOISE has a huge test against AMP tomorrow morning, but even if they can't spring that upset, there is a possibility that they can advance to semifinals with a 3-2 pool play record.
Public Enemy Back in the Bid Picture
#20 Dallas Public Enemy found themselves down 10-6 against BFG. Instead of folding, Public Enemy played with confidence, ultimately losing 12-11 on double game point. Regarding the comeback, coach Adam Goff said: "We just played cleaner, and we didn't give them the free break throws and shots."
Public Enemy carried this momentum into their next game against #3 Mixtape, with Kevin Christian and Jenna Bigbie leading a diverse offensive attack. At 10-10, Public Enemy broke on double game point when Michael Hays intercepted a huck attempted to Brad Houser, and scored the ensuing goal.
The one goal games against both Seattle teams combined with a 15-8 drubbing of Storm puts Public Enemy right back in the bid picture in a region with highly ranked Love Tractor and Shame.
Mixtape Falters On Win-less Friday
#3 Seattle Mixtape, the tournament's no. 1 seed, shockingly went 0-3. Mixtape's offense struggled to generate easy yardage gaining looks and often had to make a lot of throws in order to score. While Ellen Goldberg was fantastic in all three games, it was clear that Mixtape's O-line, without Abbie Abramovich and Paige Kercher, is a work in progress.
That being said, captain Bert Abbott, remained optimistic: "I felt like we came back to our identity during our game against BFG… we played a much better game not only on the field, but in the way that we supported each other from our sideline. We showed the mental toughness to bounce back… we've got a chance to test out people in new positions against great opponents and we're looking forward [to those opportunities]."
Pool Play Games to Watch Tomorrow
8:30 AM – Drag'n Thrust (3-0) vs. Public Enemy (2-1)
8:30 AM – AMP (3-0) vs. NOISE (2-1)
10:45 AM – BFG (3-0) vs. Drag'n Thrust (3-0)
10:45 AM – Slow White/Love Tractor OR NOISE/Steamboat
---
Kelly only played two games, sitting against Mixtape in the team's final round of the day. ↩