Great competition in even better weather.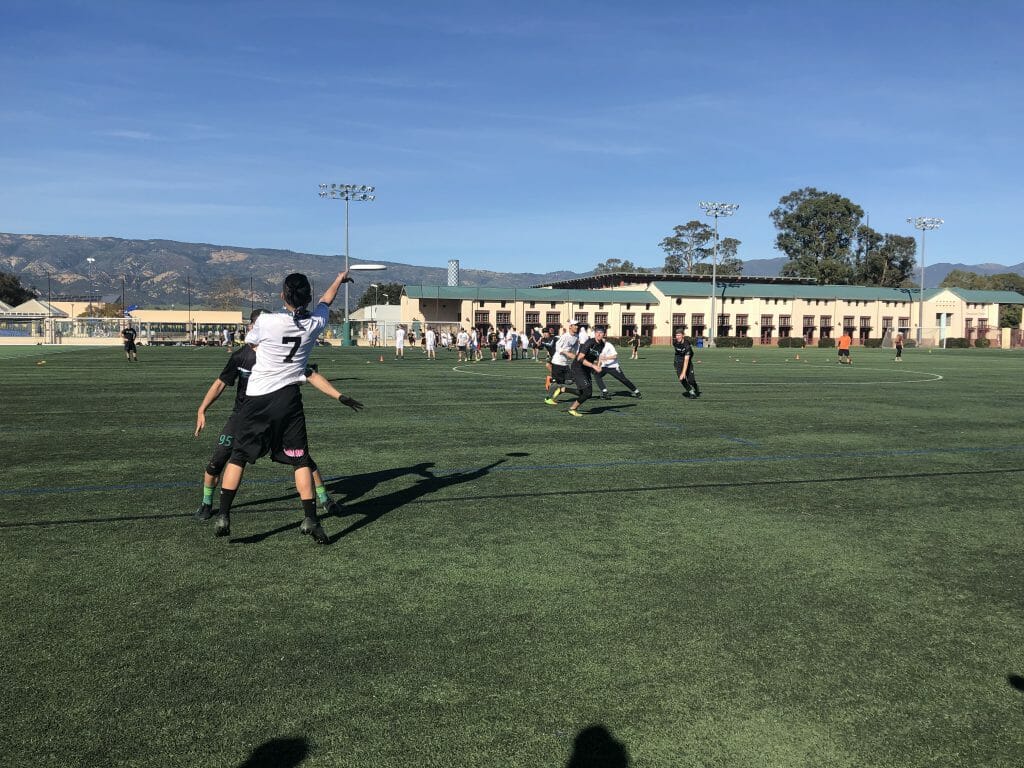 Ultiworld's 2019 college coverage is presented by Spin Ultimate; all opinions are those of the authors. Please support the brands that make Ultiworld possible and shop at Spin Ultimate!
SANTA BARBARA — It was a typically beautiful weekend in Southern California for the 2019 Santa Barbara Invite. For some teams, this was their first opportunity to get outside and play against other teams, while for others, these matchups already had serious bid implications. Here's a look at the biggest stories from this weekend at the Santa Barbara Invite.
SLO's Relentless Defense Earns the Tournament Crown
#11 Cal Poly SLO was impressive, particularly on defense, on their way to a tournament win. They went undefeated on Saturday and Sunday (dropping a Friday night showcase vs. BYU) with a six goal average margin of victory. In their closest game of the weekend, their quarterfinal against Washington, SLOCORE led 5-1 early. "[SLO] comes ready to play every game. [We] bring the energy and compete from the very beginning," said coach Cody Mills. Though Washington fought back to tie that game late, SLO never looked out of control and won the game 13-11 before taking down Victoria in the semifinals and UBC for the title.
No team could match SLOCORE's intense defense this weekend. Opponents' catches were hard earned, and Cal Poly defenders barely gave their assignments an inch to move. Sean Liston patrolled the deep space, effectively shutting down opponents' deep game. He added his name to the early shortlist for Defensive Player of the Year with his effectiveness in one-on-one sky battles and as a layout machine. Ian Sweeney's throwing prowess and confidence after a turn gave SLO a chance to score every time they got a turn. His deep pulls often left the opposing offense in their own end zone to start a point. Emmet Holton gave the team another athletic defender capable of running the offense after a turn.
On offense, rookie Calvin Brown and veteran Caleb Merriam controlled the backfield in their first tournament together. The pair did most of the heavy throwing for a SLO team looking to gain chunks of yards at a time. They utilized a few pull plays to isolate their athletes and win their matchups downfield. Conor Schofield was frequently open and Dillon Whited timed his continuation cuts nicely. Their offense isn't as polished as their defense right now, and teams that brought the requisite intensity were able to generate turnovers regularly, often by forcing difficult hucks.
A 4-0 first half run against UBC in the final effectively put the game away, and UBC managed just a single break in the game. UBC's defense was able to create some pressure and force turnovers, but SLO's O-line plays defense nearly as well as their D-line, a huge advantage over the course of games.
The fact that this team looked sharp this early in the season and still can improve should be scary f0r other top teams. There were times this weekend that their system broke down and their talent still carried them through points. Add in a few months of refining their systems, and this is a team that could win a bracket game at Nationals. Additionally, Nate Pettyjohn has yet to see the field and will add another dynamic threat to the team.
BYU Impressive In Undefeated Weekend
#13 Brigham Young has an exuberant confidence about them and deservedly so: they swept their games at SBI, going 6-0 over Friday night and Saturday games, including a decisive 13-10 victory over SLO. More than any other team, BYU communicated effectively. They play a stingy defense that knows when to switch their matchups, and their offensive cutters created acres of space for each other. Often starting in a side or split stack, BYU had some of the most polished pull plays of any team this weekend. Their lightning fast offense and quick decision making led to quick holds. After a turn, CHI's D-line plays the same way, often connecting on fast break hucks.
Braden Eberhard excelled as the center handler, starting off possessions quickly with decisive throws to space for the isolated cutter. Jordan Kerr began most points downfield but led the team with 17 assists, many on quick around breaks. Luke Yorgason was the team's leading goal scorer, timing his strikes to the end zone around the play developing in front of him. In their six games, the BYU offense only gave up four total breaks.
With their high-flying offense and fast paced defense, BYU is a fun team to watch and again a team that looks like it deserves to be at Nationals. They will be back on the fields at Florida Warm Up in a few weeks.
UBC Rides Consistency to Final
British Columbia was fantastically underseeded, entering the tournament seeded dead last at 20th and finishing in second place with some impressive wins to their name. Without head coach John Norris, Tim Tsang and Mike Fung took the reigns and led the team to the final. Ty Barbieri and Connor McFadyen, both Team Canada U24 selections, starred for this deep team as the Thunderbirds lost only their opener to BYU and the final to Cal Poly SLO.
While there was a touch of luck involved in their run1, UBC played very clean ultimate and earned their wins. All seven players on the field were involved in their offense, and they were able to move the disc quickly even in the face of defensive pressure. Against Southern California's zone defense, UBC swung the disc until they could break through the front wall, then trusted their receivers to fast break to the end zone, rather than waiting for a reset. Their 13-7 dismantling of USC looks especially good given the context of the rest of Lockdown's weekend. Facing SLO in the final, the Thunderbirds ran hard to get open against the tight 'CORE defense and were able to move the disc effectively.
UBC runs a flowing horizontal stack and isn't afraid to look deep. Victor Cheng took a lot of responsibility on offense, taking shots downfield and securing resets when those looks were not open. UBC did not look incredibly flashy, but their consistency got them far. They are clearly a top 25 team. Their D-line offense will need to improve to be able to challenge stronger teams like the two that they lost to this weekend.
In a crowded Northwest, having these deep bracket games under their belts might be some helpful experience later in the season.
Victoria's Offense Carries Them to Semifinals
"After going to Nationals last year, this team knows how to play as a favorite…We are coming in this weekend with a little bit of a chip on our shoulder," Malcolm Bryson said, referring to the team's no. 11 seed. #25 Victoria outperformed expectations and won all of their games at SBI save for their semifinal against SLO.
Like their northern neighbors UBC, Victoria runs a smooth horizontal stack on offense, utilizing the throws of Devon Thomson and Michael LeRoss to move the disc. Dawson Pasin towers over most opponents and represents a huge threat downfield. His size makes him a natural deep target, but he has the disc skills to come under and make continuation throws as well. The Victoria D-line is run by the two Seans: Bennett and Battiston. Bennett, in particular, impressed with his ability to keep possession after a turn and launch accurate hucks to get quick breaks.
Despite playing without Thomson on Sunday, the Vikes were one of the only teams to jump out to a lead on SLO. Victoria broke twice early to go up 5-2 but couldn't hold the lead and gave up a 6-1 run at the end of the first half to concede control to Cal Poly. The Vikes offense started forcing hucks late, hoping to spark a comeback, but SLO — like they did all weekend –owned the skies and rolled through the second half for a 13-7 win.
After that disappointing loss, Victoria put on a thrilling, emotional comeback against USC in the third place game. They were down 7-2 at halftime but stormed back with an 8-3 run of their own to tie the game at 10-10. They traded holds before UVic broke to win 13-11. The mental toughness to comeback in the consolation game, especially after a tough loss in semis, bodes well for them.
For a team that came in without much fanfare, Victoria impressed. Though they did not blow out any teams, all of their wins looked clean and confident. Playing in close games does not seem to phase them: they look like a team that has the skill and mindset to get back to Nationals.
Washington Looks a bit Wobbly
#7 Washington came into SBI as the favorite to win, but a controversial upset loss in pool play to Southern California put them on the wrong side of the championship bracket, and they fell to SLO in a tight quarterfinal. While there are some built-in excuses–captain Derek Mourad did not play this weekend with a hamstring injury, and the team is integrating new faces like Jeff Zhao and Gabe Port onto their O-line–this team simply did not play well enough, early enough in their big games.
Washington began the tournament by beating Arizona, Michigan State, and Cal by a combined score of 39-17. But in their last game of pool play, they faced a USC team looking to make a statement. Neither team held a lead larger than two and the game came down to double game point as hard cap went off with the score tied at 12-12. Washington looked like they had a win as Jake Steen skied a pack of players on a floaty pass to the end zone. The observers, however, upheld a dangerous play call from USC, and Lockdown took possession. Steen was injured on his fall to the ground. "I thought I was behind the crowd of people and I jumped up and caught it," said Steen afterwards. "I don't think I ran full speed into it; I just jumped higher than everyone."
The long stoppage halted the game's flow and added another level of intrigue to USC's upset bid. Washington had another chance to score the go-ahead goal after a turn, but turned it over again and USC marched down the field to score the winning goal (though not without some additional intrigue when what looked to be a goal was sent back by the observer due to the back cone being out of position). While USC clearly played well enough to deserve the statement win, Washington has to feel cheated out of this one after some close calls went against them.2
Despite the calls, both teams said afterwards that they felt it was a fun, spirited game. After the game they joined in a spirit circle, a rarity in the Men's Division, ending with the joint cheer, "West Coast, Best Coast."
The controversial upset left Washington matched up against SLO in the quarterfinals, rather than a matchup in the final that was expected. "It is frustrating [to lose], especially if we are supposed to be the number one seed and ended up not winning our pool," admitted Steen.
"We know teams are going to be coming for us," said coach Mark Burton. "We want to be relentless in everything we do…and embrace the mentality of continuously earning everything that we do."
After spotting SLO a 5-1 lead, the Sundodgers came back to tie the game at 9-9. Lucas Chen was instrumental for them, filling in as a release valve on offense, but he wasn't able to lead the team to the win against a Cal Poly team that ground them down with relentless pressure. Burton mentioned the "U-Dub mentality that sidelines help win games" as a focus for the team this weekend. Early on Saturday, the Sundodgers could be heard cheering from across the field complex, but their volume waned as injuries and attrition took its toll. Washington also failed to bring the requisite intensity to matches early on, evidenced by their struggles against SLO in the first half and their ineffective defense against USC until late in the second. When they found the fire on defense, though, they were excellent at creating chaos and forcing turnovers. But it turned out to be too little, too late in those games.
Still, Burton was glad his team got to play a tough, close game early in the season. "This game was worth five practices," he said. While he probably would have liked the result to turn the other way, his thoughts underscore the importance of in-game experience and emotion as key building blocks to this Washington squad.
At their best, Washington looked like a top tier team this weekend. But until we see them fully healthy and firing on all cylinders, we won't know for sure what their ceiling can be.
USC's Stars Shine Bright
#24 Southern California Lockdown came into SBI looking to make a statement and get into the bid-earning picture. Playing without Sam Cook, who attended his brother's wedding this weekend, the heavy lifting for this team landed on the shoulders of seniors Wyatt Paul, Dave Sealand, and graduate transfer Hill Balliet.
Paul is consistently one of the fastest players on the field. He has no problem running by defenders, even when they shade him deep, and is often able to use his speed to catch uncontested hucks. Balliet, while not as quick, is a very smart cutter and uses his timing and spacing to make plays downfield. He is a confident thrower and did not looked phased playing in tight games against top teams. Sealand plays mostly defense and takes on the opponent's best player. While slight in frame, he holds his own in the air effectively and can take control of the offense after a turn.
Those three (four when counting Cook) will take on most of the offense, while the bulk of Lockdown is composed of young, athletic players who know how to play smart, aggressive defense. USC uses a zone look to flummox opposing teams but can rely on their matchup defense to generate pressure. USC was able to use that zone to make an early statement with an upset over Washington in pool play. After dispatching Stanford in their quarterfinal, Lockdown looked fatigued in a semifinal loss to UBC.
USC's success this season will come down to how many points Cook, Balliet, Paul, and Sealand can play without getting too tired. Lockdown has some reliable complementary players like Ricky Kirkpatrick and Drew Okenfuss, but they tend to turn to their stars to take over often — and play a ton of minutes. Playing zone defense helps take some mileage off their stars legs, but the quartet will need to be well conditioned to win tough matchups on Sundays.
Paul was excited after the win against Washington. "This is a confidence-building win," said Paul. "We know that, no matter the opponent, we aren't an underdog."
"I was excited because we were able to beat an out of region Nationals team without Sam Cook. We proved to ourselves today that we can compete with the best teams," echoed Balliet.
Coach Thomas Lin was likewise encouraged by his team's success. "We are getting the hang of some very high level competition," he said. "We have been coming to this tournament for a few years, and it is good to get a feel for where we stand against national contenders. We are trying to be competitive to earn another bid, but it is good to be exposed to the different styles of play of out of region opponents. It is nice to be out here competing at a high level." Lin was not shy in sharing that his team is playing for another bid in the Southwest. After Cal Poly SLO, Lockdown right now looks like a favorite to be in contention to play meaningful games on Sunday at Southwest Regionals.
Stanford Building Depth
#20 Stanford went 3-4 on the weekend with losses to Victoria, UCSB, USC, and Washington. On the surface, none of their wins looked particularly impressive and a sub-.500 record isn't ideal, but the team actually played fairly well.
Captain Kevin Tien sat out Saturday's games with an injury, but his reintroduction to the offense of Sunday added a jolt of life to what was a stagnant attack. Nick Hirning can complete every throw required, and David Mondry is a reliable reset who uses his big frame to make plays in small spaces, but beyond those two, Stanford did not have much firepower on offense early in this tournament. On Sunday, Bloodthirsty was able to run some side stack isolation plays to get Tien the disc downfield. He was their most reliable throwing option outside of Hirning and opened up a lot of space for Michael Becich to operate as a smart continuation cutter. Becich was a monster in the air, pulling down almost every jump ball thrown his way.
Stanford also played some of the best matchup defense at this tournament, but without Hirning or Mondry crossing over from the O-line, Bloodthirsty had trouble stringing together more than a few passes after a turn. "We're playing really well and ahead of expectations," said coach Josh Kapilivsky. "We out-layout-D'd every team we played. I'm stoked to see the growth in this team."
If Stanford can turn their strong defensive pressure into points, this team could be dangerous later in the season; we will see if their growth can continue.
Quick Hits
UC Santa Barbara played well in their home tournament, breaking seed to finish seventh. Playing without Max de Visser, Black Tide showed that their system was hard to crack. UCSB players seemed to be on the same page and communicated well on the sideline. They never looked out of a game and did not take any thumping losses. Robby Odum stood out as a player who took tough matchups on defense and always seemed to get open on offense. He is a budding star for a rising Black Tide team. "This team has a really high ceiling," said coach Collin Gall. UCSB is heavy on first and second year players. Don't be surprised if they improve into a serious contender in the region.
#17 Colorado State went a pedestrian 4-3. While this was an early season tournament and they played with an open rotation throughout, they did not look as polished as Hibida has looked in the past. "This team has a lot of talent, but is still finding the balance between aggressive and intelligent ultimate," said new head coach Peter Raines. Hibida has had weather limit their practice time and fall tournament games, and they hope to build on their early season performance. They beat UT-Dallas in the ninth place game to establish an initial pecking order in the South Central region.
Speaking of UT Dallas, they came into the tournament ready to implement some new structures and work out their lines for the season. Coach Eric "Mouse" Wilkins is in his fourth year coaching and has a strong senior class that has grown up with him as a team. Jason Dick and David Hammer are their players to watch, but this is a team who makes up for a lack of star power with impressive depth. Woof played open lines throughout all of their games. Every player on both starting lines is able to play tight defense, which was especially helpful for their O-line in getting the disc back after a turn. While UT Dallas did not earn a signature win this weekend, they definitely did not look out of place against some good teams. Woof is headed to Florida Warm Up in a few weeks, another critical opportunity to prove themselves.
California had a few highlights this weekend, impressing early with a late 5-0 run against USC for a near comeback and for having the focus to take down tough teams in UCSB and Washington in the fifth place bracket. Cal had the most success on offense when their handlers were able to play a three-man game and work up the field themselves. UGMO has a tough zone that gave opposing offenses a lot of trouble. They only lost to Washington, USC, and Victoria, and played competitively in each game. While they might not be strong enough to earn a bid for the region, they aren't going to be an easy win for anyone this spring.
A quick thanks to the tournament directors, Nate Kirchhofer and Collin Gall, as well as the volunteers, observers, and UCSB Rec staff. Santa Barbara Invite continues to be very well managed.
All-Tournament Team
Sean Liston (Cal Poly SLO)
Wyatt Paul (Southern California)
Hill Balliet (Southern California)
Calvin Brown (Cal Poly SLO)
Ty Barbieri (British Columbia)
Dawson Pasin (Victoria)
Robby Odum (UC Santa Barbara)
---
UBC got a bye to the quarterfinals after finishing second in the pool to BYU, who does not play on Sundays, and USC's upset of Washington placed the top two seeds on the other side of the bracket ↩

Subscribers can watch the game when it is posted ↩