Many top teams debut, but can they handle UCSD and UCSB?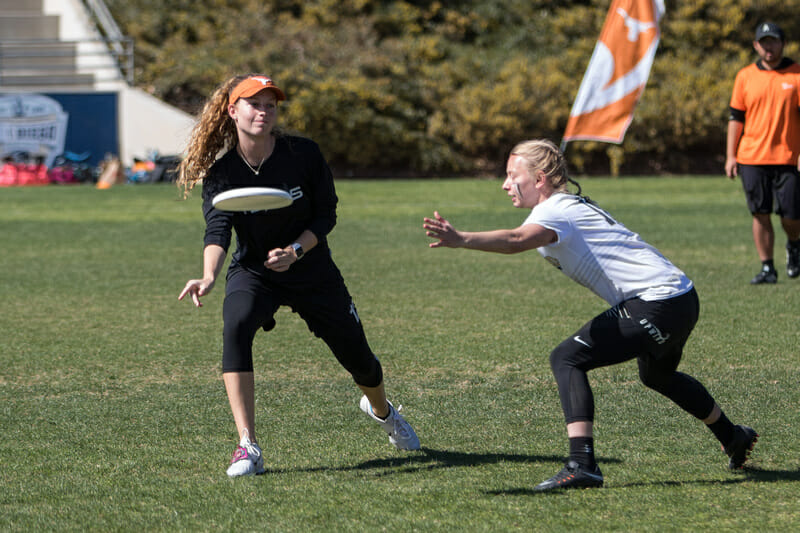 Ultiworld's 2019 college coverage is presented by Spin Ultimate; all opinions are those of the authors. Please support the brands that make Ultiworld possible and shop at Spin Ultimate!
With most of the U.S. trapped in a purgatory of ice and snow, a few hopeful teams are traveling to San Diego this weekend in hopes of competing in greener pastures. Unfortunately, San Diego appears to have other plans. The forecast includes both rain and 20mph winds, promising a tournament where the weather will be the eight defender on the field at any time.
Putting nature aside, this tournament should look very similar to last year. Of the top 10 seeded teams, nine return from last year, with Northeastern's Valkyries as the sole outlier. The format remains the same, too. An extended weekend has allowed the inclusion of power pools, which provided us with some of the best games from last year. With such a strong showing from the Northwest, Southwest, and South Central, this could be an early indicator of how the postseason could play out.
Tournament Profile
Date: February 17-19
Location: La Jolla, CA
Weather: Mid-60s and sunny, with light wind
Top 25 Teams: 11
Filming Schedule
Filmed games will be available online next week for Ultiworld Full and Plus subscribers. Game schedules are subject to change.
Saturday
8:45 AM: Texas v UCLA
10 AM: Colorado v. Minnesota
11:15 AM: Cal Poly SLO v. Utah
Sunday
AM Power Pool Matchups (TBD)
Monday
10 AM: Semifinal
11:15 AM: Final
Teams to Watch
The Favorites
Colorado: Ready to Show Their Youth Infusion Will Keep Them Competitive
Kali's run to the 2018 national final was years in the making. The disciplined offense instilled by head coach Claire Chastain came to fruition in Milwaukee but really started when Kali's star players like Kelsey Bennett, Jean Russell, and Nhi Nguyen joined the team as freshmen. It's now a new era for #9 Colorado, as they graduated most of the talent that made their offense sync up so perfectly.
That doesn't mean it's time to sell on the storied program just yet, though. Colorado's offense might not be what it was last year, but their defense could now become their calling card. Katiana Hutchinson has returned to the team for her fifth year, along with defensive stalwarts Emma Capra and Rachel Wilmoth. Those three players were responsible for 33 combined blocks at Nationals alone. It's possible that they may transition to offensive roles, but it's equally possible that Chastain hands the reins of the Kali offense to rising talents like Saioa Lostra, Bailey Shigley, Allison Liu, and Mei Hecht. With such an influx of young talent, Colorado could either see themselves poised to excel from the get go, or later in the season as they've had time to build chemistry. Colorado has historically done very well in San Diego, and even if they don't, it's too early to pull the panic cord.
UCSD: Doesn't Need Home-Field Advantage to Remain the Favorites
#1 UC San Diego went to four regular season tournaments last year and never finished lower than third. How do you top that this year? Winning the Santa Barbara Invite was a good start; winning Prez Day would be even better.
For the Psychos, it all comes down to execution. The system that coaches Carlo Mosca and Alisha Stoun2 have implemented has enabled hands-down the cleanest offense in the nation during the early parts of the season. While many of their competitors are still working out the kinks in their structure, UCSD is only focusing on maximizing the system that has already been bred into them through countless hours of repetition. Granted, UCSD does have the luxury of ~10 hours of practice per week–quite the contrast to North Central teams that are losing their white discs in the snow.
For the San Diegan squad, a perfect record will likely come down to their mental game. They have all the pieces to win this weekend, but 2018 exposed a lack of assurance against some elite opponents. As long as UCSD's stars don't get nervous or start to overthink their offense, anything less than an appearance in the final would be a surprise.
Oregon: Keeping the Focus on their New Talent, Not What They've Lost
The return of Ella Hansen may be the headline of #6 Oregon's offseason, but this weekend will be a test to see how the team will handle the loss of their other senior talent. The Bellingham Invite was a promising start to their season, but with their cards on the table, Oregon had to rely heavily on Hansen and Maddie Boyle to get any traction downfield. With the stakes heightened in San Diego, it really remains to be seen how deep this roster runs. Amy Turner and Takisha Tarvin have taken on a larger role, but the team still seems thin without playmakers like Hayley Wahlroos and Sarafina Angstadt-Leto. That's not to say that it's time to sell your Oregon stock–they've proven time and again that they're a sound investment–but it could take a while for the team to coalesce as well as they did last season.
With the schedule changed due to inclement weather, Oregon's on-paper matchups have improved. They've gone from arguably the toughest pool (UCSB, Colorado College, UCLA) to a much more unproven set of opponents (Vermont, Cal). The conditions won't be friendly to anyone, but Oregon's competition shouldn't activate their nerves, giving them a chance to work their way into the season.
Texas: Playing With a Chip on Their Shoulder
After the U24 roster announcement, Domenica Sutherland pointed out the notable lack of South Central representation. #7 Texas certainly isn't the only team in the South Central, but they do seem to be the best at turning snubs into motivation.3 Texas isn't afraid to play with a fiery attitude, and it's worked for them over the past few seasons. The question with Texas will be whether they can harness their energy while still remaining efficient. Sutherland, Ivy Harrison, and Caroline O'Connell were all spectacular for Texas last year but were among the least efficient players on the team. Without Laura Gerencser and Marissa Land, Texas might struggle with their offensive execution.
The new schedule is not necessarily favorable to Texas. Northeastern still has yet to prove themselves against elite opponents and UCLA has been beatable, but the former looks talented and the latter has had chances to work out their kinks. Texas could very well storm through their competition by exhausting them. Without an offense that'll put the pressure on Texas' own core, they could have free reign to force their competition into playing Texas ultimate.
The Contenders
UCSB: Continuing to Improve Their Impressive Season
If there is one team that stands a chance to capitalize on the potentially awful weather this weekend, it's #10 UC Santa Barbara. The women from Santa Barbara fundamentally understand defense and prefer it when a game gets scrappy. They're the type of competition you'd hate to play against because you know they are laying out on every contestable throw and putting their bodies on the line for every jump ball. Julia Kwasnick, Audrey Brown, and Kaitlyn Weaver headline a team that has a comfort with physicality that would stagger a professional hockey team. Their ability to score after the turn will be tested, but they have a chance to grab national headlines if they can outduel their competition this weekend.
Western Washington: Refueled and Firing on All Cylinders
#11 Western Washington had their share of struggles last season but look good heading into Presidents' Day. Their newfound reliance on isolations from their vertical and side stacks have allowed players like Samiya Ismail and Macy Schelbert to operate with plenty of space downfield. They are absolutely lethal when their hucks are connecting and don't second guess their throws. At the Bellingham Invite, most of their turnovers came off of overthrown hucks, which is a very encouraging problem to have in the early season. If they can iron out their deep game and continue to improve team chemistry, they could easily upset higher seeded teams. This will almost definitely require high reps from Maddie Gilbert and Ruby Cassidy, but those players have shouldered large burdens for the team in the past and have proven that they are up for the challenge.
Stanford: Rebuilding With the Remnants of a Dynasty
There's no way around it, #21 Stanford's results at the Santa Barbara Invite were underwhelming. Losses to UCLA and Cal Poly SLO has shattered the illusion that the team is all but infallible during the regular season. They didn't have a full roster in Santa Barbara but that's hardly an excuse considering Superfly's pedigree. And yet, everything that happened at SBI should be taken with a grain of salt. Stanford's coaching staff is notoriously good at player development and knows the grind of the regular season. They gave high reps to the younger players on the roster and didn't overplay any of the veterans on the team.
But time is running out on Stanford: if they have Nationals aspirations, they cannot afford to lose half their games at every tournament. Hallie Dunham, Carly Eckstrom, and Caroline McKee have to shoulder a lot on the offensive end, they need the rest of their roster to help out on defense. San Diego's weather should play in their favor. The wind and rain is perfect for zone defense and Stanford still has one of the best zones in the nation. The tournament will be a good litmus test for the team's ability to earn breaks. It's too early to sell on Stanford, that doesn't mean they're a lock to make the bracket, though.
Vermont: Out to Prove They're Ready For the Spotlight
Vermont claiming the no. 8 seed would seem high on first glance, until you remember how well they did the last time they came to California. Ruckus smoked their competition at the Santa Barbara Invite last season, and made it all the way to the final before losing to Stanford. This is a very different Vermont team, though. Madison Westfall and Kyle Weatherhogg are gone, as are many other veterans from last season. If Vermont is shooting for success, it'll likely come at the hands of Mariz Mangundayao, who was stellar for them last year. Vermont can't be complacent, either, as Cal won't be an easy out. Last year's Ruckus outperformed all expectations; this year, they'll have to live up to them.
Minnesota: The Latest Threat From the North Central
Ask half the teams at Presidents' Day and they'll tell you that the North Central is not messing around this year. After Wisconsin stormed into Santa Barbara and put the entire Southwest on notice, #17 Minnesota has a chance to outshine them if they outplay their competition this weekend. It'll be a tall task defeating Colorado to win their pool, but they could navigate the power pools and still end up in a comfortable position. To do this, Kayla Blanek, Erin McCann, Ellie Sjordal, and Cassidy Kummrow will need to step up as playmakers. They showed flashes of their potential last season and now it's time to go all out. The Southwest is always hovering around 3-4 bids each year and a big performance in San Diego could finally send some of those over to the North Central.
On the Bubble
#25 Colorado College has had the misfortune of being in Texas' and Colorado's shadow for too long. Last year, the team took Stanford to double game point in pool play before stumbling on Sunday. They have all the makings of a potential Nationals contender without any of the respect that goes with it. Both Ellen Buford and Frances Gellert return to the team and the rest of their roster is equally battle-hardened.
#20 UCLA has potential to do very well in San Diego but first will have to get out of their pool alive. Landing in a brutal pool with Texas and Northeastern has to be frustrating, especially as the team has already beaten teams seeded above them. If the team can use their curious seeding to fuel a "nobody believes in us" mentality, it could carry them deep into bracket play.
#16 Northeastern is a bit of a wild card. They've received a lot of early season hype for their experienced team and exciting players but haven't proven anything yet. San Diego should be a perfect testing ground for the Valkyries. Ari Nelson, Juli Kloza, and Sophie Shen are banner names for the team and could propel the team past decent opponents, though they'll be without the services of Nelson and rookie Clara Stewart this weekend who are out through injury. The heat check for this roster will come against the top seeded teams. That's where they'll have to show that they are more than just a collection of talented players. If you're looking for a dark horse candidate to make it to semis or higher, this is your pick.
#19 Cal Poly SLO has had a taxing season so far. At Santa Barbara, the team scraped out wins over UCLA, Stanford, and Cal, ending the tournament with a 4-2 record. On paper, this was a successful tournament, but the women from SLO looked broken by the end of it. They relied heavily on a few players to carry them and it took its toll. It didn't help that they would then make it all the way to the Stanford Open final, only to lose to Seven Hills, a high school team. Once again, this was a product of their stars being overworked and gassed by their final game. Cal Poly SLO has shown that they can hang with the best teams in the country, they just need to get stronger and healthier to avoid flaming out too early.
---
The tournament is switching to a rain schedule, with pools of three leading into three team power pools and then bracket play. ↩

along with assistant coaches Sheliemae Reyes and Bertie ↩

Shout out to Sadie Jezierski, though. ↩