Wondering what happened this past week in college ultimate?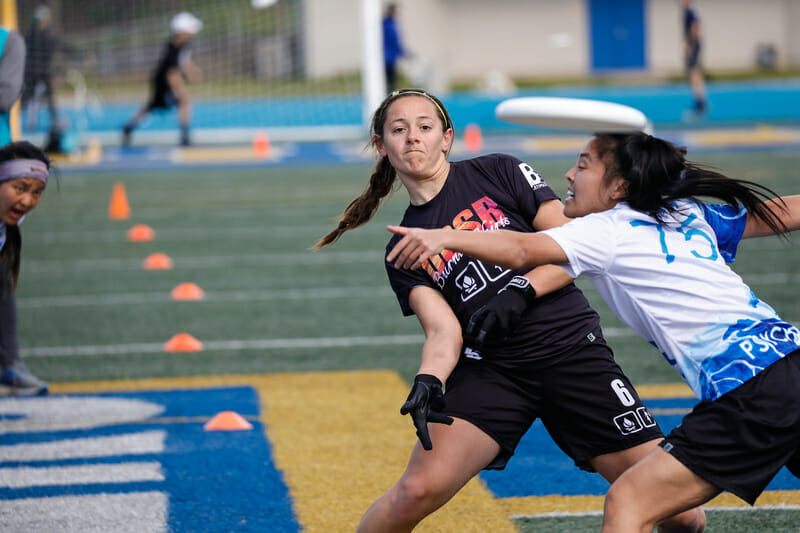 College Update during the 2019 season is presented by Spin Ultimate. Please support the brands that make Ultiworld possible and shop at Spin Ultimate!
During the spring season, we will publish a bite-sized weekly recap of the action across the College Division. This will serve as a supplement to our standard tournament reporting and will offer a high-level look at the latest happenings and the biggest stories of the week.
Want your tournament listed here? Submit a recap of what happened right here.
Women's
UCSD Trumps UCSB at Weather-Impacted Presidents' Day
#1 UC San Diego claimed another tournament victory by beating #5 UC Santa Barbara in the PDI final, 12-4. The game was a rematch of the Santa Barbara Invite final and featured a showdown between POTY shortlisters Dena Elimelech and Julia Kwasnick. While the UCSB star earned back to back blocks on Elimelech in the early stretch, she and her teammates did not have enough in the tank to run with San Diego's depth. UCSD improved to 13-0 on the season and looks dominant.
For (a lot) more, check out our Saturday & Sunday Recap and our jumbo Tournament Recap.
D-III: SC and SE in Action
A lot of action took place in the south this last weekend for D-III teams, including in some subpar wintry weather. In the South Central, Rice Torque and Hendrix played at Big D in lil d. Rice maintained seed, finishing seventh after going 4-3; they've also already surpassed the 10 sanctioned game requirement for the 2019 season. Meanwhile, Hendrix went winless, including a loss to Rice in pool play.
In the Southeast, in the wet and cold, Union Jillz hosted the Jillz Jamboree; the host team only won games by forfeiture on the weekend. Cedarville Queen Bee walked away with three wins, including one against Union 10-2. Belmont URSA won four games which included a tight match against Cedarville of final score 13-11; they also turned around a 9-7 loss in crossover play to D-I Cincinnati to a 9-5 win for third place. Truman State TSUnami was expected to attend as well, but ended up having to forfeit all of their matches.
Rounding out the weekend play, North Georgia Aurea's lone win at Luminous came against Georgia Tech-B.
Quick Hits
Perhaps the rain can be declared the winner at Luminous, but at least teams got games in on Saturday. #23 South Carolina emerged undefeated; this spring, the number of games in which their opponent failed to score is equal to the number of games in which they have scored. Vanderbilt was the other undefeated squad.
No. 4 seed Michigan State opened their season with a tournament win at Jillz Jamboree. They survived some very close games before roughing up Mississippi State 15-4 in the final.
Host team American University faced off with Carnegie Mellon in the final of Cherry Blossom Classic. CMU narrowly defeated AU on Saturday, but the Dirty Ladies got the last laugh in an 11-9 win.
Big D in lil D went to UT Dallas, who overcame Arizona State by a 12-7 count in the final. UTD finished the weekend undefeated, while ASU bounced back from a 1-2 start to reach the final.
UCLA-B went undefeated at win the five-team Santa Clara RAGE. They faced off with the host team in the final and won 10-6.
Men's
SLO Overtakes Oregon in Presidents' Day Final
In a tournament played on thin turf fields, it was unsurprising to see no. 1 Oregon reach the final. What was surprising was Cal Poly SLO's upset over the Northwest contender, SLO's best triumph of the young season. The Cal Poly defense continued to be one of the division's top units, taking advantage of an Oregon offense still replacing some of 2018's top contributors. A very competitive Southern California and zone-heavy California team were the other semifinalists.
For more on Presidents' Day, check out our Saturday & Sunday Recap and Tournament Recap.
Virginia Takes Down EQ Over Fellow Surprise Johns Hopkins
There weren't a ton of expectations going into Easterns Qualifier. The tournament tends to have a large field of similarly talented teams that haven't played many games yet. That lends itself to upsets by seed. But this year's event had one very special surprise: no. 16 Johns Hopkins, and their new star player. Hopkins flew in 2018 Callahan winner Gabe Hernandez1 and he helped lead his new team to the final. Once there, they took on Virginia for the second time on the weekend, and while Hopkins won the first bout, UVA took the more vital game, winning 15-9.
D-III: No Significant Action
Quiet weekend, with only Elon in action at Easterns Qualifier. After an ugly 0-4 Saturday, Big Fat Bomb bounced back to win all three Sunday matches, each by a single goal.
Quick Hits
Middle Tennessee State went undefeated in round robin play to win Music City Tune-Up. Not a bad start to the season for Lightning.
Looking Ahead
The most notable event of the weekend is Commonwealth Cup, but with seven total tournaments (plus two Showcase Series events) on the calendar, it's far from the only action.
The top East Coast women's squads are headed to Commonwealth Cup, where hopefully the weather abides long enough for some real ultimate. #2 Dartmouth and #3 North Carolina are in the field, but will have to get by the likes of Pitt, Ohio State, and Tufts to get an epic showdown.
Dust Bowl (M/W) features 32 men's and women's teams from the South Central region (plus the Wisconsin-Milwaukee men). Top seeded Denver is hoping to win a second straight tournament in the women's division. In the men's division, no. 1 Texas Tech hopes to remain undefeated.
20 teams from the AC, ME, and OV will gather at Oak Creek Challenge (M). While Rutgers is the #1 seed, a field this big is bound to produce some surprises.
Bring The Huckus was unfortunately canceled due to inclement weather.
Other  Events: Joint Summit (W), Chucktown Throwdown (M), Ugly Dome (M), PLU Women's BBQ (W),
---
He is enrolled via an online program. ↩