A rematch of UCSD and UCSB in the final capped off an intriguing event.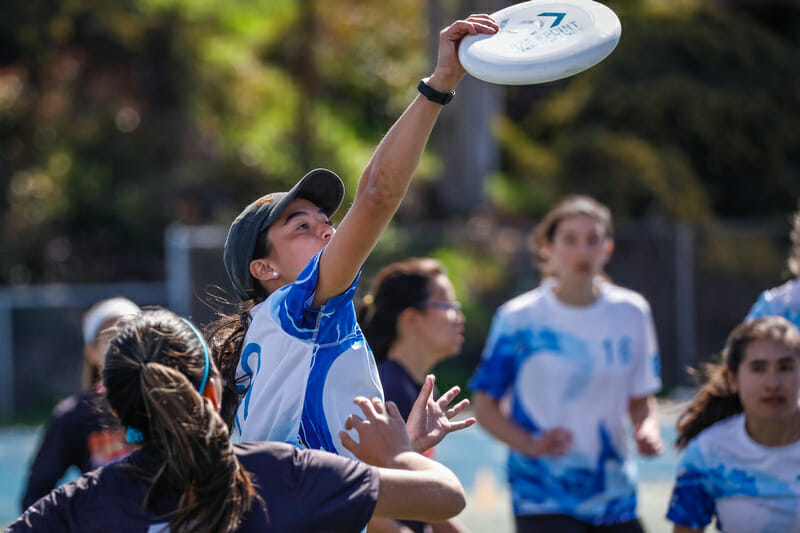 Ultiworld's 2019 college coverage is presented by Spin Ultimate; all opinions are those of the authors. Please support the brands that make Ultiworld possible and shop at Spin Ultimate!
LA JOLLA – Twenty team tournaments can often lead to their share of plot twists, but after the dust had settled in San Diego, seven of the top eight seeds made the bracket. And with a rematch of the Santa Barbara Invite final, the two powerhouse Southwest programs, UCSB and UCSD, resolutely staked their territory. That's not to say the entire weekend went as expected, the power pools presented their own share of surprises and the bracket spilled out different than anticipated. If you weren't following the action as it transpired, here's a recap of the tournament.
UCSD Confirms That They Are In a Class of Their Own
We knew #1 UC San Diego was good, we knew they were among the best in the nation, but after this weekend, they're starting to seem like a historically good team. So far, no team has come close to beating them. In fact, no team has posted more than nine points against them. San Diego isn't the only team that currently has a perfect regular season, but look at the teams they have had to beat to get there: Vermont, UCSB, WWU, Oregon, SLO; none of these teams are pushovers.
This weekend, UCSD's closest game was against Oregon, the no. 2 seed at the tournament.1 While it seemed close early, the Psychos took a commanding 5-2 lead early on and were up 7-3 by half. They ended the game with a 12-7 victory, a considerable margin of victory considering their competition.
The semis and final were similarly skewed in UCSD's favor. They beat SLO 12-7, after starting the game trailing 2-0. SLO took advantage of UCSD's laissez-faire attitude on offense to force San Diego into an early hole. Thalia Ward's shots to Diana Swanson and Vanessa Beeler were magically connecting and it seemed as if UCSD might finally be in trouble.
It didn't last. SLO's short roster of 16 players hurt them dramatically as the game wore on. UCSD's D-line handlers were just too consistent after the turn and SLO got sloppy with their shots. Rebecca Ellis, Avery Jones, and Madison Tenney smothered Cal Poly on defense and then scorched them after the turn. UCSD went on a 7-0 run to take half 7-2. They couldn't be slowed after that, finishing the game 12-7.
UCSB fared even worse in the final. The same devil-may-care attitude on offense that brought Santa Barbara to the championship game was their undoing. Cuts that had been wide open against other opponents were suddenly guarded by the likes of Marissa Hing, Stacy Tran, and Dena Elimelech.
From the start of the game, it was apparent UCSD had a game plan ready for their Southwest rivals. On the very first point, Kelli Iwamoto received the centering pass and fired off a huck to Elimelech before her defender had a chance to start stalling. Julia Kwasnick had set her feet to stop Elimelech from getting an easy under, and was completely out of position.
UCSD's preparedness for this game carried on from there. UCSB maintained the same defensive intensity they had played with all weekend, but it had was outclassed at every point along the way. Kwasnick earned blocks, only to be one-upped by one of UCSD's many talented defenders.
The tide seemed to be turning back in UCSB's favor when, with UCSD leading 3-2, Kwasnick earned not one, but two layout blocks against Elimelech. This led to a flare of energy from UCSB, only to burn out when faced with the fit, faceless army of UCSD's defense. UCSD got the disc back and Iwamoto would cap the point off a pass from Alexandra Diaz, who had already been making plays across the board for her team. "I really thought Alex Diaz stepped up in that game," said UCSD's Samantha Wool after the tournament. "She was really hard on defense if we had a turn and when she got the turn was really calm with the disc, which we needed early on."
Once UCSD's offense had calmed down, it gave their defense a chance to shine. Their giant roster continued to plague Santa Barbara, forcing them to overplay their stars. Audrey Brown, Kaitlyn Weaver, and Kwasnick were all running on fumes by halftime and started to revert to UCSB's 2018 play style: a huck'n'hope offense that featured too many rushed hucks and not enough breakside passes. After the turn, UCSD's D-line offense would unapologetically work it to the endzone, taking the easy pass that their system always provided.
The game ended 12-4, but it was over when UCSD took half. They won this tournament not because of their best seven players, but because players 8 through 18 were just as effective as their stars in the system that coach Carlo Mosca has designed.
UCSB's Defense Keeps Them Dangerous
#5 UC Santa Barbara seems to live by the old sports adage that 'defense wins games.' There's a fearlessness and resolve to the Burning Skirts that most of their competition can't match. Despite losing to UCSD, this defensive effort brought them to the Presidents' Day final and will take them a lot further if they can maintain it throughout the rest of the season.
From their first game forward, Santa Barbara was taking no prisoners. They stomped SDSU and Colorado College in pool play on Saturday, and rallied on Sunday to dismantle Texas, Stanford, and Colorado.
To the Santa Barbara coaches, Colorado was their best game of the weekend. Before that game, no one else could capitalize on UCSB's own errors: "[Colorado] was able to execute after the turn far better than any team we had played before. It forced us to regroup and focus internally on what we could improve on to elevate our own game."
The team is not afraid to make mistakes on offense, knowing they can get the disc back with strong defense. It worked entirely for them until their game against UCSD. They're already exceeding expectations.
SLO's Success Can No Longer Be Undervalued
Picture this: It's mid-February, you're a team of 16 rostered players with no coaches present, missing some key players (including your central handler) and having to play Stanford, a team that has dominated your region for the past two decades. Oh, and you just finished playing another tournament 6 days ago.
Despite having the deck stacked against them, #12 Cal Poly SLO Motion owned their destiny and put on one of the best performances of the weekend, losing only to UCSD in semis. After a particularly close game against Colorado, captains Chloe Li and Sherita Li talked about "having no ceiling" and said they had "exceeded their own expectation."
The team relied heavily on Thalia Ward, Sherita Li, Vanessa Beeler, Diana Swanson, and Kelly Dickinson to take the hard matchups and make things happen on the important points through the tournament because, well, there was no one else who could.
The tight roster was actually a benefit for them. They had a good looking sidestack, powerful deep shots, and an energetic downfield defense. These were the keys to SLO Motion's success on Prez Day, but, as one would expect, depth was a problem. If they can develop one or two more of their role players into true stars, it won't be long before teams start planning for them and TDs start seeding them higher.
This weekend showed a Cal Poly team that was overflowing with potential, but still had room for improvement. They had some troubles moving the disc downfield when Beeler or Swanson failed to get the disc, and missed on picking up players after their offense had a turnover. Also, as the tournament wore on, the Cal Poly handlers would often tire, and struggled against zone and some aggressive poaches in their final games.
-Written in part by Carlos Ruiz
Vermont Continues to Shine In the Southwest
Another year, another successful Southwest tournament for #13 Vermont. At this point, the team has to be questioning whether they should relocate the college to the west coast so they can play all their games in California.
Joking aside, there's a lot to like about this plucky team from the Northeast. Playing in a region shadowed by Dartmouth isn't on anybody's wishlist, but it hasn't fazed Vermont so far. "No matter the team we're playing this season, we're trying not to focus on the name that's on their jersey," said captain Mariz Mangundayao. "Every game is a new game, zero [to] zero, focusing on every point."
If Vermont was intimidated by their opponents, they didn't show it. They faced some of the stiffest competition at this tournament and still came away with a fourth-place finish. Their wins over WWU and Northeastern will look very impressive when all is said and done. Both teams are in the play for a Nationals appearance and will bolster Vermont's own bid earning chances.
This weekend showed that Vermont is very much the team we expected them to be, albeit, the best version of that team. They're disciplined, careful with the disc in hand, and very cognizant of their strengths and weaknesses. Mariz Mangundayao is clearly the marshal of their offense, but doesn't lead by demanding the disc all the time. Players like Emma Massey, Olivia Phillips, and Ellie Hasenohr have all stepped up to the plate and were essential in Vermont's wins. Massey, in particular, was a menace to guard.
The biggest surprise of the weekend for Vermont was their stellar freshman, Bethany Eldridge. She heroically took on the toughest matchups, including Dena Elimelech and Julia Kwasnick, and could turn the heat up to 100 degrees.2 On offense, she was always making smart cuts and was a release valve when her handlers were under pressure. Vermont could have a long and exciting future if they can build around Eldridge going forward.
It wasn't all sunshine for Ruckus, though. The team actually finished their tournament with a losing record, going 3-4 over the weekend. Vermont was outclassed by Oregon in pool play, ran into the brick wall of UCSD in power pools, and fell to both Cal Poly and UCSB in the bracket. There are some defenses that were too good for Vermont to fall back on their system and trust it to carry them. In those instances, they needed their best players to step up, even if that wasn't really the identity of the team. As the season goes on, Vermont will learn better how to close out games with their senior class. For now, they just finished fourth in a tournament that featured seven Nationals contenders from last year, and they finished above five of them. That's cause for celebration.
UCLA Robbed By Tournament Format
It is truly unfortunate that the weather forced the Presidents' Day tournament director to change the format, as the rain pools made it almost impossible to make the bracket if you were the third seed in your pool. In fact, no team seed at the bottom of their respective pools made power pools. Normally, this would not really be a problem, except #22 UCLA proved that they were easily a head above their competition in consolation play, and likely better than many of the teams seeded above them.
By virtue of the format, UCLA played only six games, and after going 0-2 in pool play, won outright for the rest of the weekend. They were the terror of the consolation bracket, winning games by an average margin of four breaks. Malia Smith, Cameron Hastings, and Emily Beck were a large part of UCLA's success. While BLU's handler core was still developing over the weekend, their cutters downfield were getting open at will.
If they have a bid on their mind, BLU will still have a chance to prove themselves at the Stanford Invite, but they have to be frustrated with the how everything turned out for them this weekend.
Don't Read Too Hard Into Texas and Colorado's Losses
Two of the South Central's best came to San Diego this weekend boasting impressive records in Presidents' Days past, but neither had the storybook ending they might have hoped. Both suffered some tough losses in their power pools and neither made it to semis.
For #20 Texas, the riches of having Caroline O'Connell, Domenica Sutherland, and Ivy Harrison on a team is going to be pretty great this season, but they weren't enough to carry them through tight games. They definitely will have to develop the talent on their roster if they want to be at Nationals this year. That being said, their losses came at the hands of tough teams, Stanford, Santa Barbara, and Minnesota all were stiff competition.
What this weekend mostly proved is that Melee needs to get more reps in against elite competition. "The more we play, the more it'll help to figure out how we work together and how good our potential is," said O'Connell.
After their two losses in power pool against no. 6 Stanford and no. 7 UCSB, expectations did not change for coaches Shereen Rabie and Kayla Ramirez, who looked back and regretted nothing: "I don't think we would do anything differently, we committed to play through a lot of our roster and wanted to get people experience on the field in different positions where they don't have a lot of experience in and trying to do a lot of player development today…"
Looking at this positively, Texas showed a lot of variance in their offensive and defensive looks. A number of different zones, side stack plays, spread offenses, and one or two pull plays that help them on their hard games. One thing's for certain, Texas will improve and the South Central better watch by the postseason.
Texas' in-region rivals, #14 Colorado, also had their fair share of ups and downs. They won their pool play games but stumbled against a surging SLO team. This put them right in the crosshairs of UCSB, who knocked them out in quarters.
Colorado's main struggle was mostly a result of their youth. They team lost a lot of their firepower from last season and have had to reshape their offensive identity, which was the main focal point of their tournament. "We knew we were getting a lot of firepower downfield this season," said Colorado coach Claire Chastain. "It's a process to implement a whole new offense, which was our focus this tournament."
There's a lot to like from this Kali team. They're young but disciplined, and have the spirit and energy that they need to bounce back in close games. Losses to Oregon, Santa Barbara, and SLO are nothing to be worried about. Colorado passes the eye test with flying colors.
-Written in part by Carlos Ruiz
Oregon Shows the Risk and Reward of a Smaller Roster
#11 Oregon may have finished the tournament fifth overall, but there's an argument to be made that they were the third best team at the tournament. Any concern about Oregon lies with their handler depth. This weekend, Ella Hansen was their deep thrower almost exclusively. Maddie Boyle, Rachel Hess, and Emily Fagan all took turns as handlers in Fugue's system, but performed much better as quick give and go handlers that worked the disc downfield with darted throws rather than long-range hucks to stretch the defense. Adding Kaiyana Petrus back to the lineup will help, but she's also not known as a threatening deep thrower.
The second problem Oregon faced this weekend was their depth. They matched Cal Poly as the smallest roster, with only 16 players in attendance. When their games wore on, it really cost them to have such a small team. There was no better example of this than with their WWU loss. Oregon could have come away with the win in this game, but WWU managed to outplay them by resting their starters in preparation for double game point. That was a luxury Oregon could not afford.
To combat their depth problem, Oregon's coaches highlighted the team's dedication to fitness. "We've done a lot of running. We want to be known as a quick, fast team that is not afraid to run the entire game," said coach Angela Tocchi.
It's already apparent that their players will be forced to take that principle to heart, and they seem to be taking that in stride. More reps lead to more improvement, and Oregon is already a talented and experienced squad. If they can stay away from injuries and learn how best to combat the trappings of a smaller roster, San Diego will just be a blip in their radar at the end of the regular season.
Quick Hits
#15 Western Washington had an uneven weekend. Good wins over Oregon and Minnesota were mellowed by losses to Vermont and Colorado. The team is clearly talented, and more veteran-heavy than most of their competition in the West. If anything, their problem is impatience. Maddie Gilbert, Samiya Ismail, and Riley Tauer are premier throwers but often would force a throw unnecessarily. A rushed shot here and there might not seem like a problem to them, but it adds up over a game. It's entirely possible that this was a product of their new offensive schemes, so it's too early to sell your WWU stock, but it's not an insignificant problem for a team that's so experienced.
#21 Northeastern played well this weekend, but needs to get healthy. In their closer losses, it was clear they were missing Ari Nelson and Clara Stewart, two of their biggest playmakers. The Valkyries are another team that is faced with the prospect of either earning a bid, or trying to overcome Dartmouth or Tufts to sneak into Nationals. The former would be easier but they are hovering around the cutoff as is. Despite strong performances from Julianne Kloza and Emma Palacio, Northeastern still went 2-4. Those losses may come back to haunt them at the end of the season.
#17 Minnesota has an impressively solid roster, with no real playmakers. Kayla Blanek and Rachel Elbing were arguably the most crucial to their success –especially Blanek's defensive output– but still could get lost on the field at times. When Minnesota was locked in, they were firing and could match with any team. There were just lulls in games against stronger opponents where the offense would stagnate and it would put additional pressure on Maggie Peck or Louise Beck to make something happen. This is a very solvable problem, one that they will undoubtedly fix by the end of the season, it just cost them a few games this weekend.
#19 Stanford's improvement since the Santa Barbara Invite was evident this weekend, and they looked more like the program that has give them a reputation as a fearsome team. Still, their lack of handler depth is their Achilles' heel. With Hallie Dunham out for the weekend and Rebecca Kestin playing limited minutes after Saturday, Carly Eckstrom became the general of Stanford's offense and it wore her down. Ending the weekend with a 2-5 record is not something Stanford's seniors have experienced before, and they are adjusting to it slowly. It hasn't helped that the team's best defenders are all abroad this semester. Maika Isogawa is studying on the East Coast and only came back for this tournament, she played sparingly on Saturday as she was worked back into Stanford's system, but had an immediate impact on defense. Superfly will be bolstered again with the return of Aminata Kalokoh, who's a fiery defender and deep threat. Her return is also scheduled for later in the spring.
Colorado College needs a little more time to develop. Frances Gellert, Ellen Buford, and Marlee Akerson are big league players but they have many teammates who are ramping up to their level. In their games against UCSB and Colorado, they proved they could hang with the stronger programs –even if the scores for those games didn't reflect it. Right now they appear to be a step behind their regional competition, but there's a glimmer of a much stronger team which could appear by the postseason.
All Tournament Team:
Dena Elimelech (UCSD)
Audrey Brown (UCSB)
Ella Hansen (Oregon)
Domenica Sutherland (Texas)
Diana Swanson (Cal Poly SLO)
Emma Capra (Colorado)
Bethany Eldridge (Vermont)
Honorable Mentions: Carly Eckstrom, Rebecca Ellis, Julianne Kloza, Kyra Khoroujnikova, Julia Kwasnick, Mariz Mangundayao, Samiya Ismail
---
and SLO, the no. 12 seed ↩

That's in Celsius. This idiom only works if you know the metric system. ↩