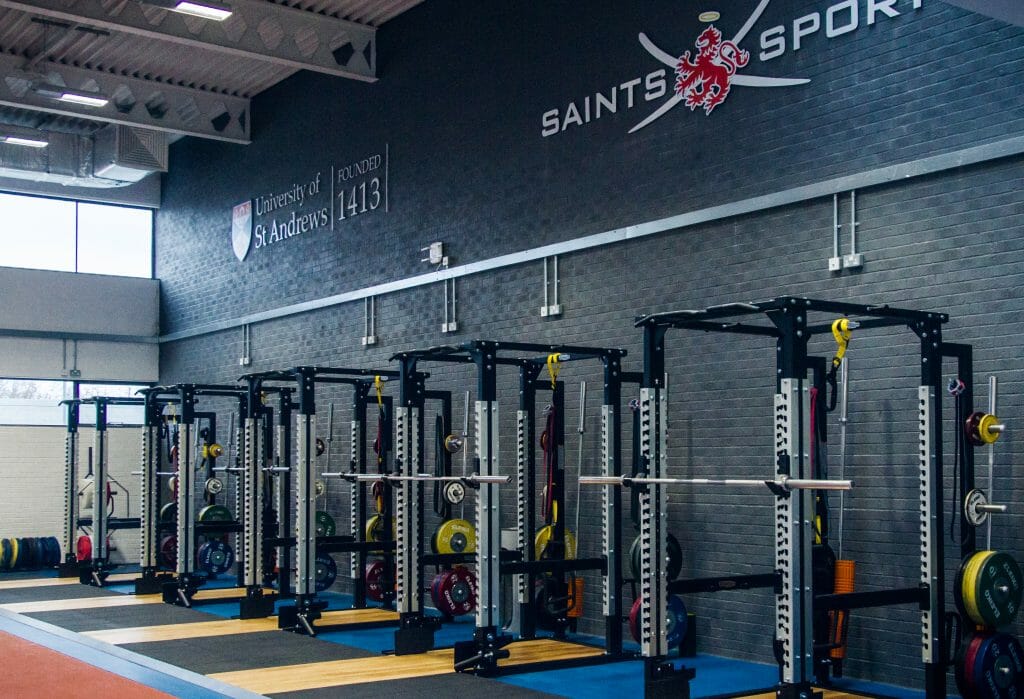 Tuesday Tips is presented by Spin Ultimate; all opinions are those of the author. Please support the brands that make Ultiworld possible and shop at Spin Ultimate!
In today's headlines: strength training is good for athletes. While such a statement carries even less controversy than "the earth is flat," strength training in ultimate is still in its infancy. I'm not here to convince you that strength training would benefit your program. That much is known. I'm here to help you get access to that strength training at your school.
I should note that this is an advanced step for a club sport. If you have not mastered the skills that I referred to in my article last week, "Winning the Respect and Admiration of your School's Administration," you need to take a couple of steps back and start with the basics. The simple fact is that most schools have an extremely busy weight room. Getting your time is going to require that you are an established organization on campus that is contributing to your school's environment.
If you feel like you've earned that respect of your administration and have established your program on campus, then hopefully these steps will help you know who to talk to and what to talk about to get your foot in the door.
1. Be Committed
If you are not 100% confident that, once you've earned the time in the weight room, your team will be able to attend every workout at or near perfect attendance, regardless of whether the workouts are before or after school, then do not attempt to gain access.
You want to establish that your program not only wants to have access for this season but is a group that will want access into the future. If your Athletic Director or Strength and Conditioning coach walks into the weight room to see that they have carved out valuable time for your program and there are only five athletes at work, that's a recipe for quickly losing access.
2. Be Flexible
Understand that your program will not get the number one choice of workout hours. You are not going to get the weight room immediately after school. That time slot is generally extremely coveted among varsity sports and will go to either baseball, basketball, or football teams, as a general rule. It may not be fair. It is reality.
You have to be prepared to be at school an hour and a half early on consecutive days or come back to school later in the evening or, gasp, lift on Friday afternoons. If those are sacrifices that your program is not ready to make — as a team — then you are not ready to ask for time in the weight room.
3. Know Who to Talk to
Just like with your school administration and clubs, there is likely someone in the athletic department who is "in charge" of the weight room. Sometimes that's the athletic director. Sometimes that's the strength and conditioning coach. Sometimes, if you live in the Southeast especially, that's informally the head football coach.
You have to speak with that person to get your time squared away. The head of club activity at your school may fully support everything your club wants to do, but many times that person has no say on weight room activity.
So, begin by making an impression on the right person about how serious your team is. This can often be done by hosting events at your school. Have some single games against local teams and make sure to invite the person in charge of weight room scheduling. Many times, your school may give you access to the track more easily than the weight room. Spend a season doing serious track workouts before school to demonstrate that your program is committed to improving your athleticism.
If the head of weight room scheduling sees your team sweating on the track from 6:00 a.m. to 7:00 a.m. before school for eight straight months, it becomes much easier to convince that person that your time in the weight room will be well spent.1
4. Come Prepared
You may start to see a pattern between how I suggest you communicate with your administration and with your athletic department. Just like approaching your administration with problems, don't go to the athletic department with just a complaint or a question. Come with your own solutions and be prepared to compromise.
Tell the coach in charge what you would like to do in the weight room and for how long. That means doing some research yourself and knowing what is beneficial for you to do. If you're lucky, you'll have a coach who is receptive to your plans. If you're extra lucky, then you'll have a coach who knows more about strength training than you ever will and he or she will scrap your plans and come up with much better ones.
Have your own chaperone. This one is among the toughest for many teams, as plenty do not have an on-campus adult who can help out. However, you might be surprised how many parents will be willing to show up to campus at odd hours if it means that your team gets a little extra attention from the school. When you talk to the coach in charge of the weight room, let him or her know that you have chaperones already prepared to be in the weight room with you for all conceivable hours. That might mean you need two different parents to show up an hour early before school on different days of the week, but if you're not asking for extra staffing by the athletic department, then you're much more likely to have your needs met.
5. Start in the Summer
It's worth noting that all of the above is far easier to do in the summer than any other time. The school's weight room is generally open all day long as most varsity programs are lifting throughout the summer. Convincing the athletic department to tack on an extra hour at the end of the day three days out of the week in the summer is a lot easier than convincing the department that you deserve the highly coveted after school time during the school year.
If you can show up in the summer and lift seriously, then it is not difficult to make an argument that carrying over your training to the school year will be beneficial to your team and time well-spent by the school's perspective.
If there is one single factor that helped Catholic High School win the High School National Invite in 2017, it's that we began lifting in the summer of 2016 and were in the weight room two days a week (at least) every week until the week before the tournament. There were a lot of factors that made the 2016-2017 CHS team special, but lifting weights took the team's output on the field to the next level.
If you're serious about improving your program, then you need to take the same step. It might not be easy depending on where you go to school, who is in charge of your weight room, and what your program's history is. However, if you follow the advice above, I have little doubt that you'll be closer than you were before.
---
The Catholic High School strength and conditioning coach suggest what he called the 'Shawshank Redemption Template': video all structured team workouts and post to all team social media accounts while tagging the people that matter at your school. (i.e. school twitter account, athletic director twitter account, athletic department twitter account, school facebook account). In other words, do the work you can and let people know how serious you are. ↩