Second-place bracket fireworks made for a thrilling SW Regionals!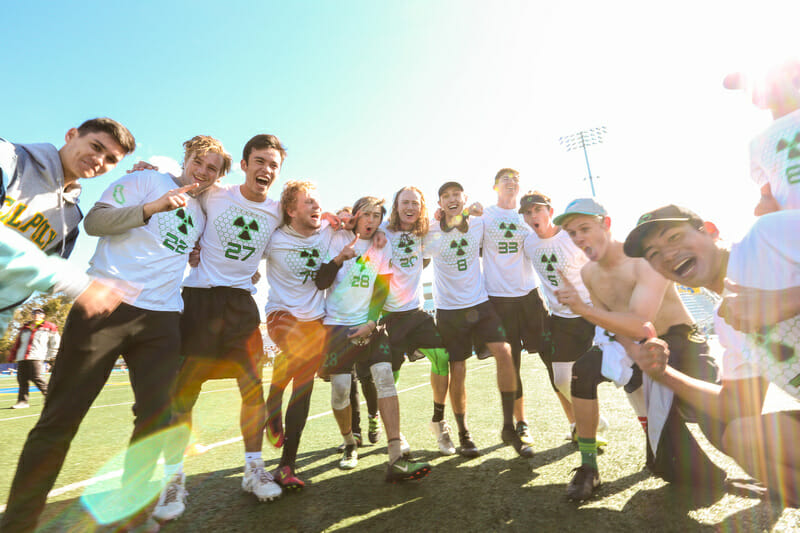 Ultiworld's Men's Division college coverage is presented by Spin Ultimate; all opinions are those of the author. Please support the brands that make Ultiworld possible and shop at Spin Ultimate! 
There are some trends in college ultimate so notorious that they extend past joking references to unquestionable truths. The Southwest's reputation for earning a single bid is one such of these truths, which is why the energy was so high at Regionals this year. For only the second time since 20121, the Southwest had clinched a second bid. Cal Poly SLO may have ended the weekend unscathed, but the teams beneath them mercilessly duked it out for the final bid.
Cal Poly's Smooth Offense Outclasses Opponents
No one remembers Cal Poly's untimely Regionals exit last season better than the team itself, but they put that all to bed this year. SLOcore was clearly the favorite in the Southwest, and they played like it, too.
There wasn't a single game in pool play where Cal Poly did not look in complete control. Their offense went largely unchallenged, and the defensive unit aggressively hounded their opponents. SLO's handler defense was particularly impressive. Justin Ting, Jake Biancur, and Dean Otsuka often were able to force high stall situations or even rushed passes by doggedly sticking to their marks and mirroring their movements.
To hear coach Cody Mills talk about it, Cal Poly's success on day one came from their 'next man up' approach. "For [pool play], we really played into our depth and still got good results which speaks to how much work the entire roster has put in this year," he said.
Cal Poly's closest game of the weekend came against UCLA in semis. What Smaug's offense lacked in discipline, they made up for it with heart and an unrelenting pace of play. The same SLO defense that had broken the spirit of every team they met in pool play suddenly was struggling to match UCLA's tempo.
The hot start from Smaug only compounded after they earned the first break of the game. After trading for the first seven points, UCLA took advantage of a SLO misfire and worked the disc right into the endzone. It put them up 5-3. Unfortunately for Smaug, it also awoke SLO from their slumber.
Cal Poly broke back soon after to tie the game, with Calvin Brown throwing Dillon Whited a pass to run on to. The breaks started raining down, including a break sparked by a block from Ian Sweeney, which helped the team take half 8-6.
UCLA was never able to recover from SLO's strong finish to the first half, and Cal Poly's lead held for the rest of the game, where they capped it off 15-12.
"Honestly, they had great hustle," said Mills. "We had a lot of would-be turns against them on layout D's, sky blocks, and even point blocks that popped up in the wind and UCLA hustled to catch the knock downs…They clear space for each other well on offense, let their big cutters go to work, and attack aggressively."
If UCLA was a wakeup call for SLO, their bid-winning game against Cal UGMO was how the team could look after being fully warmed up.
Cal has prided themselves on their defensive unit this season, but SLO didn't let their defense see the field much. Cal Poly broke for the first three points of the game, thanks to strong offense from Ian Sweeney and freshman Jake Thorne.
UGMO settled into the game and start trading holds, but with their offense on the back foot, their defense had all the pressure working against them. Every zone look that they threw against SLO was beat back with some patient, well-timed throws from Cal Poly's offense. Caleb Merriam and Calvin Brown were close to perfect with their shots, giving Cal very little chance to break their way back into the game.
SLO took half 8-4, and mostly coasted through the rest of the game. It was clear that their offense could taste victory, as there were multiple loose passes thrown into the endzone that sat just long enough for a Cal defender to catch up, only to have it plucked by one of Cal Poly's athletic cutters. Morgan Sommer, Conor Schofield, and Nate Pettyjohn all performed admirably downfield, ensuring Cal Poly's offense was without fault in the second half.
The game finished on a darted pass from Pettyjohn to Brown, capping off a successful tournament for SLO and putting the icing on a historic season for the program.
"I think people understand that this team, the 2019 team, is a special group of guys with a lot of potential and that winning Regionals is a good indicator that we are on the path to realizing that potential," said Mills, before adding his own experience. "On a personal note, though, I can say it was special. It's my fourth year coaching and before this year I was 0/3 in the Southwest finals (twice on this exact field) so it was nice to finally get one. It was also really special to me to play against Cal & Dan Silverstein in the finals. Dan was my college coach, and we also used to coach together at Stanford, so it was really awesome to be able to match up with him in the final."
Cal Outlasts USC In Game-To-Go Thriller
It was a tale of two styles when Cal met USC to play for the Region's final bid. Cal's defense has defined them this season, a tough team with multiple zones and brawny defenders. USC, in contrast, is known for their relentless offense, which highlights the talents of their stars.
From the start of the game, it was clear that neither team held a clear advantage. It was a blur of blocks, hucks, and breaks from both sides. With their season on the line, USC ran much tighter lines than they had the day before or even earlier in the morning. Sam Cook, Wyatt Paul, and Dave Sealand crossed over on multiple occasions to steal a break for Lockdown when they needed it.
To Cal's credit, they trusted their system. Their lines remained mostly separate for the game, ensuring that none of their players were overworked. Where USC was reliant on Cook and Paul to make big plays for them, Cal's stat line was much more evenly distributed. Glenn Wysen, Mason Chupka, and Munis Thahir kept Cal consistent on offense, allowing players like Neil Thomas and Rafael Castro to go hunting for turns on defense.
By half, neither team held a true advantage. Cal led 8-7, with the game on serve. The teams had three breaks apiece and the momentum wasn't pulling either way.
That maintained well into the second half, too. Even after Cal broke on the very first point, USC's offense didn't waver, and an athletic Sealand layout block brought them back on serve, 11-11. USC's sideline started building the hype after that break, eager to view it as a sign of their fortunes turning.
They were sadly mistaken. Cal scored the next two straight points, including a break that stemmed from a rushed throw by USC's handlers. With cap on, and Cal up 13-11, the team only needed one hold to ensure victory. It was theirs to lose.
They did not make it easy on themselves. After a USC turnover, Cal needed only a few short yards to score the break. Instead, a handblock by Drew Okenfuss returned possession to USC, and they scored soon after. This gave Cal's offense their chance to finish the game, but a turn right in front of the endzone allowed USC to huck their way to a break, tying the game at 13 and forcing double game point.
Cal's second chance on offense seemed destined to match the first. After working it the length of the field, a turn right on the endzone gave USC the disc. Sealand struck deep without much coverage, only for a Sam Cook huck to bounce out of his hands. The wind made the catch harder than necessary but it was still a blow to USC, who collectively held their breath when the huck went up.
That dropped huck spelled disaster for Lockdown. The players were shell-shocked, and Cal quickly capitalized on their inaction. A blown coverage and poor communication left Castro open in the middle of the endzone for the goal.
It was a tough loss for USC but there was no way to claim Cal didn't earn it. Their defensive pressure and fighting spirit gave them everything they needed to claim the region's second bid.
UCLA and Stanford Left Looking In
It may get lost in all the drama of the game-to-go, but Stanford's tournament performance was one of the best stories to arise from the Southwest. After losing to Cal and getting blown out by UC-Davis at Conferences, expectations were not high for the storied program. Stanford defied that narrative and started their weekend by drumming USC 13-9. Their roster of plucky upstarts completely threw off USC's game plan and brought Bloodthirsty right to the semifinals.
Perhaps if they weren't playing Cal (who already knew they could beat Stanford), things might have ended differently. As it stands, a loss to Cal in semis and a loss to USC in backdoor semis is still a respectable result for a team that was prophesied to be in a 'rebuilding year'. Nick Hirning, Michael Becich, and captain Kevin Tien were among the best players at the tournament and deserve the recognition that comes with play at an elite level.
Much like Stanford, UCLA's season was also cut short by USC in the back door bracket. That should not at all take away from a team that took the first seed in their pool and played Cal Poly the tightest of any competitor. UCLA's style of play was unorthodox — and worked for them completely. Alex Broering, Noah Anderson, Michael Peng, and Paul Ramstad all took turns making logic-defying throws and bids, which brought UCLA right to the edge of glory. It's been a while since Smaug has had much fanfare surrounding their season, but they rest this offseason with their heads held high.
All-Tournament Team
Kevin Tien (Stanford)
Alexander Pan (Cal)
Sam Cook (USC)
Wyatt Paul (USC)
Caleb Merriam (Cal Poly SLO)
Nick Hirning (Stanford)
Dillon Whited (Cal Poly SLO)
---
The Southwest was also a two bid region in 2017 ↩