Breaking down the favorites, the stars, and even making some predictions.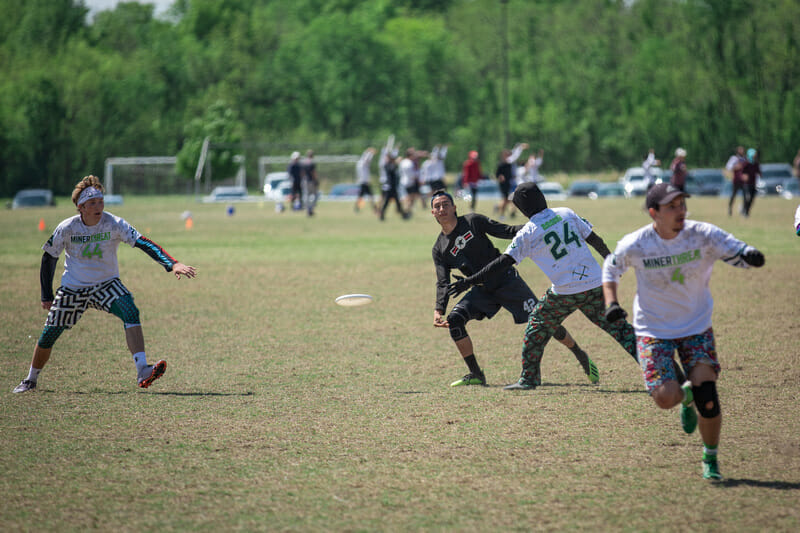 Ultiworld's coverage of the 2019 D-III College Championships is presented by VC Ultimate, the official gear provided of the Premier Ultimate League. All opinions are those of the author. Please support the brands that make Ultiworld possible and shop at VC Ultimate! 
The D-III College Championships are bringing together a colorful cast of characters in College Station, TX for a winner-take-all showdown. In a division where teams often have very few games, and even fewer between one another, and attendance for seniors is often up in the air, seeding is akin to gambling and that leads to very exciting results. The talent in D-III has been on the rise year after year, and the stars will be out in Texas. Let's look at each pool, its favorites, players to watch, biggest game, and foolishly attempt to predict the outcome.
Tournament Profile
Date: May 18-19, 2019
Location: College Station, TX
Weather: Saturday is projected for a high in the low-80s, 15-20 mph winds, and a high likelihood of thunderstorms in the afternoon. Sunday may start off with some residual showers or thunderstorms in the morning, with some sun and light winds and a high approaching 90 degrees in the afternoon.
Top 25 Teams: 13
Livestreaming and Filming Schedule (Tape delay Saturday, Live Sunday)
Pool A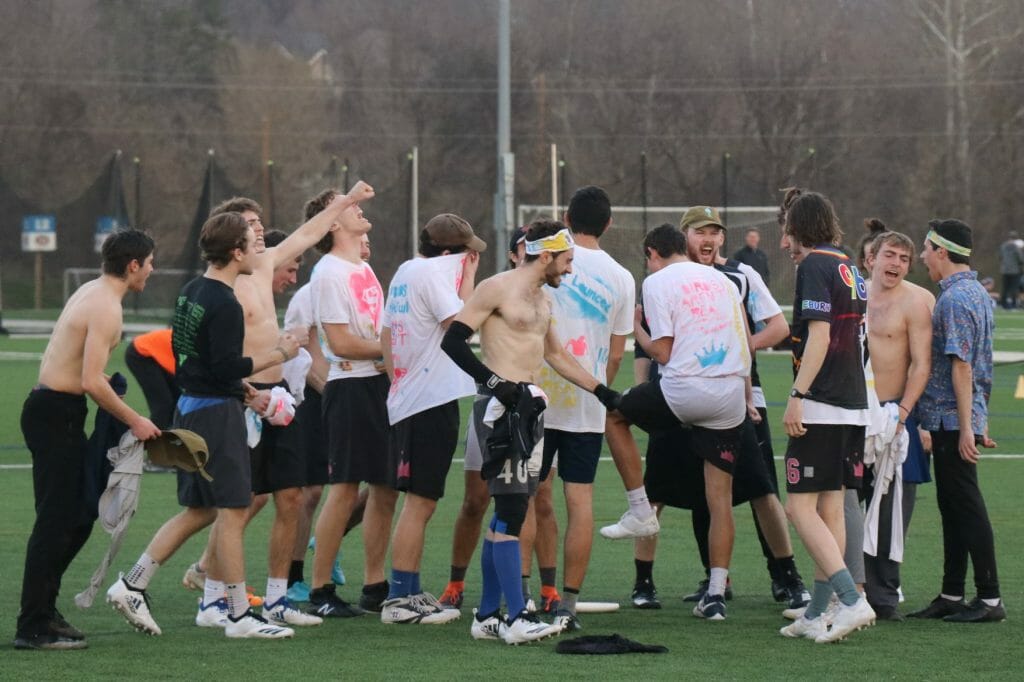 The Teams
Favorite to Win the Pool
The Middlebury Pranksters have shown themselves as the team to beat in D-III this year. Entering the D-III College Championships, they hold a record of 25-3 and have not lost a single game against D-III competition, despite competing in the nation's toughest region. Middlebury holds wins against five of the six teams seeded directly below them: Air Force, Carleton GoP, Bowdoin, Colby, and Bryant. As favorites to win the entire tournament, the Pranksters are clear favorites to downright dominate their pool.
From the onset of the season, we knew that Middlebury was set to be a good team with firepower up and down the whole roster. The only question on the table was "Just how good will they be?" The loss of Donovan Award finalist Dylan Salzman, who picked up playing experience with Denver's Johnny Bravo on the club scene this summer, to injury for the season raised doubts about the Pranksters' ceiling, but the rest of the roster has more than stepped up. Kai Delorenzo and standout freshman Leo Sovell-Fernandez are the stars, but Middlebury's success comes from their depth. Players like Asher Lantz, Zach Levitt, and Ian Hanson would be stars on most other teams in attendance. Simply put: the Pranksters are loaded.
In 2018, Middlebury exploded, reaching the semifinals of the D-III College Championships before falling to Air Force. With a large amount of returning talent primed with that experience, Middlebury should not just be seen as a favorite to win Pool A, but should be seen as one of the favorites to come away from the weekend as a national champion.
Players to Watch
Kai DeLorenzo (Middlebury) – While the rest of the teams in this pool are driven by handlers, DeLorenzo does his damage downfield. With a seemingly endless motor, DeLorenzo is a relentless cutter that gains yards in large chunks and has the throws to hit continuation shots to the endzone. DeLorenzo has the stamina to cross over to defense often, and when he does, he neutralizes the opponent's best deep threat. Without Salzman, Middlebury will count on DeLorenzo to make the big plays this weekend.
Brendan McCann (Michigan Tech) – McCann's rise to stardom has been a bit quieter than some of the division's other standouts. McCann has been destroying the North Central region for the last five years, and with Michigan Tech's rise to national relevance, he finally has a chance to showcase himself on the big stage. An elite thrower, McCann is the engine that drives the Michigan Tech offense, and if he gets hot, will be tough to stop.
Dominic Schuster (Franciscan) – How often does a team unexpectedly add a former Freshman of the Year and Offensive Player of the Year? That's the case for Franciscan and Dom Schuster. Schuster was a part of the Franciscan team that qualified for Nationals three consecutive years from 2015-2017, including a national championship. After graduating from Franciscan a year early, he returned to school and the team this year, and with his return, Franciscan jumped back into the national picture. Dom is one of the most accomplished players and best throwers in the division. If he gets hot, Franciscan can make a run in the bracket.
Erik Johansson (Hamilton) – While McCann and Schuster obviously get tons of credit for their throwing prowess, Johansson is no slouch himself in that department. He has a polished offensive game as well as serving as the team's lockdown defender. Hamilton's Donovan nominee is an all-around talent and if the team is to see any success in this pool, it will likely come on the back of a big performance from Johansson.
Game to Watch
Franciscan vs Michigan Tech
A revitalized Nationals stalwart in Franciscan Fatal and an upstart program in Michigan Tech DiscoTech will square off in one of the most exciting matchups in all of Pool Play. Over the past two years, Michigan Tech has exploded onto the scene behind the tremendous throwing power of Brendan McCann. For Franciscan, the comeback of Dom Schuster has given them an offensive threat that will be tough for anyone to stop.
Michigan Tech fought to earn an extra bid for the North Central that they managed to claim at Regionals. Through a tough winter that forced Michigan Tech to claw their way to ten sanctioned games, DiscoTech has proven that they belong with the top-tier teams in the country. After struggling in 2018, Franciscan burst back onto the scene this year with a strong showing at FCS D-III Tune Up. However, despite their impressive regular season, Fatal have not picked up a win over another Nationals qualifier, and will be looking to make a statement this weekend.
In a showdown featuring two elite throwers, the battle between Franciscan and Michigan Tech is one that is sure to feature loads of highlights and big plays. Most importantly, the winner will likely finish second in the pool, drawing a much easier opponent in prequarters.
Pool Hot Take(s)
Hot Take #1: Three teams from Pool A will reach the quarterfinals. Both Michigan Tech and Franciscan are teams with top-end talents that will be tough for anyone to stop. Brendan McCann has a wide array of throws, and a load of athletes to put the disc up to. Franciscan's Schuster will be the same. If they get hot, they will have the ability to take down just about anyone they come up against.
Hot Take #2: Brendan McCann and Dom Schuster are the two top throwers at this year's D-III College Championships, and will finish first and second in assists at the tournament. With a unique variety of throws, McCann is sure to step onto the scene, and make the big plays needed to keep Michigan Tech competitive. Schuster has proven himself at this level already, claiming many awards and accolades; expect this year to be no different for him.
Pool Prediction
Middlebury
Michigan Tech
Franciscan
Hamilton
– Zakk Mabrey
Pool B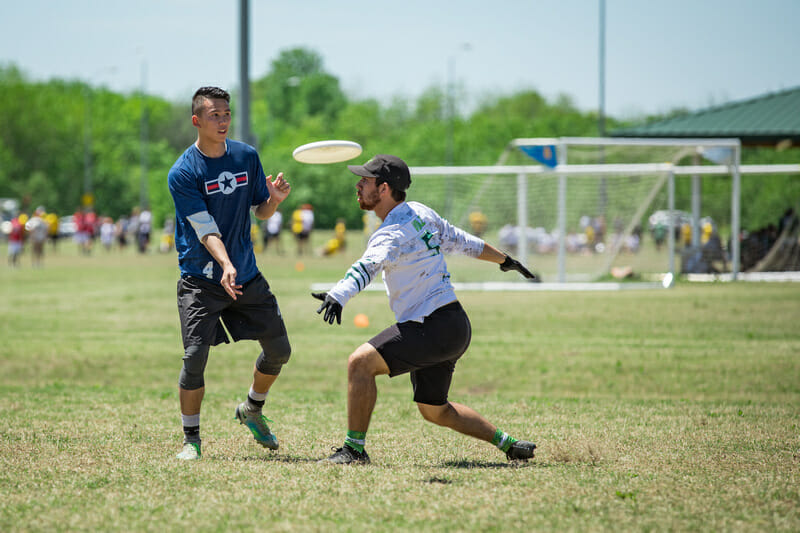 The Teams
Favorite to Win the Pool
While you can't exactly peg Air Force Afterburn as champion-elect at this point, they certainly have performed at a much higher level than any of the other teams in their pool all season long. Afterburn had some shaky results early in the season, particularly at FCS D-III Tune Up, but Air Force is flying high into Nationals on a 17-game winning streak and with the confidence necessary to compete for a championship.
Afterburn experienced some close games at Regionals, but they weathered the storm of strong teams in the South Central and claimed the regional crown as their own, exacting revenge on a Missouri S&T squad who bested them last spring. Heading into Saturday, the biggest question on the table is whether Air Force can put together complete wins on the day and play to the level that their talent has promised all season. Afterburn has a wealth of experience playing at Nationals with Alan Villanueva, Noa Chun-Moy, and Matthew Moshea reprising their roles at yet another Nationals. Afterburn has survived scares in pool play before (notably against Bowdoin last year) and are the most seasoned and talented squad in Pool B.
Players to Watch
Alan Villanueva (Air Force) – Villanueva has been one of the most interesting players in the division the last three seasons and can lay claim to having been a part of all four of Air Force's Nationals runs. Traditionally used as a handler in previous seasons, a summer spent as a D-line cutter on Johnny Bravo has seen Villanueva round out his game and step up a level for his college team. A lot of Air Force's success on offense has rested on Villanueva's ability to take care of the disc; while successful more often than not, his ambition with the disc can also be his downfall at times. His performance won't be the only factor contributing to Afterburn's success or failure this weekend, but it will be a very important piece of it.
Noa Chun-Moy (Air Force) – Previously known for his defensive prowess, Chun-Moy has stepped into a new role this season on the Afterburn O-line and flourished, providing a steady and consistent presence. Chun-Moy's explosiveness makes him a reliable reset and effective cutter when pushed downfield. He's also still an excellent defender; expect to see him crossed over to defense on a frequent basis, especially on Sunday.
Justin Kunkel (Bryant) – Last year, Kunkel was just another cog in the machine that was Bryant's zone. On a turn, he was the third option at best, deferring to more experienced teammates. This year, Kunkel has been asked to step into a much bigger role, and he's handled it with aplomb. Flowing between handling and cutting, Kunkel's biggest weapon is his shifty quickness, creating big openings for his teammates to throw into. Bryant's defense is widely known and respected; if Kunkel can step up offensively, Craze will be in contention on Sunday of Nationals once again.
CJ Hermosura (Portland) – There are a number of players that could have been selected here for Portland; however, given the forecast for the weekend, it feels like Hermosura will be the most crucial to UPrise's success. The sophomore is Portland's best pure handler, and in less than ideal conditions on Saturday, Hermosura's quickness in getting open for easy resets will be just as important as his throwing ability.
Game to Watch
Air Force vs Bryant
If there's one team that could potentially throw a wrench into Air Force's plans early in the tournament, it's Bryant and their infamous zone defense. A rematch of the 2018 National Championship game steals the pre-tournament headlines for the last round of pool play.
Bryant's defensive capabilities are pretty well known at this point, and their strict adherence to playing stifling zone helped deliver a championship last season. But there are plenty of question marks surrounding Bryant's ability to get good offensive production with the departures of Cameron Jack, Alex Kenworthy, and Austin Kelson. With Bryant largely untested against the Nationals field this season, Saturday will really be the first time we get to see the new iteration of this team compete with some very real stakes.
Air Force will be champing at the bit to get revenge for their loss against Bryant in Rockford last year. Afterburn struggled with Bryant's zone; their handlers were stagnant and forced difficult throws, and Bryant was able to fastbreak efficiently after turnovers to convert breaks. With storms and heavy winds in the forecast for Saturday, conditions will be ideal for teams who run a strong zone defense; has Air Force learned from last year's struggles? Can they show the patience and discipline to work through Bryant's zone?
Pool Hot Take
Matthew Moshea will score more goals in pool play than Claremont. This take is definitely extra hot, but it's not as unreasonable as one might think. Two years ago, Moshea scored 17 goals in three pool play games. Claremont got probably the toughest draw of any pool four seed, having to face an athletic Air Force, a Portland team with a sneakily impressive resume, and Bryant's zone. Combine a tough schedule with a rough forecast and they will be fortunate to outscore the Mosh.
Pool Prediction
Air Force
Bryant
Portland
Claremont
– Mike Ball and Hugo Sowder
Pool C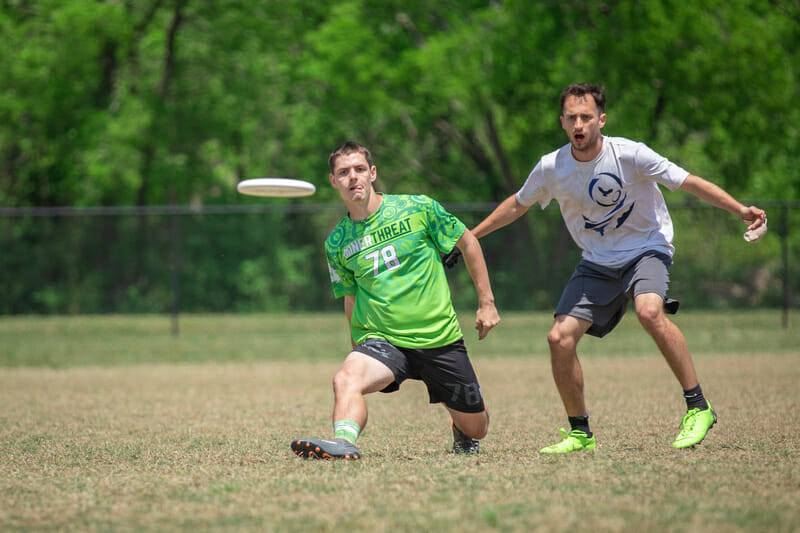 The Teams
Favorite to Win the Pool
Sometimes, ultimate comes down to simple math. If you can break your opponent more times than they break you, you'll win the game. Having the best O-line in the country means you don't get broken, and that's what makes Carleton GoP the favorite to win Pool C.
The driving force behind GoP's O-line is the versatile talents of Saul Wildavsky. The senior started out this season with a bang, dominating the skies at Carolina Kickoff all the way back in January, and he's only improved as GoP's offense has cleaned up over the course of the season. As clean as GoP's offense, designed by Coach Anders Berglund, can be at times, it helps to have a playmaker like Wildavsky who can come up with the big play when the chips are down.
Defensively, GoP are a deep team who send wave after wave of smart defenders who wear opposing offenses down over the course of a game. Their defense was particularly impressive at North Central Regionals, where they held Nationals qualifiers Luther and Michigan Tech to four and seven points, respectively. In a pool featuring two teams making their first ever trip to Nationals, expect the experience and depth of GoP to overwhelm their opposition and for them to run away with Pool C.
Players to Watch
Saul Wildavsky (Carleton GoP) – Wildavsky is almost already a lock as an All American as Carleton's top downfield star this season.The dynamic cutter has a knack for making standout plays while also playing within the construct of his team's offense. Capable of making a big play in the deep space or throwing the huck himself after a big under, look for Wildavsky to shine in College Station this weekend.
Joshua Zeb Keith-Hardy (Colby) – Referred to by his teammates as Cricket, Keith-Hardy is an athletic cutter who is largely credited by his peers with molding Colby into the competitive program they are today. A player who does it all for Colby, Keith-Hardy is the lone senior captain on a young team experiencing Nationals for the first time. His team will be leaning on him hard to be successful in College Station.
Mitchell Zimmermann (Missouri S&T) – While Missouri S&T is a team that prides themselves on their depth, Miner Threat's chances of returning to Nationals this year were significantly bolstered by the return of Zimmermann for a fifth year. The athletic cutter has been incredible this spring, leading the team in goals, blocks, and plus/minus. Miner Threat has a strong roster that's responsible for getting them back to Nationals; if they're to build on their performance last year and make the bracket, it will be in large part due to Zimmermann.
Miles Lally (Berry) – The driving force behind Berry's success this season, senior captain Miles Lally brings a wealth of experience and athleticism to the field for the Noble Savages. He's the top playmaker for Berry and the reason this iteration of the team is playing in College Station. Utilized in club as an athletic defender, Lally does more work as a thrower for Berry while still controlling the deep space on defense. Don't be surprised to see Lally notch a few key plays and open up the field with crisp hucks for the underdog pool no. 4 seed.
Game to Watch
Colby vs Missouri S&T
Colby is an unknown entity to the Nationals field and as the overall no. 6 seed, you have to wonder if their ceiling really is quarterfinals. A brief look at the results column for this team doesn't tell you very much. They played and lost to top ranked title favorite Middlebury 12-10 at Conferences while also putting up a solid win on Bowdoin — then turned around and lost 15-8 to Clown at Regionals. Colby has already stolen some attention with their rebrand for Nationals to Colby Ultimate Team (CUT), but it'll be exciting to see if they can also garner attention for their play.
S&T will provide Colby with a true defensive test with their 2-3-2 zone. A seasoned Nationals squad like S&T has to be pretty excited about taking on a higher seed that is comparatively inexperienced at Nationals. Miner Threat has looked like a middle of the pack team all season but with a second shot at Nationals and two comparatively untested teams in their pool (Colby, Berry), it'll be fascinating to see if Colby can stave off a potential upset. This game could prove to be a decisive one for placement into the bracket.
Pool Hot Take
Berry is going to be in prequarters. As the new kid on the block representing the Southeast this year, Berry College is perhaps the scariest bottom seed in the tournament. They're running hot off of an outstanding Regionals performance, and it's not a fluke that they are playing in College Station. Berry earned their keep thanks to a solid offensive system headed up by Miles Lally and Joseph Martell. While they haven't been the most polished team, they play with an intensity on defense that often covers their mistakes. Their first pool play game against Colby has some serious promise to be a good one, and like Occidental last year, there's no reason to think that Berry can't qualify for the bracket as the bottom seed in their pool.
Pool Prediction
Carleton GoP
Missouri S&T
Berry
Colby
– Hugo Sowder
Pool D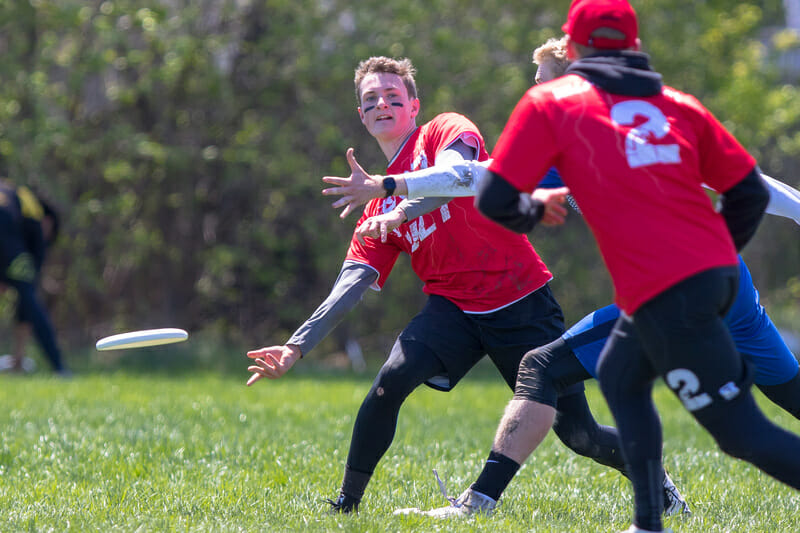 The Teams
Favorite To Win The Pool
It's always difficult to distinguish a winner in Pool D. Typically the four and five seeds are comparable, and this year is no different. Bowdoin Clown is technically the favorite in the eyes of the algorithm, but the Richmond Spidermonkeys were bumped ahead of them for winning their regional tournament. So which one is the favorite?
Richmond and Bowdoin both enter Nationals as teams who are peaking at the right time. The Spidermonkeys have approached the season as a marathon, not a sprint from the beginning of the spring. Richmond utilized their first two tournaments, Carolina Kickoff and Mid Atlantic Warm Up, to give playing time to their entire roster, simultaneously developing depth while also determining the best combinations with their talent. By the time they got to FCS D-III Tune Up, the Spidermonkeys were ready to start playing for wins, and they rolled to a 7-0 record capped off by an 11-7 win over Air Force. With the exception of a couple blips, Richmond have been rolling ever since; at Regionals, the Spidermonkeys went 6-0 with a point differential of +49.
Bowdoin's momentum doesn't go quite as far back, but the last time we saw them take the field resulted in a pair of wildly impressive results. Competing in the loaded New England region, Clown entered Sunday in a game-to-go against a Colby team who'd beaten them at Conferences one week prior. Bowdoin proceeded to roll 15-8, and they kept that momentum going into the 2nd place game, where they picked up a 15-5 win over Bryant. Back-to-back blowout wins over two Nationals teams is impressive no matter what; for those two wins to come against the teams seeded 6th and 7th this weekend is another level.
The extensive resume of Richmond's excellence this season gives them the nod as the favorite to win the pool, but it won't come as any surprise to see Bowdoin emerge with the bye to quarters.
Players To Watch
Graydon Cowan (Richmond) – Cowan is the embodiment of how Richmond plays. The center handler is the perfect player for their system, patiently working the disc down the field by breaking the mark and facilitating to Richmond's deep arsenal of cutters. You won't see Cowan make many jaw-dropping, highlight reel throws this weekend; what makes him special is the little things he does, like his variety of release points and his ability to hit his cutters in stride rather than putting them in difficult situations. If Cowan is firing on all cylinders this weekend, good luck scoring breaks against the Spidermonkeys.
Conor Belfield (Bowdoin) – A finalist for this year's Donovan Award, Belfield is your stereotypical D-III star. The senior captain, referred to by his teammates as Jeeves, fills a variety of roles for Clown. Typically starting downfield where his athleticism is most impactful, Belfield won't hesitate to fill into the handler space, particularly against zones. Belfield led Clown in goals at Nationals last year; expect Jeeves to fill up the box score again this weekend.
Chad Messerich (Luther) – A candidate for Breakout Player of the Year, Luther's star sophomore is going to have his first opportunity to play on the national stage this weekend. The versatile Messerich is most effective downfield as a cutter, but injuries to Luther's handlers this season have forced him into getting reps in the backfield, making him even more dangerous. The North Central is already familiar with Messerich's talents; expect the entire country to be on notice after this weekend.
Scott Stonis (Valparaiso) – Valparaiso dominated on their way to earning the lone bid to Nationals from the Great Lakes, and much of the credit for their dominance should go to Stonis. The 6'3 hybrid shoulders a tremendous load for Vult, playing a majority of points and being actively involved on both sides of the disc. If Valpo is to pull off any upsets this weekend, it will thanks to a dominant showing from their star junior.
Game To Watch
Richmond vs Bowdoin
It seems like the obvious choice to pick the game between the top two teams in a pool as the game to watch, especially when it's the four versus five seed, but this game has the added intrigue of both teams peaking just in time for this high stakes match.
As detailed above, both teams enter the weekend on a hot streak. Richmond dominated Atlantic Coast Regionals, never allowing a game to be capped and holding every opponent to single digit points. Bowdoin finished second in a loaded New England region, only losing to #1 Middlebury. Even the loss to Middlebury was impressive, as Clown gave the Pranksters one of their closest games of the season in a 12-10 loss.
Both of these teams were at Nationals last year, so neither team should be dealing with nerves. Two experienced teams playing their best ultimate of the season with potentially a spot in the quarterfinals on the line is the recipe for a potential classic.
Pool Hot Take
Luther is going to beat either Richmond or Bowdoin but still finish third in the pool. I wish I had the conviction to pick which team exactly Luther is going to beat, but this take is rooted in the variance of Luther's performances this season. LUFDA is making their first appearance at D-III Nationals this weekend, qualifying by taking the third bid out of the North Central. Luther's resume is all over the place; they've picked up impressive wins over teams like St. Olaf and D-I Emory, blowout losses against Nationals qualifiers Carleton GoP and Michigan Tech, and a head-scratching loss against Minnesota-B.
The blowout losses are most concerning. In the 4-5-9 gauntlet of Pool D, it's common to see a three-way tie between those three teams at the end of pool play. Pulling off an upset as the nine seed to get into that tiebreaker scenario is impressive, but it doesn't mean anything if you get blown out by the other team in the tie.
I predict that Luther notches an upset against Richmond or Bowdoin, then gets blown out by the other, putting them third in the tiebreaker and third in the pool.
Pool Prediction
Richmond
Bowdoin
Luther
Valparaiso
– Mike Ball
---
The team is traditionally called the 'Dazzlin Asses.' ↩