These are the Saturday pool play games to keep an eye on.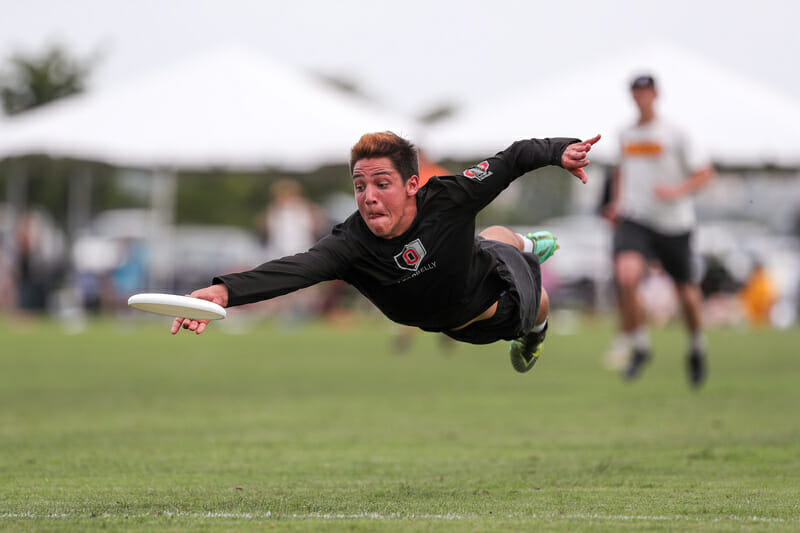 Ultiworld's Men's Division college coverage is presented by Spin Ultimate; all opinions are those of the author. Please support the brands that make Ultiworld possible and shop at Spin Ultimate! 
Pool A: Ohio State vs. Georgia (12:00 PM)
Ohio State finds themselves facing two elimination games tomorrow, after their rising stock slammed into a hard ceiling on Friday. It was a rude entry to Nationals for a team that has been trying for so long to reach this competition, cast aside by North Carolina in the morning and ground out in an achingly close game against Minnesota this afternoon. Leadbelly now finds themselves staring at an 0-2 record and two must win games tomorrow against Georgia and Cal if they want to keep their season alive. Cal demonstrated against Georgia that they won't be a pushover, and will be playing to keep their own season alive. But if Ohio State can overcome the pool's bottom seed, it will set up a showdown with agent of chaos Georgia.
Georgia's defensive intensity was infectious on day one, and they represent a challenge to Ohio State's handler core, which has had trouble with active rangy marks. Georgia's zone was able to get several breaks and many more turns against Minnesota on Friday, and the emphasis will be on Sion Agami, Chase Gregory, and Zach Braun to push the right buttons.
Minnesota will be watching this game closely, because their fate could hang in the balance. Despite a hoarse, cathartic win over Ohio State on Friday, their four point loss to Georgia would send them out of the bracket if OSU is able to beat Georgia by any margin. It may seem slightly unjust that Grey Duck could climb the mountain they did today and still fail to advance, but in the cauldron of Nationals, justice is what you make of it.
-Patrick Stegemoeller
Pool B: Brown vs. Texas (10:00 AM)
Texas were a major story of day one, putting up an eye-popping +16 point differential against solid Michigan and Iowa State teams. The local team showed an impressive level of control in the tumultuous conditions, and made it clear that teams can't expect to roll into Austin and have any easy time with the home team.
That home field advantage will get put to the test at 10AM on Friday morning against the pool's top seed, Brown. Upsetting Brown would seal a bye to quarterfinals for Texas and stand as a real declaration of intent that TUFF is a team to be feared.
So can they beat the boys from Rhode Island? Brown kicked off the weekend with a wobble, trailing at half to Iowa State, but rebounded and took control of the game, before walloping NC State later in the day. Brown's D-line may have been the most efficient at the tournament, able to navigate the shallow spaces near the disc that the wind can't reach and chisel through opposing zones. The cannon attached to Mac Hecht's right shoulder is fully operational, and he was able to dial up pinpoint throws to John Randolph when the team needed a spark against Iowa State.
Brown are still favorites to take the pool, but after Friday, Texas have to believe that they may be onto something special this weekend. Having that kind of belief is the first step to unlocking the true potential of a team, and pulling off an upset of the no. 2 overall seed would be an indication of that possibility becoming reality.
-Patrick Stegemoeller
Pool C: Pittsburgh vs. Wisconsin (10:00 AM)
Yes, you could watch Victoria try to knock off another heavy during the same round. There's always something satisfying about rooting for an underdog story. But in my opinion, the game to keep an eye on is this one between Wisconsin and Pittsburgh. For most of Friday, both teams looked great. Wisco cruised to big wins over lower seeds Tufts and Victoria, while Pittsburgh came out balling in their first game against Oregon. In the small scheme of things, the game was going to be important because it would likely determine which of the top teams would be exempt from prequarters. At the end of the day, though, both of them looked to be on a path to the bracket, and that's what mattered most.
But everything changed in the last round of the day, when Victoria killed Pittsburgh's hopes of skating through the pool unblemished. Three teams currently sit at 1-1, including Pittsburgh, meaning that their streak of quarterfinal appearances is in danger. A Wisconsin win would seal their spot in the bracket and go a long way toward clinching the bye to quarters, while simultaneously pushing top seed Pittsburgh to the brink of elimination. A Pittsburgh win would help solidify En Sabah Nur's place in the bracket and, at the same time, potentially turn the last round game between Wisconsin and Oregon into a must-win affair for both teams.
While it won't be the match-up to decide anything, it seems to be the one that weighs most heavily on the fates of all the teams in the pool. And, if you need a reason other than tournament finishes, both Wisco's Nick Vogt and Pitt's Andrew Lehmberg are playing like stars who deserve your attention.
-Edward Stephens
Pool D: Cal Poly SLO vs. Washington (8:00 AM)
Few games feel as personal as Cal Poly's early Saturday game against Washington. The two teams have squared off twice in the regular season, but neither at full health. It would be wrong to call this a grudge match, but it wouldn't be wrong to call this a street fight.
Cal Poly and Washington both have plenty to prove. Cal Poly came into the tournament as a one seed, despite having missed Nationals the year before. It's a red flag that the team cannot avoid. All season long there was the potential that SLOCORE might not make Nationals at all. Now that they're here, they still have to fight the whispers of choking that have plagued them since 2018 Regionals.
Washington comes into this game from an entirely different angle. The team was one point away from beating UNC at Nationals last season in quarters, and have had an entire year to think on the 'what ifs' of that game. But the Washington of 2019 is not the same team that made the run in 2018. Many of the key contributors from that season graduated. On top of that, Washington has done little to show that they can reach those same heights, as injuries and other misfortunes dimmed their regular season success. The talent that they have on the roster has yet to really make a mark.
Both teams have all but shrugged off these narratives on day one. They ended Friday with perfect 2-0 records, with Cal Poly defeating Colorado and Rutgers, and Washington claiming wins over Rutgers and Northeastern. If either team could pull off a win over the other, it would qualify them as the pool favorites, and better yet, potentially earn them a prequarters bye.
There's a lot at stake, but also a lot of history between the two teams. Now will be the time for either team to prove their dominance without an asterisk. This game has the potential to come down to the wire.
-Graham Gerhart