While some squads were descending into chaos amidst Friday's wild conditions, others found themselves right at home.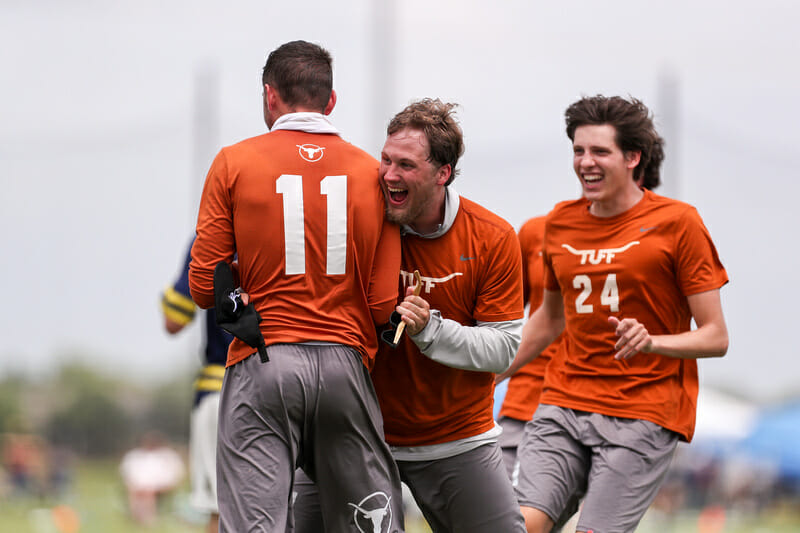 Ultiworld's coverage of the 2019 D-I College Championships is presented by VC Ultimate and Spin Ultimate. All opinions are those of the author. Please support the brands that make Ultiworld possible and shop at VC and Spin!
It would be easy for any observer at the Round Rock Multipurpose Complex on Friday to have left the fields believing that the primary Day 1 storyline from the 2019 D-I College Championships was weather. Between the wind and the heat, the conditions had as much of an impact on teams and results as any other factor.
But rather than bemoan the sloppiness of a day threatened by the elements, we're celebrating the teams that managed to rise above it — teams able to outlast opponents through the grind of the long points and multiple possession changes, teams that simply leaned into the madness.
With Day 1 in the books, here's a rundown of five teams that thrived amidst the chaos.
Colorado Kali (Women's Pool A, overall no. 13 seed, 2-0)
Finishing the day 2-0, Colorado has already broken seed and did so in part thanks to their trademark personality – Kali Weird. While many teams stressed about the uncontrollables on Friday, not only did Kali pick up wins, they appeared to be happily operating in their natural element.
Colorado's opening bout with UCLA began with eight straight confident holds, despite the blustery conditions. But when BLU were struck with an untimely ankle injury to captain Malia Smith, UCLA's offense began to deteriorate along with their composure. Kali, who had already settled into a tenacious game of attack and defend, dug in even further and gritted out the first break of the day — into the wind, no less. They continued to press on the gas and before UCLA could steady the ship, Colorado had run away to an 8-4 halftime lead they would not relinquish.
Coming off the big win to start their weekend, Kali rolled into their next match against Pittsburgh ready for a rematch of a 2018 semifinal. Danger didn't manage their first score until the fourth point. The overall play in the game was not particularly polished, but Kali looked cleaner and more relaxed in their mental game — rather than conflating the difficulty of throwing completions in the wind with difficulty of working their system.
Colorado was also maximizing contributions from players up-and-down the roster, a strategy not seen in many other matchups around the complex as teams attempted to batten down the hatches and play tighter lines through their struggle against the wind. While Rachel Wilmoth wreaked havoc in scoring seven goals herself, 14 other Colorado players contributed offensively. A replication of this effort on Saturday should see Colorado secure their spot in the bracket.
–Alix Robbins
Georgia Jojah (Men's Pool A, overall no. 12 seed, 2-0)
Georgia Jojah had exactly the day they needed, out-muscling Minnesota in a 13-9 victory and holding off Cal to the tune of 10-8 in the afternoon. Jojah showed the kind of physical prowess and investment in intensity they displayed at Southeast Regionals, powering through the tough conditions with a smile.
The polish wasn't there, even taking the conditions into account, but they made enough big plays that it just didn't matter. In the most crucial sequence of the day, Georgia rookie Hayden Austin-Knab handblocked Cal just outside the endzone for what would have been a massive upwind break. Jojah's heart and soul Hunter Cutts then immediately tore downfield and reeled in a huck for a score that would give UGA a lead they would not relinquish.
Cutts, who returned from an injury that kept him out of the second half against Minnesota, was emblematic of the mindset the spurred Georgia to success. They were quick to transition off of turnovers, knowing that the instant the other team hangs their head is the best time to strike.
Intense positivity helped Georgia win those little moments of chaos, stemming from a team wide commitment to staying present and positive.
It seemed like Georgia always had the extra inch they needed to win on Friday, whether it was coming down with deflections, getting a crucial tip, or stuffing a throw at the cone to prevent an upwind score. Looking forward, we'll see if that extra inch is still there as the level of competition increases.
–Patrick Stegemoeller
Minnesota Ninjas (Women's Pool B, overall no. 14 seed, 1-1)
Staring at a Friday slate against a pair of teams directly above them in their pool, the Minnesota Ninjas knew they needed to steal a win if they wanted to keep alive the prospect of a spot in the bracket. The day didn't start quite as planned, as UCSB jumped on the Ninjas early and ran out to a 9-3 lead while Minnesota struggled to move the disc either direction in the wind. But rather than fully capitulate, Minnesota began an ascent that would carry them the rest of the day.
With improved focus on positive energy, Minnesota did not get broken again, settling down with their offense and trading out as their confidence grew. Even commentator Emi Fitzgerald remarked on the livestream that the team was carrying themselves with better body language and smiles as the second half wore on.
Taking that momentum and positivity into the next game, Minnesota were able to bounce back in a big way with a very strong win against pool three seed Northeastern, 13-5. Even as they moved away from the showcase field to a part of the complex more exposed to the wind, the Ninjas seemed in a better mental place to handle the elements. Not only did they look well prepared for the heat, they began to showcase the crisp throws upwind that had eluded them in their morning struggles.
With precise IO flicks, the Minnesota handlers worked the disc masterfully against the elements, earning them a huge lead early against the Valkyries. They started the game by notching four consecutive breaks, twice scoring upwind then immediately following by completing the downwind break as well. After trading holds, the Ninjas rattled off three more breaks to take half, 8-1. In addition to their prowess on offense, Minnesota also looked excellent on defense, utilizing a zone that seemed to really befuddle Northeastern.
By adjusting to and ultimately playing well in the wind, Minnesota put themselves into excellent position to break seed, finish third in the pool, and make prequarters.
–Ben Murphy
Texas TUFF (Men's Pool B, overall no. 11 seed, 2-0)
When so many other teams crumbled in the wind, Texas TUFF played beautifully. Yes, they're the home team. Yes, they have the most fans at the complex. Yes, many of them probably slept in their own beds. Yes, they play all the time in conditions just like today. All that familiarity has to have had some kind of positive effect on the team's success on Day 1.
But in many ways, the chaotic conditions of this Nationals tournament would suit this Texas team anywhere. The TUFF game is a perfect match for the wind. Other teams have been perfecting systems all year, generating an arsenal of looks that the offense incorporates as second nature. See this: throw that. It's a good way to run an offense — as long as the weather cooperates.
The looks that Texas employs depend far less on tried-and-true systems and more with capturing the energy of the moment. They throw truly weird shots with regularity, but unsystematically. Rather, they adapt to the fluctuations of the game. What that means is that they are quicker to abandon plan A (if conditions won't allow it) and to try solutions E, R, or Z. TUFF find seams that other teams never see.
They've also grown accustomed to increasing the margins of error on their passes. The shooters often shoot for spaces rather than cuts, giving the receivers a lot of time to adjust for mid-air flight changes, which is a constant factor in windy play. Finally, TUFF are excellent at sending extra players to help bring down floaty passes, on offense or defense. While this is a best practice in any condition, the way the wind pushes the disc around unexpectedly favors the team with more bodies in the vicinity.
Texas, you see, just by being themselves, are in great position to withstand the conditions in Round Rock this weekend, even to thrive in them.
–Edward Stephens
Wisconsin Bella Donna (Women's Pool D, overall no. 16 seed, 1-1)
After their first game of Nationals, Wisconsin all but removed from the list of potential success stories. Starting out your day with a 15-7 loss is often more of a death sentence than a positive sign. On paper, their loss to Dartmouth didn't appear to have any redeeming qualities, an easy strike-off. Wisconsin was taking shots that weren't connecting, rushing passes despite the wind, opting for the risky hucks over patient swings. Turns out that was all just practice for their next game.
Wisconsin played exactly how they hoped in their game against Dartmouth, knowing that establishing their rhythm and their offense would matter. With the wind threatening to turn the entire tournament into a table tennis match of downwind holds, Wisconsin used their reps against Dartmouth to grow accustomed to the wind and the disruption it caused.
This manifested in their game against Texas. Unlike their bout with Dartmouth, Wisconsin was able to match Melee pound-for-pound. After taking their knocks against Dartmouth, they knew not to let the wind batter them down. That's not to say that Wisconsin fully used the wind to their advantage — Texas' offense was much better suited for that — but rather that Bella Donna made allowance for the mistakes that the wind caused, and never let it affect their game plan. Where Texas tried to work with the wind, Wisconsin actively fought it. The team willed around backhands and inside flicks upwind without hesitation, and when one or two of those shots missed or got crushed by the wind, Wisconsin shrugged it off and tried again. Bella Donna wasn't trying to play a perfect game, they were trying to win an imperfect game.
It worked. Texas went on multiple four break streaks in the game, but each time, Wisconsin put their head down and earn those breaks right back — including scoring the games final four goals. In one of the most stunning come-from-behind wins of day one, Wisconsin clinched their victory on an upwind break. They did this not by playing their best ultimate, but by continuing to press on even when game barely resembled ultimate at all. In Pool D, where upsets abound, Wisconsin proudly added a notch of their own.
–Graham Gerhart