Wisconsin's Cinderella run comes to an end at the hands of Fever.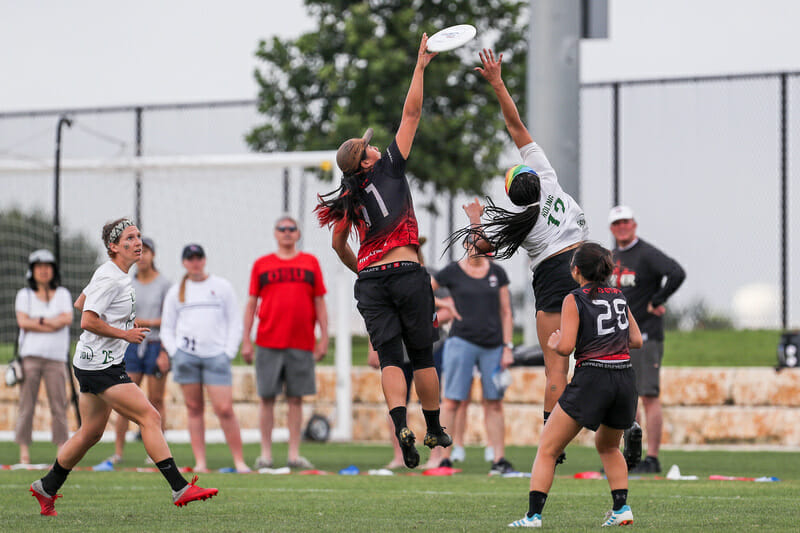 Ultiworld's 2019 coverage of D-I Women's Division is presented in by VC Ultimate, the official gear provider of the Premier Ultimate League. All opinions are those of the author. Please support the brands that make Ultiworld possible and shop at VC Ultimate!
AUSTIN — After two days of intense wind-driven ultimate, Wisconsin and Ohio State faced off in a game where the wind was more of an afterthought. The entire game was two offenses, one the 2nd seed and the other the 16th seed, playing at the height of their powers. While Ohio State came out on top, there was a lot to like from Wisconsin, too.
In many ways, the two teams were very similar. Both Fever and Bella Donna rely on an offense that stretches the field and gives plenty of room for cutters to chew up yards. On defense, they both prefer to stick with their matchups, opting to trust their defenders to beat their mark to the disc. Their parallels kept the game close until the end, as neither team had a trick the other couldn't counter — except for OSU's Sadie Jezierski.
Jezierski played exactly as well as expected. Her 'Chaotic Good' style of ultimate added that extra level of spice that Wisconsin couldn't see coming. Every time the game became too repetitive, Jezierski was there to make a skying grad, or a visionary huck, or even just a simple break pass that caught Wisconsin off-guard. Her final stat line for the game, a quiet 1G/1A/2D, does little to show the impact she had.
Still, Jezierski wasn't even the best player on the field. That title belongs to Wisconsin's sophomore star, Margaret Walker. Ending the game with five assists and two blocks, Walker was the catalyst of Bella Donna's offense. She led both teams in completed hucks, and would tear down OSU's carefully constructed defense by simply firing over them to her receivers.
"I didn't mark her much, but the one time we played zone, [Walker] just threw pass after pass over the top of us," said Jezierski. "We stopped playing zone after that."
Luckily for Ohio State, even without an answer to stop Walker, their offense was on another level. After earning a pair of breaks early in the first half, Fever would cling to that lead the entire game. Annelise Peters, Cara Sieber, and Emily Barrett tore through the multiple Bella Donna defenders that attempted to mark them. Wisconsin couldn't figure out a defensive assignment that could stop all three. It was like trying to fix a dam that was ready to burst. Every time Wisconsin would plug up one of OSU's core stars, another would burst through and make a tremendous play.
Fever was only broken once all game, and that was after they had taken a commanding three-break lead in the first half. From halftime forward, they were untouchable on offense. Even when they turned the disc over, they dug their heels in and earned the disc back. This is mostly of product of Ohio State's developmental program, as almost every player for Fever starts as a defender and works their way onto the offensive line. Each and every player for OSU was willing to go out and get a stop, which prevented Wisconsin from ever playing their way back into the game.
Bella Donna had a chance to break upwind late in the game, which could have flipped the momentum entirely. At 12-10 in favor of Ohio State, Wisconsin earned the stop, and started working the disc patiently upwind. Just as they got past half-field, a wide swing pass went awry, giving the disc back to Fever. Wisconsin would never get another chance. As Bella Donna scrambled to match up with OSU players on defense, Jezierski realized she had a height advantage over her mark, and motioned wildly for Peters to throw her the disc. It took a while, but Peters rewarded the Callahan finalist with a lofty breakside backhand. Jezierski easily plucked it from the air, all but closing out the game with that grab.
Credit where it's due, Wisconsin played a fantastic game. Despite arriving as the 16th seed, the Madison women made it all the way to quarters before being knocked out by the second-best regular season team. Ohio State won the game and deserves the plaudits, but so does Wisconsin, for putting together a magical tournament performance as the only team outside of the top eight to make quarters.