We sing the praises of the players you might have missed in pool play.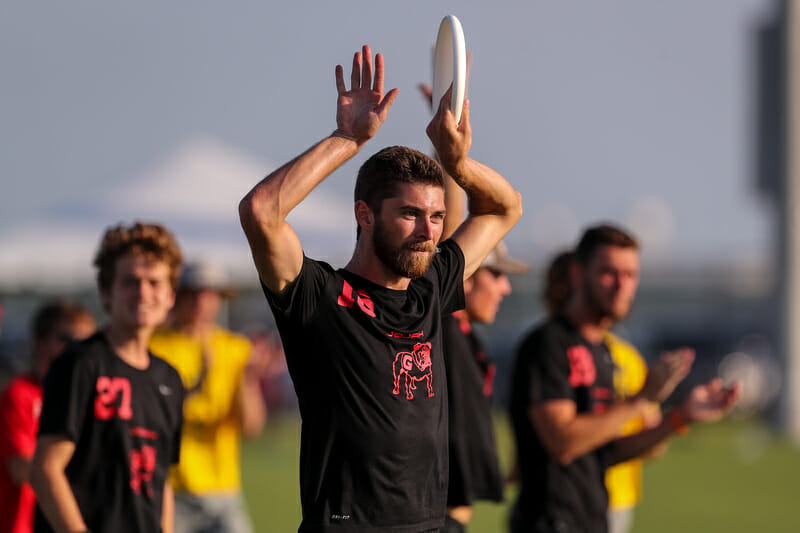 Ultiworld's Men's Division college coverage is presented by Spin Ultimate; all opinions are those of the author. Please support the brands that make Ultiworld possible and shop at Spin Ultimate! 
After prequarters on Saturday, eight teams advanced into the meat of the bracket to compete in quarterfinal games. Years from now, when they're nursing aches and circling retirement, players on these eight teams can reminisce proudly about making quarters. Half the teams didn't survive the morning round, but they'll always have quarters.
Then there are the twelve other teams left in the dust, or as some call it, the placement bracket. But we haven't forgotten you, placement teams and prequarters losers. We bore witness to the long points, the windy trials, the moments when it looked like a comeback could actually happen. We want to honor you, too. For suffering through all this wind and heat, just for a free "Play Ultimate" sticker and a few Jesse Shofner sightings.
We bore witness to your triumphs. Here's to the unsung heroes of Nationals. We salute you.
Hunter Cutts (Georgia)
Hunter Cutts left it all on the field this weekend for Jojah, doing whatever his team needed on both sides of the disc. "The guy embodies what it means to wear the 'G' on your chest," said Cutts' coach Parker Bray, moments after Cutts' career ended in prequarters against Colorado. "He lives and breathes it. He's the emotional leader of this team as well as the skill leader… He is Jojah."
What more can you say than that?
Scott Hearne (Iowa State)
Iowa State ISUC may not have won a game in their pool, but they pushed Brown and took NC State and Michigan to double game point. Hearne, as both the team's trustiest reset handler and best shooter, was the single biggest reason why the pool fifth seed refused to roll over for the more vaunted squads. He distinguished himself with his ability to throw in the wind, a quality noticeably lacking in many of the more well regarded throwers in the men's division. As a result, he trailed only Mac Hecht on the throwing leaderboard through Saturday, posting a whopping 21 assists.
Lukas Ambrose (Oregon)
Ego are a team with a lot of marquee names. Sither, Cuizon Tice, Marx, Chuck, and Fitzgerald dominate the reporting about them, with good reason. Flying under the radar is Ambrose, a sophomore just getting his feet under him. While he isn't Ego's primary option, he's found ways to make big plays when the game starts to break down. That's a recipe for an 11-goal total through Saturday, good for top ten in the division (and second on the team to Marx). Where he really shines is on defense. Ambrose, as adept as anyone at laying out to break up a tight under pass, tallied an unbelievable 11 blocks while playing mostly on the O-line.
Sam Kaminsky (Minnesota)
Kaminsky doesn't have the traditional hero's arc. It's weird to think about a career peaking at the beginning rather than the end, but he started his career with a national title and ended it by missing the bracket at Nationals when Minnesota fell victim to an unkind tiebreaker. But that results-driven narrative doesn't cover the growth of a player who has taken on the mantle of a program, and reaching the peak of his powers at Nationals. Kaminsky played on both sides of the disc for Minnesota, doing everything the team needed and more. It was the kind of performance that would be worthy of winning a title, no matter when it happened.
Vinay Valsaraj (Texas)
Yeah, it's a bit of a cop-out to introduce a team's Callahan nominee in an unsung heroes piece, but I'll bet, dollars to donuts, that you don't know how good Valsaraj is. He's a long and fast, a technical wizard in the cutting lane, and a vicious finisher. And on a Texas TUFF team with a rash of shooters, he's the reliable, possession-oriented balm when he has the disc. Mix in a heavy dollop of defensive intensity and an extreme willingness to bid, and you have Vinay Valsarah, every coach's dream.