The top performing rookies of the season!
Ultiworld's 2019 Men's College Awards are presented in part by VC Ultimate, outfitting the world's best players since 1998. They are also presented in part by the National Ultimate Training Camp, who can help prepare you to be an All-Star. All opinions are those of the authors. Thanks for supporting the brands that make Ultiworld possible!
Ultiworld is pleased to announced our sixth annual D-I College Awards. The criteria for each award can be found here — we consider both regular season and postseason performance in our selection of awards. As the overall top performers of the year, players selected as top three in Player of the Year voting are removed from consideration for other individual awards.
Links to all of the 2019 D-I Men's Division awards will be added as awards are announced:
Player of the Year Award
Offensive Player of the Year Award
Defensive Player of the Year Award
Breakout Player of the Year Award
Rookie of the Year Award
Coach of the Year Award (will be announced later this week!)
All American 1st Team (will be announced later this week!)
All American 2nd Team (will be announced later this week!)
D-I Men's 2019 Rookie Of The Year
Calvin Brown (Cal Poly SLO)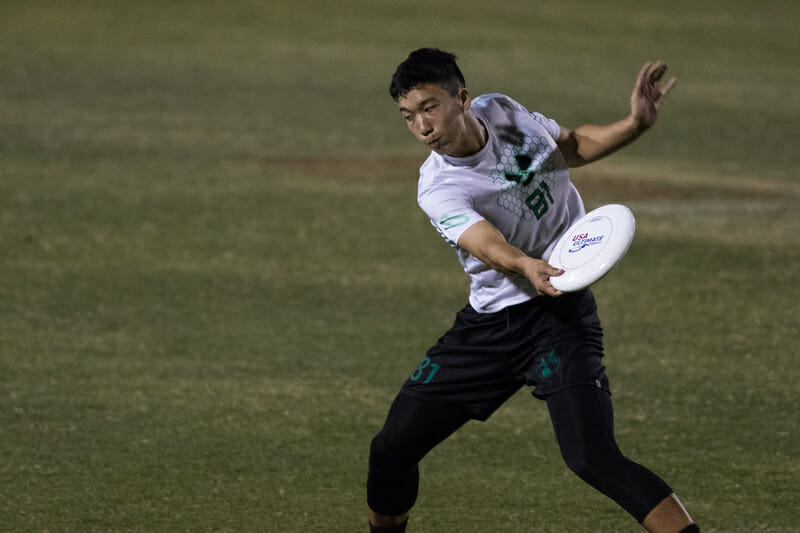 When the pull goes up to Cal Poly SLO, it's usually Calvin Brown who jumps up and catches it–literally, he always jumps into the pull. This season, Brown jumped right into the heart of the SLO offense, helping lead the team on its most successful campaign to date.
Brown was a highly regarded recruit, but it isn't often that a rookie steps up to a featured role on the O-line of a final four team. When he wasn't catching the pull and operating as the primary reset, Brown was the focus of an isolation play. He can get open in space, launch a huck downfield, break a mark to open up new looks for the offense, and work through a zone. He also has impressive hops for someone who usually sticks around the backfield–when he gets a chance to escape downfield, he can pull down a sky with the best of them. Just as important as his technical skill, Brown never seemed phased by playing in big moments and earned the respect of his teammates.
A lot has been made of Matt Gouchoe-Hanas's rise from "the guy who centered the disc to Nethercutt" to a superstar, and the parallels to Brown, a freshman operating in the backfield of a star-studded team, are evident. Brown is already past that trajectory, functioning as a focal point of his team from the very beginning. Early this season, Brown was named to the All-Tournament Team at Santa Barbara Invite, the first of four tournaments Cal Poly SLO won this season. Late in the season, Brown took the field against UNC in the national semifinal as an indispensable player forced to play on both lines when SLOCORE was trailing late in the game. Expect Brown to step up and take over in an even bigger role next season with many seniors and fifth year players graduating SLOCORE after this season.
1st Runner up: Axel Agami (Ohio State)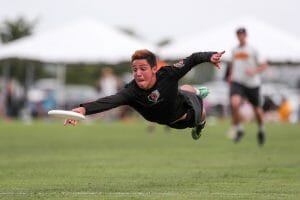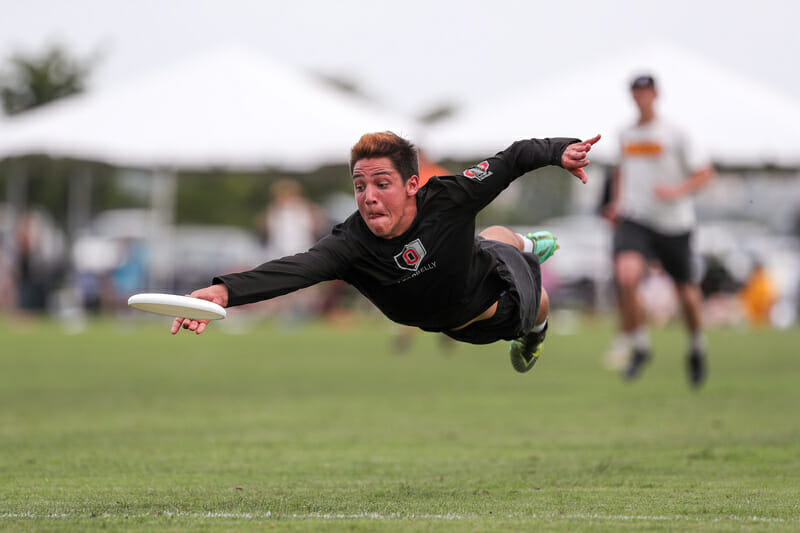 The windy conditions of Round Rock exposed the weaknesses of many players who ventured there for Nationals. The skillsets of rookies, with less developmental and weaker foundations as throwers, were particularly hampered. But Axel Agami stood out even more, relative to his peers, against the gusts. The Ohio State freshman was fantastic in a high-touch role, with 9 goals, 5 assists, 3 blocks, and just 8 turnovers recorded at the event.
Given the conditions, where D-lines were often going upwind on offense, the turnover total is more impressively low than at first glance. Agami has the quickness to cut and the power to handle, as evidenced by his line, but his throwing skill made putting him around the disc the most effective option. He still wound up second on Leadbelly in goals (to his older brother), and capped off a strong season helping Ohio State outperform what anyone expected of them in 2019.
2nd Runner up: Matt Chambers (Texas)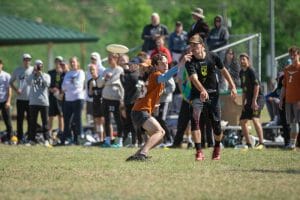 The Texas youth, high school, and YCC programs are quietly putting together some serious burgeoning talent, and Chambers is the poster child. The younger brother of Texas TUFF standout Noah, who would've contended for an award if not for an injury that kept him out at Nationals, Matt Chambers worked to graduate from ultimate haven Marcus High School outside of Dallas a semester early, enrolling at Texas in time for the spring season. He immediately took on a key role with one of the top teams in the country.
Perhaps the best testimony to Chambers' abilities is the faith placed in him by the TUFF leadership. The upperclassmen-laden team routinely gave him quality minutes at Stanford Invite and Centex despite an injury that left him playing with only one hand, and his poise and skill in the backfield for TUFF seemed well beyond his years. At Nationals in Austin, Texas trusted Chambers to be one of their main offensive handlers in the teeth of the Brown defense, and his eight assists on the weekend trailed only senior Reese Bowman on the TUFF roster. Chambers' smooth offensive arsenal is already on par with college players three and four years his senior; if he fills out his frame and improves his defense to match, the high school rookie has boundless potential.