Here we go!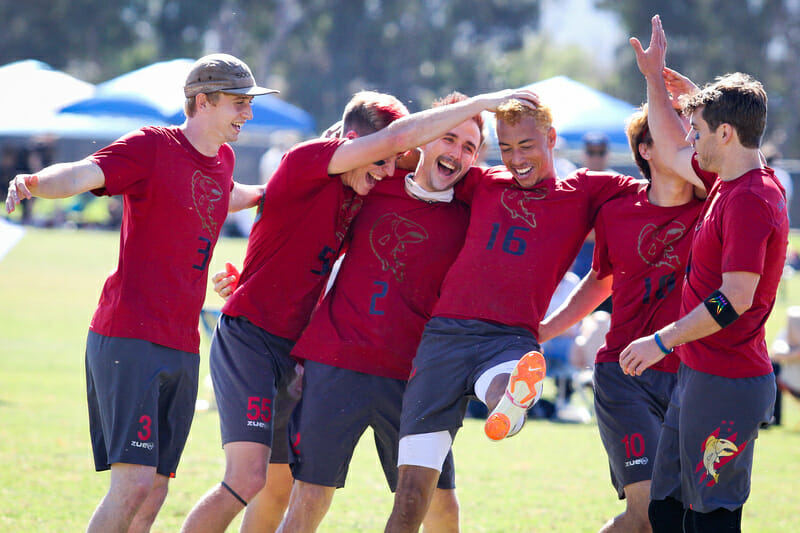 The 2019 club season is upon us! Teams have made their offseason changes and the quest for the title has already begun. Whether you're looking for a brush up on the main contenders or a hint at which players and teams to keep an eye, here's the big picture view of what you need to know to be a responsible fan this season!
If you want to follow along with the top teams, players, and games this season, support Ultiworld's club season coverage and visit our subscription page.
Major Storylines
Can Anyone Stop the PoNY Repeat?
No.
(Just checked my word count.)
Okay, so yes, "no" probably covers it, but since we're all about nuance here at Ultiworld, let me stretch out that "no" and see what lies in between a yes/no binary.
New York PoNY won Nationals last year and got somehow even more talented this season. That's a benefit not only from the mathematical standpoint of (more talent) > (less talent), but also because adding new players competing for PT and hungry for a title guards against complacency. With Grant Lindsley, Alex Thorne, Jeff Babbitt, Jack Hatchett, and the rest of the additions, PoNY just got an infusion of superpowered new blood from the X-Men.
You want to frustrate yourself for a few minutes? Look at this roster and try to figure out what the universe D-line looks like. Or just any D-line. PoNY's defense took a big tactical leap forward last season and brought Revolver to its knees, and now is plugging in several elite defenders into that machine of doom. It's probably going to be the best unit of any team in the men's division. Now, remember that this is a team whose offense went perfect in the final against Revolver last year and is adding Grant Lindsley and Alex Thorne, who's had some nice years playing with London Clapham. Good luck everyone else!
Other teams will be good. Machine and Sockeye almost beat New York last year at Nationals and both should be better this season. Truck Stop got some nice pickups and, by all appearances, the only thing they care about this season is beating PoNY.
But New York aren't going to lose because someone else stops them. They might lose because they can't handle the new role as villains (unlikely, though, since Isaac Saul is a captain on this team and he was born for this), because of a massive injury crisis, because of overconfidence and infighting, or because of the general chaotic randomness of the universe.
PoNY may not win Nationals this year, but is it going to be because someone stops them? (Checked my word count again.)
No.
Out With the Old Guard of Semifinals
For the past half decade or so, you could pencil in three of four Nationals semifinalists pretty much from the jump. Some combination of Revolver, Ironside, Ring of Fire, and Sockeye were going to make it, with a surprise guest or two sneaking their way in. But heading into this season, it seems entirely plausible that only one, or maybe none, of these teams will be playing on semis Saturday in October. The winds of change began to blow last year when PoNY toppled Revolver and Ironside disbanded. We could really see them howl here in 2019 and bring about radical change atop the standings.
Several club hotspots appear to be in decline. Raleigh Ring of Fire has made semifinals for three years running, but roster losses and the fatigue of falling short have thrown their streak into doubt. San Francisco Revolver has also suffered high profile roster turnover, and, perhaps more importantly, the sense of invincibility and inevitability that surrounded the team was shattered by their abject defeat to New York in the final last season.
Boston sent a team to the semifinals every year for most of a decade, but now the city's men scene is something of a mess. Ironside is gone, and Boston Dig is caught in between becoming Ironside 2.0 and becoming the Ironside cultural alternative that their early success may have indicated. At this point, they can't die the hero or be good enough to become the villain. Whatever you call them, they don't appear to be ready to make semifinals.
Seattle Sockeye actually look the part of return semifinalists, so perhaps don't put those pencils away quite yet. Then again, 2017 did actually happen.
With these major powers faltering, it's totally plausible that the semis slate looks something like PoNY, Truck Stop, Machine, and Johnny Bravo. While PoNY may seem to have a chokehold on the championship, everything underneath seems as wide open as it has been it years.
Returns to Prominence
After a few years of languishing at a lower-tier Nationals level, Minneapolis Sub Zero appears poised to build on last season's quarterfinal run for a major breakthrough in 2019. They showed flashes of their elevated potential last season, particularly in a gritty victory over heavily-favored San Francisco Revolver in the semifinals of the U.S. Open. Nick Simonelli, Ryan Osgar, Charlie McCutcheon, and Cole Jurek were top-of-the-division players last year, and long-time handler Josh Klane stepped up to have one of the best seasons of his career. While Sub Zero have lost a couple of major pieces in Alex Simmons and Jay Drescher, they have more than made up for it, on paper at least, by luring in several players from the now-defunct Madison Club. Kevin Brown, Logan Pruess, and Bill Everhart have taken their talents north to the Twin Cities. From the outside, Sub Zero looks like a serious threat to repeat as quarterfinalists or even push to semis, and rumor has that the team's internal assessment is that they have a legitimate shot at a title.
Two other teams trending up in a serious way are Atlanta Chain Lightning and the SoCal Condors. Chain, one of the division's true legacy programs, reinvented themselves and returned to Nationals last year after a multi-year hiatus. Coach Miranda Roth Knowles has spent more than a year now lending her extensive knowledge of the game to a core of young players hungry to learn from her. The result was a cohesive team that seems to be maturing by the tournament. Paul Lally and Matt Smith will continue to lead an offense that operates at a blistering pace. Chain also brings in talented Atlanta expat and Callahan winner John Stubbs, formerly of Revolver and Ironside. His presence might be just the jolt the club needs to kick their rate of improvement to an even higher gear and re-establish themselves as one of the division's heavyweights.
The SoCal Condors, meanwhile, have an even more illustrious history than Chain — but they have also slipped further over the years from their old dynastic perch. The tide began to roll back in a couple of seasons ago, however, and if you squint a little, the new generation of SoCal players are starting to resemble their forebears in more than just name. After making Nationals in 2017, they missed out on the tournament in 2018 when, on the final day of the regular season, they looked on helplessly as the Southwest lost its second bid. This season, SoCal appears poised not only to make Nationals again, but to inflict some serious damage on the competition there. They add valuable mercenary Jonathan "Goose" Helton to complement a versatile core of Jeff Silverman, Sean Ham, and Travis Dunn. With Revolver still in charge of the region until proven otherwise, though, they will still need to earn a second bid for the Southwest to realize their potential.
New Clubs Could Make Strong Debuts
Concurrent with this year's shake-up within established order come a few intriguing new squads hoping to make their mark. Amherst Sprout, led by an offshoot group from last year's Boston Dig that includes Ben Sadok, Rusty Ingold-Smith, Chris Bartoli, and Brett Gramann, have the look of a team that could either earn a bid or present a challenge at Northeast Regionals. Additionally, they bring in former Ironside stalwarts Will Neff, Jeff Graham, and Russell Wallack, as well as recent college defensive specialist Cameron Wariner. Add in a couple of interesting young receivers in Caleb Seamon and Eddie Scott, and the Northeast may have another contender. While knocking off PoNY is unrealistic for now, they already played Dig to a tight game at Boston Invite and have enough firepower to compete with Toronto GOAT.
Madison Yogosbo, meanwhile, start with the remnants left over from the demise of Madison Club. The new team almost has the flavor of a rebrand — and, reading between the lines of comments by captain Colin Camp, that's just what the group needed. "Honestly, our primary focus is to enjoy playing ultimate and enjoy being around each other. This seemed to be missing the last few years on Madison Club because the grind of AUDL and club really wears people down," said Camp. The upshot is that Yogosbo plan to ease up a little during the regular season and probably won't field a near-complete roster until North Central Regionals. But they still expect to be ready for the postseason. In addition to the former Mad Club players, they bring in Alex Simmons from regional rival Sub Zero and ace Madison Radicals defender Sterling Knoche.
Coming from a similar starting point as Yogosbo, Houston HIP returns to the club scene two years after its core members were incorporated into Austin Doublewide. Celebrated loose cannon Matt Bennett is once again at the helm. If everything goes according to his plans, the team vibe will be a sharp departure from what he experienced on Doublewide. "Doublewide was all about putting every ounce of energy and thought into how to win. HIP is a different environment, more about teammates and enjoying ourselves and keeping the intensity as needed," said Bennett. The cultural shift goes along with a reduction in expectations: Bennett admits he doesn't know yet whether HIP will be able to hang with Doublewide and Denver Johnny Bravo. Still, it would be a mistake to count them out.
Rounding out the list of dangerous newcomers is Virginia Vault. A collection of the top talent from second-tier Mid-Atlantic teams Baltimore Medicine Men, Richmond Floodwall, and Arlington Oakgrove Boys, Vault draws not only on the DC area's vast talent pool, but also one of the nation's largest reserves of chagrin. It's hard to see them matching up favorably against cross-town bullies Truck Stop, but they might be able to catch fire long enough at Regionals to eke out a win over Philadelphia Patrol or Pittsburgh Temper and challenge for a spot at Nationals.
Where Will the Final Bids Land?
Two of 2018's bid-earning teams — High Five and Madison Club — aren't coming back this season. Others, like Rhino Slam and Dig, are weakened. Where will the final chips fall at the bid cutoff?
While some regions seem destined for one or two bids, there are a lot of regions that could be in the hunt for a bonus bid. Condors (Southwest) and GOAT (Northeast) just missed out last year and could be the benefactors of the division's upheaval, but lots of perennial bubble teams, like Prairie Fire (North Central) or Voodoo (Northwest), and upstarts like Brickhouse (Southeast), H.I.P. (South Central), Vault (Mid-Atlantic), and Sprout (Northeast) will have a shot.
There could be more intrigue than ever at the cutoff this season.
Players Who Could Define This Season
Jeff Babbitt (New York PoNY)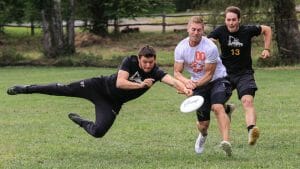 He's back.
Jeff Babbitt made major waves in the 2016 season, taking Dig to Nationals in their first year and putting the fear of God into Sockeye in prequarters. He appeared to take a year off in 2017 to coach BENT, but re-upped with Dig for the Series and was dominant as they made their way to quarterfinals. After fully taking 2018 off from club, Babbitt is back, joining the rest of the Monstars on the PoNY roster.1
Seeing what Bryan Jones and that PoNY defense does with him should be fun, as his ability to defend so much of the field at once and not require a deep switch when he is locked into a matchup should give New York the ability to cause even more havoc elsewhere on the field. It's the first time we've seen Babbitt on a truly elite team since his game fully blossomed and it should be a treat. Having a little less responsibility may be just what he needs to realize his ceiling.
Jon Nethercutt (Denver Johnny Bravo)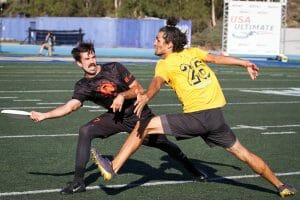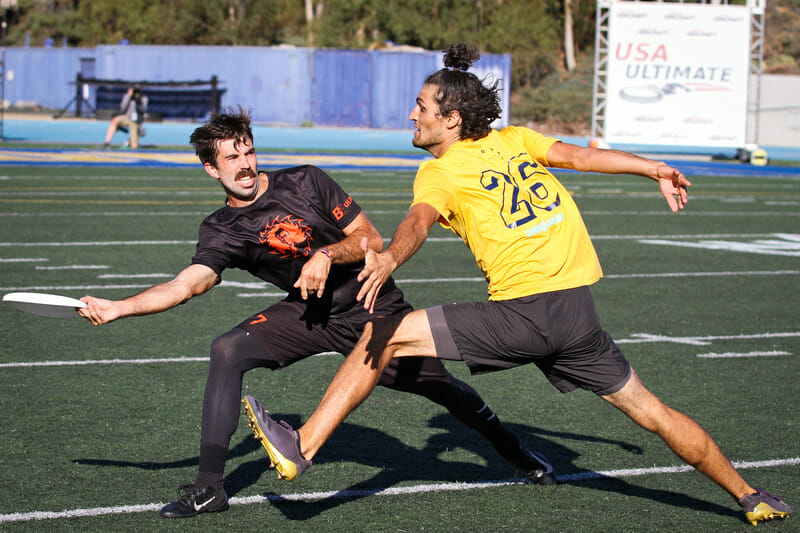 Jon Nethercutt has been a staple of the Triangle ultimate scene for the better part of this decade, driving the UNC Darkside program to its current elite status and holding down the backfield for a perennial championship contender in Raleigh Ring of Fire. That's why it will be so compelling to see how he fits into a completely different system and environment with Denver Johnny Bravo in 2019. The Triangle is notorious for the unified nature of its developmental programs, from youth to college to club, a cohesiveness for which Nethercutt, as a coach and/or captain of various teams in the region, can take partial responsibility. It will be a significant challenge for him to put aside some of his instincts and try to integrate into a different established style in Colorado.
For Bravo, Nethercutt's move couldn't have come at a better time. If club ultimate was the NBA, Bravo's general manager would be hailed as a hero for this free agent signing. Nethercutt is one of the only players in the division with the offensive arsenal to potentially fill in the hole left by the departure of Jimmy Mickle after the 2017 season. Paired with a roster that has now had a few years to develop together, Nethercutt will look to end the frustration of three straight national semifinal losses with Ring of Fire.
Cassidy Rasmussen (San Francisco Revolver)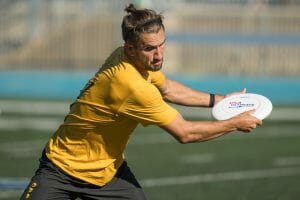 Rasmussen has long been one of the best all-around players in the club division, with the bona fides to prove it: he was our 2015 Player of the Year and one of fourteen stars selected to represent the United States at the 2017 World Games. A staple of Revolver's offensive line for years, he switched to defense last season and was just as good, especially leading the charge after turns.
But despite his superstar status, Rasmussen has always enjoyed the luxury of being surrounded by other superstars, as well as getting to lean on the division's deepest roster. The exodus that followed Revolver's loss to PoNY in the national final last year means that Rasmussen now has less around him to absorb the pressure of a tough game. All-Club players of years past like Nathan White, Joel Schlachet, Grant Lindsley, and George Stubbs, as well as more than a full line of other players who helped Revolver reach such great heights, have moved on. He still has Ashlin Joye, Nick Stuart, and Marcelo Sanchez in his camp, but as the clear-cut best player on the team, he'll be the one Revolver relies on most.
Rasmussen isn't going to be able to make up for all of those losses on his own, of course, and if Revolver continues to emphasize teamwork and humility as they have in the past, he won't have to. But his ability (or lack thereof) to take on the team's mantle will be the biggest factor in determining whether Revolver continues to compete at the highest levels.
Matt Rehder (Seattle Sockeye)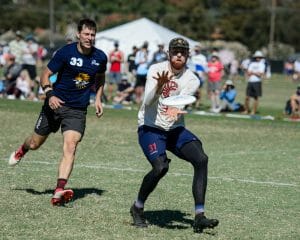 Rehder as a player to watch is nothing new; he's been one of Sockeye's most dynamic offensive players for the last decade. He's gone from high school prodigy to unstoppable deep cutter to the well-balanced player he is today. He's Sockeye incarnate: fiery, intense, and supremely athletic. While he's been one of the longest tenured players for years, the departures of BJ Sefton and Danny Karlinsky make Rehder the de facto team elder. The leadership expectation that comes with that position amplifies his already-substantial effect on Sockeye's success.
While he has struggled with staying healthy for much of his career, a full-strength Rehder is one of the most impactful players in the division. Yet, in his 12 years, Sockeye has never won a national championship. If they're to change that, expect Rehder to be a gigantic reason why.
Jack Williams (Raleigh Ring of Fire)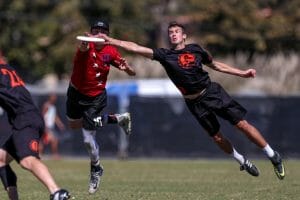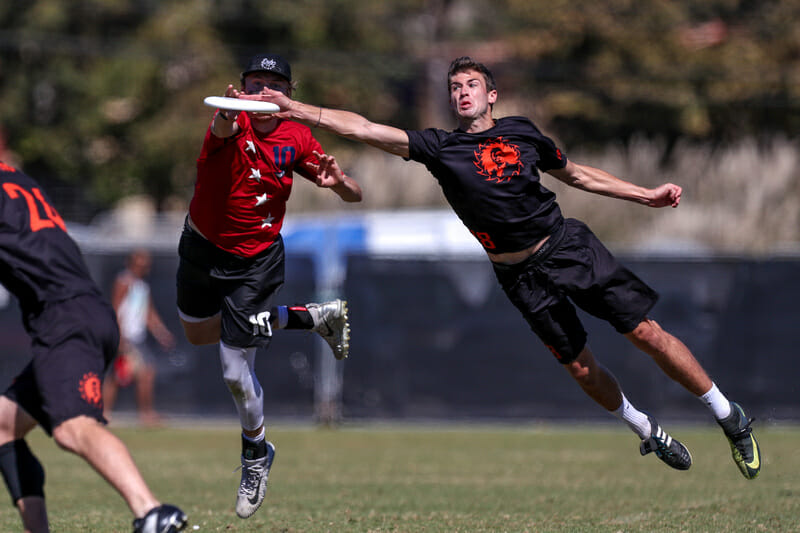 Welcome to the Jack Williams era. With the departures Raleigh sustained this offseason, it leaves Ultiworld's runner-up for 2018 Player of the Year leading a youth movement in the division. Williams is a transcendent talent, a known quantity in the club division for a few years now. Now it is time to see what will happen when he is given the keys to the team.
That is not to dismiss Ring's returning core, but this will be the first he takes over as the alpha at the club level. He did at the college level with UNC-Wilmington, and it worked to stunning levels of success. Just ask Ring teammates who suffered at his hands when they were with UNC. No one is pretending it will be as easy for Williams to propel a team to the final in the club division as it was for him in college, but with a much better supporting cast than he ever had at Wilmington, he might just be the man to get Ring over the semis hump.
Regional Previews
Great Lakes
No team has reaped as many benefits from the dissolution of Madison Club or High Five as Chicago Machine. Not only do they lose their chief (and only) regional rival, but they absorb a good chunk of its top talent. Johnny Bansfield and Joe White are fantastic defenders who can annihilate opponents on a turn, Paul Arters and Keegan North are instant offensive upgrades, and fellow additions Zane Rankin (Sockeye) and Peter Graffy (Madison Club) are both game-changers in the deep space. The question will be how they meld with their new teammates — Kurt Gibson and Pawel Janas have dominated touches in the past — where does another high-usage player like Arters fit in? Machine might have the single most talented roster in the country; if they can gel in time for the series, they challenge for a national title, let alone crush in their region.
Indianapolis Brickyard now finds itself as potentially the second best team in the region. They pick up former Machine standout Travis Carpenter, who immediately becomes their best player. Brickyard's objective won't be to defeat Machine, which they have next to no shot of doing, but to somehow procure a second bid for the Great Lakes.
Teams like Black Market, Smokestack, and newcomer Nain Rouge will certainly be able to compete with Brickyard, but are extremely unlikely to make any noise nationally. Of all the regions in the country, the Great Lakes is probably the surest bet to only send one team to Nationals.
Bid Prediction: 1
Mid-Atlantic
The rich get richer in the Mid-Atlantic, as a reloaded Washington DC Truck Stop comes back from stomping Temper 15-6 in the regional final with every indication that they will win their umpteenth straight regional title.
But below that, things get really interesting. Pittsburgh Temper had their cathartic breakthrough at Regionals last year in a rainsoaked, windblown, epic against Patrol, then came out pretty flat at Nationals. Philadelphia Patrol's young talent is a year older and a year closer to Temper's ceiling, while the Pittsburgh team's roster is still not set in stone. With these two teams neck and neck for the title of Pennsylvania's finest (view that honorific how you will), we could certainly get another high stakes clash at Regionals between two imperfect but fiery teams. The addition of Brett Matzuka to Temper's roster this season could be the offensive spark they need to have the edge in the matchup.
The big monkey wrench this year is Vault, an undead hydra comprised of the heads of now decapitated DC area teams that had spent years in the shadow of Truck Stop. The talent is impressive for a first year team, with several ex-Truck players and a good chuck of the DC Breeze's roster accompanying the best players from teams like Medicine Men and Floodwall. The ceiling and floor here seem pretty disparate. This team is a pipe bomb that could blow up the hierarchy in the region, or just immolate themselves.
Bid Prediction: 3
North Central
The North Central takes a bit of a step back this year with the dissolution of Madison Club. A team plagued by infighting for years, a schism between the older and younger players was finally the straw that broke the camel's back. Instead, Colin Camp and a number of Club's younger stars have resurrected an older team, Yogosbo, and snatched a number of talented former Hodags from other Madison teams (Mad Men and NOISE, mostly). Former Ironside and Sub Zero mainstay Alex Simmons gives the young team an important veteran presence, but it'd still be a major surprise if Yogosbo is able to make Nationals in their first year back.
Sub Zero thus becomes an even heavier favorite to take what will likely be the NC's only bid to Nationals. Despite losing experienced veterans Alex Simmons, Logan Weiss, Jay Drescher, and Ben Feldman, almost all of Sub's talented young core returns. Ryan Osgar, Greg Cousins, Nick Simonelli, and Nick Vogt form a fast and talented cutting quartet on offense while the small-but-mighty Charlie McCutcheon is one of the division's most well-regarded defenders. Sub also picks up a few veterans from the late Mad Club, including Bill Everhart and Kevin Brown. Brown is an immediate impact player on defense, and should help Sub cope with the loss of the heavily-featured Simmons.
Kansas City Prairie Fire remains the same as they've been since the departure of Abe Coffin and Jay Froude — solid if uninspiring. They have the talent to place second in the region, but almost certainly won't have enough to procure another bid. Similarly, Winnipeg General Strike is habitually on the edge of national prominence. However, they just defeated Yogosbo on DGP in the final of Spirit of the Plains. While early season tourneys should be taken with a grain of salt, it's an encouraging sign for the Canadians.
Bid Prediction: 1
Northeast
What a difference a few years makes. Think back three years ago to when Ironside ruled the Northeast, GOAT felt like a lock for Nationals, some new team named Dig burst onto the scene, and PoNY felt more like an afterthought. In 2019, this is PoNY's region. Ironside is no more and, with the split from Dig to form Sprout, this might be the most watered down version of Boston Men's ultimate we have potentially ever seen. That's not to say Dig is done for, but after finishing last at Nationals a year ago, bleeding a lot of talent to another team in the area doesn't exactly instill confidence.
Toronto GOAT, despite their recent struggles, still feels like they are in the mix, but they are probably a half-step below Dig. It's been a slow decline for GOAT as the team's talented veterans have begun to age out of their prime. Jeff Lindquist, Adrian Yearwood, and Toly Vasilyev don't pack quite the same punch they did five years ago. It seemed like GOAT might take a step forward last year as Mark Lloyd and Isaiah Masek-Kelly returned to the team, but they didn't even earn a bid and then lost to Dig at Regionals. They also lose one of their brightest young stars — Brett Tan — to Boston's Slow White. There's still talent on the team, no doubt: Cam Harris is an elite cutter and Andrew Carroll has been an All-Club stalwart, but the depth just isn't there. Their Nationals hopes might ride more on Boston's teams being diluted than on their own talent.
Amherst Sprout will be an interesting addition to the group, creating a solid top four. As the latest pseudo-Amherst alumni team, it is hard to say how competitive they will be at a national level. It is difficult for new club teams to earn a bid to Nationals because they are not invited to any of the top tier tournaments. Without getting a chance to see many, if any, Pro or Elite teams during the regular season, it could make it a bit tricky to push up the rankings. Things will get really interesting if Dig holds onto its bid and either GOAT or Sprout can find a way to snag a third bid. It will be a fun race for second, because nobody in this region is touching New York.
Bid Prediction: 3
Northwest
The Northwest has been ruled from the seat of power, Seattle, by its top team, Sockeye, for years…hasn't it? You'd certainly think so, given their peaks at Nationals and the star power that's adorned both their roster and their brand. But they are 2-2 in regional championship games over the past four seasons, including last year's loss to Vancouver Furious George.
Despite that tumultuous history of postseason performance, there's no way to crown another favorite. Their roster is mostly consistent, save a few veterans swapping out for new names, chiefly Eli Friedman (Revolver) entering the picture. Matt Rehder, Trent Dillon, Dylan Freechild, Jacob Janin, and Simon Montague still operate as the team's core presence, but the development of their younger guys could be the deciding factor for their potential this season.
Furious George couldn't parlay their Northwest title into a strong Nationals run, narrowly making the bracket with a 1-2 showing. But the team has continued a steady trend of growth after receding from the national scene a few years prior. Expectations have risen now, but the club has the capability to match that rise, bringing in some fresh talent without losing any of their core contributors. Cole Keffer, something of a local legend2, could wind up with a significant defensive role by season's end. The tools are there for Furious George to solidify their perch as a contender more than challenger.
Helping Vancouver's status is the movement to the south, particularly the heavy turnover in Oregon. Portland Rhino Slam! has more departures than returners, including many of the roster's most recognizable young talents. They're no stranger to volatile outlooks, but how they react to this change will likely be their greatest strength or weakness. Hungrily waiting to capitalize is Seattle Voodoo, who retains a collection of inexperienced but incredibly eager players with plenty to prove after a few seasons with close calls. A third bid isn't a prerequisite for them to reach Nationals, but outperforming the others at Regionals certainly is, and that extra bid would unlock a door they otherwise will have to kick down.
Bid Prediction: 2
South Central
After a year of lowered expectations, the new faces added to Denver Johnny Bravo in 2019 have them back as favorites to win the South Central region. Star handler Jon Nethercutt (Ring) and veteran goal-scorer Joel Schlachet (Revolver) join a team that already has plenty of star power and would be title contenders if PoNY didn't exist. With Ben Lohre, Matt Jackson, and Henry Konker leading the way for a team that's built a lot of chemistry in the last couple of seasons, Bravo has legitimate semifinals aspirations.
In Texas, Austin Doublewide will do their best to avoid taking a step back after losing some talent to the rebirth of H.I.P. This will be one of the youngest iterations of Doublewide in recent memory, having added a number of college standouts from Texas TUFF and others. Nonetheless, this is still clearly the most talented and star-studded team in Texas. Jay Froude, Dalton Smith, and Carson Wilder have all had excellent seasons in the AUDL for the Dallas Roughnecks. Vinay Valsaraj and Connor Olsen are excellent young additions. If they can manage the Pro Flight schedule, expect them to put up increasingly strong results as they assimilate their young stars late in the season.
Houston H.I.P., meanwhile, plays their first season as a club since merging with Doublewide after the 2016 season. They haven't quite pulled the talent they had that year, but this is still a unit with some stars who have a lot of experience playing together. Matt Bennett, Dillon Larberg, and Connor Ughetta are the team's biggest names. Their local schedule makes them unlikely bid earners, but a team that no one will want to play at Regionals. Elsewhere, Denver Inception continues to hold the mantle as a borderline Nationals team and younger brother to Bravo. Dallas Nitro and Houston Clutch are solid squads that will push the top tier teams and continue to drive depth in the region.
Bid Prediction: 2
Southeast
Raleigh Ring of Fire may have some growing pains as they attempt to wrap their heads around competing without Jon Nethercutt, Goose Helton, and a few more big contributors in 2019, but that doesn't affect their status as the heavy favorite in the region. Coach Mike DeNardis doesn't seem particularly worried about the team's ability to adapt. "We approach every season in the same fashion in that we reteach basic strategy and fundamentals and then build and adjust as we progress. If there are tweaks we must make based on [their] absence, we'll do it, but I don't anticipate much needs to change," said DeNardis. Ring won't make their debut until the U.S. Open in early August, and even then some of the rostered players will still be in the tryout phase. On paper, they bring enough firepower to overwhelm the region, and they are near-locks to earn a spot at Nationals, regardless of how many bids the region gets.
Behind Ring, but closing the gap as fast as they can, is Atlanta Chain Lightning. They know what a difficult out Ring will be at Regionals, and they are planning accordingly. "It's all about earning a second bid in our region," says captain Matt Smith. If they can perform well enough to secure it during the regular season, they are in a good position to build up a head of steam and potentially make some noise in San Diego. The possibility for big steps forward by young returners like Will Lindquist, Sam Batson, and Daniel Sperling could determine whether their season ends on a high note.
With so many other regions — looking at you, North Central, Mid-Atlantic, and Northeast — in flux, 2019 could be the year the Southeast manages to pry a third bid from the pack. The three teams with the best shot at making it happen are Brickhouse, Freaks, and Oakland Park El Niño.
Huntsville Freaks have been building up for a few seasons now, drawing on a fervent (if somewhat small) local ultimate community and sprinkling in a few players from Tennessee and Atlanta. Devon Rogers is a big downfield presence that few teams in the region can adequately match up against.
Brickhouse and Oakland Park El Niño, by contrast, have burst onto the scene all at once. Not including Southeast Regionals, El Niño have won their last three tournaments dating back to last season. Despite the natural challenges inherent to building a team in south Florida — transience, sprawl, a less-than-stellar college pipeline, and the sheer distance separating them from most other teams of their caliber — the club from Oakland Park seem to be getting the job done. In an era of recruitment warfare, they're finding success by taking the old-fashioned approach. "[We] emphasize local talent and actually practice," says captain Tim Vo. Jeremy Langdon and Travis Catron are players to watch.
On the other end of the spectrum, Durham Brickhouse benefits from existing in one of the sport's true hotbeds: the Triangle. Pulling heavily from alumni of the North Carolina youth scene (including members of both major nearby college programs, North Carolina and NC State), the Brickhouse roster still consists of relatively young players. Michael Lee, explaining what works about the team, said, "I think the lure of [Brickhouse] is pretty great…the culture we've created here of young and hungry kids who are just here to enjoy ourselves is awesome." It reflects well on them that they were able to recruit players to offset the loss of a few major contributors. Ethan Bloodworth, Matt Ellis, Austin Von Alten, and Rick Hennighausen are all gone this year, due to various issues: injury, moving for work, the chance to play for a more competitive team.
In a three-bid Southeast, the dogfight between these three teams to see who gets to take the long flight west would be stupendous. But don't count them out in the event of the far more likely two-bid scenario. Lee's thought process applies equally to all three of them: "We aren't beating Ring, and honestly we aren't trying to, but if Chain has a bad game against us, why not?"
Bid Prediction: 2
Southwest
San Francisco Revolver is still the odds on favorite to win the Southwest, but this is the closest the region has been in quite some time. Anticipation for a contested Regionals comes not just from Revolver's losses of Grant Lindsley, the Stubbs brothers, Joel Schlachet, Nathan White…the list goes on…but because the SoCal Condors now pose a legit threat.
Revolver is certainly not buried. They add some excellent young talent in Adam Rees, Caleb Merriam, and Ian Sweeney, and veterans like Cassidy Rasmussen, Ashlin Joye, and Simon Higgins are still some of the game's best. But there's no question that the team has taken a step back into the realm of being a semifinal hopeful rather than an inevitable finalist.
Could the Condors really knock them off at Regionals? It's doubtful, but it does seem like the Condors will be more than a team in the bid hunt this season. The southern California scene has been improving steadily, led by the growth of Travis Dunn, who could have an All-Club season this year. Jonathan "Goose" Helton has had some time to gel with many of his club teammates playing with the AUDL's San Diego Growlers and brings both a veteran presence and a strong skillset to the team.
One quirk of the team is its split between LA players — like Sean McDougall and Jeff Silverman — and San Diego ones, like Dunn and Sean Ham. It's like the best of the Growlers and Aviators mashed onto one team. They also add some talented Cal Poly SLO youngsters in 2019 College Men's Rookie of the Year Calvin Brown and Kenrick Koo. The Condors have all the pieces they need to make a real run at Nationals this year.
Outside of those two teams, it's hard to see anyone entering the Nationals picture. A side effect of Revolver's heavy turnover is that second tier Bay Area teams like Guerrilla take a hit and will be unlikely to rock the boat.
The real drama in this region will come from the regular season and whether the Condors can secure a second bid. With teams like High Five and Mad Club folding, there are bids out there for the taking, and despite Revolver's apparent down year, the Condors will sleep a lot better heading into Regionals with a second bid.
Bid Prediction: 2
Follow along with all of the coverage of the 2019 club season with an Ultiworld subscription!
---
And still coaching BENT. ↩

His mother, Carla, is in the Vancouver ultimate Hall of Fame, he won a national title in Rugby, and he raised $10,000 for charity by getting his "famous curls" cut. ↩