Every team in the pool has had moments of inconsistency.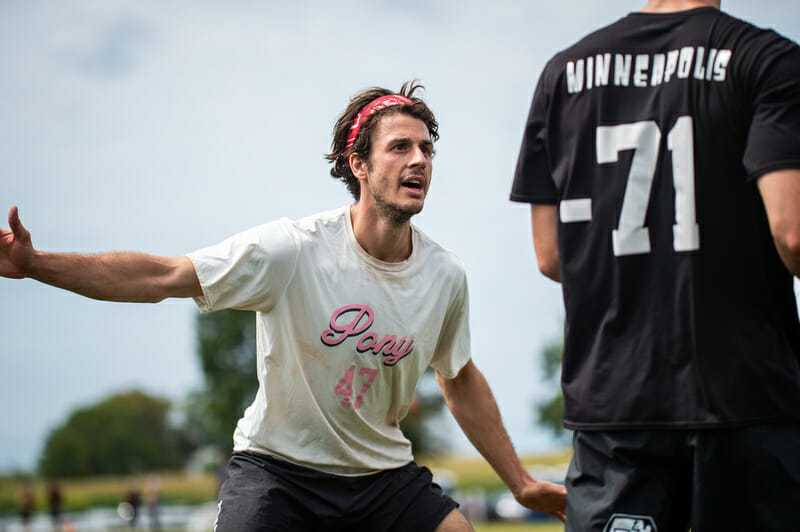 Ultiworld's club men's postseason coverage is presented by Spin Ultimate; all opinions are those of the author. Gear up for your big games, your tournament parties, and everything in between at Spin Ultimate!
Pool A Preview — Pool C Preview — Pool D Preview — Competition Schedule
The defending National champion headlines Pool B, one that features some teams that have shown some moments of excellence but also bouts of inconsistency. PoNY should be able to rise above the fray, but Sub Zero has been able to hang tough with some of the best teams at Nationals…including PoNY. Winning the pool is a huge prize: who's going to take it down?
New York PoNY
Seeding: Overall No. 2, B1
Power Ranking: #3
Overall 2019 Record: 20-5
Against the Nationals Field: 10-4
Against the Pool: 3-0
Everything was going according to script for PoNY in 2019. They brought back nearly all of their stars, recruited a few ringers, and steadily built up their roster as the season wore on. After losing a tight final to a very good Sockeye club at the US Open, they handled all challengers on their way to the Pro Championships title. While it would be wrong to say they had positioned themselves as the prohibitive favorites, another National Championship was clear in their sights.
Then came Northeast Regionals to partly derail PoNY's ambitions. They nearly dropped a semifinal to Amherst Sprout and then rolled over in the final against Boston Dig. It wasn't a great look from a team laden with big-time players. The fact that the offense struggled against Dig's zone feels like a minor concern — I'll trust Sean Keegan and Jimmy Mickle to take better care of the disc in crunch time at Nationals. More alarming was the inability of the defense to generate enough turnovers: has the division caught up with the defensive schemes that were so crucial to their title run last year?
Maybe. It's something to keep an eye on in San Diego. But there's reason to believe it won't be as much of an issue. They bring back two major athletes on the D-line who were missing from their active roster at Regionals: Jeff Babbitt and Beau Kittredge. For my money, Babbitt has been the best defender in the division in 2019. Kittredge, a dapper 37 years old, doesn't warp the game the way he once did, but he's still fast enough, smart enough, and strong enough to make a thrower think twice before putting up a huck too close to him. The presence of those two should have a compressive effect on the field, allowing other defenders more leeway to play a little more loose and able to jump into spaces like they did last year at their terrifying best.
Likely Ceiling: National Champions
Likely Floor: Quarterfinals
Minneapolis Sub Zero
Seeding: Overall No. 7, B2
Power Ranking: #6
Overall 2019 Record: 27-9
Against the Nationals Field: 6-6
Against the Pool: 2-1
Quick, who owns the division's only (sanctioned) win against top-seeded Seattle Sockeye? Points if you answered Sub Zero, who also split season series with Truck Stop and Machine, and played PoNY to double-game point.
Sub have made huge investments in their team athleticism this year, and it shows. The team is full of big, fast cutters, and they have a seemingly unending stable of defenders — Cole Jurek and Charlie McCutcheon heading the class — who can find and capitalize on moments to take the disc away.
"When we have a well-structured set and we're able to play a lot of one-on-ones, our athletic margin shows," said captain Colin Berry with justified confidence after their quarterfinal win at Pro Championships. And that was before picking up former Madison Club wreckers Andrew Meshnick and Kevin Pettit-Scantling: the margin has only grown with their additions.
Furthermore, a couple of O-line mainstays, Jason Tschida and Ryan Osgar, are having career-best seasons so far. Osgar's bonkers score line from the US Open — 27 assists, 9 goals — isn't an outlier. That's how dangerous he's been on offense in 2019.
While they have the talent to hang with any other team, what may hold Sub back is that so far they haven't managed to string together wins enough to get to a major tournament final. Nationals could be the moment the team has been waiting for. Then again, the brutal gauntlet they would encounter in bracket play might be too tall a task.
Likely Ceiling: Semifinals
Likely Floor: Prequarters
Pittsburgh Temper
Seeding: Overall No. 11, B3
Power Ranking: #14
Overall 2019 Record: 16-8
Against the Nationals Field: 2-6
Against the Pool: 0-3
For a couple of seasons now, Temper have occupied that curious niche that is both clearly above the teams that did not make Nationals — see their decimation of Mid-Atlantic top select Virginia Vault in the game-to go — and a tick below most of those who did. True title contention still seems out of the question for now, but they are banking on taking a step forward in San Diego this year.
But first they'll have to get out of the pool. "We're preparing for what we anticipate the other teams will throw at us," said captain Thomas Edmonds.
In that regard, they have the advantage of having already seen their three opponents in the regular season…and the disadvantage of having lost each of those contests. No doubt they'll bring a classic underdog chip on their shoulder to all of their Thursday games. It remains to be seen, however, whether that will give them a necessary edge or merely weigh them down.
The offense, featuring flashy lefty Pat Earles and anchored by newcomer Brett Matzuka, should be able to score regularly enough — they held PoNY's feet to the fire during a bracket game at Pro Championships and nearly came away with the upset. The question will be whether the D-line can get their hands on the disc often enough for Sam VanDusen to assist on a couple of breaks every game.
Likely Ceiling: Prequarters
Likely Floor: Done on Day One
Denver Johnny Bravo
Seeding: Overall No. 14, B4
Power Ranking: #13
Overall 2019 Record: 18-61
Against the Nationals Field: 3-5
Against the Pool: 1-2
From a certain perspective, Johnny Bravo are heading into Nationals from a position of strength. Their best players, Ben Lohre and Denny Bechis, are in the prime of their careers. Strong local recruiting has kept opened pipeline of explosive defenders (Mathieu Agee, Quinn Finer) to replace former D-line standouts who have taken their talents to the offense (Henry Konker, Stanley Peterson). And the team is so comfortable in coach Jim Schoettler's offensive sets at this point that they might as well have started learning them in vitro.
The problem? The results to date. Bravo may seem like a better team than their 14-seed would indicate, but they didn't earn anything better during the regular season. They followed up a bad home tournament at Pro-Elite Challenge with a more successful, but ultimately uneven, Elite-Select.
What does the template look like, then, for them to play to the roster's potential and advance in the bracket? "Really we're trying to focus on getting confidence on both sides of the ball. We've been great at times this year and bad at other times, so finding some consistency comes down to feeling comfortable and confident running our systems against any team," said Lohre, one of the team's captains.
If Bravo are clicking, look for Lohre to be controlling the pace of the offense with a wily reset game and for the defense to attack their matchups fearlessly in pursuit of blocks.
And one more player bears mention: the enigmatic Jon Nethercutt. The 2017 Player of the Year has been a mercurial figure for his new outfit. He has the capability to create scoring opportunities that few other players could hope to emulate — or, as he has at times this season, he could throw his team out of a game. It feels like no other team's fate is tied more to a single player than Bravo's is to Nethercutt.
Likely Ceiling: Quarterfinals
Likely Floor: Done on Day 1
---
Bravo also went 3-2 at the Labor Day tournament. ↩