Truck or Machine?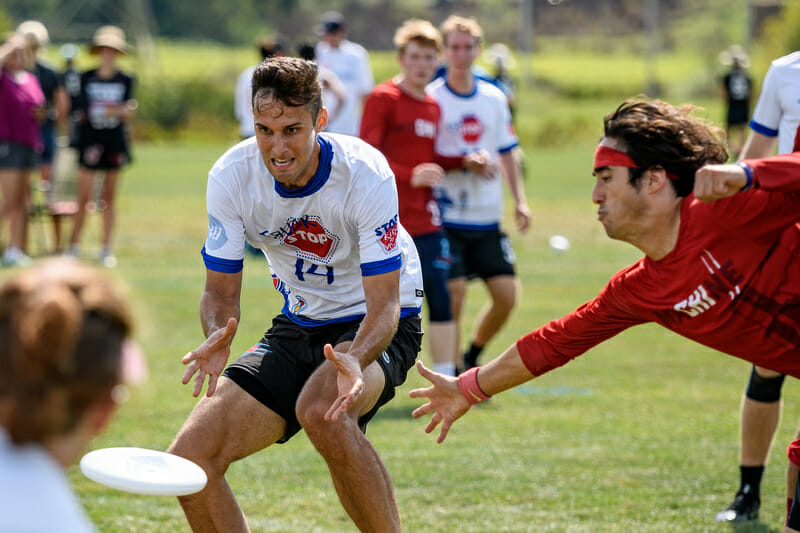 Ultiworld's club men's postseason coverage is presented by Spin Ultimate; all opinions are those of the author. Gear up for your big games, your tournament parties, and everything in between at Spin Ultimate!
Pool A Preview — Pool B Preview — Pool D Preview — Competition Schedule
With two realistic National Championship contenders and a pair of teams that are better than their records or rankings might indicate, Pool C should offer up some compelling games, especially in the battle for the top of the pool and the one to avoid day one elimination. Truck Stop and Machine have been trending in different directions — Truck down, Machine up — but when all the chips are on the table at Nationals, will that matter?
Washington D.C. Truck Stop
Seeding: Overall No. 3, C1
Power Ranking: #7
Overall 2019 Record: 17-6
Against the Nationals Field: 10-6
Against the Pool: 1-1 v. Machine, 1-0 v. GOAT
A hot start to the season and a comprehensive performance at Regionals puts Truck Stop atop Pool C and on track for a deep run in San Diego. Having reached the quarterfinals or beyond every season since 2014, Truck Stop brings an experienced core that has shown an ability to navigate the choppy waters of Nationals.
Despite some noticeable pickups in the offseason, Truck Stop's offensive personnel is quite similar to last season's. Rather than work Nicky Spiva or Christian Johnson into the offense, coach Daryl Stanley opted to rely on the chemistry that was already in place on O. Physicality and a disciplined sense of cut timing that the team refers to as "tick-tock" allows Truck to exhibit a powerful offense that goes through teams in straightforwardly effective manner.
Last year's Offensive Player of the Year Rowan McDonnell has been quieter this season for DC, but seemingly more because of the advancement of his teammates than a diminishment of his own abilities. The promise Christian Boxley showed as a rookie has flourished into a well-rounded offensive tool kit, and Gus Norrbom's impeccable technique around the disc keeps the wheels turning in the reset space. If Truck's offense runs into trouble, it may be tempting to ask Rowan to put on a cape and play heroball as he did at points last season, but so far the line has been capable of more well rounded play.
The buzzier changes have come on the defensive side of the ball for Washington. The aforementioned Spiva returned to the team after picking up a chip with AMP in the mixed division last year, and Christian Johnson made his way to the nation's capital as part of the Revolver exodus. They both offer some serious pop to a defense that can make a claim at being one of the best offensive D-lines in the country.
More than other teams, Truck Stop rotates through two different defensive lines, even in tight games. There is some crossover here and there, but by and large Truck Stop will use its full cabinet of defensive players in the pods they have played with over the year. This allows the team to send fresh waves of players out in combinations that compliment their skills, but some players struggle to get into a rhythm with this approach. Whether Truck continues to rely on their multi-line approach or condenses into tighter rotations will be an important question for the coaching staff this weekend.
Likely Ceiling: National Champions
Likely Floor: Quarterfinals
Chicago Machine
Seeding: Overall No. 6, C2
Power Ranking: #5
Overall 2019 Record: 17-9
Against the Nationals Field: 6-8
Against the Pool: 1-1 v. Truck Stop, 0-1 v. Chain Lightning
Machine's results this year have been a straight line pointing up, as some embarrassing early season results turned into a finals appearance at the Pro Championships in September and a triumphant destruction of all challengers at Great Lakes Regionals. The host of new players from High Five and elsewhere finally seem integrated into their roles on the team. Kurt Gibson, ultimate's wandering ronin, came back for the series and will be ready to go at Nationals. Everything seems to be falling into place for Chicago, but there are still some questions about the team's offense that need answering if Machine hope to continue their upward trajectory.
Just making it to Nationals wasn't a lock for Machine after a disastrous US Open which included a loss to Freaks, the bottom select flight team in the Southeast this year. That nadir, as unsettling as it was, proved to be an inflection point and not the harbinger of a doomed season. Since that loss, Machine has won every game against opponents other than PoNY, who they have narrowly fallen to twice by a combined three points.
The responsibility for this turnaround comes from two key places, a settled offense and a D-line that began putting away its break chances. Machine's roster is packed with defensive stalwarts, even on the O-line, and Chicago has had little trouble generating turnovers. Once the offense from both the O-line and D-line found its rhythm, positive results followed.
The O-line has benefited from giving more responsibility to Joe White, a rising senior at Carleton who is almost certainly the most exciting young player in the club division. Operating as a trigger cutter and deep threat, White is a perfect "rulebreaker" for an offense that can sometimes become predictable. With Pawel Janas finding his footing as the initiating handler, Chicago's offense has been running smoother and giving White the space to put up big yardage totals.
"Pawel is one of the hardest workers in the game. We count on him to deliver the disc powerfully and intentionally," said Machine's coach Andy Neilsen. "He's the guy that gets us organized and moves the disc into the machinery of our downfield offense."
Chicago's D-line will get a boost from Kurt Gibson, who was unavailable for all of the team's regular season tournaments but fit in well at Regionals. One of the greatest players of all time, Kurt adds gravitas to Machine's young roster and a positional flexibility that some other players on the team lack. "You'll see him on both lines at different times," said Neilsen. "He has so much experience at the top level of the game and has played so many roles, we'll put him in positions that let him be an impact."
With White in the ascendancy and Gibson there to provide veteran savvy, Machine has the potential to shake up the pool and be a force in bracket play.
Likely Ceiling: National Champions
Likely Floor: Prequarters
Toronto GOAT
Seeding: Overall No. 10, C3
Power Ranking: #12
Overall 2019 Record: 16-5
Against the Nationals Field: 3-5
Against the Pool: 0-1 v. Truck Stop, 1-0  v. Chain Lightning
Toronto GOAT are heading back to Nationals after missing out in 2018. It's now been five years since Toronto's program redefining semifinals appearance, and while they have still managed to keep some of that core together, there are big new pieces involved for Toronto. GOAT has failed to make quarterfinals since their run in 2014, but with a new generation of Toronto players on the rise and the veterans of 2014 still contributing this could be the year GOAT brings back some of the fear they used to inspire.
The rest of the country may soon learn what players in the Northeast have known for a while: Andrew Carroll is a problem with no clear solution. His nearly perfect cutting technique and footwork are surpassed perhaps only by Chris Kocher, and his ability to find holes in the deep space makes him a threat anywhere on the field. At Regionals, he provided almost laughably easy holds for GOAT given the stakes at play, making Sprout's defenders look like they were playing a casual game of pickup.
Toronto has shown off some two handler ho-stack sets, designed to spring Carroll loose among the confusion downfield and give center handler Thomson McKnight plenty of targets. Despite new faces on the O-line, GOAT still retains its signature high release and scoober breakside approach from the days of Derek Alexander and Jeff Lindquist. This has proven to be successful against cascading poach schemes, with GOAT's handlers able to find the players left open by switches with quick over the top throws.
The biggest name on GOAT's roster is now the anchor of the defense, Mark Lloyd. Not as explosive as he once was, Lloyd has reoriented his game around his throwing ability. With a howitzer flick huck and the size to get open against smaller dump defenders, Lloyd pushes an aggressive Toronto D-line into quick vertical strikes when it gets the disc.
"When it gets the disc" is still an important caveat though, as the D-line has struggled to generate turnovers against elite offenses. This sets up an enticing matchup with Machine's somewhat cavalier offense, as GOAT's D-line should get the chances they need to get breaks on the board. There is some real incentive to finish second in pool C if the rest of the bracket shakes out as expected, and the game against Chicago could make or break GOAT's chances at a deep bracket run.
Likely Ceiling: Quarterfinals
Likely Floor: Done on day one
Atlanta Chain Lightning
Seeding: Overall No. 15, C4
Power Ranking: #16
Overall 2019 Record: 11-8
Against the Nationals Field: 1-7
Against the Pool: 1-0 v. Machine, 0-1  v. GOAT
From the 16th seed last year to the 15th seed this year…progress!
With some good youth players sticking around in Atlanta and coach Miranda Knowles taking the reins, Chain Lightning has recovered from a fallow period in which they missed Nationals for a few years running but are not in the same stratosphere as the championship winning team of a decade ago.
It is a new era in Atlanta stylistically, regardless of the team's results, as coach Knowles readily admits. "To be honest, we've tried hard to move away from the old Chain adage of 'chicks dig the long ball,' so we don't use our height in the traditional way of jacking it to tall people on offense," she said. Instead, the new Chain Lightning is focused on running an offense that creates chaos at the front of a vert stack and lets crafty cutters exploit turned around defenders.
"Whereas other teams do more of a dump, swing, strike, we aim for a dump, swing, give-go more," said Knowles. "This aims to create lots of short passes and while D is scrambling out of poaches/transitions, then we gain yards to a cutter. We have lots of shorter buzzy cutters who are devastating in small spaces and this is how we optimize them." The fast moving cohort of Matt Smith, Christian Olsen, Austin Taylor, Danny On, and Zack Avello can fluster defenses with crafty in cuts, even against defenders focused on pushing their matchup downfield.
While Chain has found increased stability in their play and their results, this stability generally doesn't provide the high variance outcomes that are usually necessary for upsets. Atlanta's results over the season bear this out, as they have beaten the teams they were supposed to beat and lost to the teams seeded above them. A 1-7 record against National teams isn't tremendously inspiring, although that lone win did come against Machine.
If Chain is going get out of Pool C's basement, the best bet may come from letting John Stubbs cook. The men's division's "next big thing" after helping bring a title to Ironside in 2016 and the Callahan award back to Harvard, Stubbs disappeared in the folds of Revolver's massive talent structure. Back in Atlanta where he started his career, Stubbs has the chance to return to the spotlight by propelling Chain back to the heights they once hit.
Likely Ceiling: Prequarters
Likely Floor: Done on day one