Ring v. Revolver redux!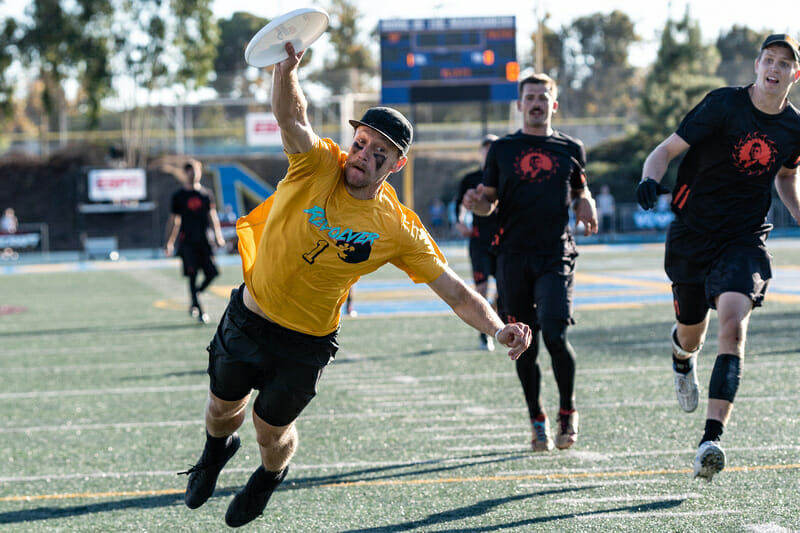 Ultiworld's club men's postseason coverage is presented by Spin Ultimate; all opinions are those of the author. Gear up for your big games, your tournament parties, and everything in between at Spin Ultimate!
Pool A Preview — Pool B Preview — Pool C Preview — Competition Schedule
It's impossible to talk about this year's Pool D without pointing immediately to one of the most anticipated 1v2 matchups in the men's division. Unlike the last three seasons, Ring of Fire and Revolver will meet early at Nationals in pool play. Even just a year ago that would have been almost unthinkable but the destinies of these two teams seem necessarily intertwined given how hungry Ring of Fire has been to surmount Revolver at Nationals and how steadfast Revolver has been to keep them down. That's just the beginning of the drama in Pool D. Austin Doublewide is lurking in the wings as the third seed in the pool and a potential spoiler with a lot of familiarity on the roster with Raleigh. A resurgent Portland squad in Rhino Slam! makes Pool D an intriguing mix of teams that have all shared the quest to build an offensive identity this season.
Raleigh Ring of Fire
Seeding: Overall No. 4, D1
Power Ranking: #2
Overall 2019 Record: 12-5
Against the Nationals Field: 7-4
Against the Pool: 1-0 v. Revolver, 1-0 v. Doublewide
Even in seasons where they've appeared to be in the mix as a title favorite, Raleigh Ring of Fire's approach to club season has been centered around building to Nationals. They're certainly not unique in taking that approach, but when you look at how Raleigh has performed up to this point it's very clear why. Ring of Fire is a young team integrating a lot of new faces, and they've been that way for quite a number of seasons now. Ring has had to work hard to build a consistent offensive identity, and, on the surface, 2019 has been no exception. The departure of Jon Nethercutt to Johnny Bravo has made Raleigh tinker with how it distributes the disc between on its offense, but a lot of the "young players" on Ring's O-line now have at least three seasons, if not more, cutting their teeth in elite club. The throwing prowess of players like Jack Williams, Dillon Lanier, and Eric Taylor allowed them to initiate from anywhere within Ring's motion offense. And while typically known for being a largely defensive player, Noah Saul has been back on Ring's O-line this season in the handler role that he excelled in the last time he crossed over to Raleigh's offense (2016). On defense, Matt Gouchoe-Hanas has been playing at an exceptional clip taking on big matchups and helming break conversions with long time teammates Sol Yanuck and Anders Juengst.
"Our versatility was key in replacing some of the bigger personnel losses," said coach Mike Denardis. "We don't really lack talent at any position and the experience coupled with the ability to move our players around has helped us grow and flourish."
Ring's test on Thursday comes in the form of two very familiar teams who they've typically seen in the bracket in past years. They notched a 15-11 win earlier this season over their long time semifinal nemesis Revolver, and knocking both San Francisco and Austin Doublewide into prequarters on the other side of the bracket for the duration of the tournament would set a convincing tone for the rest of Ring's weekend. The offensive struggles of both Revolver and Doublewide, at least during the regular season, certainly seem to bolster Ring's chances. While Doublewide is a bit more of a wild card, Ring's systematic offensive approach coupled with their talented D-line give them more than a convincing shot at earning a bye into quarterfinals.
Likely Ceiling: Final
Likely Floor: Quarterfinals
San Francisco Revolver
Seeding: Overall No. 5, D2
Power Ranking: #4
Overall 2019 Record: 14-4
Against the Nationals Field: 6-2
Against the Pool: 0-1 v. Ring of Fire, 0-1 v. Doublewide, 1-0 v. Rhino Slam!
Before they were even on the field at Pro-Elite Challenge, there were a lot of questions swirling about whether Revolver would be able to reach heights beyond quarterfinals at Nationals. For all of the retooling they've done this season, Revolver still looks pretty good. They had a more grounded run of early season tournaments at PEC and the US Open and, rather than playing at the exceptionally high clip we're used to seeing, they used those tournaments to experiment with lines and personnel. Their two losses against Nationals teams came early in the season against Doublewide and Ring, and since the unsanctioned Labor Day tournament on the west coast, they've been undefeated.
That said, this is clearly not the Revolver of old. Turnovers come easier from their O-line, one that has been seeing more and more contributions out of Antoine Davis downfield with Cassidy Rasmussen and Justin Lim in the backfield. While Revolver was convincingly better than their Southern California rivals at Southwest Regionals, it was Revolver's D-line that did much of the heavy lifting to put Revolver ahead. Against teams that like to run vertical or hybrid vertical offenses (like Ring and Doublewide), Revolver can create a lot of opportunities for blocks with the size of players like Nick Stuart, Marcelo Sanchez, and Ian Sweeney. Both Stuart and Sanchez have given Ring's offense some trouble in years past, with Stuart in particular acting as a go to deep defender against Ring's more aggressive looks.
Against Ring of Fire, who have incentive to throw the book at Revolver defensively, San Francisco will need to possess the disc much better than they have even in their recent run of late season wins. The same can be said for their second round game against Doublewide, who could provide as much of a defensive challenge as Ring. It's not at all lost on this year's Revolver team that while they still carry the name of the preeminent ultimate dynasty in the men's division, they are a different team from past San Francisco squads. This is the first time that Revolver has truly felt like just a contender rather than the favorite going into Nationals this decade, and their mindset coming into pool play very much reflects their new position.
"The biggest change this year is that our hunger comes easier," said Revolver captain Sawyer Thompson. "The team has spent so many years at the top, with little turnover season to season — it's exciting to come into Nationals as an underdog."
Likely Ceiling: Final
Likely Floor: Quarterfinals
Austin Doublewide
Seeding: Overall No. 9, D3
Power Ranking: #9
Overall 2019 Record: 10-8
Against the Nationals Field: 4-8
Against the Pool: 0-1 v. Ring of Fire, 1-0 v. Revolver, 0-1 v. Rhino Slam!
Much like the last couple of seasons, Austin Doublewide seems like a wildcard. A first glance at their season seems to offer almost no insight into what this team can do. They're the team that beat Revolver 13-11 at PEC, but, wait, they also lost to Rhino Slam! 14-13, but, wait, they beat GOAT 14-13, but, wait, they were blown out by Truck Stop and Sockeye and lost almost every game they played at Pro Champs.
You can stick a big asterisk next to any results Doublewide have had this season because at both PEC and Pro Champs, they were missing a significant part of their roster. It wasn't until Regionals that Doublewide was fielding anything close to a full team and their 11-8 win over Johnny Bravo is probably the best indicator of what this team really is. Doublewide was trailing 8-7 before going on a 4-0 run to cap off the game. In all of Doublewide's big wins this season, including their aforementioned early season one over Revolver, it was their ability to put together runs of breaks that ultimately decided the games. Even in their blowout loss to Ring of Fire at Pro Champs with an ersatz roster, they went up 4-1 to start the game. There's very much a sense that Doublewide has a lot to play for when they line up on Thursday and it makes them a very dangerous third seed to have in pool D.
"There is a bit of chip on our shoulder," said captain Jay Froude. "We were missing four of our offensive weapons against Ring at Pro Champs and had a good win against Revolver at Pro Elite. We also had a pretty upsetting loss to Rhino on universe so there will be some vengeance in that game."
The familiarity Doublewide has with the teams they'll face Thursday, coupled with the best talent in Texas makes them a team none of the higher seeds can afford to sleep on. A lot of Doublewide's players have gone through some very good growth over the process of this past AUDL season and having the likes of Froude and Gabe Hernandez available, as well as the size and defensive prowess of Dan Emmons and Kai Marshall, sets up Doublewide well for a deep tournament run. One big shift personnel shift for Doublewide this season was moving Kaplan Maurer onto offense. The shift coincided with Kaplan's increased use as a handler by the Dallas Roughnecks, and his experience as a gritty and tough defensive player are a safety check for Doublewide's offense in the face of a turnover. It's important to remember that while they are certainly some younger faces on Doublewide, there is an experienced nucleus of this team who played their way into a national championship game only two seasons ago.
Likely Ceiling: Quarterfinals
Likely Floor: Done on day one
Portland Rhino Slam!
Seeding: Overall No. 16, D4
Power Ranking: #15
Overall 2019 Record: 17-10
Against the Nationals Field: 2-10
Against the Pool: 1-0 v. Doublewide, 0-1 v. Revolver
In pool with a lot of heavy hitting offense and defense, it may be hard to envision a scenario in which Rhino will be able to hit back hard enough to take down the teams above them. But it's by no accident that Rhino Slam! are back at Nationals. Early in the season at PEC, captain Vinh Bui said that Rhino was taking a long-term approach to building a team, and at Northwest Regionals that approach paid off with Rhino taking down Seattle Voodoo 15-12 in the game to go. Rhino's backfield offense has been their biggest strength in no small part thanks to the contributions of Owen Murphy and Leandro Marx. Raphael Hayes and longtime Rhino star Timmy Perston have flexed onto both O and D lines this season, and Hayes is probably the closest thing Rhino has to a superstar.
Rhino faces an uphill climb against the teams in their pool. Defensively, they've struggled to generate pressure and many of Rhino's defensive conversions have resulted from other teams' mistakes. Against a Nationals prepped Ring of Fire, Revolver, and Doublewide, that climb may be too steep for Rhino, but they can take pride in meeting their goal of building up to Nationals and reestablishing Portland's consistent presence at the National Championships.
Likely Ceiling: Prequarters
Likely Floor: Done on day one