Two cross-town rivals and some upset specials face off in Pool D.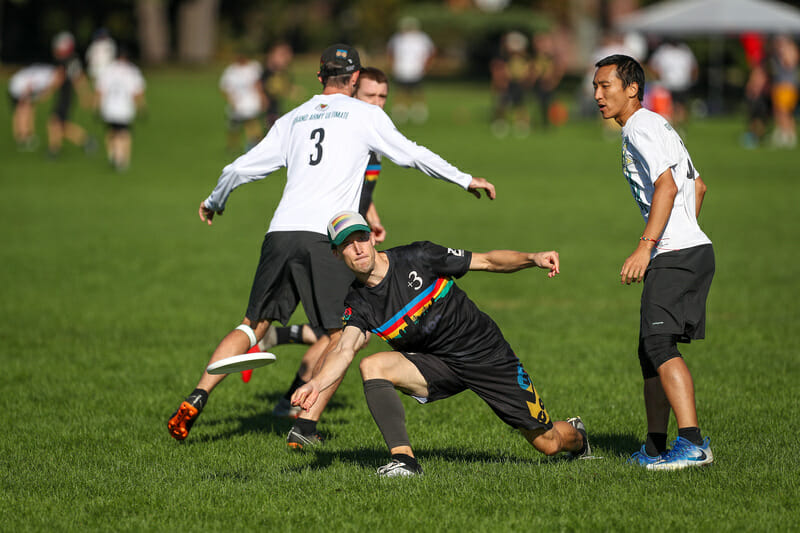 Ultiworld's reporting on the Club Mixed division is presented by Universe Point cleats. All opinions are those of the authors. Please support the brands that make Ultiworld possible and shop at Universe Point!
Pool A Preview — Pool B Preview — Pool C Preview — Competition Schedule
With two familiar faces at the top of the pool and two other wild cards at the bottom (and every team sitting between #4 and #12 in the Ultiworld Power Rankings), Pool D offers up some tantalizing matchups. How will Superlame fare in their first games of the season against teams of this caliber? Which version of shame will show up? Can Slow White figure out Wild Card? We'll find out on Thursday.
Boston Wild Card
Seeding: Overall No. 4, D1
Power Ranking: #4
Overall 2019 Record: 29-3
Against the Nationals Field: 6-2
Against the Pool: 2-1
After getting shut out of Nationals in 2018, Boston Wild Card returns to the dance this year with an extra sense of purpose. This tight knit and chemistry-driven team is ready to prove that they belong in a starring role on the biggest stage in the sport. Coach Mike MacKenzie recognizes how lucky they are to return almost all their players. "This season had an amazing amount of continuity from last year's team, and we are excited to be able to celebrate the commitment we had to coming back strong this year in San Diego after the disappointment at last year's Regionals," he said.
The only real chance they had to prove themselves against the big names this summer was at Elite-Select Challenge, where they won every game. Maybe because they have been on the outside looking in on the big tournaments this year, Wild Card has been somewhat overlooked in the title contender conversation. But coming in as the four seed, with a record to prove their dominance, Wild Card could prove to be mixed's biggest surprise in San Diego.
Wild Card is sitting with an impressive regular season record of 16-3, and hasn't lost to a Nationals team since Boston Invite back in June, where they fell to AMP and Slow White. Wild Card went on to beat Slow for both the Elite-Select championship and the Northeast regional title, but didn't have another chance to test themselves against AMP. They'll get yet another shot against Slow White — their fourth meeting of the season — here in Pool D, and also have to face off against a pair of other teams with big question marks in what could prove to be a volatile pool.
Likely Ceiling: Finals
Likely Floor: Prequarters
Boston Slow White 
Seeding: Overall No. 5, D2
Power Ranking: #5
Overall 2019 Record: 26-7
Against the Nationals Field: 11-6
Against the Pool: 4-2
Boston Slow White may be a household name in mixed, but the players doing the most work for this team are still waiting to be recognized. With significant play time going to their young and emerging stars, Slow White seems to be working aggressively toward the longevity of their legacy. We know they have established veterans: Tannor Johnson, Brett Tan, and Caitlin Go top the roster for established and experienced Nationals players. But development of young players with huge potential, like Orion Cable, Marcel Oliart, and Renata Pepi, help create dynamic lines that tend to be the good kind of streaky, occasionally demolishing their competition with huge runs.
Captain Hannah Baranes, who is on the sideline this season with an ACL tear, emphasized that the team will be focusing on just dropping the reins and trusting themselves. "The biggest challenge of Nationals is always letting go of the tendency to tweak, and instead, just turn off our analytical brains, perform, and enjoy the heck out of our last weekend together as a team," she said.
With a 20-6 regular season, and a 11-6 record against the Nationals field, Slow White seems poised to finish in the top half, but exactly where they fall will depend on how their young players perform under the constant pressure of Nationals. Though they've taken down some of the big names this season, #1 seeded Drag'N Thrust among them, they are unlucky to be placed in a pool with a regional competitor that has dominated the matchup this season. Slow White went 1-2 against Wild Card this season, including an unusually unbalanced 15-11 loss in the Northeast Regional final. But they bested Shame definitively, boasting a 3-0 record over the erratic Colorado team.
Likely Ceiling: Semifinals
Likely Floor: Quarters
Fort Collins shame.
Seeding: Overall No. 9, D3
Power Ranking: #11
Overall 2019 Record: 17-7
Against the Nationals Field: 6-9
Against the Pool: 0-3
Fort Collins shame. has a tendency to shock and surprise. Forced into the back door South Central Regionals bracket by Dallas Public Enemy, shame. faced Denver Love Tractor for the last bid, who they had lost to in every matchup this season. But when it mattered most, shame. pulled off a decisive 11-6 win to shut out Love Tractor from Nationals for the second straight year.
With a regular season record of 15-9, but a 6-9 record against the Nationals teams, shame. is still a dangerous third seed. And sometimes it seems like those losses are just an attempt to maintain the brand that the Fort Collins outfit has established. Their first and only pool play loss at Pro Champs was a good example of the Colorado team at their most absurd. AMP came out for that game fully warmed up, neatly separated into offense and defensive lines, tweaking plays and syncing up. By the fourth point, AMP was up 3-1. As shame. watched their teammates slowly wander down to the opposite end zone, a lone voice popped up from an otherwise silent sideline, directed to no one in particular. "Hey! Are we calling lines here, or just walking on?" AMP proceeded to go up 11-1. But then shame. turned on some switch, completely transformed, and went on their own run. They lost 14-8, but went on to beat every other team in their pool that day, including Snake Country and Toro, all while keeping their White Claw overlords in business.
Their record against Slow White looks bleak, 0-3 for the season, and they haven't yet played Wild Card. The match up with Superlame feels like a bonus prize, two highly talented teams with similar 'mystery and chaos' factors. It's likely they will win the Superlame match-up, and have a high potential to snag another win if either of the Boston powerhouses underestimates them. Watch for a returning Nick Lance, who spent most of the season out on an early injury sustained at Pro-Elite Challenge.
Likely Ceiling: Quarters
Likely Floor: Prequarters. Or, if we're being sassy, the literal floor of the hotel room.
Asheville Superlame
Seeding: Overall No. 16, D4
Power Ranking: #12
Overall 2019 Record: 24-2
Against the Nationals Field: 0-0
Against the Pool: 0-0
Asheville Superlame parachuted into the Nationals conversation by beating Atlanta Bucket to win the Southeast region and claim the first of two bids. With a non-existent record against their pool and no games against the Nationals field, Superlame has the element of surprise but the disadvantage of not playing in high pressure games against top-caliber teams yet this season. Their 14-0 record in their regular season, though impressive, is just a story of wrecking at classic tournaments.
The relatively surprising trip to Nationals leaves behind some top players, including Blake Hannah and Harris Woody. A knee injury has sidelined Taylor Minch, who is coming off a decorated Atlanta Hustle season. But they retain big names Ben Dieter and Joel Wooten, and the women's side of their team is more than capable of stepping up to lead the team with big plays at Nationals. Ann Sitler will come onto the scene an equal in skill but a few steps faster than almost all her competitors. And no one wants to match up against Cate Yackey, who got backpacked in the game to go, fracturing several ribs and severely bruising her tailbone, and then played on like nothing happened. She will continue to be an anchor of their D-line despite undoubtedly playing through lingering pain.
Though it may seem like a random collection of strong Southeast players stealing a bid, Superlame has deep roots and established history from playing in the same community for so long. "Non-traditional is a soft, but excellent way of describing our team mantra, because to say we choose fun isn't a good juxtaposition when comparing the many other ultimate teams that have fun playing together," said captain Ryan Sitler. "This team was created to offer an opportunity and environment that was different than what a lot of players on our team have experienced." Specifically, twenty-seven ultimate players now have the experience of starting the season at Poultry Days and ending it at Club Nationals.
Likely Ceiling: Untested and missing some big names? Prequarters
Likely Floor: Done on day one