Questions for each of the power pool teams heading into the first official action of the 2020 college season.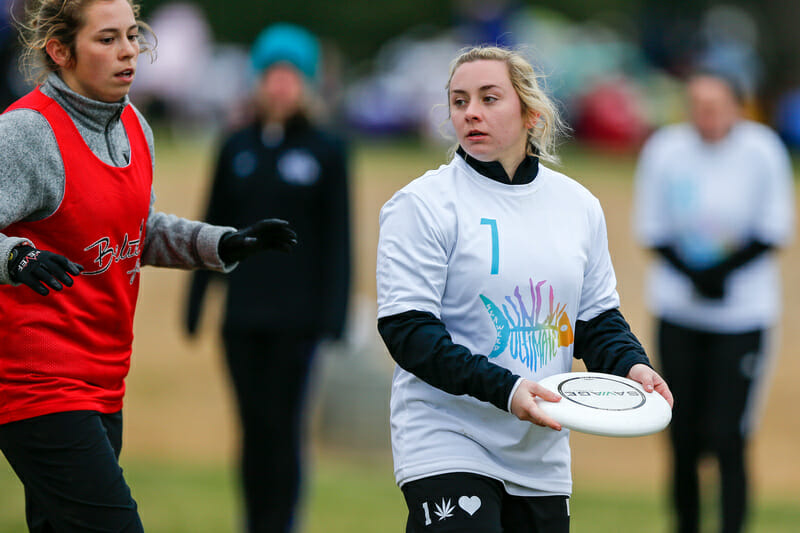 Ultiworld's 2020 college coverage is presented by Spin Ultimate; all opinions are those of the author(s). Find out how Spin can get you, and your team, looking your best this season.
Once again, Florida Winter Classic launches us into the college ultimate season. Really, there's no more exciting time of year on the ultimate calendar. There's so much unknown and this weekend in Gainesville will be our first opportunity to glean some information on how the season will shake out. With three teams that made the bracket at Nationals last season, and three more that have been to Nationals or been on the cusp within the last few seasons, it should be a fun first weekend of the 2020 college season.
Here's a question I have about each team in the tournament's top two pools as we get our first looks at some of the projected top teams of the year, and a few who could be regional difference makers.
What does Dartmouth look like in the post-Verzuh/Lee era?
Claire Trop and Caroline Tornquist will obviously be the focal point of what #7 Dartmouth tries to do offensively this season, but two of the most successful players in college ultimate history are gone now. How will head coach Eugene Yum and company cope with those losses? Which players are able to step up into new, much more important roles?
Dartmouth has used this tournament to work on the depth of their roster to get them championship ready in recent seasons, and that takes on a whole new level of importance this year. They've also won the tournament the last two times they've attended, though I can't imagine that will at all be their focus this time around.
The regime change at Dartmouth will also be a massive shift in the power structure of the entire division. Frankly, it's difficult to say exactly how strong this Dartmouth team will be this season. They'll have two of the best players in the country, but what do they have beyond them? This weekend in Gainesville will give us our first idea.
How will Ohio State structure their offense?
Similarly, #3 Ohio State should have a pretty new look to them as well. Sadie Jezierski is gone as the face of the program from the last few seasons. More than that though, Jezierski was the team's catalyst and at times made her living outside of the confines of coach DeAnna Ball's ideal offensive systems. So what does Fever look like now that she — along with several of Ohio State's other primary handlers from last season — is gone?
How will Cara Sieber function in the offense? Last year she was the linchpin that held everything together, but it would stand to reason that she has to take on a more high-volume post this season. Will Emily Barrett remain in her role as a dominant downfield presence, or is she, too, asked to do a little more?
And which of Ohio State's non-household names will rise into more prominent positions? We still expect Ohio State to have a very strong season, as evidenced by their lofty preseason ranking. They've also made the final at FWC each of the last two seasons. It would be a surprise for them to not make it three straight, but this weekend will be more about seeing how Fever might shape up for the final stretch of the season, rather than any results they may put up in Gainesville.
Does Georgia have the potential to take the leap?
#11 Georgia made their return to Nationals last spring, ending a five-year drought. The loss of Alex Fairley will be big, but Josie Veal and Marie Perivier, now a junior and sophomore respectively, will almost certainly lead Georgia back to Nationals in 2020. And Georgia was more than just a three-person team last season, as they proved by making the bracket in Round Rock.
With an impressive supporting cast featuring Gayeon Ko, Amy Strozinksy, and Katharine Suarez, Georgia has a chance to be a real force in the division this year. Perivier and Veal are two stars and potential All-American candidates, we know that. But can another player or two in the depth of the roster pop? Can Ko, Strozinsky, or Suarez take another leap and consistently play up to the departed Fairley's level?
If Georgia is able to answer 'yes' to those questions, then they are legit quarterfinal contenders. Don't be surprised if Georgia does just that with a strong weekend at FWC and makes it to the final or wins the whole thing.
Can Florida and Florida State be regional players?
It's tough to see either Florida school making a ton of noise on the national scene this year, but they both have the potential to make some noise at Southeast regionals. Both feature impressive fifth years with first-team All-Southeast potential in Gabby Krajniak and Lindsi Allman. Both teams did make it the regional semifinals last season. But Florida lost some key figures and Florida State never really threatened the top three seeds of the tournament.
Florida State is also under new leadership, with Didi Elsner taking over head coaching duties. Florida should get a positive injection from a newcomer of their own in highly-touted recruit CeCe Collinson. Unfortunately, neither Elsner nor Collinson will be at FWC with their new teams, but the weekend should still give us a preview on whether either of these two teams will be able to push the likes of Georgia come April.
Is UNC Wilmington's small roster capable of sustaining their recent solid seasons?
UNC Wilmington has been a mainstay at FWC for years and almost always exceed expectations. They're traditionally tough and gritty, no matter how small their roster they may be. That will be challenged once again this season, as they bring just 11 players down for the tournament. But that doesn't mean they won't find a way to push one of the tournament favorites down the stretch.
They made semis at Atlantic Coast Regionals last season, as well, though with a much larger roster. But still, Wilmington has proven in recent seasons that they are no slouch. This weekend should quickly reveal whether they are still at that level in 2020.
Can South Florida and North Georgia be competitive in the top pools?
These two round out the top two pools without much in the way of expectation. South Florida has failed to qualify for Southeast Regionals since 2016. North Georgia is still a very young program that surprised many by winning the region's D-III bid over Georgia College last spring, en route to an 11th place finish at D-III Nationals. Neither feels ready to really challenge some of the regional and national heavyweights that will be in Gainesville this weekend. It would be a pretty big shock if either of them is able to pull off a win in pool play this weekend, but perhaps they can lay down the building blocks that will lead to success further down the line in 2020 and beyond.