Ultiworld's reporting on Florida Warm Up 2020 is presented by Spin Ultimate; all opinions are those of the author. Please support the brands that make Ultiworld possible and shop at Spin Ultimate!
TAMPA — Players and fans were treated to some excellent early season college ultimate on Friday during day one of the Florida Warm Up. 25 teams from Utah to Massachusetts played a full slate of match play games as they hunt for spots in the bracket, which begins tomorrow evening.
Six teams in the field went undefeated on day one— BYU, Northeastern, Carleton, Tufts, Pittsburgh, and Texas — and a whopping eight — nearly a third of the teams in attendance — went winless (Florida State, Harvard, USF, UCF Auburn, Florida, Virginia Tech, Minnesota) went winless.
Here's a look at the action from today.
The Current Standings
The top eight teams, as determined first by win-loss record and, if tied, then by the USA Ultimate algorithm, will play for the tournament title. Tournament Director Dario Milano ran the numbers after Friday's games. This is what the brackets would look like if they were decided today. 1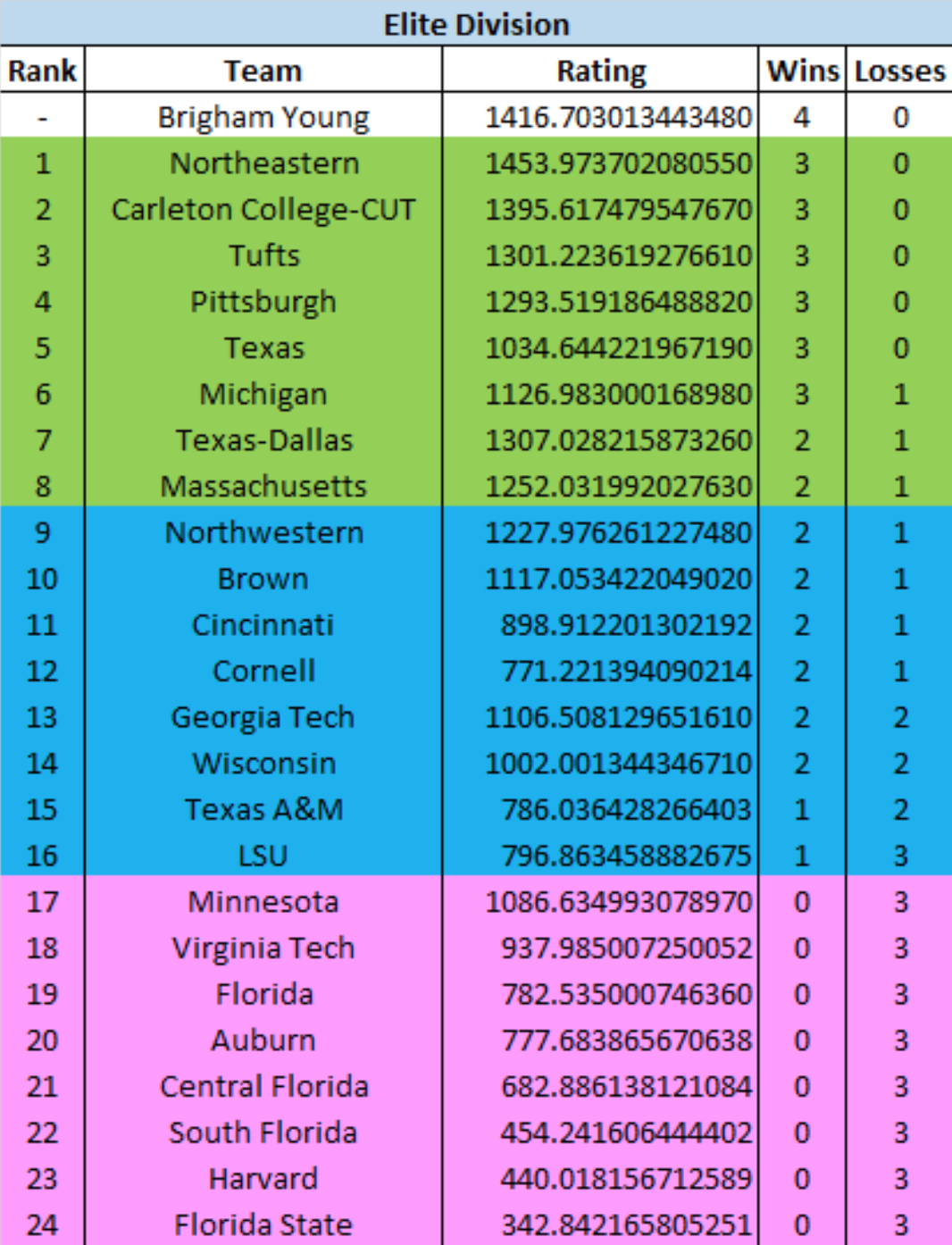 Carleton Upsets Brown in Primetime en route to perfect Friday
#4 Carleton CUT came out on Friday night with visible hunger for an upset over top seeded #1 Brown Brownian Motion. From the first possession to the last, Carleton was aggressive and focused, constantly stretching the top of Brown's defense and attacking small windows. This disposition didn't lead to a perfect game, but the firepower of Joe White, Dillon Lanier, and Ethan Bloodworth was enough for an 11-9 win.
CUT ran out to a 4-1 lead over a Brown offense that was missing star player John Randolph, who suffered an ankle injury on Monday and had not recovered enough for action by Friday. The Brown O-line regained its composure by falling back on its front-of-vert-stack attack with plenty of around backhand breaks from Jacques Nissen and Henry Laseter. After stabilizing the offense, Brown threw out a zone defense that gave Carleton its first real offensive troubles of the tournament. Two quick breaks followed to tie the match up at 4-4, and another before half gave Brown a 7-6 lead at the intermission.
Carleton was much more comfortable in zone offense during the second half and went the rest of the way without getting broken. Brown, meanwhile, could not keep the same composure. With soft cap on at 9-9, Dylan Villeneuve rushed a backhand away shot to an open Benji Toruño, and it hung long enough for closing defenders to swat it aside. On the other end of the field, Lanier fired a hammer too hot for his intended receiver to handle, but the second Carleton player five yards behind him caught the deflection for a break.
Having surrendered the advantage, Brown's offense couldn't get back up to speed and committed several uncharacteristic turns trying to find front of the stack cutters. Carleton failed to capitalize on the initial chance, but on the second time of trying, Ethan Bloodworth made a slash cut into the break space behind the front cone for a game winning goal.
It was Carleton's biggest win of the day, setting them up for a showdown with BYU on Saturday. The loss for Brown has made their path to the bracket more perilous, and they may need to beat the presently undefeated BYU team to keep their hopes of repeating as Warm Up champions alive.
Pittsburgh Takes Care of Business, but Tougher Games Await on Saturday
#5 Pittsburgh En Sabah Nur emerge from Friday with a spotless 3-0 record, smothering Texas A&M Dozen and Central Florida Dogs of War before holding off a lively Minnesota Grey Duck in the late game. Pitt's team defense was miles ahead of their competition and most other teams at the tournament.
Not content to contain offenses, Pitt was putting teams in positions to fail. They raced out to early leads in all three games behind a D-line that was denying connectivity between handlers and cutters, then slowly dialing up the pressure on the resets. Having Michael Ing play on the D-line gave them serious teeth off the turn, and his presence was felt on many of Pittsburgh's breaks.
A big reason Pittsburgh could afford to leave Ing on defense was the commanding play of Will Hoffenkamp on the other side of the disc. A powerfully built handler, Hoffenkamp bullied his markers around the disc and used his length to shred marks. Minnesota threw out a zone in the second half of their clash that halted the Pitt offense for a few points, but when push came to shove on double game point, Hoffenkamp and the O-line got a clean hold for the win.
The real meat of Pittsburgh's schedule comes on Saturday, as they will see both Brown and BYU before bracket play begins.
BYU Stays Undefeated in 2019-2020 Season
BYU jumped to the top of the Warm Up standings with four, complete performances on Friday as they chase a #1 ranking. Arguably, the four easiest games of BYU's eight game weekend all came on Friday. But that has far more to do with the strength of their Sunday schedule than the weakness of their Friday lineup. With wins over #19 Wisconsin, #14 Michigan, Auburn, and #17 Minnesota, BYU knocked off four quality opponents and mostly did so without too much trouble.
They did fall behind in the first half against Wisconsin, the only time all day they were down a break, and Minnesota was on the goal line with a chance to break to tie it up at 10-10 before turning it back over, but otherwise BYU unequivocally played like one of the truly elite teams in the country.
Jordan Kerr was one of the most potent players at the fields, patiently picking his spots to win a big under and immediately finish off the possession with decisive and accurate throws. Taylor Barton and Braden Eberhard were their usual steady selves in the backfield.
The team's depth of size and physicality on the defensive side were a massive problem — literally — for every team they faced. At times, the team did suffer through some sloppiness with the disc, but they were so strong defensively that it rarely mattered.
Nothing about BYU's Friday performance came as any sort of surprise. They handled their business through the relatively easy part of their schedule and looked like a team that would be capable of winning the whole tournament if they were able to play in the bracket. A gauntlet of #4 Carleton, #5 Pitt, #16 UMass, and #1 Brown wait for them on Saturday, but if their day one performances are an indication, they are up for the challenge.
Florida (and the Southeast's) Rough Day
So much for home field advantage.
Collectively, the entire state of Florida put up an oh-fer on the first day of Warm Up. Yes, Florida, Florida State, Central Florida, and South Florida each went 0-3 and make up 50% of day one's undefeated teams. Of the four, Florida was the only team with any result they could hang their moral victory hat on in their 13-12, double game point loss to Wisconsin. The others had an average margin of defeat of 6.2 goals.
By extension, it was a rough day for the entire Southeast region. No Southeast team managed a winning record on Friday, and Georgia Tech's 2-2 mark was the only non-losing record. Auburn joined their Floridian regional fellows with an 0-3 day, though their slate of UMass, BYU, and Wisconsin makes that feel a little less humiliating. LSU managed a single victory, but it came at the expense at Florida State.
Georgia Tech was the only team to notch a win against an out of region team, and their 13-4 win over Harvard and 13-8 win over Texas A&M were legitimately impressive victories. They also nearly turned a 7-1 deficit to Tufts into a third win, before coming up just short on double game point to lose 10-9.
But, overall, it was a dire day for a region that only two seasons ago had three bids to Nationals. To be fair to the Southeast, regional favorite Georgia did not attend, and their presence surely would have helped to add a little shine to the region's day of doldrums. But even so, it's difficult to look at a combined 3-20 record and not grimace.
Quick Hits
Minnesota Grey Duck went 0-3 on Friday, but take that with an amount of salt that would make a cardiologist uneasy. They faced three of the day's best looking teams in UMass, BYU, and Pittsburgh, and they held their own against all three. Second half comebacks against both BYU and Pitt came up just short, so Grey Duck will likely miss the championship bracket, but there is still plenty to like about Minnesota moving forward.
Texas, Tufts, and Northeastern are all among day one's ranks of undefeated teams, but they didn't pass the eye test in the way that BYU and Pitt did. Texas' duo of Noah Chambers and Matt Armour were always the best two players on the field, but their schedule was unusually soft, with their wins coming against Harvard, Cornell, and Florida State. Neither Tufts nor Northeastern logged a truly impressive win and had obvious flaws.
Northeastern does walk away as champions of the North'stern Bowl2, however. Regardless of how much longer their undefeated record lasts, no one can take that coveted title away from them.
A few players not mentioned in the preview who stood out on Friday: Kenneth Xuan (Northwestern), Eddie Scott (Massachusetts), Eli Weaver (Michigan), Victor Mao (UT Dallas), Nicolas Lanas (Texas A&M), Jacob Miller (BYU), Logan Diehl (Florida)
---
BYU does not compete on Sundays and so will not be included in a bracket ↩

They beat Northwestern 12-11 on double game point ↩