Parity, close games defined a thrilling weekend in San Diego.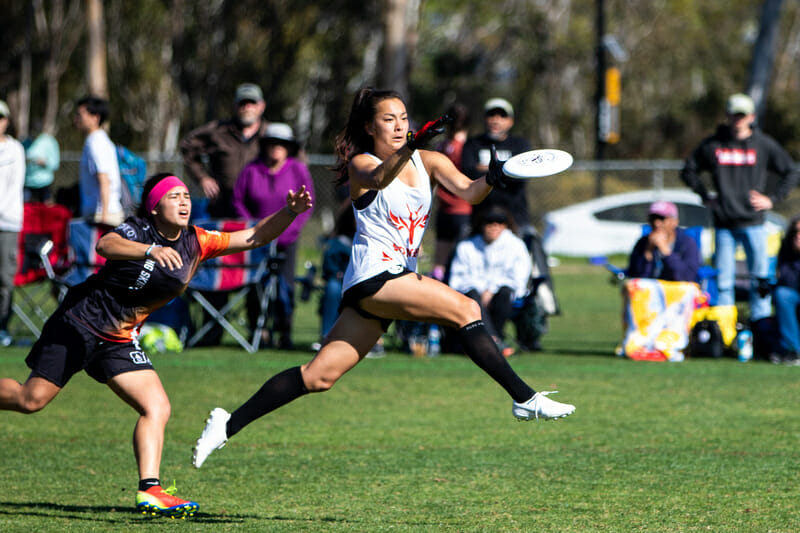 Ultiworld's 2020 college coverage is presented by Spin Ultimate; all opinions are those of the author(s). Find out how Spin can get you, and your team, looking your best this season.
In a season where the weather for President's Day was the clearest it's been in years, the results were anything but. Over the course of three days, we saw title favorites fall into consolation pools and an eventual champion that defied all pre-tournament predictions. No team had a perfect weekend, including #7 Stanford, who, despite winning it all, suffered two losses along the way. For those hoping that President's Day Invite would shake up the current state of affairs, wish granted.
It's not just that no team emerged from the weekend unscathed — the parity of the tournament was actually a historic anomaly. By the time the dust settled, 21 games ended on double game point or with a single point victory. I did some base-level research to find a tournament with similar results and none came close. If someone wants to comb through all the data in the modern college era, I think they'd still find this tournament to be unique. The margin for error was so small, and the teams rose to the occasion time and time again. However, trying to cover all the teams and their accomplishments is a daunting task, and there were some that rose to the top. So, without further ado, here are the major takeaways from a historically brilliant college tournament.
Much to the Chagrin of the Southwest, Stanford's Good Again
Remember when there was heavy speculation that the sun had set on Stanford? Let's all look back and laugh at how naïve we all were. You just can't write off a team that is helmed by maybe the best college coaching staff ever. Stanford rode their strong core of veteran upperclassmen and grad students all the way to the final and never looked back from there.
That's not to say things were easy for Stanford. They ended Day One with two consecutive losses to #19 Texas and #4 UC Santa Barbara that left Superfly looking for answers. It's not that they played bad on Saturday; quite the contrary, in fact. Stanford's spacing was far and away the best at the tournament. Their players understood the range of their throwers, never half-committed to deep cuts, and knew when to clear out to allow for another cut. While the standard at the tournament as a whole was at a high level, most teams haven't figured out clearing hard just yet. Not so with Stanford. The team would cut hard downfield, leaving plenty of room for other cuts to develop, and never clogged the handler space, either.
Perhaps more importantly than all of that, though, is that Stanford is an expert zone offense team. This probably deserves its own paragraph but I'll sum it up here: zone defense ruled at this tournament. I saw more zone defense over the course of the weekend than I have at any other event, and this was in predominantly wind-free conditions! Most competitive teams have realized that at this point in the season they can force teams into turnovers far easier with a zone than matchup defense – but not with Stanford. Hallie Dunham still headlines one of the steadiest handler cores in the nation, with Christine Chen, Daphne Guo, Elena Kamas, and Xinzhi Zou flanking her. Zou had a breakout tournament, slicing through defenses and generally just being in the right place at the right time.
"She has the best hands and just deals with everything," said captain Maika Isogawa. "She's incredible at getting open for her other handlers."
It was players like Zou and Isogawa that kept the offense moving against any zone defense. Stanford's handlers treasured the disc far more than most and were content to move the disc up in small increments until they could swing around the stack and gain yards down the sideline. Having Dunham, an excellent hammer thrower helped too.
It's no coincidence that UCSB gave Superfly the most trouble, both in power pools and in the final. The one team at the tournament that primarily ran matchup defense forced Stanford into making just enough mistakes to keep the game competitive, especially when they were able to force Stanford into tight-window throws. "Playing a team like Santa Barbara, you have to run through the disc," said Stanford captain Sesha McMinn. "You know you'll have a player on your back so attacking and grabbing the disc is crucial."
In the final, the momentum of the game swung firmly in Santa Barbara's favor early on, and the Skirts actually maintained the lead for the game's first 18 points. Their suffocating defensive pressure was too much for Stanford, and the eventual winners found themselves in a 3-0 hole to start. UCSB's offense looked good once it took the field, too, and Stanford struggled to earn breaks despite keeping Santa Barbara's offensive line on the field longer and longer each point.
Just as UCSB looked firmly in command of the game, Stanford crept back in. Their zone was largely responsible for their success, as it forced UCSB's throwers to be patient with the disc and prevented Elsa Winslow — who had been on a tear all weekend — from getting an open field in the deep space. The zone also made its mark by capitalizing on errant throws from Kaitlyn Weaver. The Santa Barbara quarterback was a little too eager to throw elevator backhands over the cup, and while there wasn't much wind, there was enough that those throws would sit up and allow Stanford's plucky wings to make a bid on the disc.
A pivotal point came with UCSB holding a 6-5 lead, up a break. Heading downwind on offense, the Burning Skirts spread out the field and set up a play for Jasmine Childress to get open with plenty of space in the endzone. Stanford's zone had other plans, and they frustrated UCSB just enough for Weaver to force a deep throw to Childress, even with Isogawa baiting it. Once again, the disc sat up enough that it became a jump ball, one that Isogawa came down with. After that, it became the Sarah Kratzer show. With a light wind against them, Stanford set up in their vertical stack, allowing Krazter plenty of room to cut on the open side. A deep pass appeared to be too high for her, but she calmly skied her defender and in one motion, turned and fired an around backhand into the endzone for the goal.
From that point on, Stanford seemed in control of the game. UCSB still led for a few points after that, but they didn't have the same confidence that had stuck with them at the beginning of the game, and they overthought a few easy passes. Stanford, for their part, played the game perfectly. With the game tied at 9-9, they earned a short turn and punched in the break, riding that through to double game point. The final point wasn't perfect, but even after Childress managed to get a block, Stanford stifled UCSB's offense and got the disc back, working it patiently until McMinn got open for the goal.
The conditions and defensive schemes shown this weekend could not have been more ideal for Stanford. They gained confidence with every zone thrown at them, and thrived on remaining calm when other teams lost their nerves. Even after winning the tournament, it's tough to say whether Stanford has returned to being one of the best teams in the nation, or even the Southwest, but this weekend they were the best team to take on the opponents that they faced. For now, that's all they had to be. If this is what they look like now, no one will want to face them in the postseason.
UCSB Leaves San Diego Just One Point Shy of a Perfect Weekend
Without a doubt, UC Santa Barbara looked like the best team at this tournament for 95% of the extended weekend. They also looked like one of the best teams at the Santa Barbara Invite, too, before coming up just short against SoCal rivals #10 UCLA. The Burning Skirts also looked just as good, if not better, than their 2019 squad, which also fell just short at both President's Day and the Santa Barbara Invite.
The very real question to ask here is whether UCSB is cursed. The team has clearly shown that their regular-season success is no fluke, but they just haven't been able to put it together in the games where it mattered most. This weekend, UCSB had the highest average point differential of any team, and it wasn't close. They tore through every team but Stanford and UCSD and proved to have the deepest roster at the tournament.1
"I would say our two D-lines have supporting players that all can step up at any time," said Kaitlyn Weaver. "I think we're running a good 18-20 players deep. Our O-line only played, like, four points in our first few games."
If there's any reason for UCSB to go back to the drawing board, it's to work on offensive efficiency. They made some careless mistakes without pressure from the defense. The Burning Skirts have long been a 'shoot first, ask questions later' team, but that only really works against teams who are going to give the disc back against tough defensive pressure. In games against both UCSD and Stanford, Santa Barbara ran into a wall in terms of good offensive execution, and it meant their O-line had to play a number of long, drawn-out points. They have the athletes to win those points, but they also have the throwers and the system to avoid getting into those situations in the first place, but that is too often thrown out the window in favor of a lower-percentage shot.
Still, UCSB's big takeaway from this weekend should be that there's no team significantly better than them on the West Coast. The best player at this tournament was Elsa Winslow, a UCSB sophomore who teams will have to plan for going forward. She scored half of UCSB's points in the semis against UCSD and would have done the same against Stanford if Superfly had not fully committed to running a zone. Winslow is a problem, one that cannot be solved by just placing the team's best defender on her, because that allows Jasmine Childress to run free, and Childress is also a problem. Even if those two are marked, generally that means some combination of Yu Ishii, Nicki Yang, or Hannah Stepanek are available, and those three are… you get it. UCSB has a plethora of deep cutters that all have to be respected when they have an open field to work with.
"It's important to us to get our energy going," said the UCSB captains. "When we get our energy into a game — a positive energy — we play at our best. So we don't dwell on turns and we support everyone on the field."
It feels wrong to say, but UCSB may actually be better than 2019, when they had two All-Americans in Julia Kwasnick and Audrey Brown. Jasmine Childress has ably stepped up into Kwasnick's sizeable role, and Brown's fingerprints are all over a handful of UCSB's current rising stars.
UCSD Lost their Halo, But the Afterglow is Still Bright
The honeymoon period is over for UC San Diego. After using SBI to prove they remain a top-tier program, we got to see a different side of Dragon Coalition this weekend, one with a little less polish. We knew that the 2020 team would be a younger one with a little less consistency; they didn't really show that in Santa Barbara but it was on full display in San Diego.
It may seem harsh to be critical of a team that was two double-game point finishes shy of a clean sweep, but their two losses, against #8 Western Washington and UCSB, were exactly the type of games that they would have won a year ago.
Along with getting younger players reps in new roles, it's mental toughness that the team will need to improve upon. In both losses, UCSD gave up a string of breaks that allowed the opposition to take a foothold and maintain a lead right into the final point. There wasn't anything tactically brilliant that opponents did to stop UCSD, but there were able to fluster D-Co at points. For Western Washington, their confidence and knowledge of the rules led to many calls going against UCSD, causing confusion and lapses in judgment as every call threw San Diego out of rhythm. UCSB's physicality and fast-break offense left little room for UCSD to dwell on their mistakes, and more than once a dropped head or hesitation after the turn allowed Santa Barbara to capitalize. UCSD will be fine, but if they want to be great, their path to improvement is clear.
Luckily for San Diego, they're still the Big Bad Wolf of the women's division when they build up some steam. Apart from the losses to Western Wahington and UCSB, no team came within three points of them in any game – and they eventually exacted revenge on Chaos with a 10-5 win in consolation. Other notable wins included blowing out both #10 UCLA and #17 Colorado, two teams that were considered to be their competition at this tournament. At this point in the season, San Diego's overall point differential across two tournaments is a whopping +75.
It was a quieter weekend for their stars as the one-two punch of Alex Diaz and Pin-Hsuan Chen had to contend with zone defense for most of the tournament. The handling trio of Samantha Wool and Lauren & Ava Hanna soaked up a lot of the team's touches but also rarely had to play outside themselves to execute UCSD's disciplined offense. It was a particularly good weekend for Catherine Lindeman and Charlotte Sue, both younger players who stepped into larger roles, though the team as a whole came out to play in every game. Many will assume the take away for UCSD this weekend is their two losses, but that'd be focusing on a thorn while missing a rose in bloom.
Western Washington Shows Flashes of Their True Potential
Western Washington Chaos ended Day One of Presidents' Day with an exclamation point, handing UCSD their first loss of the season. It would prove to be their best result of the weekend, as they played some tight games in power pools before drawing out a victory in quarters against a feisty #16 Cal Berkeley team and then dropping two straight in their semifinal and third-place games. Chaos definitely deserves to be recognized as one of the best teams in San Diego this past weekend, but they didn't have the roaring success that might have been expected of them after their early upset over UCSD.
Dropping the final two games of a three-day tournament shouldn't be a major cause for concern within the WWU leadership group, but the margins in those games weren't very close. Both Stanford and UCSD took care of business against them, and throughout the rest of the weekend, WWU participated in three double-game point matches. That says more about the quality of competition that Chaos faced, rather than an indictment of them, though.
The one fatal flaw of Western Washington was their dedication to zone defense – even when it wasn't working. Their losses — to UCSD, UCLA, and Stanford — were all due to clean zone offense from those three teams. When Western couldn't earn a turn in their zone, which often happened more as the game wore on and their defensive unit grew weary, they started to make mistakes that allowed opponents to find their way back into close games or pull away if they had the lead. This was most emblematic in their victory over UCSD in power pools, as they held a commanding 8-5 lead at half that fell apart in the second half, resulting in a need for heroics from Nellie Joselyn to close it out on double-game point.
Chaos may have lived and died by their zone defense, but on offense they were fluid, versatile, and creative. Tova Breen and Eleanor Heberlein were interchangeable initiating cutters and deep strikers who were more than willing to call their own numbers. Ruby Cassidy and Samiya Ismail perform very similar roles on the defensive and offensive lines, taking the tough shots and being the primary facilitator. Cassidy was particularly essential to the team's success in La Jolla — Chaos didn't earn breaks if she wasn't having a good game. Their offensive talents went far beyond their big names, too, definitely more so than their defense, which was primed to let their athletic players – like Vail Dark, Breen, Cassidy, and Heberlein —hunt for blocks in the space behind the cup. When Western Washington's defense was working, it was soul-crushing for their opponents. They matched up well with even the best teams and never gave any room for throwers to get off easy passes – something they credit to how difficult they make it for each other in practices.
"We're a good team. It's hella hard marking Samiya or Tova but we do it because it's tough and that makes us better," said captain Nellie Joselyn.
Ismail was quick to add that their practices added to their resilience. "Bellingham has been pretty trash this winter and having to fight through practices where you can only complete one or two passes before turning it over really creates mental toughness," she said.
Thanks to their talent, the trouble that Western Washington faced this past weekend likely will dissipate going forward. Their depth may still be an issue, as they appear to only have 20 rostered players, but as most tournament weekends are only two days, they've proven they can pull together a very respectable performance over that time span. Chaos did just enough to establish themselves as the best team in the Northwest,2 but they still have a ways to go before they can lay claim to being in the conversation as one of the best teams in the nation.
Don't Read Too Much into UCLA's Tough Weekend
Ultimate tournaments giveth and ultimate tournaments taketh away.
After putting their stamp on the college season with a second-place finish at the Santa Barbara Invite, UCLA didn't have any time to bask in the sunlight before Prez Day brought them back to earth. If one were to look exclusively at their win-loss record, UCLA did alright — 7-3 is a result to be proud of in such a deep tournament. Going 4-0 on Day One also can't be ignored, especially when one of those wins was over Western Washington, the top-seeded team in their pool. But even a cursory glance shows how tough this tournament was to BLU. The team had four games end by a one-point margin and went 1-2 in power pools before losing to UCSD in a game that was never very close.
So, President's Day was a bad weekend for UCLA, then? Well, no, not really. To peel back one more layer, UCLA was missing four of their veterans on Day One when they went 4-0, and still were missing three of those four for the rest of the tournament. Malia Smith joined the team on Sunday, but Maddy Fisher, Katherine Jordak, and Charlotte Terrasson were notably absent. All four are crucial offensive pieces. To do as well as they did without those pieces is commendable.
"We knew we were going to need to work our butts off this tournament," said O-line star Erin Doyle. "Missing four of our best players matters like that. That just carried through for us, though. Every point we came out ready to fight."
It helped that UCLA's underclassmen play like they've been their team's primary options for years. Not enough can be said for what Athena Lynch, Anna Reed, Stephanie Yen, and Tanya Bearson gave to their team this past weekend. BLU parents can start booking their flights to Nationals for the next three years if that nucleus has another level to climb. Of course, having a stable core of veterans helps. UCLA got major contributions from players like Sonia Lele, Doyle, and the breakout star of the tournament, Moorea Henn.
The UCLA coaches have set the team up for success, from defensive adjustments to full cutting patterns to "BAMF3 stances."
"A BAMF stance is where you stand like you're about to make a power throw," said the UCLA captains with a chuckle. "Whether or not you're actually throwing it doesn't matter. It doesn't matter if you've been playing for two weeks or for four years, stand like you're going to throw the disc and make them adjust for it."
UCLA was at their best when they had wide cutting paths that allowed their initiating cutters to slash across the field and immediately look downfield while their defenders tailed behind them. An insistence on zone defense from their opponents often curbed BLU's preferred looks, but they were comfortable enough against a zone, too. Their greatest struggle came later in games when cutters would tire and no longer make the right cuts to keep zone wings and deeps active. With fewer options downfield, UCLA's handlers hit a brick wall. They didn't space the field especially well, meaning the increments they gained were much fewer against a zone. Diana Zhang was the bright spot in UCLA's zone offense, and they benefitted highly from her elite-club level experience.
This wasn't UCLA's best tournament, but it may turn out to be their most important one by the postseason. By developing the depths of their roster, they'll be well prepared to take on the best teams in the Southwest at Regionals. A lot is up in the air with the hierarchy in the Southwest, but UCLA still deserves to have their name in the conversation as a potential regional winner.
The Kids from Cal Are Alright
You'd be excused for not thinking much about Cal before this weekend. Similarly, if you looked at the Pie Queens' record after the tournament — an uninspiring 4-6 — you'd be excused for writing them off. You'd also be wrong, though. Cal's President's Day was a trial by fire, one that they came out of looking pretty good, all things considered. They're not yet at the same tier as many teams in the Southwest, having gone 0-5 against in-region foes, but they acquitted themselves quite well against the rest of the teams in contention, headlined by two wins over Colorado, which will probably look really, really good by April.
The most promising thing about this Berkeley team is that they looked completely different from the team that played at the Santa Barbara Invite. Where the team in Santa Barbara was messy, this team was disciplined. Where that team looked lost on defense, this team looked locked in.
The Pie Queens have definitely homed in on their stars, and their stars have homed in on getting buckets. Janelle Lee is a resolute force in the backfield, matching exceptional decision-making with low throws that defenders haven't found a way to block. Downfield she has the wide-open targets of Jenna Krugler, Cidney Weng, and Claire Toth, who has been a revelation this season. There is a glut of athletic cutters in the Southwest and yet she continues to distinguish herself. In both games Cal played against Colorado, Toth was the best player on the field against a team with three U20 national team stars. Cal has also seen a surge in production from Zoe Luke and Valerie Hsieh on their respective lines. Luke has a cannon of an arm, giving the Pie Queens' defense some much-needed firepower after getting a block.
For all the success that UC Berkeley saw this past weekend, they still ended with a losing record. They're not sharp enough against zone defense, which cost them in the majority of their matchups throughout power pools and into the bracket. Cal's cutters sit too close to the cup, giving defenses every opportunity to pinch in and suffocate the handlers. The team also struggles to swing the disc fully around the cup, choosing to crash forward instead. When they did manage to bust it through the zone, they often had their cutters too close, giving the cup time to re-establish itself before they could get off to the races. With just a little more coordination, Cal could easily have stayed tighter in the games where they went down early.
It's clear, though, that the team has improved in leaps and bounds after just three weeks. The question is really whether they'll continue that trajectory up to the postseason. Cal's a good team already, but their competition is made up of great teams. Without earning a bid themselves, Cal will have to fight tooth and nail to steal a bid. In the meantime, they should just focus on the positives. In a 'rebuilding' year where the roster has more rookies than returners, Cal's appears to find themselves as the fifth-best team in a (likely) four-bid region.
Colorado Brought a System Offense to a Zone Fight
For those that weren't there, Colorado's results are probably the most interesting of the weekend. The team with perhaps the best rookie class of any program in the country had an uneven performance that never really hit the heights of the team's potential and culminated in a ninth-place finish. The team finished with a 6-3 record, but after missing power pools and falling out in quarters, it's a tough out. They were not among the best teams at the tournament.
Don't get me wrong, all the talent that this team has on paper is there on the field. Every individual piece on Colorado looked good in isolation. Unfortunately, you can have all the good players in the world, but if they're still working out chemistry issues and on-field roles, it doesn't account for much. That's the first disclaimer. The second is far more indicative of Colorado's performance: you can have the best system offense in the world, but it does no good if your opponents only play zone.
Considering the conditions in Colorado, it's completely understandable that their young team didn't have zone offense figured out. Unlike the teams from the West Coast, they've been in the snow for most of the early season, and the time that they have carved out for practices was dedicated to teaching an offense designed for one-on-one coverages. How was Colorado to know that all anyone would want to do in the beautiful San Diego weather would be to throw zones upon zones?
"We've only had a handful of indoor practices this season," said the Colorado coaches, "and we spent most of that focused on our system offense. Zone offense has not been a high priority for us at this point in the season."
It's hard to fault the logic of the Colorado coaches. The amount of zone-specific defenses that Colorado faced was surprising considering how idyllic the weather was all weekend. Colorado also had a bad beat, though, as they actually fared reasonably well against several teams that only threw zone. Texas couldn't pin them, Utah got rolled, and Cal abandoned their zone in favor of a tighter matchup defense. Dropping two games to Cal and suffering a blowout loss to UCSD doesn't look good, but perhaps we were a little harsh on this Colorado team in their slide down the Power Rankings this week.
There's a lot to like, too. Bailey Shigley has shown the improvement you'd expect from a second-year star and now runs the offense with the confidence of a veteran. She has Emma Capra, Saioa Lostra, and Rachel Wilmoth helping out downfield, making Colorado a formidable offense when they get going. On defense, they let Stacy Gaskill roam the deep space as necessary, with Sarah Nadler stepping up to handle after the turn. That's not even mentioning the versatile pieces on the team like Skye Fernandez and Mei Hecht.
Colorado is still young, both with their roster and with their development as a team. They're bound to be undervalued after this weekend, and with good reason, but every team should be scared to see them in their pool at future tournaments if they can inch closer to their potential.
Cal Poly's Performance Defines a Different Form of Success
Cal Poly SLO didn't win the President's Day Invite. They weren't the best team or even among the top four. They didn't get robbed of a win in any game they played or pull off some miraculous comeback that affected the tournament at all. What they were was a roster of 13 players that played 10 games over the course of three days against some of the best teams in the division and still finished with a winning record. Grit matters in this sport, and this team has it.
Every one of Cal Poly SLO's players would likely appear pretty high on a list of most points played in La Jolla. It doesn't matter what star on what team you list, it's all but impossible that they had a higher usage rate than Cal Poly's players. Thanks to injuries and previous engagements, SLO Motion didn't even have enough players to field two distinct lines. In spite of all of that, they got better as the weekend went along. After going 1-2 in pool play, SLO won out their backdoor power pool and made it to prequarters in the bracket. There they faced UMass, a team to which they had already lost in pool play, and they bowled right through them, going up 6-0 to start.
"We actually had told our team that if we won the [backdoor] power pool we'd have a bye," said the Cal Poly captains with a laugh, "but once we saw that we had to play UMass, we knew that we could still match up in that game and all we had to do was keep the same energy we had all day."
After winning their prequarters, they met with UCSB in quarters, whose depth was quite clearly too great for SLO from the offset, leading to a 12-6 loss that knocked them out of contention. From there they lost to UCLA and beat Chicago to finish in seventh, ending their tournament with a 6-4 record.
Depth in ultimate is often equated with having players at the bottom of the roster that might not see as much playing time but still can step up as needed. SLO doesn't really have that — they can't with only 13 players. They just don't have a weak link in their chain. There are definitely players that are better than others. Kimberly Wilson is playing great and maybe too low on the ROTY shortlist, Sherita Li has developed into a strong two-way player, and Thalia Ward remains a gamechanger with the disc in hand. Still, Cal Poly SLO's best asset was having 13 players with safe hands and decent throws.
"We had players really come into their own this weekend," said SLO captain Thalia Ward. "Everyone figured it out as the tournament went along."
This may very well be the best performance that Cal Poly has all season, and they did it without Kelly Dickinson and Vanessa Beeler, two of their headlining stars. Seventh place isn't going to turn any heads, but considering the adversity that SLO played through, it's more than enough.
Texas Shines on Day One, Slows Thereafter
There's no way to get around it for Texas Melee: this was an uneven weekend. On the one hand, the team beat Stanford, the eventual tournament champions. On the other hand, they dropped four straight games from Sunday to Monday, ending their streak only with a win over an exhausted UMass team. After winning their pool, Texas finished 11th.
So which team is Texas? The team that made it to power pools after breezing through pool play? Or the team that couldn't get past Colorado or Chicago when they desperately needed those wins? Well, it's a little bit of both. Melee, much like they have in the past, doesn't treasure the disc very much. They have no fear of taking tough shots or trying to throw themselves out of trouble and let their athletic cutters clean up the mess. That high-variance approach worked for them in games against Stanford and Utah — both opponents were a little sloppy and gave Texas enough opportunities to hit the shots they needed to win. Games against UCSD and Colorado were a different story, though. There, Melee's opponents were too efficient with the disc after the turn for Texas to get it back with their zone.
Melee wears their strengths on their sleeve, which makes them a little too predictable at times. They like stacking the cup in their zone with giant defenders and allowing the springy Ivy Harrison to sit as their deep. While this often prevents teams from throwing it through the middle of the zone's teeth, it often opens up plenty of room in the middle of the field for quick passes if teams can swing their way around the cup. UCSD and Colorado took great pleasure in changing their angle of attack multiple times to punish Texas' zone. When they aren't facing teams with clear offensive talents, though, they have a lot less trouble.
Much like their defense, Texas isn't trying to pull a fast one on offense. They have a system that allows for their cutters to filter into wide open cutting lanes, which works perfectly when teams aren't poaching or sagging in the lanes. Caroline O'Connell works best when she has a lot of room to uncork her throws, so they let her have that room. O'Connell is still less efficient than the team needs her to be, but there aren't many throwers in the division that have her strength and range, so she's well-needed by Texas.
This weekend won't do much to convince Texas skeptics, but it could also reinforce the belief of Melee believers. It's hard to read into the team's performance this early in the season but if they can just cut down on unforced errors, they'll be formidable later in the season.
Quick Hits
It was a nice weekend for Chicago, who made the quarterfinals as the #14 seed after getting an impressive 9-8 win over Texas in prequarters. Although they finished just 3-7, they played some close games against good teams.
The lowest-seeded team to make the bracket was UMass, who got two surprise wins in pool play over Cal Poly and Oregon. Although they went winless the rest of the way, this was a big step forward for a team that rarely ventures outside the Northeast for tournaments.
It's major rebuild time in Oregon: the team lost their first seven games and only avoided a winless weekend with a 9-6 consolation victory over Southern California.
All-Tournament Team
Elsa Winslow (UC Santa Barbara)
Cassie Brown (Chicago)
Hallie Dunham (Stanford)
Claire Toth (UC Berkeley)
Eleanor Heberlein (Western Washington)
Bailey Shigley (Colorado)
Ivy Harrison (Texas)
---
Had UCLA not been missing three of their veterans this weekend, that might have been in question. ↩

At least so far, without having seen British Columbia in sanctioned play. ↩

you can look it up if you want ↩