North Carolina dominant as Pitt look resurgent in Axton.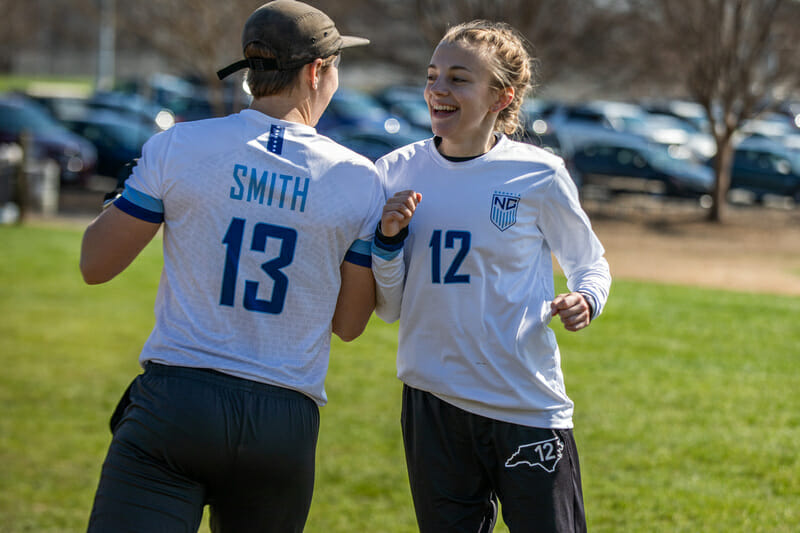 Ultiworld's 2020 college coverage is presented by Spin Ultimate; all opinions are those of the author(s). Find out how Spin can get you, and your team, looking your best this season.
AXTON, VA – After a runner-up showing at Queen City earlier this month, #2 North Carolina Pleiades dominated the second weekend of Commonwealth Cup, claiming the title with a blowout win in the final over surprising Pittsburgh Danger.
Although the weather was as perfect as one could ask for — a welcome sight compared to last year's soaked, miserable conditions — teams decided this was their chance to showcase zones they have been practicing. Offenses had to work hard to figure out all the new challenges that defenses presented. The weekend provided plenty of upsets for mid-level teams that will shake up the rankings, as only one pool finished according to seed. When the dust settles, this weekend could go a long way in deciding bid allocations for several regions, including the Ohio Valley, Atlantic Coast, Southeast, and New England.
UNC in a Different Class, Despite Injuries and Absences
North Carolina started their weekend strong by capturing big wins in power pool games against #14 Northeastern and #21 Northwestern, but it wasn't entirely smooth sailing for the Pleiades on Day One. While clashing with Pitt for the first time during a crossover game in the final round on Saturday, two of UNC's starting D-line players went down: one with a dislocated shoulder and one with a sprained ankle. These injuries added to an already depleted starting lineup that was still missing All-American Anne Worth, who was in Florida at tryouts for the US National Team.
To compensate, North Carolina's depth players really stepped up. Senior Connie Cui provided a dangerous mark that produced gobs of hand-blocks, then was also a major player in the offense after the turn. Olivia Monroe was able to take opposing teams' top matchups for UNC and Florence Brooks, a team captain, was a secure option for the Pleiades to rely on during both offensive and defensive points. There was also Meg Van Horn, an offensive cutter who stepped up to soak up targets during the tough stretches of North Carolina's Sunday bracket games.
UNC played like a team that genuinely did not care who else was on the field with them. Every throw was calculated and calmly executed, and the Pleiades looked like a team that had been playing together for years instead of months, keenly attuned to each other's strengths and weaknesses. With that mindset came a large amount of trust in both experienced and younger players that demonstrated they were well ahead of all the other teams present in Axton.
It's safe to say the final was not the tough test the Pleiades might have expected after a weekend of large margin victories. In a rematch of an 11-9 crossover victory over Pitt from Saturday afternoon, North Carolina put the final to bed early. They went up 8-1 at half against Danger and cruised to a tournament-clinching 15-8 win.
"Using our depth to come out and win a championship game was huge for us; not just for this year but for the next three years," explained coach Jessi Jones. The general consensus from the start has been that UNC, along with Carleton, is in a different tier from the rest of the division and are poised to improve upon last year's semifinal showing at the College Championships. So far, they certainly look the part.
Pitt Proves They Are Still a Danger
Pittsburgh seemed to enter this weekend with a chip on their shoulder. They were here to prove that Danger is a top-level program that demands to be taken seriously, even in a rebuilding year. In some ways echoing UNC's calm demeanor and execution, Pitt plays an offensive style that is unafraid to grind out long points, waiting for the right opportunity to attack. When the offensive line takes the field, you can hear coach Lauren Boyle from the sideline yelling, "As many as it takes!" to remind her players that there is no need for heroes when they have the skills to work it into the end zone. Pitt players often stuck to this advice until a particularly tantalizing deep or middle distance opportunity in a zone would arise, then they took their shot. Generally, those shots were good shots.
The amount of throws in Pitt's handlers' arsenal is wildly fun to watch. Handlers were throwing 90-degree blades, 40-yard hammers, over-the-top scoobers, off-hand backhands, and huge deep shots, while their cutters were snagging these tough-to-read catches as comfortably as if they were a pancake at the chest. Annelise Peters hit some dimes, with Linn Bjanes and Celeste Picone scooping up her throws. Helen Wu had amazing hucks and catches as she steadily ran the offensive line.
When asked what the team needs to work on moving forward, coach Boyle answered, "holding ourselves to a higher standard with possession."
Pitt's D-line was just as effective as their O-line, with players making fantastic layout bids and limiting the most important playmakers on the opponent's roster. Once a turn occurred, the D-line wasted no time in converting their opportunity into a score. Jessie Sun had huge bids and immediately turned to deliver beautiful, shaped throws into the end zone for teammates including Maddi Pisone, Morgan Johnson, and Ari Bhatia.
But perhaps the most visible representation of Danger's improved play this weekend was their sideline. Pitt's sideline was loud and proud and followed the disc everywhere it went on the field. In between points, teammates were excitedly celebrating each other; they lifted players up both metaphorically and physically, gave huge high-fives, screamed loud cheers — and louder up calls.
"We are really focused on our team culture and support," says Boyle. Building those strong team bonds and an even stronger skill set make for a dangerous combination from Pitt as we speed forward toward the postseason. No one should be underestimating them anymore.
Northeastern Holds Strong
Northeastern Valkyries put together a strong showing this weekend with their only two losses being suffered at the hands of the tournament finalists. In contrast to Pitt's boisterous energy, the Valks cut a stoic presence both on and off the field. Their demeanor exemplified the way they played: a team confident in their players and able to trust the process.
Northeastern's offense looked clean and efficient, making textbook fakes and utilizing the break side at a frequency that would make any coach proud. The offense is simple: take the open throw, don't force anything, go by the books. It is almost relaxing to watch their players move down the field.
A modified four-person wall from the D-line stifled Northeastern's opponents and gave the Valkyries opportunities to convert turnovers to breaks throughout their march through the bracket. It's a defensive look not many teams have seen before and therefore it is very effective.
While Northeastern were outclassed by North Carolina on Saturday and came up short in the semifinal to Pitt, they leave Axton having racked up two wins over Ohio State. The key for Northeastern moving forward this spring is consistency. Two tournaments in, their ledger is spotted with both impressive wins — over Stanford, UCLA, and the double on OSU — as well as losses to other teams in the same tier of potentially fighting to make the bracket at Nationals — Vermont, Washington, Pittsburgh. With star power on their roster in the form of Ari Nelson and Clara Stewart and an experienced coach in Jason Adams, the Valkyries certainly have the potential to start turning those Ls into wins.
Ohio State Keeps on Grinding
For a team ranked inside the Top 10 all season, #6 Ohio State Fever delivered an uninspiring performance this weekend, dropping four games, including a double game point loss to regional rival Pitt. The results certainly do not align with we expected from Fever at the start of the season, but you can see signs of a great team percolating under the surface.
As should be expected from a Deanna Ball coached squad, Ohio State looked like a team that knows what they are doing and how to deploy their resources effectively. Fever utilized quick handler movement and short gains to sell their offensive flow until strong receivers could get open in the deep space. Beautiful hucks from Grace Conerly and Cara Seiber were tracked by the indomitable Emily Barrett all weekend — precisely the strategy and combination we knew could be effective for Fever from the start. Funing Zhang provided a consistent option in the reset space that afforded throwers plenty of opportunities to look for these monster throws.
When things were clicking, Fever looked good. They raced out to a 10-7 lead against Pittsburgh in the opening game of the weekend, before things took a turn. Poor decisions and execution mistakes gave up the disc too easily and Fever capitulated, giving up a four-point run to their regional rival to lose on double game point. The same issues surfaced again when facing Northeastern, as they never figured out the Valks zone in two games of trying. The Saturday crossover loss to Northeastern shoved Ohio State onto the same side of the bracket as UNC, a team that was firing on all cylinders this weekend and a tough draw in the semis. It was too tall a task for the inconsistent OSU, though they did manage to post the highest score total against the tournament champs on the weekend.
After the loss that knocked them out of contention, Ohio State coach Deanna Ball put the weekend in context, saying the team's goal is "to maintain our focus on the bigger picture — looking at the entire season as a whole." There's certainly enough talent on this roster and time left in the season for Fever to develop into a Nationals semifinals contender once again, but with the success of Pittsburgh this weekend, they may need to get there sooner than later if they want to build some momentum heading toward the postseason and defend their Regional crown.
Quick Hits: