How your enneagram center can guide your yoga practice to improve your ultimate game.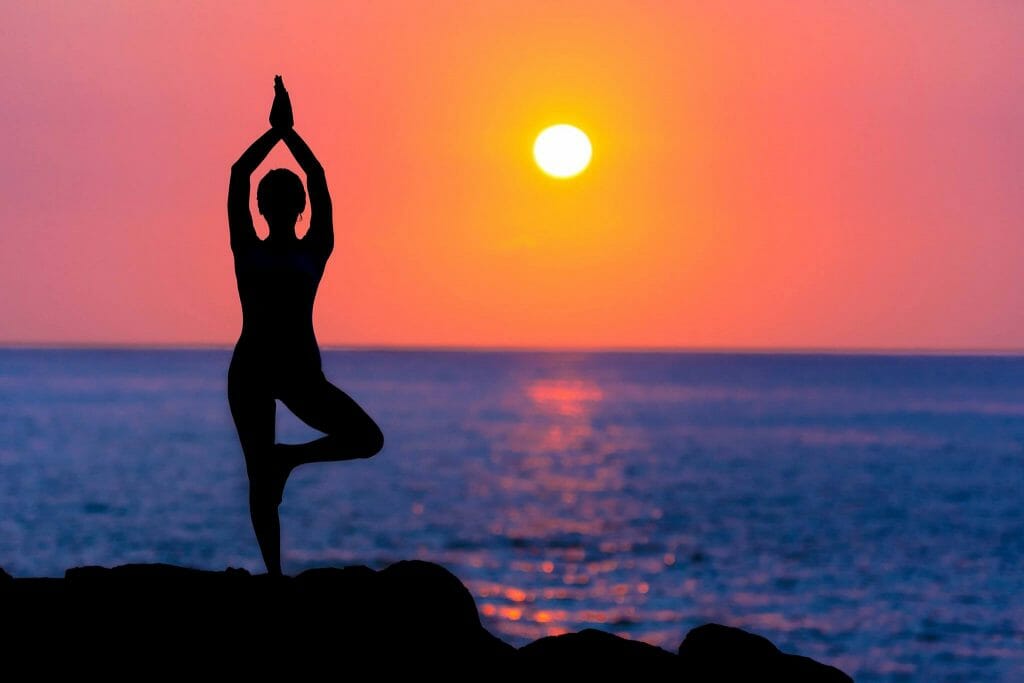 Tuesday Tips are presented by Spin Ultimate; all opinions are those of the author. Please support the brands that make Ultiworld possible and shop at Spin Ultimate! 
Do you tend to become overly emotional when things don't go as expected? Have your teammates ever told you that you should learn to let go?
Have you come to realize that you need to strengthen your focus during games, but you don't know how to do it?
Would you like to find a way to relax your mind and slow down your thoughts after committing a mistake?
If you answered yes to any of the above questions, yoga may help you reach your goals.
For LeBron [James], regular yoga has helped him to strengthen his muscles and avoid injury (he rarely misses a game), but as he correctly states "yoga isn't just about the body, it's also about the mind," and it helps him to stay focused throughout the season and in the playoffs.
When your name is Tom Brady, the pressure is doubled as expectations are so high and the critics are just waiting for him to slip up. Brady is able to perform to such a high level because yoga has helped him both physically and mentally. Brady states, "it's great for flexibility, it's therapeutic, and great for your attitude."
With yoga, you improve mobility and flexibility, which reduces the risk of injury. You also develop better synchronization between movement and breathing during your sports practice, which leads to more efficiency. Furthermore, you become more aware of your body, your range of motion, your abilities, and your limits. You then become skilled at detecting muscle tension, which allows you to relax your body before you hurt yourself.
Yoga is a practice that has become increasingly popular with athletes in recent years. You may not practice it, and you may think this sounds a bit woo-woo or too out there for you. But did you know there are many types of yoga? Depending on your character, your state of mind, and your goals, it is possible to find the type of yoga that suits you and that will allow you to progress in sport.
In this article, I will describe different types of yoga, and give you tips so you can find the types that might be the most appropriate for you based on your personality traits and goals.
Three Personality Types in Ultimate
I have always been fascinated by the personality traits of athletes and the deep motivations that drive them to act in a certain way. There are many theories about personality and over the past decade I have studied some of them – like the Myers–Briggs Type Indicator and the Enneagram. Here are some of my discoveries, mostly based on the Enneagram Theory.
In our bodies, we have three centers of intelligence, that I like to call internal GPS, with which we interact to make decisions:
The instinctive center, that relates to movement, action, and physical sensations – this is our gut instinct.
The emotional center, that relates to emotional self-awareness, relationships, and social connections – this is our intuition.
The rational center, that relates to information, ideas, thinking, analyzing, and planning – this is our logic.
We all use the three centers of intelligence, but according to the Enneagram, in our childhood, we would have developed a preference: we tend to use one of our three internal GPS in a more natural and spontaneous way than the others.
We can compare this behavior to writing: we are able to use both hands, but when the time comes to write, we have a favorite hand that we use spontaneously.
The Instinctive Personality Type
A player who has an instinctive personality type likes competition and battle. They typically like universe points and meeting strong opponents! They are very energetic, focused, and intense on and off the field. They are quick-witted, decisive: they often want to conquer and they may sometimes be experienced as aggressive by others.
In stressful situations, a player who has a dominant action center could tend to become judgmental, intense, and very vocal with their teammates. They can be overwhelmed with anger and frustration. To regain their focus, they need to cool down emotionally, let go of blame, and learn to work with their teammates as a unit.
The Emotional Personality Type
A player who has an emotional personality type likes relationships, evolving in a harmonious atmosphere and being connected with others. They typically love the car ride to go to tournaments! They are very welcoming and they bring people together. They are sensitive, they usually don't like confrontation, and they want to contribute and help their team reach their goal.
In stressful situations, a player who has a dominant feeling center could tend to fear the opinion of others or become afraid of disappointing their teammates. They can be quickly overwhelmed with sadness, melancholy, or embarrassment. To regain their focus, they need to organize and structure their thinking, free themselves from social approval, accept change, and learn to let go of the past.
The Rational Personality Type
A player who has a rational personality type likes structure and knowing what to do in specific situations. They typically like talking about set plays and strategies! They like to analyze their sport and go deep in their understanding. They can be very creative and like to bring new concepts and ideas to their coaches. They want to master their sport, and they often have a solid understanding of the facts.
In stressful situations, a player who has a dominant thinking center could tend to over-analyze and think too much. They can quickly become overwhelmed with fear, worries, and anxiety. To regain their focus, they need to slow down their thoughts, "get out of their head," and learn to get into action without needing to know everything.
What is Your Yoga Style, According to Your Personality Type?
Did you recognize some of your behaviors, thoughts, and emotions in the descriptions above? Have you identified your dominant center? Would you say you are more of a rational, an instinctive, or an emotional type of player?
According to your personality type, below are a few tips to select the type of yoga that can help you balance your emotions and stay focused in big games.
The Instinctive Personality Type
Players who identify as the instinctive type may benefit from practicing a relaxing type of yoga and avoid overheating. Because they have so much intensity and fire in them, they need to practice letting go of anger and competition, and feeling empathy, compassion and forgiveness. They want to learn to stay calm, cool and collected while focusing and leading their team to success.
Recommended
Yin yoga: a relaxing type of yoga that makes the participants hold poses for long periods of time. Good for practicing patience and presence in the body.
Restorative yoga: postures held for longer than in hatha classes, often with the support of props such as folded blankets. Allows the instinctive type to let go, trust and relax.
Best Practiced in Moderation
Bikram, hot yoga, or power yoga: because it is very focused on the body and it builds internal heat, it is not recommended for the instinctive type, who needs to cool down and reconnect with their emotions.
The Emotional Personality Type
Players who identify as the emotional type have a tendency to become over-sensitive, to fear judgment or to freeze and resist in difficult situations. For these reasons, they may benefit from practicing a dynamic type of yoga that will help them develop combativeness and courage. They need to challenge themselves, and to do so they must push themselves out of their comfort zone. Since they tend to be naturally kind, loving, and compassionate, what they could develop with yoga is discipline and structure.
Recommended
Ashtanga yoga: involves rapid sequences of positions that combine breathing and action. Challenging and demanding.
Hot yoga: the heat helps the emotional type stoke their inner fire and their combativeness.
Best Practiced in Moderation
Yoga nidra: since it can already be easier for the emotional type to slow down, observe, and connect with their heart, it is recommended to practice a more dynamic type of yoga.
The Rational Personality Type
Players who identify as the rational type may benefit from practicing yoga slowly and deliberately – i.e. consciously and intentionally. Because their mind is so hyperactive, they need to slow down, and learn to focus on the present moment and on their body. They want to avoid cold, heat and exhaustion, since it is demanding on their nervous system.
Recommended
Hatha yoga: a practice that works on body and mind. It teaches the rational type to leave their everyday worries at the door and relax.
Jivamukti yoga: a physical, ethical, and spiritual practice, that helps to reconnect with the body, and increase strength and flexibility.
Best Practiced in Moderation
Bikram or hot yoga: because it is very intense and it builds internal heat, it is demanding on the nervous system and, therefore, less recommended for the rational type.
What If You Tried Something New?
When you think about yoga, you probably already feel drawn to a specific style.
An instinctive personality type may like to practice a rather demanding and challenging type of yoga, such as bikram yoga. An emotional personality type may feel attracted by a more meditative and spiritual type of yoga, and a rational personality type may like practicing yoga in a very structured environment, where they can get lots of explanations from the teacher.
What if you tried something different? Practicing a new type of yoga, which you are less used to, could teach you new mental skills and allow you to explore different facets of your personality.
You could also transform the three types of personality described above into mindsets. Sometimes, at the end of the day you feel upset and impatient. You could then choose to practice a type of yoga that is recommended for the state of mind of the instinctive type of player.
Intention Is Key
If you participate in a yoga class with the goal of stretching, working on your mobility and endurance, it surely will be helpful. But what can be even more powerful is formulating a specific intention that involves both your body and your mind.
Start by defining what you need to work on physically, mentally, and emotionally, set a goal for yourself and choose a yoga practice that fits your goal. When you practice with intention, you accelerate the process of transforming your mind, body and emotions, and it will open up new horizons for you.