A pair of nationals veterans take on a pair of first-time semifinalists.
The simulation engine used for this article was built by guest contributors Alex Trahey and Daniel Walton. This article would not have been possible without their effort and expertise. 
The college postseason is perhaps the most exciting set of events in ultimate. A plethora of teams come together with equal opportunity to reach the same championship. While favorites make up the primary ingredient of the dish, the upsets, double game points, and comebacks add the seasoning that makes for a flavorful and satisfying meal. There's not quite another event like it in our sport.
We didn't want to live in a world with no college postseason, so we sat down and asked, "How could the 2020 College Series have gone down?" We took the rankings algorithm, adjusted slightly to reflect our staff's opinion of teams, and added a pinch of randomness that comes with life, and simulated how each and every regional event could play out. There were some creative liberties and constraints applied (see "Methodology") before we sent our writers to imagine the sets of events that could have led to our simulation's results.
Previously, we shared the top five finishers in both the D-I men's and D-I women's divisions from each regional championship, along with a narrative story of how things might have played out, and every game from every regional championship. We followed up with the pool play games of the D-I College Championships, as well as the prequarter and quarterfinal rounds.
Two first time semifinalists square off against the long-time powerhouse programs in the men's division. Will the experience of North Carolina and Colorado win out, or can Washington or BYU continue their program defining runs into the season's final game? Time to settle who will be competing for a title.
Methodology 
To simulate an ultimate game, we determined the outcome of successive points by flipping a weighted coin. One coin is used for when Team A starts the point on offense and a second coin (with a different weight) is used for when Team B starts the point on offense. If the coin comes up heads, Team A scores the point; if it comes up tails, Team B scores.
For simplicity, games were played hard to 15 points — no timed round constraints, no win by two.1 The probability of heads for each coin is determined by the power rating difference between the two teams. We created a model based on results from the 2019 college postseason — and some minor human input from our staff at the start of the process — to assume how likely a team is to win a game and what the expected score is based on their power rating differential with their opponent. We use this empirical relationship to translate power rating differential — teams' power ratings are based on 2020 regular season results with some small adjustments given the shortened season — into probabilities for the weighted coins. This approach was used previously to simulate the outcome of the 2019 College Championships. For more background on how games are simulated, check out this article.
To simplify: using past postseason data, we calculated how likely a team is to win a game against an opponent with a different rating. Then we took this season's data and rolled the dice to see which teams would win.
There are some additional elements to note:
BYU is included because we thought that'd be more interesting.
We tuned our model to account for how teams behave during blowouts, decreasing the likelihood of massive margins.
Writers did not influence the simulation's results.
Power Rankings are from our final update of the regular season and do not reflect any simulated results since.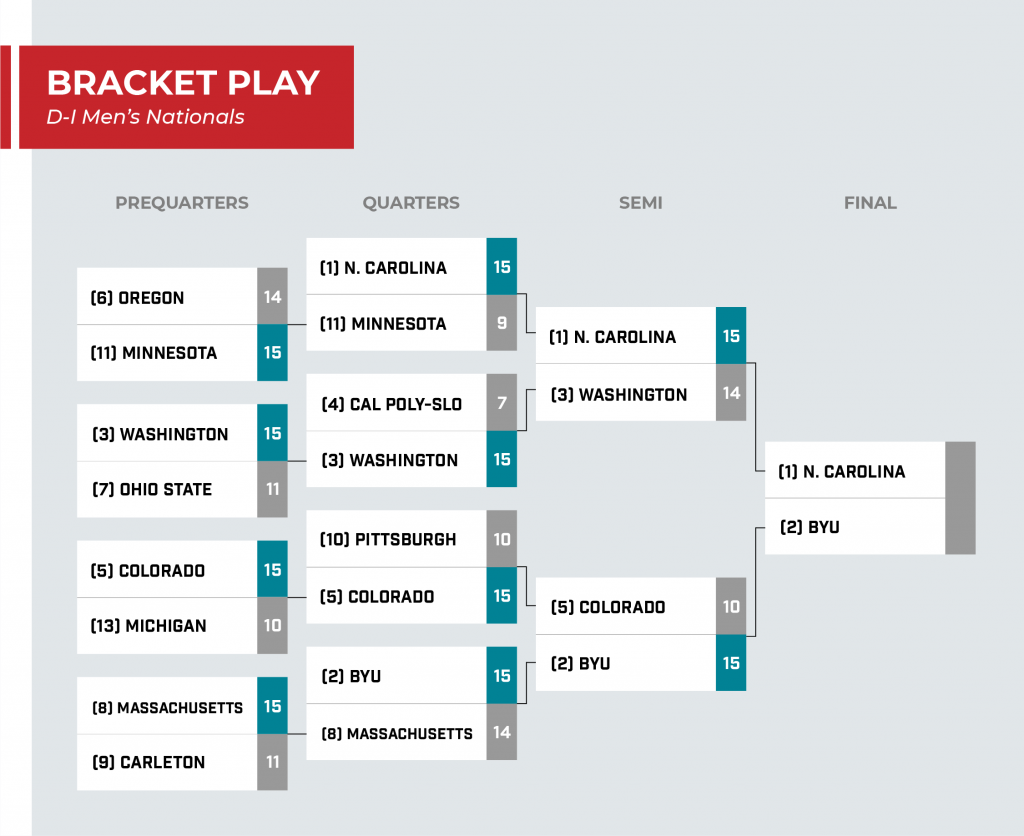 UNC's Experienced Vets Lead Them In Dramatic Comeback North Carolina 15-14 Washington
Despite conceding control of the game to the Washington defense, North Carolina stormed back in the home stretch of their semifinal to win on double game point, 15-14. The Sundodgers led as much as 11-7 in the second half, but their struggling offense could not hold off the seasoned UNC club, who certainly looked like they had been there before. The Darkside defense notched five second-half blocks, while Elijah Long and Kai Marcus combined for seven assists in the same span; meanwhile, the Washington O-line registered a single hold — their D-line came in on offense to score twice — as the lead slipped away.
Before a comeback must come a deficit, and Washington did their part with a strong start. Their O-line blazed their way to the end zone in just two throws, with Sam Cook blasting a flat forehand to Jake Steen for an expedient hold. Darkside rookie Matthew McKnight was expertly read by a poaching Derek Mourad on the next possession, and he notched his first assist on a give-and-go with Tony Venneri to seize a 2-0 advantage and draw a roar of support from their fans in the crowd.
The trio of Mourad, Venneri, and Porter Jones were tremendous for the Washington D-line. They ate up touches, logging plenty of mileage defending top opposing players, yardage moving the ball, and stats to boot. Mourad put up four assists and two blocks, Venneri contributed three assists and two goals, and Jones added two goals, one assist, and one block. They earned 543 total yards compared to 312 from the rest of the D-line rotation.
Washington extended their lead as halftime approached. While UNC was able to break back, with Marcus finding Suraj Madiraju after a misfired Sam Cook huck, their offense hit a rut against the staunch Northwest defense. Jones interrupted a throw to Liam Searles-Bohs with a diving block to set up the break that made it 4-2, and a pair of deep turnovers — one narrowly missed by a bidding Tommy Williams — allowed Washington to extend the lead to 5-2. The situation could have been worse for Darkside, after a Michael Buyco block gave Washington the chance to take half 8-4, but Searles-Bohs revoked possession with a stabbing layout, Long lofted a huck in transition to Williams, and held the deficit to just 8-5 at the intermission.
North Carolina's second-half resurgence was steady, rather than a burst of scores that flipped the game in just a few minutes. Like Washington had in the first, UNC began the second half with a hold and a break, with Chris Humphrey generating the turn and a Marcus hammer finishing the defensive possession, narrowing the lead to 8-7.
Here is where the Sundodger O-line managed their lone hold of the half, a polished hold led by Manny Eckert, who slid past his defender up the line for a goal from Cook. Eckert, Cook, and Lucas Chen were the offense's main power sources. While each had their bright spots, they also each had two turnovers, playing a key role in opening the door for UNC.
But the Sundodger defense continued to fly high, strutting their stuff with a pair of breaks that made it feel like it really would be Washington's night. Will Simms handblocked Long and generated pressure on the handler on the next point that coaxed a wide break throw. Mourad, Jones, and Venneri did most of the work on offense for both goals, earning an 11-7 advantage.
A key personnel move helped UNC jumpstart and pick up some velocity. Marcus had played one offensive point in the first half, but now joined the O-line frequently. Meanwhile, Long was swapped in as the primary D-line handler, a position he is very familiar with. Marcus immediately launched a huck to Searles-Bohs for a hold and some great defense from Long contributed to a stall against Eckert that gave UNC a short field to break. Long was tasked with containing Cook, and cuffed the Washington cutter to force a reset turnover with the score 11-9. Madiraju hit Kevin Pignone in stride with a huck to bring the lead to just one.
The Washington offense looked rattled. They had turnovers caused by miscommunication and indecisive movements. They vacillated between forcing looks and hesitation, sometimes combining the two to disastrous results. Their D-line bailed them out, coming in for a pair of holds and, frankly, nearly winning them the game. Mourad tapped away an under to Searles-Bohs with a layout, setting up a break to make it 14-13, and they forced a turnover on double game point. But it was too tall of a task to overcome the offense's foibles.
Meanwhile, Marcus, Anders Juengst, Madiraju, and Searles-Bohs, who was the focal point of the defense, were all fantastic. Long had some offensive misfires, but played great defense, and showed the backfield brilliance he's known for at other points in the game. The fifth-year handler led North Carolina with 327 total yards, as he did in touches (60), assists (5), and turnovers (3). He added a goal, as well. The team hadn't missed a semifinal during any of their careers, and it showed.
UNC didn't look shaken at all as they took the line needing to score two in a row to keep their title hopes alive. On the other end, Washington sent the pull out of bounds. Marcus stepped up to the brick mark and beamed an IO forehand huck to Juengst that dropped into the receiver's waiting hands for a quick hold.
On double game point, North Carolina's defense was dialed in, particularly around the disc, while Washington's slow look progressions hampered them. Rookie Jack Brown tossed away a reset, and while an inside break from Madiraju that was too low gave them a second chance, Washington's offense sputtered to a halt again. Mourad was forced into a throwaway after his options were choked off, particularly by Juengst's clamp job on Chen. UNC worked the disc wide as they entered the red zone, and went on the attack with their dominator, ending with Marcus hitting Williams with the winning OI forehand.
UNC has reached their third straight final, and fifth since 2014. They are the division's power program, regardless of whether or not they win a title, which they certainly look capable of doing. Washington's loss stings, but they showed why they were so highly touted all season. They've improved greatly over the past few seasons and posted their best finish in program history. The sour taste won't last forever, especially if they keep getting better.
BYU Pulls Away From Colorado to Reach Final
Brigham Young CHI is headed to the national championship game after beating Colorado Mamabird 15-11 in the semifinal round. In a game that was otherwise evenly matched, BYU went on a five-goal run midway through the second half to put the game away, sealing their first-ever appearance in the title game.
The BYU defense gave Colorado's offense problems from the very beginning of the game. They didn't get a break on the first point, but they did force a turnover with their impressive defensive pressure, and then did register breaks on two of their next three D-line points to go up 4-2. For Colorado, it was similar to how they started against Pittsburgh in quarterfinals: missing on hucks and generally struggling against intense matchup defense.
Like against Pitt, they did get a break back pretty quickly. Mathieu Agee got a fingertip layout block and then got the assist to Saeed Semrin for the goal to make it 4-4. But the defensive opportunities did not come frequently for Colorado. That was largely because Braden Eberhard had his best game of the weekend as BYU's center handler. Eberhard had been one of a very few BYU players to not play their best in Milwaukee, but he turned that around in a big way against Colorado, posting four assists, five secondary assists, and one goal in the game.
With Eberhard holding down the fort offensively, BYU added one more break before the half. Calvin Stoughton committed his one turnover of the game on a throwaway, and BYU got the disc to Devon Terry on the goal line before he dinked it to Taylor Barton to give BYU a 7-5 lead.
The two O-lines traded holds into half for an 8-6 advantage for BYU. Eberhard continued his strong play at the start of the second half with an early huck for an easy BYU hold for 9-6, but then BYU showed their first signs of fallibility since the Colorado break midway through the first frame. After a Colorado hold for 9-7, Joe Merrill got caught looking upfield for too long and was forced to punt. Quinn Finer, who had a quiet game relative to his lofty standards, went every other throw for the Colorado break to make it 9-8. Agee brought the defensive fireworks again with another big layout block on Jordan Kerr and then got the bookends to level the game at 9-9.
But just as quickly as Colorado had fought their way back into the game, the wheels fell off for them. Barton had his best stretch for BYU, getting his only two assists and a second goal in BYU's five-goal run, but the game-deciding stretch was more defined by Colorado's errors. They couldn't find any sort of rhythm or even get out of their own way.
BYU does deserve credit for maintaining the defensive pressure that finally caught up with Colorado, and they were ruthless with their break opportunities. But it certainly was an extraordinarily poor stretch from the Colorado offense that had mostly been steady all weekend. Alex Atkins, who had been the epitome of dependability all tournament, committed three turnovers to match Finer for the game-high. And no one really stepped up with a big game to accommodate for others having an off one.
Danny Landesman found Atkins to finally end the BYU run to make it 14-10, but there was no comeback for Colorado. After a BYU turnover, Kerr snatched it back with a big sky deep and then got the bookends from Eberhard for the game-winner. It was a fitting combination for the last goal, as Kerr was Eberhard's complement throughout the contest with five assists and three goals.
Colorado had no answer for the pair as BYU head coach Bryce Merrill rode their hot hands on both sides of the disc. With their dynamic offensive showing and Colorado's collapse in the second half, it was a comfortable final scoreline for BYU. As a result, they'll next face North Carolina with a national championship on the line.
Semifinal Box Scores
These simulated box scores supplement the narrative above to provide a detailed picture of events. Any unlisted players did not enter the game. These are available to our subscribers!
Key
PP: Points Played
G: Goals
A: Assists
B: Blocks
T: Turnovers
Thr. Yards: Throwing Yards
Rec. Yards: Receiving Yards
Tot. Yards: Total Yards
OPP: Offensive Points Played
DPP: Defensive Points Played
OPS: Offensive Points Scored
DPS: Defensive Points Scored
Bonus Content for The College Postseason Simulation 2020: D-I Nationals Semifinals & Box Scores (Men's) is only available to Ultiworld Subscribers
Already have a subscription? Log in
Whether you visit Ultiworld for our reporting, our podcasts, or our video coverage, you can help us continue to provide high quality content with a subscription. By becoming a subscriber, not only do you receive benefits like bonus content and full article RSS feeds, you also help fund all of Ultiworld's coverage in general. We appreciate your support!