We plugged the teams into our simulation model and wrote fictional recaps for the regionals results it spit out.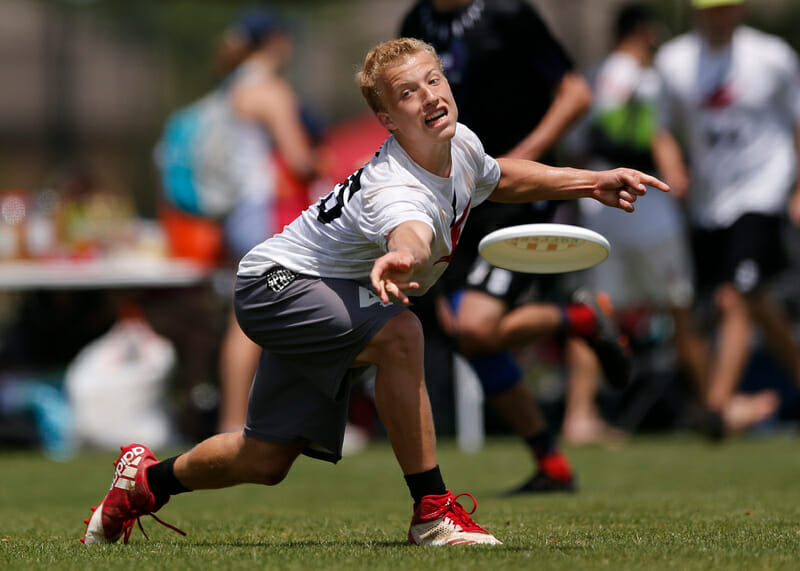 The simulation engine used for this article was built by guest contributors Alex Trahey and Daniel Walton. This article would not have been possible without their effort and expertise. Recaps and writing in this article were contributed by Ultiworld staff members Keith Raynor, Edward Stephens, Alex Rubin, Sean Brady, Ben Murphy, and Steve Sullivan.
The college postseason is perhaps the most exciting set of events in ultimate. A plethora of teams come together with equal opportunity to reach the same championship. While favorites make up the primary ingredient of the dish, the upsets, double game points, and comebacks add the seasoning that makes for a flavorful and satisfying meal. There's not quite another event like it in our sport.
We didn't want to live in a world with no college postseason, so we sat down and asked, "How could the 2020 College Series have gone down?" We took the rankings algorithm, adjusted slightly to reflect our staff's opinion of teams, and added a pinch of randomness that comes with life, and simulated how each and every regional championship game could play out. There were some creative liberties and constraints applied (see "Methodology") before we sent our writers to imagine the sets of events that could have led to our simulation's results.
Join us for a journey into what one timeline's version of the 2020 D-I college postseason could have been.
Methodology 
To simulate an ultimate game, we determined the outcome of successive points by flipping a weighted coin. One coin is used for when Team A starts the point on offense and a second coin (with a different weight) is used for when Team B starts the point on offense. If the coin comes up heads, Team A scores the point; if it comes up tails, Team B scores.
For simplicity, games were played hard to 15 points — no timed round constraints, no win by two, no halftime.1 The probability of heads for each coin is determined by the power rating difference between the two teams. We created a model based on results from the 2019 college postseason — and some minor human input from our staff at the start of the process — to assume how likely a team is to win a game and what the expected score is based on their power rating differential with their opponent. We use this empirical relationship to translate power rating differential — teams' power ratings are based on 2020 regular season results with some small adjustments given the shortened season — into probabilities for the weighted coins. This approach was used previously to simulate the outcome of the 2019 College Championships. For more background on how games are simulated, check out this article.
To simplify: using past postseason data, we calculated how likely a team is to win a game against an opponent with a different rating. Then we took this season's data and rolled the dice to see which teams would win.
There are some additional elements to note:
We used a random number generator and probabilistic-based bid odds to simulate bid movement that might have occurred in the final weekends of the season, which resulted in one bid from the Southeast moving to the Atlantic Coast.
We looked at the size of regionals over the past few years to determine the number of teams to include. We took the corresponding qualifying teams based our human-modified rankings, including adding a couple of typical regionals attendees who had not yet played enough games to be ranked.
BYU is included because we thought that'd be more interesting.
Teams with high ratings differentials tended towards blowouts, with winning teams allowing fewer than three goals. The simulation did not capture that teams tend to dial back after going up by large leads.
Writers did not influence the simulation's results.
Power Rankings are from our final update of the regular season and do not reflect any simulated results that impacted bid movement.
Atlantic Coast
North Carolina
UNC Wilmington
South Carolina
NC State
James Madison
With another Atlantic Coast title win, #1 North Carolina Darkside extended D-I men's longest active regional title streak to four.2 Darkside was out in full force, with Elijah Long, Anders Juengst, and Liam Searles-Bohs steering the offense and Tommy Williams and Andrew Li helming the D-line. The UNC offense was a bit shaky in their first half of the final against Wilmington, but the D-line more than made up for it by blanking the Seamen in the second half of their 15-7 win, who were perhaps saving themselves for a do-or-die game-to-go once the final got out of hand. There's nothing to see here, other than a UNC team that looks fully prepared for another legitimate title run. This is the Darkside you — and their AC brethren — have come to know.
But there was one other bid dangling in front of the Atlantic Coast field, and no shortage of teams who felt worthy of the honor. They'd need to claw past one another in order to prove they could pull the Excalibur of a bid from the proverbial stone. Dispute their righteousness if you must, but tough to deny the strength of #14 UNC Wilmington, who took home the desirable prize.
This was no easy road for the Seamen to traverse. While they were undaunted in pool play, they began the bracket against the bid-earning club, #22 NC State, in the front door semifinal round. The matchup was predictably a slugfest, with both teams landing haymakers. But Wilmington landed the knockout blow with a stiff goal-line stand that was followed by a huck to Dasan Bender, who skied for an emphatic break to make it 13-11. Holds carried that score to 15-13, in favor of UNCW.
Wilmington's ups were interspersed with their share of downs, but the former outweighed the latter. They were flustered at points in the game-to-go against South Carolina, with Connor Russell struggling to get free in the reset space. But Colin White was fantastic and the Seamen trusted him enough to move their Callahan nominee downfield more. Russell also crossed over to play more defense, piloting much of the late break run that separated Wilmington from South Carolina. From trailing 10-9 to leading 15-12, once UNCW's deep game clicked, it was curtains. The Seamen are heading back to the College Championships for the first time since their run to the national final in 2017.
For the region's other top competitors — NC State, South Carolina, and William & Mary — they suffered similar fates, but measured up differently.
Gamecock Ultimate's run to the game-to-go does feel like it proves the program has arrived among the region's elite. They endured a rocky start to their weekend with an early upset loss at the hands of Maryland, but it turned out to be mostly jitters. Their comeback against NC State in the second place semifinal ended with a 6-1 run in their favor; critical blocks from Cleve Fisher and Kyle Woodberry and timely deep shots from Michael Miller helped South Carolina pounce just as NC State came undone. The collapse breathes new life into the narrative NC State seemed to have dispersed with last year's Nationals berth — despite all their talent, they still struggle to perform when the stakes are highest.
Meanwhile, William & Mary got two real shots to break through the Carolina logjam — against South Carolina in pool play and against NC State in the backdoor bracket — and came up well short in both cases. Even after dominating Liberty and Duke in the backdoor bracket, they simply couldn't keep up with the bigger and stronger teams. If this is the end of the Jonny Malks and Gus Norrbom era — Norrbom is a senior and it's not clear if he has any plans for a fifth year — it will be disappointing for the Merry Men to have only made Nationals once with such a dominant backfield pairing.
Great Lakes
Michigan
Northwestern
Purdue
Illinois
Kentucky
The clear favorite to win the lone bid in the Great Lakes region for the men's division was #9 Michigan MagnUM, and they did not disappoint. Michigan breezed through pool play and coasted through the bracket, going 5-0 on the weekend by an average score of 15-5. The deep, talented squad will return to Nationals in 2020 eager for an attempt to improve on last year's quarterfinals exit.
Michigan's toughest test was in the final against Northwestern, who withstood an early 4-1 Michigan lead to keep the first half score somewhat close when Michigan took half, 8-5. But as they had all weekend, Michigan dominated the second half — thanks in part to adjustments from one of the nation's best coaching staffs — and ran away with the game, winning 15-7. On the field, Michigan got strong performances across the roster, but Raymond Lu and Eli Weaver were critically important around the disc and Jared Schwallie couldn't be contained downfield.
Northwestern reached the final by comfortably winning their pool, defeating Illinois State in the quarters, then holding off Purdue in the semis, 15-12. After losing key players from last year like Kyle Rutledge and Josh Venegas, Northwestern was led all weekend by Kenneth Xuan's abilities as a key handler. Northwestern also got strong contributions from Jordan Parry, who stepped up and filled a bigger role in his second year on the team.
The semifinal between Northwestern and Purdue was the most exciting game of the weekend. Northwestern went up early, notching a hold and two breaks to take an early three-goal lead before taking half 8-6. Purdue got both breaks back right at the start of the half to tie it up at 8-8 through the individual brilliance of Joe Byerly. The two teams traded to 10-10 before Undue broke again to take their first lead, 11-10. After holding to tie, Northwestern was able to pick up their first break of the second half thanks to a huge block from Raul Rosenfeld that ignited the NUT sideline. Purdue was now under an onslaught of fired up Chicagoans, earning a shaky hold to tie the game at 12-12, with Byerly again doing everything for his squad, but then they ran out of steam. Northwestern rattled off three in a row fairly comfortably to win, 15-12. Purdue came up short of their chance at a game-to-go, but Byerly put an emphatic cap on his excellent season, participating in eight of Purdue's 12 semifinal scores, notching five assists and three goals. It just wasn't enough.
The Great Lakes may remain a one-bid region, but it's worth noting that the overall depth and level of play in the region is improving. The growth of youth division around the country is impacting the talent at the college level everywhere, and the Great Lakes is picking up more and more incoming players with notable youth experience. A few of those players to come through the last few years have quickly become some of the biggest contributors on their respective college teams, like Joey Kennedy at Illinois and Alex Henderson at Indiana. Other notable second year players like Jordan Parry (Northwestern) and Theo Shapinsky (Michigan) were playing significant roles for their teams at Regionals despite being underclassmen. With so much young talent, don't be surprised to see the Great Lakes put up a credible challenge at a second bid in the coming years.
Metro East
Connecticut
SUNY-Buffalo
Cornell
SUNY-Albany
Rutgers
Metro East Regionals delivered this year with some big surprises, and it continues to be one of the most entertaining regional championships you'll find. While no. 2 seed Connecticut's regional title is not a massive shocker — they have been the regional powerhouse for years and were one goal in last season's final away from a four-peat — their semifinal and final opponents were anything but chalk. In a fairly small event where much of the format took place in single-elimination bracket play, it only took a couple of dominoes to fall for things to end up looking pretty wacky.
Despite some close calls, teams mostly adhered to seed in the region's first year in the "four pools of three" format. While some teams bucked against it — SUNY Albany nearly upset Cornell in Pool A, while SUNY Buffalo was nearly felled by RIT — all but one game went as the algorithm expected. But that one turned out to be pretty important: when no. 9 seed Yale beat top-seeded Cornell in the latter's first game of the weekend. Two late breaks in a sloppy game pushed Superfly in front, and they won 15-12.
And just like that, we were back to 'anything can happen' ME antics. Connecticut was pushed to double game point in quarterfinals by the surprising Yale squad. Cornell needed two straight breaks to get past Princeton. Reigning champion Rutgers was eliminated on double-game point by Buffalo.
All of that meant the regional favorites — Cornell and UConn — were set to meet a round earlier than expected. Meanwhile, SUNY Albany and SUNY Buffalo, the other semifinalists, found themselves two wins away from Nationals. Those underdogs went back and forth all game, right down to a nine-turnover double game point before Buffalo prevailed in their second straight 15-14 victory. The heavyweights' matchup was less dramatic, but highly intense, the weekend's loudest affair. But Jeremy Bernier, Carson Fitzner, and Taylor Pochetti were too much and overwhelmed Cornell, getting a lot of run and commensurate production on the way to a 15-12 UConn win.
For the third time in four years, Connecticut proved to be the region's best team. They steadily outmatched a nervous and fatigued Buffalo outfit, who got broken to open the game then dropped the pull trailing 2-1; UConn steadily pulled away over the course of the game for a 15-9 win. Their stumbles never overcame them and their confidence grew throughout the weekend in a way that showed by the time they reached the final two rounds of play.
But Buffalo proved that Metro East Regionals is a cauldron that can brew chaos…and inspire hope. Nick Lenhard, Ricky Milleville, and their band of merry men came within one great half of Nationals. Lenhard's forehand strikes were the best throws at the tournament. And somehow, round after round, the team just kept making plays. Every team in the region has to be thinking "That could be us." That's the Metro East magic. It's still here.
New England
Massachusetts
Brown
Tufts
Northeastern
Dartmouth
There was a lot of hype around the potential of the New England region coming into the season. While the depth of the region didn't quite live up to expectations, with two games to go, there were two big stages where the NE's top performers could strut their stuff. Fans were treated to two of the best games of the postseason as #7 Massachusetts narrowly defeated #12 Brown, who in turn edged #19 Tufts for second place.
UMass and Brown appeared to be in a league of their own as they put their sevens on to start the regional title game. Both had cruised through their pools to earn their spot in the final. ZooDisc gave up just 28 goals across five pool play games, but Brown was even stingier, astoundingly conceding only 20. The powerhouse programs finally found a challenge in one another.
After a few holds to start the final, UMass struck first after an underthrown Brown huck, with Eugene L'Heureux wrapping an around to Eddie Scott to make it 3-2. UMass sprung a zone on the next point that earned them another break, threatening to run away early. While each team was armed with a big-name star, it was really their supporting cast who shined. John Randolph and Tannor Johnson each got their share of touches, but neither was able to take over the game against dedicated defenses and frequent help. Instead, it was players like Brown's Ken Noh and Henry Lassiter or L'Heureux and Greg Oreste for Zoodisc that stepped up. The former pair clinically exploited some poaches and switches to tie the game at 7-7. They helped keep Brown within striking distance, but UMass's O-line kept them up by two much of the way.
The last stretch had all the hallmarks of two elite teams with something to prove. We finally saw the stars make their mark: Tannor Johnson came down with a jump ball in a pack that drew vociferous sideline reactions while Randolph earned blocks on back-to-back points when crossing over to the D-line, the latter of which allowed Brown to tie the game up at 13-13. But Oreste, Johnson, and Jake Radack withstood late Brown pressure with a pair of holds, closing out the game with a patient red zone set that concluded in the hands of Oreste for the 15-14 ZooDisc win. Knocking off the defending champs was quite the redemption for the Massachusetts program after missing Nationals last spring, and they look primed and ready for a deep run this spring.
Perhaps that game proved inspiring for the region's challengers, as Tufts rose to match the level of the final in the backdoor championship. The E-Men came out of the gates shaky, falling behind 4-1 after Dylan Villeneuve posterized Tufts' Callahan finalist Jac Carreiro on a hanging crossfield throw. But, fatigued from the intense battle with UMass, Brown's deep game started to fail them, with several overthrown hucks. Tufts fought back in front, scoring five of the next six goals behind strong play from Carreiro, Caleb Seamon, and Henry Caron, who displayed some nasty breaks in particular. Tufts held for an 8-7 halftime lead and heaping the pressure on the top seed.
It felt like a change from Brown after the halftime huddle, as they seemed to realize they were facing the possibility of missing Nationals a year after earning the title. The second half was hotly contested — sometimes too hotly, but nothing that got beyond the control of leadership and observers — and both teams showed they knew how much was on the line. Villeneuve continued to play a tremendous game, including bombing a backhand to Benji Toruño to take back the lead, 9-8. Tufts regained the advantage a few points later on a short field reset turnover, finding Bryce Walsh to go up 13-12. After an easy B-Mo hold authored by the calm leadership of Sol Rueschemeyer-Bailey, Brown got a critical break opportunity, but Carreiro got revenge on Villenueve with a fantastic layout block. Tufts held for 14-13, a point away from the upset.
There were a couple of turnovers on the next offensive point, but Brown made use of their third possession, with freshman Leo Gordon getting into the end zone on a give-and-go with Ken Noh. On double game point, a huck to Charlie Caron hung a bit too long, and Brown's Azeez Adeyemi made up tremendous ground for a game-saving block that sent his sideline into a tizzy. A patient possession got Brown to the red zone, where Reuschmeyer-Bailey hit a high-release inside break to Noh to save Brownian Motion's title defense and end the E-Men's season.
North Central
Carleton
Minnesota
Wisconsin
Wisconsin Milwaukee
Minnesota Duluth
The North Central was blessed with lovely weather at Regionals, a pleasure so rare that everyone half-expected some sudden onset of intense inclement conditions to appear at any moment. While the denizens of the region weren't the victims of ill weather, they instead suffered at the hands of #11 Carleton CUT. The no. 1 seed swept vengefully through the tournament, as if trying to beat away any ghosts of failures past. Clinical offense and bursts of imposing defense left even their championship opponent, #13 Minnesota, out in the cold.
Carleton's wavering in the regular season may have seeded doubt about the title aspirations of this mercurial crew, but it was thoroughly uprooted with their success this weekend. All of CUT's vaunted stars came to play: Dillon Lanier and Andrew Roy were casually carving up marks while marshaling the offense. Ethan Bloodworth and Harry Wolf Landau were eating up opponents on defense, producing block after block. Meanwhile, Joe White was practically toying with his food, taking pleasure in making opponents look helpless, whether dominating in the cutting lane or attacking with his throws in the unusually calm conditions. Carleton scored all but three points through their first three games before encountering any friction in the form of Wisconsin-Milwaukee, where they still walked away with a 15-8 win.
With barely any mileage on their legs and brimming with confidence entering the final, CUT built an early lead on Grey Duck as Luke Webb stifled Cole Jurek and Stan Birdsong was highly effective after the turn. Minnesota employed a number of adjustments trying to get themselves back into the game, but nothing worked as Carleton's O-line sliced through matchup, zone, and junk defenses with ease. In the end, it was an emphatic 15-9 regional victory that reinforced the sky-high potential of this iteration of Carleton.
Right to script, Minnesota was pushed into the backdoor to face #24 Wisconsin, who was aiming to extend their 20-season Nationals streak and move into sole possession of the all-time mark for the division.3 The Hodags were coming off of a surprisingly tough pre-game-to-go against in-state foes Milwaukee, where they needed a 4-1 run to close the game and earn the 15-13 win.
Wisconsin also fell behind Grey Duck, giving up two first-half breaks to set up an 8-5 halftime score. Not wanting to be the squad who broke the Nationals streak, these Hodags responded with their signature grit to start the second half, earning three straight goals to bring the game to even at 8-8. But it was not to be for Wisconsin. After a quick strike huck hold from Jurek to rookie AJ Larson, Minnesota's Daniel Meiland came up with a flying layout block to set up a break that started a four-goal run to put them too far ahead for the Hodags to muster another return. Grey Duck dispatched Wisconsin by a count of 15-11, halting the Hodags streak and bringing their own Nationals run to five straight.
Northwest
Brigham Young
Washington
Oregon
British Columbia
Utah
The bid-rich Northwest may have had a division-leading number of available reservations at the Nationals restaurant, but it still wasn't clear who exactly would be in the dining party. The deep region's top-tier clubs seemed relatively evenly matched, and even after they claimed their spots, there would be one remaining with plenty of worthy candidates. And that's the way it played out, with the big three of #2 Brigham Young, #6 Washington, and #4 Oregon comfortably advancing, while #20 British Columbia emerged from the competitive second-tier ahead of contenders Oregon State and Utah.
Top-ranked Brigham Young has waited a long time to prove themselves as the region's best, though the format somewhat blunted their opportunity to fully demonstrate their dominance. Their top seed was hard-earned through regular season success, but it meant they would secure a seat at the Nationals table simply by topping their pool — without having to face either of the region's other top programs. In contrast to their bruising style of play, they deftly danced through Pool A without much resistance — no opponent put up more than seven goals against CHI through five rounds.
Once they faced off with Oregon in the regional final, BYU proved ready to make their statement. One of the best D-lines in the country came out firing, starting the game with three straight breaks thanks to blocks from Taylor Barton and Callahan nominee Devon Terry, though the defensive pressure was stifling in nearly every matchup. The quick start gave Player of the Year Jordan Kerr and the O-line all the cushion they would need. CHI kept up the focus and intensity through the entire game, pulling away for a 15-10 wire-to-wire win, which never felt in doubt. They were unquestionably the strongest outfit in the Northwest and are firm title contenders, heading to their first-ever Nationals with just a single loss on their spring ledger.
Like BYU, Oregon and Washington had little trouble dispatching the other teams they faced. Unlike BYU, very little separated them from one another. Both their pool play and second place contests were fierce, taut affairs, despite neither standing as guillotine matches. Oregon picked up the victory in the first matchup, topping their neighbors to the north 15-13 in a pool play game dominated by Will Lohre and Xander Cuizon-Tice. That win locked up their Nationals bid early and earned them the right to face BYU in the final.
But Washington got the last laugh, taking the double game point win in the rematch and the second spot in the region, likely propelling them to the top of a pool at Nationals. Derek Mourad had a standout game in the placement match, piling up three assists, one goal, and a pair of blocks as the anchor of the D-line. Washington earned a huge lead, up six as late as 13-7, with the combination of Porter Jones and Tony Venneri disrupting Oregon's most important offensive player, Ted Sither. As impressive as earning — and defending — their lead was, it's equally as concerning to see them nearly squander it. Oregon deserves a healthy helping of respect for battling back behind strong play by their lesser-known contributors, like Duncan Fitzgerald, Colby Chuck, and Noah Coolman. Both teams are deep and talented, and look the part of semifinalist contenders.
Meanwhile, British Columbia, Utah, and Oregon State traded wins and losses creating a three-way tie in Pool A, but it was Zion Curtain who fought their way into the second-place bracket on point difference, ensuring that at worst they would have a shot in a game-to-go without needing to fight through the dangerous backdoor brawl. After getting trounced by Washington, Utah awaited the victor from the Thunderbirds and Oregon State, who met in the game-to-go to the game-to-go. UBC was down 8-7 at the half, but came roaring back, scoring the first six goals of the second half en route to a 15-11 win that served as a launching pad into the fourth-place match.
The start of the game-to-go was sloppy, as neither team could connect on their deep shots, but kept trying anyway. Turn-heavy points allowed each D-line to land multiple breaks in the game's opening stage, though this time the Thunderbirds went into half up 8-6. Whoever gives British Columbia's halftime speeches has a future in motivational speaking, as just like the round before, British Columbia looked like a different team in the second half. With the outcome very much in doubt at 9-8, something clicked for UBC and they reeled off four straight to put the game out of reach. Utah eventually managed a couple clean holds, but couldn't get the disc off a finally confident Thunderbirds offense. The 15-10 win earned UBC their first return to Nationals since 2017, though it's the fourth straight year the region will be sending a Canadian representative to the College Championships.
Ohio Valley
Ohio State
Pittsburgh
Temple
Case Western Reserve
Cincinnati
After a regular season that continued to establish #10 Ohio State Leadbelly and #8 Pittsburgh En Sabah Nur as the titans of the Ohio Valley, the Regional Championships only confirmed what we knew. The pair carved their way through the regional chaff as if armed with machetes. Their destination: a regional final against one another. Pittsburgh had won all but one title in the region's eight-year history before last spring, when Ohio State finally unseated them in the regional title bout. Both squads have high expectations for the 2020 College Championships and were itching to take the first step in their regional final rematch.
After largely serving as passengers while their defenses torched every team that crossed paths their paths before the final, both offenses came into the game a bit sluggish. Unforced errors from both sides — an Ohio State drop on an under and a reset to nobody after backfield confusion for Pittsburgh — set up D-line scores that kept the game on serve to 3-2. But then Pittsburgh's defense turned up the dial, starting with a skying Will Helenski block and eventual Michael Ing goal after both O-liners crossed over. That started a run of three straight breaks that saddled Leadbelly with a four-goal deficit, trailing 6-2.
Much of the game felt guided by how effectively Pittsburgh could contain Sion Agami, Lead's king on the chessboard. A rotating cast of defenders — Marcel Oliart, Myles Cooper, Harry McNamara, and more — and some timely poaching swarmed Agami's endless unders and uplines. The star cutter looked visibly frustrated as he and the coaches tried to work out a counter.
But they eventually found something that worked. After a quick huck score to Zach Braun to make it 6-3, Agami joined his brother Axel on the D-line, where Axel stuffed Kevin Tsui for a handblock and Sion quickly converted the break. On the next point, a stall against Leo Warren was upheld by the observer, despite vehement Pitt protest, and another break went up on the board. It wasn't long before the score was back to 6-5, but the teams traded holds to an 8-6 half.
Pitt came out in the second half with renewed energy, opting into various zone looks that sapped the pace from the Leadbelly offense, from both lines. They scored on four of the first five points, and the game looked over when Oliart caught a Warren hammer to make it 12-7. But the tables turned again, with Ohio State flying around and forcing tough plays out of the Pittsburgh offense that they often couldn't make. Noah Krumme was a force on both sides of the disc for Leadbelly, getting a spectacular goal-line block on one point and hitting a pinpoint back-shoulder huck to Alex Rudy on another. Lead poured in six straight to earn a 13-12 lead before Pitt finally punched in a hold when Dan Goldstein tracked down a deflected huck.
Leadbelly sewed it up behind who else but Sion Agami. He churned out multiple unders and tossed the secondary assist that set up Chase Gregory to Jack Engle for an emphatic hold, stayed on for the ensuing defensive point, and slid an around backhand to Tim Harmody for the title-clinching break.
Flustered and disappointed by their collapse, Pittsburgh stumbled through their game-to-go against a dialed-in Temple team. Throughout the first half, Jake Butrica was asking questions that the OV powerhouse just didn't know the answers to, and Temple took the 8-7 lead at the break. But the beast awoke in the second half, snuffing out Alert's hopes with some ferocious defensive possessions and imposing skies. The Program closed things out on a 6-0 run, with a final count of 15-9 earning Pittsburgh their deserved spot at Nationals.
South Central
Colorado
Colorado State
Texas
Texas Dallas
Missouri
As usual, the South Central region was not without its surprises this weekend. The 2020 edition of Regionals featured perfect weather conditions, an intriguing Cinderella story, and a showdown for the final bid featuring not one, but two hotly contested universe-point bracket games.
Results went generally according to plan on day one in pool play. Each top seed in the four pools won all three of their games by significant margins, the closest result being a confident 15-11 victory for #23 UT-Dallas Woof over no. 5 seed Oklahoma State Ultimato. That set up the expected semifinal matchups between UT Dallas and top-seed #3 Colorado on one field, and between #16 Colorado State and #25 Texas on another.
Mamabird, coming off a title at Stanford Invite and bursting with talent up and down the roster, took care of business all weekend, including a 15-8 drubbing of the upstart Dallas squad despite the efforts of Wesley Miaw, who was one of the best players on the field. The other semifinal was a different story. It was tight throughout, but the veteran leadership of Will McDonald and Sean Peskin on Hibida's D-line allowed them to stay neck-and-neck with Texas' own stiff defense, setting up a massive double game point that would decide which team was looking at two chances to reach Nationals and which would need to win three straight backdoor games to earn a trip to Milwaukee. With all the chips on the table, Mo Scott hung a huck up to Peskin, who came down with a huge sky over Matthew Armour and Colorado State pulled out the victory, a huge boost to their quest to reach their first Nationals since 2017. Meanwhile, Texas was looking at a long road through the backdoor bracket to fulfill their dreams of a third-straight Nationals appearance.
Meanwhile, in the second place bracket, rumors were spreading around the field complex that a certain Plains-area state school was making a run. That's right, no. 14 seed Missouri — a team that failed to qualify for Regionals last year — suddenly found themselves in contention on Sunday. The bottom seed in Pool D, Mizzou scored a hard-fought 15-14 upset over Texas State to make the bracket, where they built on that momentum with a surprising 15-10 win over familiar foes WashU Contra. Next, they took down border rival Kansas in the first Sunday round, leading wire-to-wire in a 15-11 win. Sadly, the dream run finally ended at the hands of UT-Dallas. After jumping out to a 3-0 lead, Missouri ran out of magic, giving up the next nine straight points en route to a 15-8 loss and a T-5th finish. Improbable, yes, but Mizzou had been quietly building a nice season, breaking seed at each of their tournaments and finishing 4th at Midwest Throwdown in March.
On the other side of the bracket, the play of Connor Olson and Blake Duncan carried Oklahoma State to a strong finish, easily handling their Bedlam rival Oklahoma 15-5 and then the always dangerous Texas A&M Dozen 15-8. However, their lack of depth caught up with them against Texas, who jumped out to an 8-3 halftime lead and coasted to a fairly easy 15-9 decision. Texas handled UT-Dallas smoothly as well, generating early breaks for a 4-1 start and never looking back for a 15-10 win.
In the Regional title game, Colorado quickly asserted their strength against the less-established Colorado State side, leading 4-0 before the first timeout and 8-2 at the half. Alex Atkins made the play of the tournament skying two defenders for a score, and young Bird standouts Calvin Stoughton and Danny Landesman made some heady decisions with the disc. Rather than simply pack it in and save for the next game, Colorado State valiantly made a significant push in the second half, with two separate pairs of breaks to cut the Mamabird lead to 10-9. But Quinn Finer and Conor Tabor calmly responded, and Colorado found a couple breaks of their own as they closed out the game 15-11.
The game-to-go was a rematch of the earlier double game point semifinal between Hibida and Texas TUFF. Where that first game had been a defensive rumble, this one was characterized by well-oiled offensive play, as a season's worth of practice and strategy came together for each squad. Mo Scott and Sam Goldstein were wonderful for Colorado State, whipping break throws around the stack in the rare calm South Central spring conditions. Matt Chambers and Jake Sames were equally stoic under pressure in the Texas backfield. The score was tied at 12-12 late in the game, with each team having notched only one break, when suddenly the dam broke open. Hibida's experienced defense scored a break and then another, forcing game point, but TUFF answered right back to tie it on a pretty forehand from Brian Street to a streaking Vinay Valsaraj. Both teams stacked their lines for double game point round two, but the end result was the same. Scott calmly found McDonald on an under cut, who continued down the line to John Miller, and Colorado State booked a return to Nationals in 2020.
Southeast
Alabama
Georgia Tech
Tulane
Middle Tennessee State
Georgia
The stars aligned; the winds (literally) changed; everything we thought we knew was turned on its head on Sunday. Bedlam, heartbreak, and unbridled joy — oh, and the irrepressible Alabama Yellow Hammer — won a sensational, one-bid Southeast Region.
Saturday's results were not quite earth-shattering, although they raised a few eyebrows and set the stage for what was to come. Top-seeded #15 Georgia Jojah cruised through pool play as expected, but the Tennessee-Chattanooga Swamp Donkeys handed Alabama a disconcerting loss and, even more shockingly, regional upstarts Middle Tennessee State Lightning knocked off #18 Georgia Tech A Tribe Called Tech en route to sweeping Pool B. I didn't actually catch any of that first-round matchup, but my sources say Grant Waldron went off in a big way for Lightning, easy enough to believe considering what he was able to do on Sunday. Between those stumbles, an encouraging performance from Tulane in their first day of Regionals as Tucks, and the ho-hum play of former heavyweights Florida, Central Florida, and Auburn, it felt like a changing of the guard was in the air.
Still, no matter what happened from seeds no. 2-16, the tournament was Jojah's to win, right? Eh, not so fast.
Tribe have been playing a feisty second fiddle to Georgia in the Peach State for years now. Who'd have thought their pool play loss would be the first step to getting out from under big brother's shadow? With their legs warm after taking down Emory Juice in prequarters, Tyler French, Micah Jo, Will Lindquist, and the rest of Tribe got to work for a big quarterfinal between the tournament's top two seeds. Tech caught Jojah flat-footed and rode a swell of energy to four straight breaks to start the game. Georgia's deep rookie class has all the talent in the world, but they weren't prepared mentally for the pressure cooker of bracket play a one-bid region. After the first of four timeouts captain Jon Ross Ingley called in the game, Jojah righted the ship offensively to get on the board, but it wasn't nearly enough. Tech kept up their strong air attack, essentially giving Lindquist free rein to move wherever he wanted downfield. Jojah couldn't muster more than a single break, and that late in the second half. Curtains. Game, Tribe: 15-11.
While it was a disappointing end to the season for a Georgia squad that had hung around the fringe of the top 10 all spring, Tech followed up their big rivalry win with an all-out decimation of Tulane in semis. At 15-6, it was the second-most lop-sided result of the weekend.
The problem was the team waiting for them in the final: Alabama. The squad from Tuscaloosa have been testing — and proving — their mettle all spring. The structure they had built over the last several months nearly came crashing to the ground as Middle Tennessee State (?!?) pushed them to the brink in the other semifinal.
Grant Waldron, who until this weekend was mostly famous for being the guy who fell to his knees, stunned, in the Callahandblock video, showed exactly what he could do when he stayed on his feet instead. Like Georgia Tech's Lindquist, Waldron was a dominant downfield presence for Lightning. And because he's left-handed and has one of the region's best hammers, he kept punishing defenses unused to that angle of attack. It was almost enough. But late spring gusts that had been growing in intensity over the course of the morning ensured that Lightning wouldn't quite make it over the hump. Waldron's sharpshooting was finally neutralized by the forces of nature, and Middle Tennessee didn't have enough handlers to work it up reliably through their backfield.
The winds remained high for a nearly unwatchable final between Alabama and Georgia Tech. Tech's Lindquist and Alabama's Nathan Lyle finally met their matches — each other — and neither could get the sort of traction that had been theirs up until then. But Alabama presented a matchup problem that Tribe couldn't solve: Trip Crowley. The gangly receiver scored six goals in the final, basically coming down with Lyle's and Jacob Lipford's prayers whenever they had room and calm air enough to get off a throw to the endzone. It confirmed what those in the region had feared was a missed opportunity last fall: Tribe's inability to recruit a powerhouse athlete in Connor McCarthy, formerly of D-III Georgia College, who pledged a fraternity instead.
No matter the hellish conditions of play in the final, it was a dream come true for Yellow Hammer, earning their first-ever trip to Nationals. Now it's on to Milwaukee for the victory lap.
Southwest
Cal Poly SLO
UCLA
California
UC Santa Cruz
UC Santa Barbara
For the first time since the regional redraw, the Southwest brought in more than two bids, with a trio of slots to be claimed at Southwest Regionals. While the prize pool had changed, the nature of the event didn't: a field filled with potential pitfalls in a bracket-only format. That made for another dramatic championship, albeit one where the top team, #5 Cal Poly SLO, claimed the crown and the two other bid-earners, #17 California and #21 UCLA, advanced. The ending, however, doesn't do the story justice.
With only one upset through the first two rounds, things got going once the top four seeds reached the semifinals. The as-of-yet unmentioned other semifinalists, no. 4 seed UC Santa Barbara, put the tournament on notice with a noisy opening break against SLOCORE, as a skying catch by Brice Redmond sent their sideline into fits. Even after giving the break back, Black Tide took a 5-3 lead, as SLO's inefficiency mounted against the Santa Barbara zone. But once the Cal Poly offense got their act together, Conor Schofield and Calvin Brown started grooving and put their team in front. Their D-line kept them there for a 15-13 victory.
Meanwhile, Cal and UCLA tangoed tightly, in lock-step with one another for much of their semi. While each team went on small runs, points were tightly contested. That changed when Jace Brunner interrupted a reset to knock it 15 yards backwards for Tommy Lin to jump in for an unlikely Callahan. The defensive goal pushed the lead to 13-11 and UCLA folded there.
Whatever ailed Cal Poly SLO did not abate in the final. They repeated the pattern of digging a first-half hole, despite seizing the game's first break for 2-1. Against a shifting set of zone defenses, the SLOCORE offense again got discombobulated, with miscommunications and odd throwing decisions. After coaxing out turnovers, Cal's Chris Lung's powerful and aggressive shots either earned or set up UGMO breaks or reset the field for the Cal Poly offense. The Berkeley club was able to get up 6-3. But SLO found their footing and their defense began dictating the Cal offense. Justin Ting, Jake Thorne, KJ Koo, and Chris Kaspar seemed to be everywhere on defense; Thorne also continually got free downfield, scoring four times as part of a 10-1 run that effectively sealed first place for the reigning national semifinalists. A turnaround from a 6-3 lead to a 15-11 final score is no common sight.
The second place final came down again to UCLA and California. Smaug barely survived UC Santa Cruz in the backdoor on their way to this game-to-go, but looked confident after handily dispatching UCSB. Give credit to UGMO for recovering from their final collapse; they didn't look too rattled. UCLA's 8-5 halftime lead came from some tremendous athletic plays rather than UGMO giveaways. And yet again, smart defensive adjustments and discipline got Cal into the driver's seat, helping earn back-to-back breaks to tie the game at 12-12. They even got a shot on double game point, but a run-through block by Luca Spycher got the UCLA O-line the disc back. They rammed it into the end zone on a fast break to Spycher for the freshman bookends to send UCLA to Nationals.
After two disappointing losses, California now faced a third-straight game to go, finding themselves matched up with UC Santa Cruz. The Slugs were hot, coming off a tremendous comeback to beat Black Tide and extend their season. But they couldn't find answers for Janssen Tan and Munis Thahir, who connected frequently as Cal built an 8-5 lead. The gap expanded to four goals at 11-7 before the divine forces that make Southwest Regionals dramatic saw fit to intervene. Thahir rolled an ankle and the Cal offense hiccuped. Santa Cruz started crossing over more offensive firepower, and Aidan Curry, Aaron Kees, and Kai Schneidergers found a lot of success.
With Cal leading 13-12, Thahir returned to the game for an offensive point. While he wasn't as dominant as he had been earlier in the game, his presence seemed to settle the nerves of his teammates. Glenn Wysen Jr. and Tan led the UGMO offense through a Santa Cruz zone for a hold. A quick huck score to Schneidergers sent the Cal offense back onto the field with a chance to hold for a return trip to Nationals. This time, they didn't waste it. A possession-saving layout from Wysen Jr. highlighted a point with a litany of stoppages, but no changes of possession. Lin found room at the front cone for a short throw from Tan and the final bid from the Southwest was claimed, a 15-13 Cal win the final result.
The Simulated Nationals Field
North Carolina Darkside
UNC Wilmington Seamen
Michigan MagnUM
Connecticut Grind
Massachusetts ZooDisc
Brown Brownian Motion
Carleton CUT
Minnesota Grey Duck
Brigham Young CHI
Washington Sundodgers
Oregon Ego
British Columbia Thunderbirds
Ohio State Leadbelly
Pittsburgh En Sabah Nur
Colorado Mamabird
Colorado State Hibida
Alabama Yellow Hammer
Cal Poly SLO SLOCORE
UCLA Smaug
California UGMO
---
Although our writeups do include halftime. ↩

Carleton Syzygy carries the streak in D-I women's with their 2020 regional title; Dartmouth Daybreak failed to win their sixth straight this season. ↩