Most ultimate players will experience rejection at some point in their career.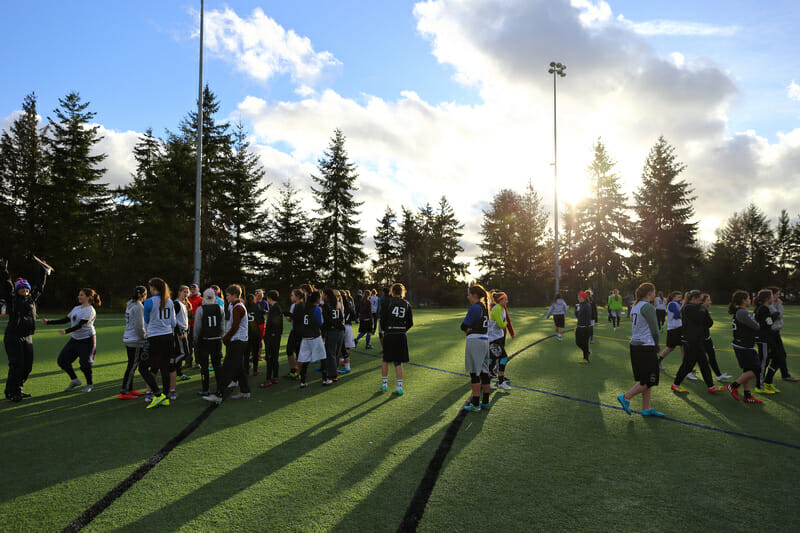 Tuesday Tips are presented by Spin Ultimate; all opinions are those of the author. Please support the brands that make Ultiworld possible and shop at Spin Ultimate! 
This article was written by Mary Timmons and submitted as part of our Tuesday Tip Jar program.
Getting cut from a team isn't new to me. I once tried out for a travel softball team in the seventh grade, and when I found out I didn't make it, I cried so hard that my mom let me stop studying for my math final (big mistake). I can count on both hands how many teams I missed out on. The first experience I had with a "cut system" was in third grade, when I wasn't picked to play soccer. In my head, I told myself I wasn't chosen because the coach's daughter was jealous of me. Looking back, I remember sitting on the sideline complaining about the Connecticut heat. Who would take that girl? From a young age, I have dealt with this rejection inappropriately. I made excuses, burned bridges, and let my ego decide my next actions. When I was growing up, I didn't have anyone sit me down and say, "Hey, you didn't make it because you don't have these skills."
I assumed the problem wasn't me. Instead, it was the decision-maker who had gotten it wrong. 100% not the case.
When I first started playing ultimate, my college club sports program had a no-cut system. If you could pay, you could play. My team wasn't phenomenal, but we won a few smaller Midwest tournaments and always had great team dinners at Olive Gardens across Ohio and Indiana. When I started playing club the summer going into junior year, my captains were my college coaches. I didn't play a lot, but I was 20 and couldn't throw a flick. As a club captain now, I wouldn't have played me either. As I went through different club teams, I never received criticism, let alone a rejection.
That changed when I went out for a Premier Ultimate League team this past winter. I couldn't tell you whether it was my competitive spirit or lack of dating life that made me drive three hours to play frisbee at 10:00 PM. But there I was, caffeinated and hungry to play, but more hungry for a snack. And I was cut for the first time in my ultimate career.
You know what? I absolutely relished in that feeling. I received the email, saw the rejection, and said to myself, "You got cut. Time to get moving." I hadn't felt that kind of drive in my entire life. The next day, I signed up for the Flying Pig Half Marathon. The following week, I was creating summer goals. Luckily, many of the wonderful ladies who did make the team played on club teams I regularly compete against. I told myself, "Get so good that when you play them, they doubt their ability to beat you next year."
As this is a Tuesday Tips, here are some I have for productive rejection:
You are still an athlete. Don't wallow in self-pity for longer than a weekend. Call your mom, best friend, partner, etc. and complain for as long as you need. But when Monday hits, get yourself back out there.
Ask for feedback. Ask for feedback. Ask for feedback. How can you get better if you have no idea where to start? Email the coach or captains and ask for pointers. More often than not, they are open to helping you.
Set monthly goals to stay on track. If you know when try-outs happen each year, create goals that build up to them. Make sure they're specific, tangible goals (be SMART!)
Play as much frisbee as you can. Well, this one's tough right now because of COVID. For now, try doing some of these socially distanced activities. Or play disc golf. When ultimate comes back, if you are fortunate enough to have a robust local organization like I do, there are leagues to play in. In the fall and spring, I try to play twice a week. Don't lose the feeling of playing.
Don't quit. The worst thing you can do is to stop altogether. One team, one time, told you no. That doesn't apply to the rest of the ultimate community. Pull yourself up by your cleat laces, and keep moving.
Keep trying. Michael Jordan was cut from his basketball team in high school. If he stopped playing, we wouldn't have all the funny tweets about his "Last Dance" documentary. Show up next year with hunger and ferocity that cannot be outmatched.
I have noticed through this process that I play with a chip on my shoulder, an edge I didn't have before. I do not float through ultimate without purpose like I used to. Every day, I better myself for the next go around, but this time, I plan on getting it right.
This article was submitted as a part of our new Tuesday Tip Jar program! Submit your own Tuesday Tips to our Tip Jar to win a free subscription and even become an Ultiworld writer.