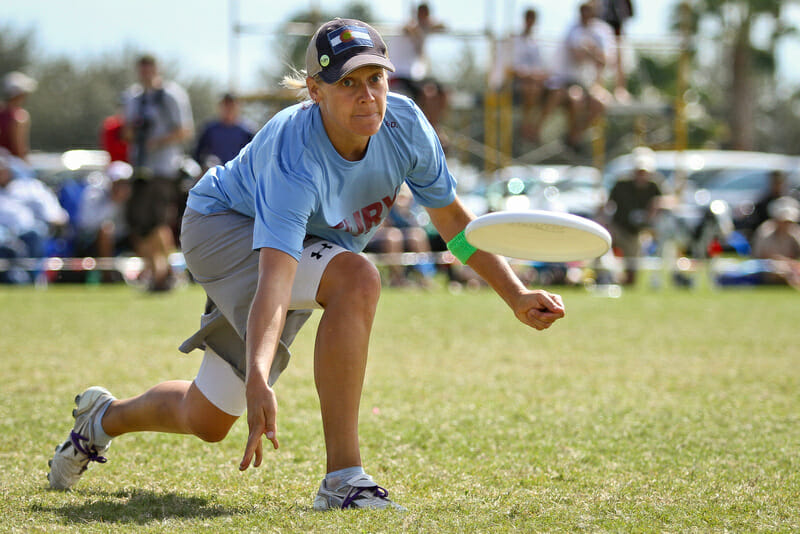 Tuesday Tips are presented by Spin Ultimate; all opinions are those of the author. Please support the brands that make Ultiworld possible and shop at Spin Ultimate! 
Being stuck home alone can be tough. Passion for ultimate can be addictive, and it is not hard to feel the effects of withdrawal, especially when you're alone and unable to play.
Here are 50 ultimate-related things you can do to have fun, connect with others, and improve yourself, even when you're stuck home alone.
1. Do 25 pushups every morning
There's no better way to start the day with physical prowess on your mind than to wake up and do some pushups. It works on core stability, arm strength, and gets you hyped up for the day.
2. Do 2 minutes of planks every morning (or other core exercises)
Don't want to do pushups? Want to do even more than just pushups? Why not work on your core before breakfast? It'll wake you up and get you hungry for more.
3. Single leg squats every day
The single leg squat is the holy grail of exercise, but it takes a while to learn and it isn't sexy enough for most people to throw into their workout routine. Do 15 each leg every day — there are progressions to work through — to improve balance, knee stability, and prevent injury (seriously this thing makes tendinitis disappear). 
4. Start a daily stretching program or routine
Another extremely important ritual ultimate athletes rarely make time for. What better time to actually work on flexibility? Spend 10 minutes a day on mobility. You can try yoga or pilates if you want more active work — there are plenty of free resources online.
5. Practice throwing inside at couch or blanket 
Even in limited space and in bad weather, you can throw inside. Get a stack of discs, set up a pile of couch cushions or a hanging blanket, and throw from your knees to help your form, torque, and snap.
6. Practice throwing outside at target 
The same concepts can be applied to outside throwing if you find a tree or a target (soccer nets are great). Add in variations (throwing with fakes, from single leg balance, different angles, and more) to make throwing by yourself productive.
7. Practice throwing big hucks or pulls for distance
If there was ever a time to work on pulling or hucking form, this is it. Find a large field and try to add those ten yards to both your forehand and backhand.
8. Try trick shots or a virtual game of HORSE
Make throwing fun as well by trying some trick shots, create-your-own-disc golf challenges (lefty over the tree before going into the garbage can is great) or maybe even set up your own virtual video challenge of a game of horse just like some of the pros are doing.
9. Play solo flutter guts
A fun game with useful skills, toss fluttering discs up to yourself and try to catch them one handed. Like spinning a disc on one finger or teaching yourself cool flips to yourself, there is a benefit here: train your hands to be mini ultimate ninja masters.
10. Execute fakes
Fakes are actually something that can be practiced, whether it is a simple as switching grips and pivoting quickly and fluidly, or as advanced as your next shimmy fake out.
11. Watch ultimate documentaries
Most people have heard of them (or even donated to them on Kickstarter), but have you seen them all? Well if so, rewatch! Some great ones include: Chasing Sarasota, The BluePrint, I Bleed Black, or Flatball. Somebody made a full list of frisbee documentaries with links to where to find them!
12. Watch old game footage like a fan
Either game footage of yourself or of others, it can be fun just to pull up a game (especially great if you've never seen it or forgotten it), grab some popcorn, and enjoy the action, rooting for one side or the other. There are well over 1,000 games in the Ultiworld subscription.
13, Watch old game footage like a player
On the other hand, it can be fun and productive to watch game footage keying in on specific players. Don't worry about the disc, but follow them, try to anticipate and analyze what they are doing and make mental notes for your own improvement.
14. Watch old game footage like a coach
A final style is to look not at single players, but at big squad strategy. Ask questions of yourself or pretend to be a post-game analyst: how and why did one squad win?
15. Read old articles
Sounds tired, but it is actually a classic way to improve. The mines of Tuesday Tips are fairly deep and there is gold buried there.
16. Read ultimate-related books
There are more and more of these out there (fiction, nonfiction, self-help, and humor), and if you've never given them a try, you really should. The Ultimate Outsider (cue shameless self-promotion), Ultimate Glory, Ultimate: The Greatest Sport Ever Invented By Man, or the OG: Ultimate: Techniques and Tactics. 
17. Reflect on yourself
Do some good old fashioned thinking (and writing) about your own abilities. Try to be objective and imagine a coach or scout considering you; what would they say were your strengths and weaknesses? Write them down!
18. Reflect on your past teams
Think bigger picture and reflect on a team (or teams) in general, breaking down strengths, past successes, shortcomings, and failures.
19. Create goals
Creating and tracking SMART goals is something that not enough ultimate players do. Create good goals for your offseason or next season.
20. Create a daily activity or workout log
What better way to document your time, track your goal progress, plan ahead, and hold yourself accountable?
21. Create an ultimate podcast (or listen to an existing one)
There are some great podcasts about ultimate out there, but there is definitely room for more! What would yours specifically be about?
22. Create ultimate videos (or watch a few)
There is not nearly enough video content out in the universe either, and while there are several individuals doing cool things or talking about ultimate, you could add your name to the list.
23. Create a social media platform for serious ultimate
If you've never developed a website or Twitter account for yourself or your team, maybe this is the time. Spread the viral love for you, your squad, and your sport.
24. Create a social media platform for ultimate humor
There are some hilarious ones, but they are dying out (RIP Mean Machine), and we deserve many many more.
25. Develop a meal plan and cook it yourself
A valuable skill that will help you win at life and in health.
26. Seek 1:1 feedback from past teammates
This is such a good idea and now many people have the time for it. Players are always clamoring for feedback, so reach out to past teammates, set up a video call, and ask for honest feedback on your play.
27. Seek 1:1 feedback from past coaches
Even more likely to be on-point and useful, if you have had coaches in the past, ask them to talk with you, plan with you, and maybe even analyze video with you to make you a better player. 
28. Give feedback (if asked for) on developing players (or vets)
Don't go around writing blogs flaming past teammates, but do make it clear that you are willing to give feedback to players you have coached, played with, or helped to develop. They might be appreciative. 
29. Reach out to ultimate "enemies" or start a comment chat
Maybe this is the time to build bridges with old ultimate rivals or talk to players on teams you've never associated with before? Or maybe this is a great time to start the next great ultimate debate to bring back the glory days of RSD.
30. Make new ultimate friends
Social distancing can be hard, but there are also opportunities. Be bold and try to reach out to "meet" new people — invite others to a group video party or a meal/dinner date.
31. Scout opposing ultimate teams 
Check out video and learn every player's name and abilities, every pull play, every defensive set. Start your secret files so you'll be ready when you face them.
32. Create new ultimate sets or plays 
Create something new for yourself by coming up with zones, defensive schemes, or even simple plays that you want to try next season. Make your own playbook!
33. Record or archive your past ultimate life
Relive your past ultimate glory by journaling, blogging, or taking notes about some of the ultimate-related experiences in your life.
34. Develop new ultimate cheers
This is an underrated use of time, considering most cheers aren't very clever. We expect to hear some very good ones come next season.
35. Develop new ultimate dances
Work on honing synchronized warm-up moves, timeout related dance battles, and other coordinated routines. Several video practice sessions may be in order for perfect coordination, but it'll be worth it.
36. Design your hypothetical dream team
It can be fun to while away some time either alone or with friends building your ideal dream team of ultimate players for the next World Games or, dare I say, Olympics. 
37. Design your realistic dream team
Take players you know and create what you think would be the perfect series of lines for any critical situation.
38. Design new ultimate swag/uniforms/gear
Another perfect chance to use this time wisely is to design really cool gear or uniforms. If you aren't talented in this area, reach out to those who are and help workshop ideas!
39. Design your own unique set of experimental rules
Ultimate is a marvelous game, but it can definitely be fun to create your own unique version (whether serious or comical) to try out in the future.
40. Design your own unique ultimate tournament
Maybe you've always wanted to host a tournament and have had passion ideas, but no time to organize? Now that is here! Or maybe you just have some really brilliant thoughts on how to change the format of ultimate games and competitions in general!
41. Learn the rules! Or prepare to become observer certified
Start the process by really examining everything you know about the official rules of ultimate, and then consider whether you want to take the next step to becoming the rules guru for your team or for tournaments in the future.
42. Become a certified youth coach
There are processes in place depending on the organization, city, or school you want to work in that often require video modules, online training, and occasional tests for certification. Be productive and get this stuff out of the way to help others in the future.
43. Make up a new ultimate related game
Mini games in timeouts or tournaments can be half the fun of the experience, so why not invent something weird, silly, or competitive of your own?
44. Make up a new ultimate board or card game
Ultimate is a cool enough sport that it deserves some kind of table-top version, even if it isn't quite as amazing as the original. Maybe an ultimate RPG, board game, or trading card version? Or if you have the skills, code a video game version!
45. Make up an ultimate related crossword puzzle or word search
Trust me: this is way more fun than it sounds. It works your brain in unique ways and you can share the love with others by giving them the joy of trying it when you're done.
46. Make an ultimate related puzzle
Ultimate picture or drawing + glued to cardboard + cut into a thousand pieces = cool puzzle. For yourself or a future gift.
47. Make an ultimate financial plan for you or your team
Saving money in ultimate can be challenging, but if you find ways to do it or make good plans for budgeting, fundraising, and spending in the future, you and your teammates will be grateful.
48. Volunteer your current or future time to teach or help
Your time is your greatest gift to those who need it most. Volunteer to teach, help, or guide kids, young players, or teams in need with ultimate either now or in the future (or both). No better time to take the leap!
49. Create a virtual discussion panel, clinic, seminar, or lecture 
Discussion panels or guest speakers on some of the hot issues in the game right now are great uses of time, especially if you can get virtual conferences or clinics set up with people interesting in talking, debating, or learning from someone with wisdom.
50. Create a schedule that balances family, friend, and ultimate time
It may be bittersweet, but you can actually make plans for the future with your friends, family, and ultimate teammates on things you want to accomplish. Do it thoughtfully to give time to everyone and hope for the bright days ahead.
***
And there you have it! 50 (phew) ultimate ideas for when you're stuck home alone. Now you can't complain about being bored.
Submit your own Tuesday Tips to our Tip Jar to win a free subscription and even become an Ultiworld writer.