Many teams who train to compete aren't yet training to win.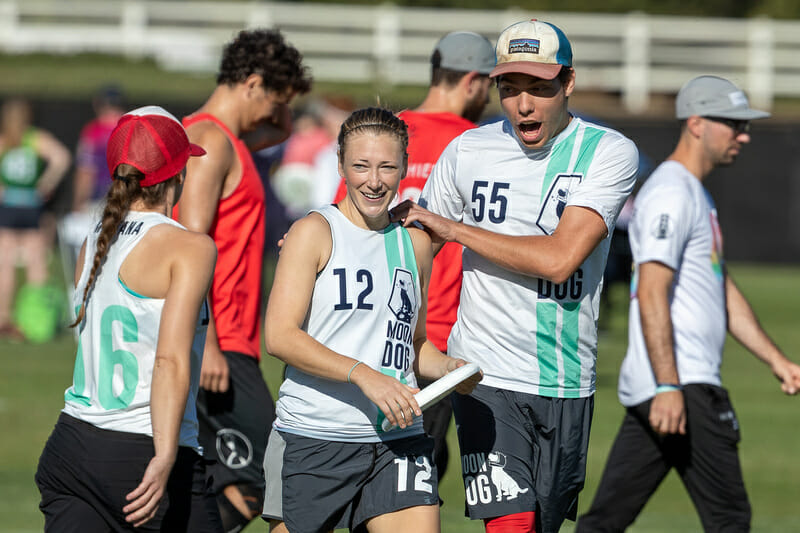 Tuesday Tips are presented by Spin Ultimate; all opinions are those of the author. Please support the brands that make Ultiworld possible and shop at Spin Ultimate!
Some teams are the strongest in their region and have little opposition during their regular season. Therefore, when it becomes time to perform in a larger tournament, it can be a real challenge to reach their true competitive potential without many prior opportunities to play teams at their level. Why is it so difficult to excel in big games when you haven't had too much opposition during your season?
One reasons might be that your team hasn't had the opportunity to train their winning mindset. In this article, I will give you my best tips to help you train your winning mindset, which is key to excelling in close games.
Four Steps in Your Athletic Journey
As you develop as a player, you go through different stages in your athletic journey, as described in the Long-Term Athlete Development Framework.
Here are four stages that I find very useful in my coaching:
FUNdamentals
Train to Train
Train to Compete
Train to Win
At the "FUNdamentals" stage, you discover ultimate and it becomes a real passion. You play for fun while developing basic skills at the same time. At the "train to train" stage, you become more engaged in practicing your sport and develop more advanced physical, technical-tactical, and mental skills.
Many players and coaches reading this article might be at one of the last two stages. But the thing is, many who train to compete aren't yet training to win. Making that leap from the third to fourth steps is what makes the difference between a good team and a great team.
The Difference Between Training to Compete and Training to Win
When you train to compete, you start the game with the intention of doing things right and playing at your best in every area of the game — mental, physical, technical, tactical.
Your main focus is on executing your technical and tactical skills well, while also working on maintaining composure in the face of adversity. At this step, you learn to set goals for practices and games, to focus on the right things without getting distracted, to make good decisions under pressure, to get the right positioning on defense, to throw with different kinds of marks, and so on. You also learn to apply basic strategies in games.
When you train to win, you start your practice or game with the intention of being efficient, keeping composure at all times, and doing every little thing that will increase your chances to win.
Your main focus is on mental and tactical strategies. Before games, you observe players and teams, and you make plans to neutralize specific opponents. At this point, you become very adaptable: you can adjust your mark, your throws, your positioning, and your tactics to gain an edge on your opponent.
At this stage, you also spend time working on the details that make the difference – defining your strategies for "bad calls," time outs, when your team falls behind or takes the lead, when there are two minutes left before the end of the game, and so on.
That being said, I want to clarify that, as a player and as a team, you must develop very solid skills — technical and tactical, but also mental — before you go from training to compete towards training to win. You can't train to win before you have mastered the "training to compete" stage.
If you train to win before training to compete, you could:
focus so much on your opponent that you get distracted.
focus too much on adapting your defensive strategy and start making mistakes while executing basic skills.
think too much about how to win the game, creating anxiety and worry.
create anxiety because winning itself becomes too important.
Does That Mean That I Should Focus On Winning During the Game?
The answer is no!
You may have already heard this well-known rule in sports psychology: to perform well, we need to focus on the process and not on the outcome. In other words, when you are on the field, you shouldn't focus on winning; instead, you should focus on the steps and actions that will increase your chances of winning. When you follow this rule, you bring your attention to what you can control, which helps you take pressure off your shoulders.
Focusing on the outcome is one of the main reasons why players feel anxious and underperform in big games. But how can we train our winning mindset without focusing on winning?
When you train to win, you don't focus on winning; you prepare yourself to win. You give yourself all the tools you need to gain an edge in the game. And when the game is on, you focus on these tools instead of focusing on winning.
How to Train Your Winning Mindset
The biggest difference between training to win and focusing on winning has to do with your mindset. When you start the game with a winning mindset, you intend to do everything that is in your power to win this game.
The winning mindset feels like:
You know your team can win. You also know that losing is a possibility. And although you hate to lose, you know that if that happens, you can face it without collapsing and without losing your self-confidence.
Most of the players who tend to underperform when the stakes are high are the players who try to avoid losing or making mistakes at all costs. For them, playing a game is a do-or-die kind of battle. Why? Because they associate winning and playing well with being a good player, and losing and making mistakes with being a bad player.
So the first step in adopting the winning mindset is to free yourself from the limiting belief that says, "What I do in games is the reflection of my value as a player."
To go to the next level and start training to win, you have to convince yourself and know without a shadow of a doubt that you are a good player. And that belief won't be shaken, no matter what happens during the game. When you start believing that you are a good player that can have good games and bad games, you become able to give your all and do whatever it takes to win the game, without worrying too much about the consequences if you don't reach your goal.
Another way to train your winning mindset is to figure out ways to play against opponents at (or slightly above) your level.
Playing against less experienced players may teach you how to focus on the process, be demanding about your attitude, and work hard no matter the level of your opponent. But it does not make you train your winning mindset.
Playing against teams that are way above the level of your team may help you become more combative and resilient. It brings you out of your comfort zone and helps you learn not to give up. But again, it does not make you train your winning mindset.
Make It Count
When you play against teams at your level, you know that if you play the game well, you can win. All the little things can make a difference, like keeping your composure after a call or paying attention to every decision you make with the disc. You become completely engaged in your team's strategy and execution.
Now you can train your winning mindset.