And we're underway!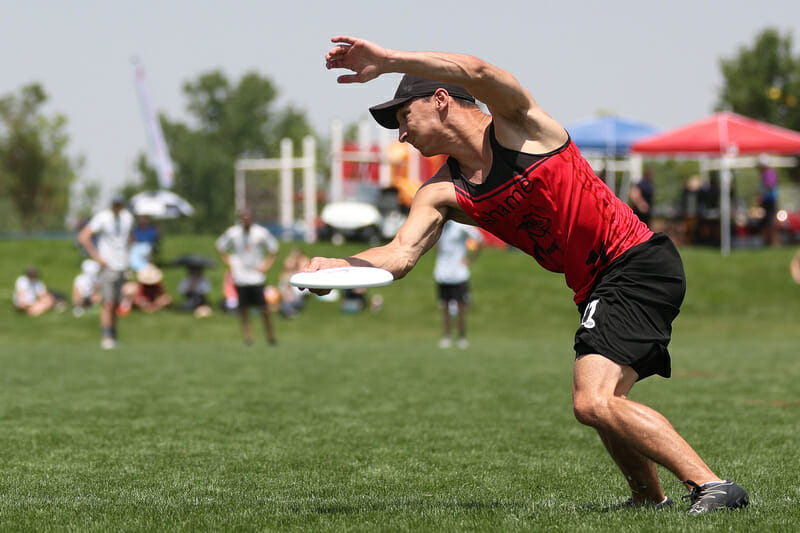 During the 2021 summer and fall season, we will publish a bite-sized weekly recap of the action across the Club Division. This will serve as a supplement to our standard tournament reporting and will offer a high-level look at the latest happenings and the biggest stories of the week. We go through the annals of score reporter so you don't have to!
Want your tournament listed here? Submit a recap of what happened right here. 
—
While the Richmond Cup headlined some early season competition in June, the club season really got underway this past weekend with the Pro-Elite Challenge in Denver. It is unusual for a major Triple Crown Tour event to be the first real sanctioned action of the year, but unusual is pretty par for the course in 2021. Still, we were treated to an early look at multiple Top 10 teams in both the men's and mixed divisions.
Want to get up to speed as the season gets going? Be sure to check out our division primers (Men's, Mixed, Women's1 ) and keep an eye out for the rosters of elite programs in all divisions as they are released.
Mixed Division
shame. Dominant in Denver, While Surprise Contenders Emerge
For those wondering if #6 Fort Collins shame.'s semifinal at 2019's Club Championships was simply a flash in the pan, think again. Even working with an as yet unfinalized roster, the Coloradans cruised through the Pro-Elite Challenge to a comfortable undefeated weekend where they knocked off four ranked teams with an average margin of victory of six and a half. If that level of domination from the top seed wasn't a surprise, results elsewhere in the tournament surely were. Double-digit seeds #25 Arizona Mixed and #23 Kansas City United both impressed in their first-ever tournaments, with the former landing a spot in the final. #9 Durham Toro continued their hot start to the season with a third-place finish, while #8 Columbus Cocktails, #13 Los Angeles Lotus, and #15 Denver Love Tractor all leave Aurora seeing their stocks drop a bit from preseason expectations.
Check out our Saturday and Sunday recaps from reporter Isabel Cruz for the full story.
Quick Hits:
Nashville 'Shine — powered by big-name women stars Jesse Shofner, Jin-Mi Matsunaga, and surprise weekend pickup Angela Zhu —outshone their opposition at Filling the Void in some unsanctioned play in Charlotte. They took down Raleigh Malice in Wonderland (including Ultiworld D-III Men's editor Mike Ball) 12-6 in the final and will make their first appearance in our Top 25 this week.
Mad Udderburn went 4-0 to sweep a round-robin of in-city opposition in the Madison Cup. Meanwhile, top-seeded Boomtown Pandas went winless.
Men's Division
Sockeye Recover from Rough Day 1 for Tournament Win
It didn't look pretty for #1 Sockeye as they went 1-2 during PEC's pool play, but when the bracket came around on Sunday, Seattle was able to turn up the intensity and earn an early-season tournament title, even without reigning Player of the Year Dylan Freechild. #4 New York PoNY was the dominant force on the first day of the event, sweeping the division's power pool, but after Jimmy Mickle tweaked his hamstring on the second point of their semifinal rematch against Sockeye, the East Coasters couldn't could hold off the reigning national champs. Taking the other spot in the final was hometown #11 Denver Johnny Bravo who completed a double over the other power pool contestant, #12 SoCal Condors. Elsewhere, Colorado Mamabird-heavy #21 Boulder Lotus proved to be the best of the rest, making easy work of pool play and playing Sockeye relatively close in the quarterfinals before comfortably claiming fifth.
For more, read our Day 1 and Day 2 recaps from the event.
Looking Ahead
Taking place nearly a month after its traditional late June spot in the summer calendar, Boston Invite is the big event of the weekend, with ranked teams attending in all three gender divisions — including the first meaningful action of the year in women's. Even without much insight on their 2021 roster, Boston Brute Squad will enter as the favorites, but an improved New York BENT or even crosstown rivals Siege could give the national champs more trouble than they are used to at their home tournament. A second reigning national champ will also be in Devens this weekend as #1 Philadelphia AMP is making the trip up to Beantown in lieu of traveling to a TCT event later in the summer; they'll battle it out with #18 New York XIST and eight Boston area clubs fighting to establish an early-season pecking order in Northeast mixed. #8 Boston DiG and #16 Amherst Sprout will renew their burgeoning local rivalry in men's.
Across the country, the largest ever Masters Championships will see nearly 100 teams face off in Aurora in six divisions (Men's Masters, Men's Grand Masters, Men's Great Grand Masters, Mixed Masters, Women's Masters, and Women's Grand Masters). Not only will the tournament crown national champs, but also decide the invitation order for next summer's World Masters Ultimate Club Championships (WMUCC). Seattle Voltron 2020, Minneapolis Surly GM, San Francisco Relics, Boston Slower, Denver Molly Grey, and Denver Molly Blue enter as the top seeds in their respective divisions.
Elsewhere:
While it's taking place just over the border in Wisconsin, the Minnesota Ultimate Disc Invitational (MUDI) 2021 brings together a number of Twin Cities-area teams in mixed and women's divisions. Regional challengers Minneapolis Bird are the biggest name on hand alongside many youth club teams.
The Royal Experience will see ten men's teams from three different regions converge in Kansas City, with pool top seeds going to Omaha Scythe and St. Louis CaSTLe. The smaller mixed division plays host to four teams from just Kansas and Nebraska, with Witchita Impact the top seed.
---
Coming soon! ↩