Condors stay aloft and Killjoys spoil Sub Zero's fun, while Machine seems to have something caught in the works.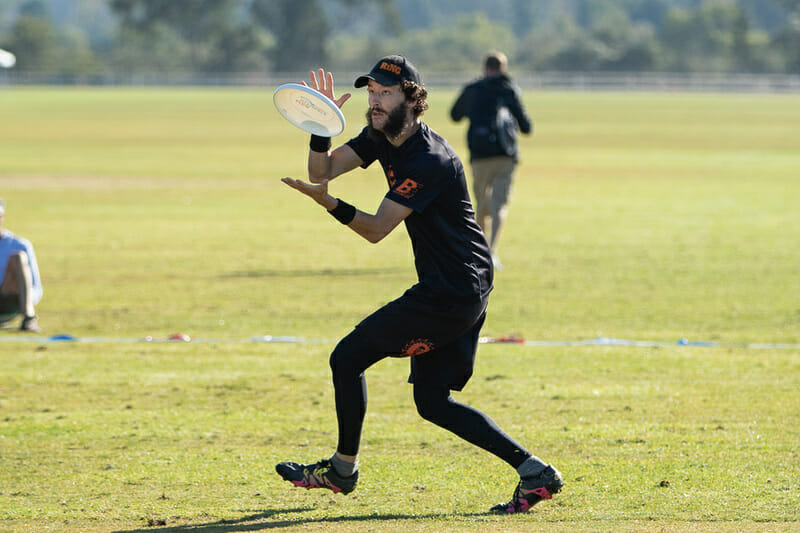 Ultiworld's 2021 coverage of the club men's division is presented by Spin Ultimate; all opinions are those of the author(s). Find out how Spin can get you, and your team, looking your best this season.
A year with no pre-Series rankings, limited connectivity between regions, and short seasons for many teams led up to an opening day of Nationals where few knew just what to predict. We're fairly sure almost no one would have predicted all of how Thursday played out, though, with early major upsets in all three divisions and more than one top eight seed eliminated before bracket play.
We've rounded up coverage of each pool and other notes from the day from our live blog. Watch ultiworld.com/live today for updates from our reporters on prequarters and quarters play, as well as streaming links for all live games!
---
Pool A
Overall Results
Round One: Seattle Sockeye 15 – 11 Pittsburgh Temper
Temper hung tough with top-seeded Sockeye, but were unable to put enough pressure on the defending champs to ever put the outcome in doubt. Seattle began their title defense at Nationals with an assured offensive performance, surrendering only a single break to no.12-seeded Pittsburgh.
Sockeye created their cushion early, going up 4-2 on a pair of breaks. In response, Temper moved Max Thorne onto the O-line, and he managed to keep the game close, getting open for emergency resets and sending sharp flick hucks beyond Sockeye's poach schemes. He would end up playing double duty across both lines for much of the game, as did Alex Thomas, who found himself on the receiving end of several of Thorne's shots.
Sockeye's offense went most of the first half without breaking a sweat. Temper tried out Brian Schoenrock on Matt Rehder, but Sockeye's big man dragged the former Drag'n Thrust stopper around the field.
Temper trailed 8-5 at half, but managed their only break of the game right out of the restart. Dylan Best got a paw on a bobbled Dylan Freechild disc, and the Pittsburgh D-line made the best of a rare opportunity. Sam Van Dusen laid out to save possession on a swing just outside the end zone, then rifled a flick to Thomas for the goal.
8-6 would be the closest Temper got, however, as Seattle's offense was flawless the rest of the game. Sockeye didn't bat an eye after the break, going back out and putting in a smooth hold with Bryce Dixon coolly moving his mark on the goal line to open up an easy dish to DY Chen to make it 9-6. It was easy going from there, as Sockeye never turned it again and notched their first win of the tournament 15-11.
Round Three: Seattle Sockeye 15 – 9 Portland Rhino Slam!
Sockeye turned a nailbiter into a blowout in the span of about 15 minutes to win Pool A. With the score on serve at half, Seattle's defense found a gear Rhino couldn't match in the second half and surrendered only two second scores to their Northwest rivals.
Each team got broken on their first offensive possession and the energy was high, with each D-line getting a taste of success. Both offenses were having trouble cleaning out the force side lane and ended up attacking deep as a result. Rhino's Daniel Lee swiped a hammer away from Ben Snell for a hold, and Sockeye's Matt Rehder returned the favor on the ensuing point, skying Lee a dishing for the score.
Sockeye looked to have seized the momentum with a break, but Rhino broke back after Simon Montague tried to squeeze and around backhand into too tight a window on the breakside cone and Wyatt Paul drive Rhino the other way to tie the score at 5-5. Neither team could dislodge the other from there, even when Sockeye brought Dylan Freechild over to defense in an attempt to shut down Raphy Hayes. Freechild took his eye off Hayes for a split second while trying to poach an undercut, and Hayes took him deep.
Coming out of halftime, Seattle ratcheted up the defensive intensity and Portland couldn't cope. It was an across the board, suffocating effort from Seattle's defense across every level of the field. Clamps on any under cuts, handler covers pushing play upfield into the mixer, and rotating coverage over the top of the defense. After an initial break out of half, Rhino sent out a universe line to stop the bleeding which it managed, barely. Seattle quickly held and from that point the D-line was off to races, breaking on five of the next six Portland offensive possessions.
Round Three: Boulder Lotus 12 – 11 Pittsburgh Temper
In a loser-go-home elimination game at the bottom of Pool A, Boulder Lotus held off a late run from Pittsburgh Temper to clinch 3rd place in the pool and advancement into the bracket on Friday.
It momentarily looked like Lotus would run away with it, building an 11-7 lead. But Temper fought back hard, scoring three straight points to take the game to universe at 11-11. Pittsburgh was playing a tight rotation, relying heavily on Pat Earles, Thomas Edmunds, Max Thorne, and Alex Thomas to play both ways. At 11-9, both squads looked gassed, and Temper were able to survive a long, multi-turnover point to keep the game alive.
Lotus's offense had just given up two straight breaks and were facing elimination, but they composed themselves and converted a clean hold to survive pool play and advance to the bracket.
Other notes:
Leandro Marx was not present for Rhino's games on Thursday. He joins the team Friday and will be ready to play.
Trent Dillon was ruled out during Sockeye' 14-11 win over Boulder Lotus, with hamstring troubles. It was unclear whether he will be able to return to play later in the tournament, but he was ruled out for the remainder of Thursday.
Standout players in this pool: Matt Rehder (Sockeye)
---
Pool B
Overall Results
Round Two: SoCal Condors 15 – 9 Chicago Machine
The first major bracket-shaker of the Men's division came in the second round of play, as Condors shocked second seeded Chicago Machine.
Machine's offense looked rattled from the start, unable to cope with the wind and the proactive play style of Condors. The Machine handling core in particular had a truly rough go of it, with Condors getting several blocks in the handler set, leading to some nervous drops and bobbles from Machine's handlers under pressure. Pawel Janas did not have his usual command of the backfield, and had multiple turns that lead to short field upwind Condors breaks.
After a couple shaky holds to start the game, the Condors O-Line settled into a rhythm, pushing players into the deep space to pull Machine's defenders away from the disc.
"We just didn't throw into poaches. Which is different from the regular season, where everyone just throws into their stuff," said Condors handler Calvin Brown. Brown shouldered much of the throwing responsibility on the D-line for SoCal. He tallied a substantial turnover count, but it was the price to pay for the dynamism he brought to the defense, and he punctuated his performance by tossing the winning assist.
"Just have to hope we aren't Chain," said Brown after the game, referring to Chain Lightning's first-game upset of Machine last Nationals, a false start for both teams as Machine went on to make finals and Chain ended up missing the bracket.
Chicago will have to hope something similar happens this year, and they have only a few minutes to pull themselves together before facing DiG in what could be an elimination game.
Round Two: Washington DC Truck Stop 15 – 10 Boston DiG
After a close start, Truck Stop pulled away from Dig, putting themselves in good position in Pool B.
The wind seemed to have both teams spooked from the start, and the first break of the game came from a comical moment. DiG veteran Jay Clark was jogging up field on an O point as the pull came soaring in. Clark tried to casually duck the disc, but it dropped suddenly in the wind and hit him in the head, giving Truck Stop about 10 yards to go for a break. Adam Norrbom quickly found Marcus Thaw to make the score 2-1.
The game would remains tight as both teams struggled in the wind, causing some execution errors and rushed decisions. Once Truck stop settled into their small ball flow through Nate Prior, Dylan Saltzman, and Zach Norrbom, they were able to limit turns and lock in holds. Tyler Monroe lead the way near the end zone, punching in four assists and a goal in his role coming out of the stack and into the backfield.
A big layout handblock form Brad Scott started a runs of breaks that gave Truck the cushion they needed to pull away, taking the score from 6-6 to 9-6 in quick succession.
Round Four: Washington DC Truck Stop 15 – 6 Chicago Machine
Truck Stop made Machine's bad day a whole lot worse. Truck wins Pool B in emphatic fashion, beating the 2 overall seed Machine with a performance that puts the rest of the division on notice.
Truck put the game out of reach from the start. They broke on their first D point after a turnover from Joe White, with David Cranston laying out for a massive grab on the goal line before Codi Wood slipped the assist in to Duncan Fitzgerald.
Machine were able to hold twice from there, with White and Pawel Janas running a two man game of upline strikes, making the score 2-2. It was the last point Machine would score in the first half. Truck's defense prevented any clean force side flow, and tenacious handler defenders prevented Machine from moving the disc effectively. As the pressure mounted, Machine crumbled, and struggled mightily to play defense after the turnover.
Codi Wood and Brad Scott we indispensable for Truck's defense. Wood played bulldog handler defense and initiated the offense after turnovers. Scott was all over the field, putting up a mighty 1G 1A 3D stat line.
The second half brought little relief for Machine, as Truck cruised to the staggering 15-6 scoreline. Luckily for Chicago, they survive pool play, going 1-2 and finishing third on point diff by a single point over Boston DiG. After the game, Machine handler Yiding Hou remarked, "There's no way we can play that poorly two days in a row." They better hope so.
---
Pool C
Overall Results
Round One: Raleigh Ring of Fire 15 – 7 Denver Johnny Bravo
Raleigh Ring of Fire appear to be on a mission here in San Diego. Their offense barely took the field as they jumped out to an 8-2 lead against Denver Johnny Bravo in the first half. Playmakers were legion: Connor Russell and Ethan Bloodworth stood out from the pack, but only just. They're just the first set of teeth on a deep, deep two lines of doom that looks primed to disrupt the division all weekend long. Bravo's typically solid Ben Lohre made some mistakes under pressure; Jay Froude couldn't really find room to explode the way he's normally capable of.
After the turn, Noah Saul was lethal — but in a modest way. The ethos — pouring in loudly from the O-line players confined to the sidelines for several points in a row — was "as many throws as it takes." Ring mostly converted with the kind of plodding offense usually reserved for an O-line regrouping after a couple of dicey turnovers. It was an awe-inspiring performance, and Ring cruised to a 15-7 final score.
The big question for Bravo after such a loss is how much of it was a function of Ring's stiff defense, or whether to chalk it up to a lack of preparation. If it was the latter, they'll be in trouble today. In any case, they didn't take a strong first step. It might have even been a step backward.
Round One: San Francisco Revolver 14 – 10 Amherst Sprout
In the pool's other game, San Francisco Revolver prevailed over Amherst Sprout by a nice 14-10 cushion. Sprout didn't go quietly, however. Amos Adam and Ben Sadok stood out for Amherst. They used all the pieces on their offense to attack the end zone — sometimes to a fault, as they gave Revolver a lot of break chances. But what Revolver didn't do efficiently was convert them, and it wasn't until the end of the game that they found real daylight from their challengers.
The Revolver offense, however, ran smoothly. Adam Rees was as good as advertised, and rookie Dillon Whited was even better. They're in good shape to score quickly against Ring and Bravo later today.
Round Three: Raleigh Ring of Fire 15 –4 Amherst Sprout; San Francisco Revolver 15 – Denver Johnny Bravo 9
Raleigh Ring of Fire continued their strong defensive play with a 15-4 victory over Amherst Sprout. Sprout's offense could not find their footing as Connor Russell, Alex Davis, and a host of other players contested almost every throw. Ring's D-line were hardly less punishing after the turnover, in spite of a few nasty run-ins in the wind.
For the second game in a row, given the cushion, Ring's offense didn't have to play particularly well — they almost didn't have to play at all. With a tricky wind whipping through the field complex, the relative lack of reps they've been getting today is the only thing that might be able to trip them up in a battle with San Francisco Revolver for the pool victory (and coveted bye straight to quarters).
Revolver's defense got off to a slower start in the first round of play today, but by the end of their game against Denver Johnny Bravo, they were looking almost as fierce as Ring.
Bravo played a tight first half. Ben Lohre and Matt Jackson were solid enough that the rest of the offense sort of fell into place around them. Mark Rauls, Erik Hotaling, and Jay Froude all made plays.
But the Bravo D-line couldn't get enough of a look at the disc to slow Revolver down. Adam Rees has emerged as the key contributor on the O-line. His vision — both of where to throw, and, crucially, when to holster — and execution in the crosswind carried them through several tough red zone sets. A healthy deep game spearheaded by Simon Higgins and first-year sensation Dillon Whited kept the Bravo defense honest. Revolver held its one-break advantage into half.
Then, Revolver turned up the intensity. Nick Murphy made some key athletic plays; Kevin Tien notched a handblock. They ended up breaking for the first three points of the second half. Bravo's concentration seemed to take a hit, and they started piling mistakes of their own on top of the pressure. Revolver stayed strong en route to a 15-9 win.
All of that sets up a Revolver vs. Ring game for tops in the pool. It ought to be the first major test for each of them.
Meanwhile, Sprout and Bravo will face off in a survival match.
Other notes:
Both Boston men's teams were eliminated from bracket play on Thursday, and in a twist of fate, will meet each other in a consolation crossover round on Friday.
Standout players in this pool: Dillon Whited (Revolver), Adam Rees (Revolver), Jack Williams (Ring of Fire), Connor Russell (Ring of Fire)
---
Pool D
Overall Results
New York PoNY (9), 3-0
Atlanta Chain Lightning (5), 2-1
Utah Killjoys (16), 1-2
Minneapolis Sub Zero (4), 0-3
Round One: New York PoNY 15 – Sub Zero 12; Atlanta Chain Lightning 15 – Utah Killjoys 10
The New York PoNY offense had a few kinks to work out in the first round of Nationals. Luckily, their defense had plenty in the tank to float them during the troubleshooting.
It was tough sledding for Minneapolis Sub Zero from the first point as PoNY's Jack Hatchett, Conrad Schloer, Jibran Mieser, Ben Katz, and at least another line's worth of bruisers played within inches of most throws they managed to try. Not that Sub didn't weather the storm for much of the game. Andrew Roy and Tony Poletto kept finding ways to hold onto the disc, swinging endlessly in the red zone to keep the game close.
In the second half, New York's offensive mistakes — some poor throws, a miscommunication or two — looked as if they might bring down the ship. Sub Zero took an 11-10 lead after a throw to no one. But PoNY's offense kicked into gear just as Sub's finally began to crack. The challenges on resets turned into blocks, and leary Sub throwers began to resort to bailout throws instead. The backbreaker was a floaty throw beneath which four Pony defenders had time to settle. Katz found Marques Brownlee from midfield with the prettiest throw of the game. The result after that wasn't really in doubt. PoNY held with clean sideline offense on the last point for a 15-12 victory.
Chain and Killjoys were a locked into a much more offensively-pitched contest in the first half the other game of the round. With players like Bryce Merrill and John Stubbs on the field, pretty throws aplenty went up. Consistency was the difference, though. Where Chain continued to hit throughout the second half, Killjoys showed weaknesses in execution, and the score spread predictably. Chain finished them off by a final of 15-10.
Round Two: Utah Killjoys 15 – Minneapolis Sub Zero 8
The 16-seed Utah Killjoys have upset Minneapolis Sub Zero by the staggering margin of 15-8, turning the pecking order of Pool D on its head.
A crosswind picked up just before game time. Between that obstacle and the seven hungry defenders the Killjoys put on the line, Sub looked uncomfortable from the start. By the time they found Nick Vogt for a clean huck, the Killjoys had already punched in two breaks.
It was clear that the lower seed was not intimidated in the least by the Minneapolis pedigree. "We know that we have the ability to win at least one game [on Thursday]," said Killjoys D-line standout Porter Oyler about their mindset. "And it could be any of them. So why not take all three?"
That nothing-to-lose attitude was visible on nearly every throw Sub Zero attempted. Their young athletes bid constantly. The pressure was too much for Sub to withstand; they basically wilted. After turnovers, Killjoys were dialed in on the endzone, shooting — and connecting — as if conditions were dead calm.
Sub Zero's defense brought pressure, too — just not quite enough to completely fluster a Utah offense that always seemed to find an out in late counts. Credit Jordan Kerr and Devon Terry for taking a lot of the difficult shots and resets, but credit the rotations and playmaking ability of the rest of the line for opening up options when the going got tough.
Killjoys took half 8-5 on the strength of their front-foot attack mentality. In the second half, they widened the lead and eventually won on the strength of energy and trust. Oyler's performance was monumental. The biggest guy on a big defense, Oyler — who has yet to play his first proper point of college ultimate — benefitted from smart help schemes and always seemed to be ready when Sub tried to test the deep space. It was a team-wide, systematic approach. "We trusted each other to do our jobs, and that opens up a lane for us to get D's," said Oyler. He led many of the counters, too, firing backhands (almost recklessly) and hitting more often than he missed.
Sub momentarily looked as though they might have a comeback in them. They held to bring the score to 7-12, then jumped all over an opportunity to break when the Killjoys badly floated a centering pass in the wind. But that was the last time they scored.
Look for Oyler, Kerr, Terry, and company — good performances from Luke and Chad Yorgason and high school player Will Selfridge bear mention here — not to blink as they eye another upset against PoNY in the last round of the day.
Oyler, at least, wants more. "Let's get out there, let's show them why Utah ultimate is dangerous."
Round Four: New York PoNY 14 – Utah Killjoys 10; Atlanta Chain Lightning 15 – Minneapolis Sub Zero 6
It took the Utah Killjoys a few points to find their footing against a New York PoNY defense that has proven a troublesome unit here on Day One. The windows they had been hitting in their earlier upset win over Sub Zero and, to a lesser extent, a first-round loss to Chain Lightning were closed before they really even looked for them. Grant Lindsley, Ben Katz, Jibran Mieser, and Jack Hatchett seemingly had every throwing lane covered. After four points, New York had a 4-0 lead, all breaks.
That isn't such an indictment of Utah — it's just the way PoNY's day went. The defense set the tone in all three games they played, taking pressure off the offense. "We've had an idea lately that even if teams score, we want them to be tired and not think that they can score 14 more times like that. Having that process instead of just thinking we need to get a turn immediately had put us in a really good spot defensively," said Sam Little.
After the turn, they've been nearly as sharp. Katz is throwing the disc extremely well in the wind — a huge boon on a day like today — and Mieser keeps finding himself at the front cone with the disc in his hand. "We've had a few guys really step up in the handler space, too," according to Tyler Haskell. Evan Padget, Ben Spielman, and Shashank Alladi all cycled through touches to good effect.
Once Killjoys got their defense on the field, the game took on a different tenor. They harassed PoNY's O-line as well as they could, and they got plenty of turnovers early. But conversions were hard to come by. The New York offense, though far from perfect, were multifaceted enough to be hard to guard consistently and tough enough after turns not to give up the lead the D-line built up. Little and John Randolph have been reliable outlets for them when they run into trouble. Chris Kocher was an impossible cover when he cycled into the set.
All in all, it was about as good as PoNY could have hoped for.
In the other Pool D game of of the round, Atlanta Chain Lightning easily dispatched a Minneapolis Sub Zero team that had trouble with energy and offensive consistency all day long. Chain reeled off a 7-2 second half run to put the final nail in Sub's season. And just like that, the top seed in the pool is out of the competition without a win.
Other notes:
Standout players in this pool: Porter Oyler (Killjoys), John Stubbs (Chain Lightning), Jack Hatchett (PoNY)