Mixtape makes program history with a first-ever bracket win over Drag'n Thrust after losing in quarters in 2016 and 2019.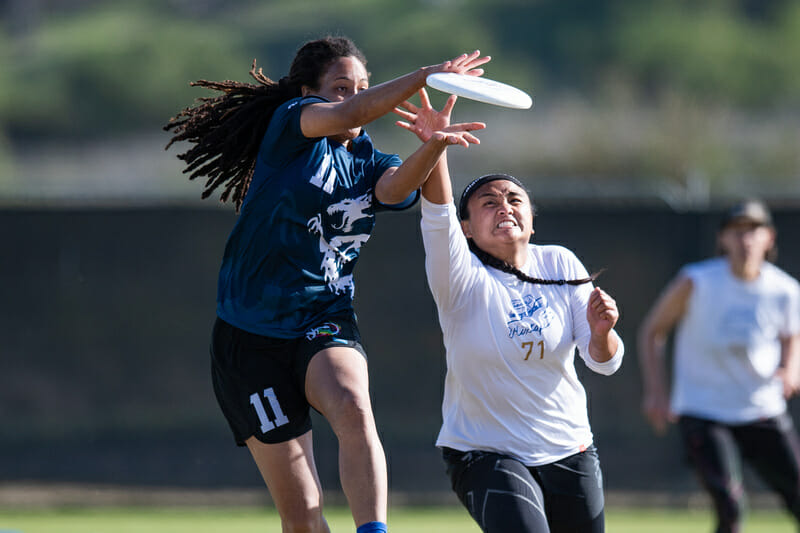 Ultiworld's 2021 coverage of the club mixed postseason is presented by Universe Point cleats; all opinions are those of the author(s). Check out Universe Point if you are looking for a comfortable, ultimate-specific cleat with a patented stud pattern that can give you an edge every time you're on the field.
After a dominating defensive performance, #2 Seattle Mixtape is headed to the semifinals on the strength of a 15-10 win over #6 Minneapolis Drag'n Thrust, the first time Mixtape has defeated Drag'n Thrust in quarters at Nationals since their 2014 debut as Seattle Mixed.
Both teams came into their Friday afternoon quarterfinal on the heels of galvanizing wins against teams favored by many to make semis or better. Mixtape earned their bye to quarters with a pool-winning 15-12 victory over #5 Washington DC Space Heater on Thursday, while Drag'n Thrust's instant classic of a prequarter with #3 Fort Collins shame. saw them claw back from a 3-8 deficit at half to take the round 14-13 past the tournament's overall no. 1 seed.
Drag'n started the game with a break as the Mixtape offense took some time to calibrate its throws in a strong crosswind. Seattle's Qxhna Titcomb lofted a backhand just a bit too far, and going the other way, Minneapolis's Bryan Vohnoutka hucked to Jane Koch to begin an endzone set. As play continued, neither team's offense was particularly crisp, and multi-turn points became the norm.
Mixtape asserted themselves with their first lead of the game after Billy Katz bodied his mark to catch a lofty swing pass and continued to line a low, quick throw to Tori Gray. Lexi Garrity kept the Mixtape momentum going when with an emphatic catch-block on a Drag'n huck, then ran a give-and-go with Zach Sabin to extend Mixtape's lead to 4-2. Seattle went on another run right before half, breaking twice on long points to take a 7-3 lead. Mixtape's D-line handlers Khalif El-Salaam and Kelly Johnson threw some of the sharpest and most confident upwind swings, keeping the disc on the high side of the field to avoid traps and open more downfield looks. Meanwhile, Drag'n Thrust was sometimes stuck playing within five yards of the sideline for entire points.
"We have really strong handlers," Drag'n Thrust captain Sarah Meckstroth said, "but they did get a little bit stuck on the low side. They were able to work it through really nicely in the zone the majority of the time, but we could've made it easier on ourselves. Obviously, without the wind, we would have moved it more horizontally at will."
In a game of runs, Drag'n Thrust made a quick surge of their own to bring the game back within two. Marty Adams elevated to block a reset to Manny Eckert, and Meckstroth ran down a long huck as Minneapolis closed the score to 7-5. That was followed by a Mixtape hold to make it 8-5 for the Seattleites at half.
The second half saw more of the same: swirling winds, floaty throws, and lots of turnovers. As the game progressed, Mixtape did a better job keeping the disc in advantageous positions, working it patiently despite the slow pace.
"We didn't quite execute our game plan," Meckstroth added, "and they have a lot of athletic women in particular, and that was a big key to their success. Our game plan coming in was trying to force them into places that they didn't want to be. We knew the women-matching players who wanted to be around the disc, and we knew the women-matching players who wanted to be in the end zone, and so we trying to do the opposite. But you can only do so much when you end up out of position and their base athleticism is so high."
Seattle broke twice in the early stages of the second half to take a commanding 11-6 lead, with Cam Bailey and Johnson the key contributors. As pressure mounted for Minneapolis to make a second heroic comeback of the day, their mistakes magnified. Players started pressing hard, leaving fundamentals behind. Slips like looking upfield to anticipate the next pass before fully securing a catch or throwing a blading swing with the bottom of the disc facing the wind doomed Minneapolis. Mixtape was able to ride out their momentum and withstand increased defensive pressure from Drag'n Thrust to take the 15-10 win.
Mixtape won this game by controlling the disc movement, avoiding getting stuck on the trap sideline and forcing Drag'n Thrust out of their primary offensive looks. Johnson, El-Salaam, Bailey, Eckert, Titcomb, and Steph Lim were the primary handlers responsible for moving the disc to the break side. On defense, Mixtape opened with a variety of zone looks, though primarily a 2-3-2, that shut down Drag'n Thrust's set plays and generally disrupted their rhythm. While the zone itself did not force any turnovers and Mixtape was quick to transition out of it, even getting caught a few times leaving someone open in transition, it clearly disrupted the Drag'n Thrust cutters and general offensive timing.
Gray and Kat Songer each had impressive games downfield. Songer in particular had a great sense of how to play in the wind and had an impressive layout block. Gray was able to find openings downfield and had a run through catch block in which she was so far ahead of her mark it looked like the throw was intended for her. While Mixtape isn't short on players who can generate highlights, they used their whole roster to win this game with technical discipline and strategy, bolstered by a strong base of athleticism to continue executing in challenging circumstances.
"We do a lot of work preparing as leadership before each game," team captain Bert Cherry said, "and we came up with what out game plan was going to be according to the conditions and knowing this team really well, and we followed through and executed on our game plan."
For Mixtape, the win dispels some scaly, fire-breathing demons that have dogged their seven-year run of Nationals appearances. Not only had Seattle lost both times these teams met in quarters — first in 2016 and again in 2019 — but Mixtape had never won a game against Drag'n Thrust in championship contention, losing back-to-back national finals in 2014 and 2015 and dodging them in the bracket in 2017 and 2018.
Now they advance to semifinals, where they will face #2 Seattle BFG for the sixth time this year — and look to break another streak after beating their hometown rivals in all their regular-season games, then losing in both Series matchups to date.