North Carolina look like title-threats, but several other teams in the pool are legitimate bracket contenders.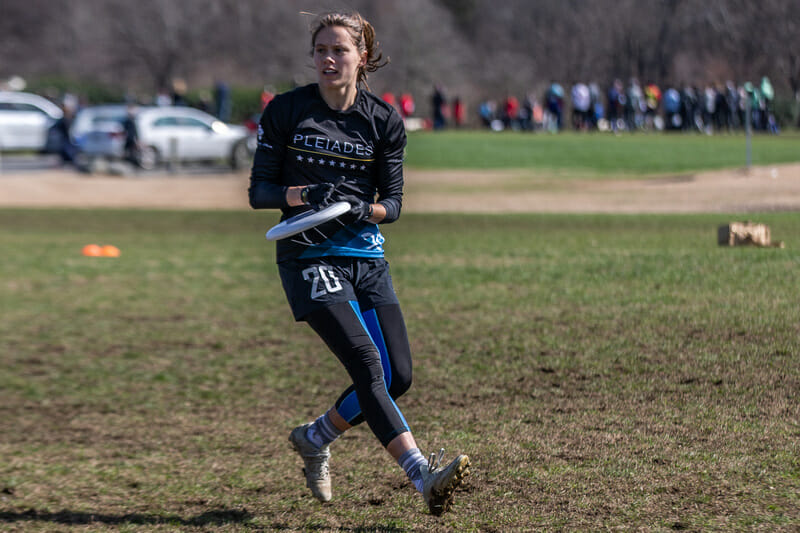 Our coverage of the 2021 College Series is presented by Spin Ultimate. You can get 15% off all college uniforms and swag right now at Spin Ultimate!
The 2021 College Championships are unusual in many ways: the quick ramp-up to a winter Nationals meant that qualifying Series events were the first tournaments some recruits ever played, while extended eligibility rules allowed teams to roster sixth- or seventh-year players and even alumni. Add one more point of distinction: for the first time, the D-I and D-III tournaments are being held as a single tournament event with four divisions.
The unique format of the 2021 Series as well as the long hiatus since sanctioned play make for lots of unknowns going into the weekend. In these previews, we'll offer a snapshot of each team and the competition they'll face when play begins on Friday, December 17. Watch ultiworld.com/live then for updates in all four college divisions!
Pool A  |  Pool B  |  Pool C  |  Pool D
Seeding: B1, no.2 overall
Power Ranking: #2
Path to Nationals: Def. Virginia 13-5 in Atlantic Coast final
Roster & Schedule
North Carolina looked near untouchable as they romped to the Atlantic Coast women's regional title, their star veteran players leading the way for the Pleiades. When the last college season prematurely ended in March 2020, UNC were #2 in Ultiworld's Power Rankings. Now, nearly two years later, they arrive in Southern California in the same position and with the no.2 seed, only behind Carleton Syzygy, seeming as if nothing has changed since then.
Things have, of course, changed since then, including the loss of Anne Worth to an ACL injury, as the 2020 Callahan winner may have otherwise returned for the Pleiades as an alum. UNC does still have the services of six of Worth's club teammates from Raleigh Phoenix, though. Tyler Smith, Alex Barnett, Dawn Culton, Ella Juengst, Grace Conerly, and 2021 Callahan nominee Bridget Mizener will all provide plenty of experience and veteran leadership from their time with both Pleiades and Phoenix.
The hurdle for UNC, of course, remains Carleton, but the Pleiades are confident in their ability to overtake the North Central powerhouse with the time and energy they've invested during the pandemic. "There is little doubt in my mind that we've practiced and studied more hours, more days, more months than anyone else since March 2020," stated UNC captain Sydney Rehder. All of that effort certainly paid off at Regionals with their closest win a no-doubter against Virginia 13-5, taking a mere four games to cement their place once again at Nationals in the top tier of the women's division.
It feels strange to say that UNC is a program on the rise, but their rise from bottom-half finishers in 2017 to quarterfinalists in 2018 to semifinalists in 2019 does make that case. 2021 has been an unusual college season for sure, but the Pleiades will arrive in Norco expecting to continue that upward trend as they aim for a place in the final for the first time in program history, and maybe even their first title too.
Seeding: B2, no.7 overall
Power Ranking: #6
Path to Nationals: Lost to Washington 10-7 in Northwest final; def. Utah 12-7 in second-place final
Roster & Schedule
Just a season ago, Western Washington Chaos came a Jack Verzuh skying grab short of making a surprise semifinal appearance as they pushed women's division giants Dartmouth to double game point at 2019 Nationals. Fast forward to 2021, and Chaos' small but mighty roster is packed with veteran players eager for one more shot at Nationals, and this time with no Dartmouth to contend with.
They are in a pool with the exceptional Pleiades out of North Carolina but it'd be wise to not count them out between the outstanding coaching of Alyssa Weatherford, the superstar talent of Samiya Ismail, and the pure desire of a team full of returners that know just how close they were to that final four breakthrough.
Ismail is the name most folks will know, at least in part from her stomp-block while playing on the USA Worlds U24 women's team in 2019. As evidenced by the viral foot-block, Ismail's defensive skills are outstanding, but her offensive capabilities are arguably more important to Chaos' success as she marshals Western Washington from the backfield. Along with Ismail, Chaos' 2020 Callahan nominee Eleanor Joselyn and new addition Ally Constantino are two players to keep an eye on, although the entire veteran roster for Chaos is more than capable of stepping up in big moments.
With a three losses to overall no.4 seed Washington the only blemishes on their resume so far in 2021, Western Washington will feel confident that they can hold their own even in a tough Pool B. While their short roster may keep them from truly challenging the top tier of teams, it would not be a shock if they were able to pull off an upset or two on their way to that semifinal berth they were so close to at the last college championships.
Seeding: B3, no.11 overall
Power Ranking: #12
Path to Nationals: Def. Florida 13-2 in Southeast final
Roster & Schedule
The read on Georgia Athena heading into Nationals is that they are in a funny place as a program, a kind of foggy middle ground between true national relevance and mere regional dominance. They're clearly on the come-up – a second consecutive Nationals appearance after several years on the outside of the bubble and a firm grip on their region are testament enough on that front. But what isn't clear yet, what may become clear in Norco, is how high their ceiling goes.
On the one hand, they completely trounced every opponent en route to a Southeast title. On the other, they were hardly competitive against North Carolina when the two teams met earlier this fall, losing 13-4. That kind of an egg-laying does not in itself bode well for the rematch with title-contenders UNC, and it raises serious questions about how prepared they are to compete with strong units from both Western Washington and UC Davis. How does this team forge a path into the bracket?
The first part of that answer is simple: senior Marie Perivier. "I think she's the best player in the country. Change my mind," says coach Javid Aceil. He might have a point. With athleticism, quick field reads, and the most powerful backhand in the division, Perivier leads the Georgia attack. Terribly few defenders – perhaps UNC's Dawn Culton or UCSB's Jasmine Childress – will be able to hold her in check for any length of time.
Perivier is the name on the marquee, but UGA's hidden virtue this season is depth. Martha Wilber, Anik Regan, and Emma Jones all bring size, strong disc skills, and a dose of killer instinct. Speedy sophomores Ariba Lakhani and Fiona Cashin will figure prominently in the scoring. All in all, this is a much more talented Athena team than the one that took the field at the last Nationals in 2019.
With their own personnel in good order, the key to their pool results ultimately will fall on how well they can respond to the systems implemented by their opponents. "[UNC] had some serious systems in place. They had a play for everything," said Aceil of the loss earlier this year. Athena hope to be able to disrupt pull plays and reset systems much better throughout the weekend. If they can prove themselves on that front – and if the depth around Perivier plays up to the occasion, despite a relative lack of Nationals-level experience – they will be in a good position to push toward quarterfinals, and perhaps further.
Seeding: B4, no.14 overall
Power Ranking: #9
Path to Nationals: Def. UCLA 14-6 in Southwest third-place game
Roster & Schedule
Making their first appearance at Nationals since 2006, when they were in the old Northwest division, UC Davis Rogue emerged through the gauntlet that is the Southwest women's division and closed with a comprehensive 14-6 win against UCLA BLU in the game-to-go. It punctuates a rapid ascendence for the team out of the California Central Valley, but they won't just be simply happy to be there and will be a dangerous fourth seed for the rest of Pool B to deal with.
In a region that was home to five teams in the top 15 of Ultiworld's end-of-season power rankings, Rogue had to overcome a difficult slate of games to earn the right to travel 450 miles south to Nationals. They twice took down UCLA, including a universe-point win in the quarterfinals on day one that helped them prepare for the rematch in that crucial deciding game. "The players really showed their adaptability by applying what we had talked about [the night before]," shared UC Davis coach Cheryl Hsu. "Specific adjustments to both our offense and defense combined with all the energy from the players led to [that] big 14-6 win."
Hsu, along with co-coaches Austin Lourie and Tommy Lin, helped helm the team alongside new captains Jules Madigan and Rani Shah, with former captain Ellen Yuska also returning as one of Rogue's several graduated players. Allyn Suzuki, April Lu, and Margo Donahue are other names and faces to keep an eye out for as UC Davis takes on the talented teams in Pool B, and they'll try to push Rogue to an upset or two as an arguably underseeded team in comparison to their placement in the most recent Power Rankings. While a deep run may be out of the question for this young but rising team, Rogue will aim to at least make an appearance in the bracket as a building block heading into 2022.
Seeding: B5, no.18 overall
Power Ranking: #23
Path to Nationals: Def. Ohio State 10-3 in Ohio Valley third-place game
Roster & Schedule
It's almost a truism in college ultimate that zone wins games in the fall because many teams are still building individual skills and matchup defense reflexes so early in the season. And it's a fact that an obscure tiebreak rule granted the Ohio Valley Region a third bid to the tournament this year. And, well… welcome to Nationals, Ohio University Stacked Cats!
Rolling into Norco for the program's first-ever trip to the College CHampionships with far and away the best team name in the tournament,1 the Stacked Cats are an easy rooting favorite. How can you not love a team that only realized at Conferences that they even had a shot? "It was after we won… and specifically after our win over Ohio State, a team we hadn't beaten as long as our seniors have been here," said captain Jane Armstrong, with a keen understanding of what it means for her program to earn this opportunity. "We are super excited for our club to play teams outside of the Midwest and East Coast. This is going to be a great experience all around," she added.
Still, the odds that they do much winning in California before the consolation rounds are long. Seniors Armstrong, Delaney Marsalek, Kelly Simons, Ally Perkins, and Jenny Simons all have the chops to hang with the field, but none of them have much experience on this sort of stage. And while Coach Lori Gromen has done a phenomenal job setting the defense-first team up for success and integrating Ohio's seven freshmen – watch out for Lily Johns – into the fold on short notice, it's a fair question to ask how far the zone they rode to get to this point can take them now that they've made it.
They don't have any kind of record against elite teams, because the way the bracket shook out at Ohio Valley Regionals did not give Ohio a match against Pittsburgh.2 What is abundantly clear from their games against Penn and Ohio State at the same tournament, though, is that their oozy, drawn-out zone slows down forward motion and encourages mistakes – mistakes that the team is always ready to pounce on. How many mistakes Ohio manages to coax out of the other four teams in the pool will determine whether they can stack up enough breaks to steal a game.
---
Don't @ me ↩

And in any case, given how much snow fell on Sunday, it probably would not have been a representative sample. ↩