Can the defending champs or any of three newcomers put up a meaningful challenge to the tournament top-seed?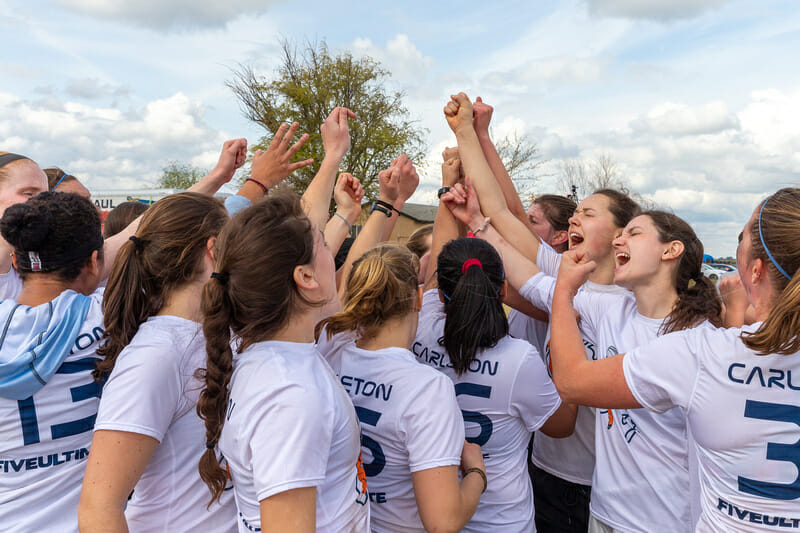 Our coverage of the 2021 College Series is presented by Spin Ultimate. You can get 15% off all college uniforms and swag right now at Spin Ultimate!
The 2021 College Championships are unusual in many ways: the quick ramp-up to a winter Nationals meant that qualifying Series events were the first tournaments some recruits ever played, while extended eligibility rules allowed teams to roster sixth- or seventh-year players and even alumni. Add one more point of distinction: for the first time, the D-I and D-III tournaments are being held as a single tournament event with four divisions.
The unique format of the 2021 Series as well as the long hiatus since sanctioned play make for lots of unknowns going into the weekend. In these previews, we'll offer a snapshot of each team and the competition they'll face when play begins on Friday, December 17. Watch ultiworld.com/live then for updates in all four college divisions!
Pool A  |  Pool B  |  Pool C  |  Pool D
Seeding: A1, no.1 overall
Power Ranking: #1
Path to Nationals: Def. Iowa State 15-2 in North Central final
Roster & Schedule
The last time we saw Carleton Syzygy outside of the North Central, they were slicing through the division like so much soft cheese: a 12-0 record against strong competition at Queen City Tune-Up and Stanford Invite last spring. Everyone knows what happened next, and we could only wonder at what might have been had Carleton been able to play out the 2020 season.
Second time's the charm? Syzygy returns 23 of the 25 players from the 2020 roster1 for a chance to finish what they started. Call it a capstone project. "It gives a lot of us the chance to finally get some closure after an abrupt ending," says alumna Karen Ehrhardt, "so you could say it feels like wrapping up in that respect."
Yes, this iteration of Syzygy is going to feel awfully familiar. You know the names. Ehrhardt. Nariah Sims. Carly Campana. Kate Lanier. Maya Powell. That's only the tip of the iceberg. 2021 Carleton is essentially an avalanche of talent. Anyway you break them into lines, they're going to have multiple ways to beat you, just like they did in 2020.
But Ehrhardt stresses that, aside from the preponderance of personnel crossing over from 2020, "In terms of actual competition, this is a new iteration of Syzygy…There's been an intentional focus to balance the growth of the future team and game results." That's right: their plan is to crush the competition and rebuild all at the same time. The key will be to integrate the alumni with some of the budding stars, like sophomores Tori Gray and Sydney Merrell. But it will have to happen on the fly – Syzygy have not practiced together in full outside of a very short Regionals weekend.2
Carleton are a lock for quarterfinals, as sure a bet as you can make for semis, and, as their top seed would suggest, the title favorites. And while they will face a tough challenge in the form of a disciplined UC San Diego in pool play – especially so without the Ehrhardt sisters, who won't join the team until Saturday – it is more likely to strengthen them for the run through the bracket than trip them up.
Seeding: A2, no.8 overall
Power Ranking: #5
Path to Nationals: Lost to UC Santa Barbara 13-8 in Southwest final; def. UC Davis 11-8 in front-door semifinals to finish second
Roster & Schedule
2019 seems like ancient history at this point. Not only is it part of that vast, unreachable epoch we call 'pre-pandemic,' but two-and-a-half years is almost an eternity in college anyway. Most teams will have turned over almost an entire roster in that timeframe. So it's a little weird that UC San Diego Dragon Coalition3 are still the defending champions.
But here we are: finally, the title defense can commence. Except not really. "Seeing as over ten of the core contributors to our 2019 championship are no longer on the team, I don't think this feels like a title defense nor are we as a team treating it that way," says Alex Diaz. And at first glance it's hard not to look at the 2021 version of D-Co and not see what it's missing, namely stars Dena Elimelech and Kelli Iwamoto. Look a little closer, though, and you'll see a team that carries over more than it has jettisoned.
In the first place, they return a number of contributors from the championship team: Samantha Wool, Sara Zhang, Madison Tenney, Ava and Lauren Hanna. All of them have upped their game since then, and they can do a lot of heavy lifting. UCSD also retain — in a last hurrah as one of nine(!) alumni playing this weekend — one of the division's brightest stars in Diaz, a do-it-all kind of player, athletic enough to be the initiating cutter or ace defender, steady enough to play hub handler against a zone on a windy day.
More importantly, UCSD still employ the strong systems that underpinned their run in 2019. Everybody remembers the Elimelech heroics, but they wouldn't have been possible without the space-creating, short-throw reset system that allowed them to press through a ferocious headwind. The 2021 team closely resembles their predecessors in that regard.
Yes, D-Co are very good once again – but are they repeat championship good? They benefit from the usual Southwest regional gauntlet. "Our games against Stanford in the wind on Saturday and our game against UC Davis in the game-to-go on Sunday were really good preparation for nationals," said Diaz. The regional final against UC Santa Barbara is not much of a barometer, though, for how they stack up against other squads, since the team, a bit banged up and having already qualified, rested their starters. But you'd be unwise to count out steady-as-she-goes with a dash of star power in a short season, and that's exactly what you get with UCSD.
Seeding: A3, no.12 overall
Power Ranking: #13
Path to Nationals: Def. Tufts 9-5 in New England final
Roster & Schedule
Don't look now, but Vermont Ruckus might just be the next New England powerhouse. Right under the division's noses, they've been recruiting youth players from Amherst, Paideia, and Maine YCC, stacking their roster with some of the best freshman talent in the country each of the last three years. Everything is falling into place for a multi-year streak of excellence.
Ah, you ask, but will all the pieces come together in time to make a run this weekend? That depends on who you ask – but sophomore4 star Kennedy McCarthy certainly thinks so. "A lot of [December Nationals] is prep for a spring season run, but we think we can make waves," she said. "We are trying to win our pool. That is the goal."
Cue Syzygy side-eye. But while there is a clear discrepancy in Nationals-level experience between the two programs – Carleton will be making their 30th appearance at the tournament, while Vermont makes the cut for the first time since 1987 – the talent gap is not as wide as you'd think.
It isn't just cornerstone pieces Sarah VonDoepp, Bethany Eldridge, and McCarthy – who, by the way, torched the women's division at Club Nationals to the tune of a tournament-leading 15 goals. "We have a lot of no-names who are unbelievable," gushed McCarthy. Marina Godley-Fisher just finished a successful club season on Siege, as well. And Riley Knupp (Maine) and Lylah Bannister (Paideia), among several others, come to the program with a full skillset right out of the box.
Other than a lack of big-game experience as a team, injuries might be what holds them back from their full potential this go-round. Rachel Oram-Brown tore her ACL at Regionals, and McCarthy is questionable for competition as of this writing. One way or another, however, this is a team to keep an eye on.
Seeding: A4, no.13 overall
Power Ranking: #18
Path to Nationals: Def. Purdue 13-5 in Great Lakes final
Roster & Schedule
In 2019 Chicago placed second at Regionals, setting a new high-water mark for a program that had been gradually advancing up the regional ranks for the past half-decade. A year later in 2020, they finished the unfinished spring season unranked and with a record of 9-8. Here we are now, in 2021, and Supernova is going to Nationals for the first time after becoming Great Lakes champs with a big win over Purdue in the regional final.
How did we get here? A cursory glance at their 2020 record may have suggested that Supernova had taken a step backward from their nationals near-miss in 2019, but dig a little deeper and we see some foreshadowing of this fall's success. Their program growth had earned Supernova a place at President's Day Invite in 2020, where Chicago faced Nationals-level competition, knocking off Texas Melee and keeping games close against other top teams, ultimately making it to quarterfinals as the no.14 seed. Cassie Brown was selected to the All-Tournament Team and she remains a major reason the team is finding so much success in 2021.
Chicago came back stronger than ever this season after COVID suspended play in 2020; they dominated at Regionals this year. They are getting big contributions from returning veteran talent Jocelyn Sun, a U20 US National Team pick out of Boston. But Supernova's roster is deep and they clinched their first-ever nationals bid by breaking Purdue with a line entirely made up of players who have been on the team less than two years. This group feels more than comfortable playing with each other, which may give them more than just a puncher's chance at springing an upset or two at Nationals.
Seeding: A5, no.17 overall
Power Ranking: Unranked
Path to Nationals: Def. Florida 13-12 in Southeast second-place game
Roster & Schedule
Proving to be successful in the process of rebuilding, this new and improved Florida State team has shown resilience and have been yearning to make their second appearance at Nationals — the first since they captured their lone Southeast title in 2015. With an entirely new lineup of players and coaches since their last run at the Big Show, the Seminole Ladies still very much carry the values and impacts made by the women before them.
Florida State lost on double-game point to in-state rivals Florida Fuel in the front-door semifinals at Southeast regionals a few weeks ago, before matching up again for the second-place game-to-go two rounds later. It was another tight contest in which no team ever led by more than two goals, but Florida State was able to pull out the win on universe point, with exuberant exhilaration. This was no small feat for FSU, who had finished behind Fuel at Regionals the past three seasons.
After earning their bid, Florida State will be bringing a new generation of players to the tournament after turning over a large portion of their veterans in the past couple years, including 2020 Callahan nominee Courtney Read.
"To us this proves the work each of these new players and past leadership has put into our program," said Lindsi Allman, former Sladies captain and now a graduate student player. "It means an opportunity to raise the bar for the future of FSU women's ultimate."
The team is in a good place with a mix of young and hungry players and experienced ones such as offensive force Natalie Wilson. Many of the younger Sladies were able to play club this summer which gave them more opportunity to grow exponentially.
Ranked last in Pool A, Florida State has some ground to cover but the Sladies' main goal for the tournament is to break seed and beyond that, make their region proud.
---