The defining characteristics that will decide the fate of several teams in Norco.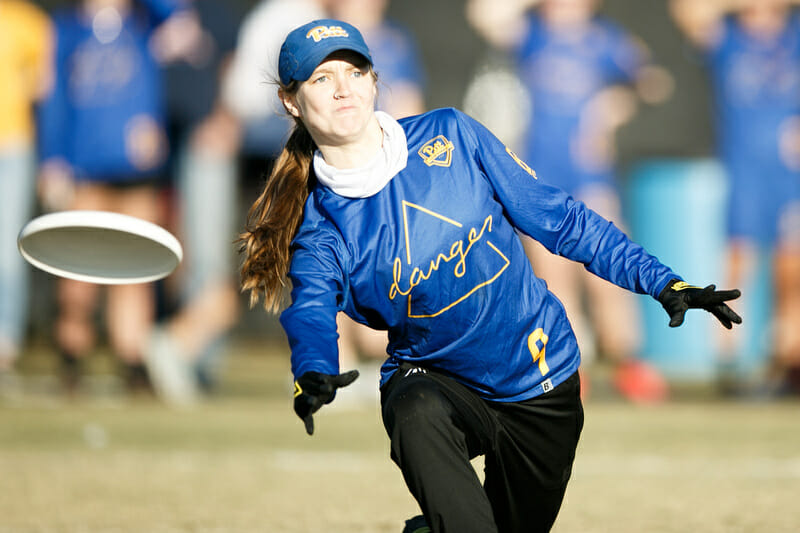 Our coverage of the 2021 College Series is presented by Spin Ultimate. You can get 15% off all college uniforms and swag right now at Spin Ultimate!
Tournaments don't really get too juicy until the upsets start flowing. Those weren't really on offer on Friday in D-I Women's, as just two results all day went against seed — one of which would not be considered an upset by our Power Rankings. With most games going to seed — often in lopsided fashion — teams for the most part looked like what the seeding expected them to be. But how would we describe what they looked like? Well, aside from the fact that all teams simply looked contagiously happy to be playing again, here are the traits of eight teams we watched today that stood out as potential defining features.
1. Vermont's motor.
This team is popcorn-eating fun to watch. Not just because of how athletic every player is — they are — but more due to their motion and disc movement on the field. It seems like the team's gas tanks just remain completely full the entire game. In their first game of the day, that showed on offense, as they carved through Florida State's zone and attacked deep whenever they could. In the second game against Chicago, it was evident on defense; Vermont worked their socks off to challenge the unders, stalling out Supernova's flow for most of the game. They were able to adapt their play style based on their opponent without missing a beat, allowing them to build momentum and produce an undefeated Day 1 at Nationals. Their combination of polished veterans and young talent made for a vivacious play style that they'll need to maintain when the competition level raises on Day 2 against Pool A's top two seeds. Don't be surprised if Vermont runs past either of them.
2. Florida State's spunk.
It's hard not to root for this team against anyone they play because they seem bought into a collective identity, do what they do well, but aren't afraid to try new things. They play with spunk. Lauren Kuhlman is a fun player to watch, with confidence enough to bust out a hammer to secure a first-point break against tournament top-seed Carleton. Unfortunately, with a relatively shorter roster and squad lacking too much veteran experience, they have a hard time finishing games. In both of their matchups today, they came out strong only to run out of legs and fade late. Without a full season of practice leading up to a tournament this long and intense, the Seminole Ladies may not have the staying power to earn many wins in Norco — but that won't stop them from trying.
3. California-Davis's zone.
California-Davis utilized a smothering zone in both games today, earning plenty of break opportunities against higher-seeded opponents. They jumped out to a 3-0 lead against Western Washington with the defense before Chaos adjusted, and then rode the zone again to a win over Georgia later in the day. April Lu and Margo Donahue were particularly effective guarding the middle and deep spaces respectively. This zone looks well drilled by coaches Austin Lourie, Cheryl Hsu, and Tommy Lin, who are steering this team in the right direction to continue their program's ascendancy. While they may not find the same level of success against the strong handlers of pool top seed North Carolina, with a win already in hand and another winnable game against Ohio on Saturday, Rogue appear to be in good shape to claim a spot in the bracket.
4. North Carolina's mentality.
The North Carolina game plan is simple and straight to the point — they want to win. This is a seasoned group of veterans that has their gaze trained squarely on the prize at the end of the weekend. They were all business in cruising to a 2-0 Friday to kick off the tournament; a 15-4 drubbing of Ohio wasn't overly surprising, but the ease with which they put away a talented Western Washington squad made their intentions clear. This team has all the talent they need to continue waltzing past opponents until the latest stages of the bracket before their winning mentality is truly challenged.
5. Pittsburgh's superstar.
I will do the rest of you a favor and put you onto Annelise Peters if you aren't already. But really, you already should be. Captain Peters put on a clinic for Danger in their matchup with Michigan Flywheel, doing everything for her team on the field and serving as a leader off it. With her impressive skill set, she can take over a game, though Pittsburgh will need someone else to put up numbers as well if they have designs on advancing very far in the tournament. Peters' heroics weren't enough in a tough loss to UCSB, and we'll be curious to see who else can step up to help tomorrow as Danger hunt for a bracket spot with games against Texas and Boston University.
6. UC Santa Barbara's efficiency.
The Burning Skirts sit at 2-0 on Friday night, and it hardly looks like they've been challenged yet. UCSB blew out Boston University 15-1 to open their account in Norco, then also landed an impressive six-point victory over a solid Pittsburgh squad in the afternoon. In both games, the Skirts jumped out to quick leads which gave them a comfortable margin to play with. Against Uprising, it looked at times like they were playing with their food. In the second half against Danger, points dragged on for lengthy stretches, but the result never really felt in doubt as UCSB kept finding ways to punch it in. Stiffer competition is surely on the way, whether that be in the form of 2-0 Texas who also had an impressive Friday or not until the bracket. Could the lack of challenge thus far make UCSB vulnerable to an upset, or will they be able to maintain their efficiency for a full game when push comes to shove?
7. Washington's polish.
This team looked ready to go and boy, did they go. Their two games today were played at different speeds, but in each case they showcased the talent up and down their roster. Against SUNY-Binghamton, points were long and the pace plodded along but Element completely limited the Big Bear offense with a strong defensive showing. In a tighter game against Colorado, as the Washington offense had more of an opportunity to take the field, they were dialed in and scoring quickly to get the game to half fast. Molly Wieringa and Abby Hecko dominated, but the whole team stepped up their intensity and they were doing all the right things. There is still a lot of tournament to be played, but Element looked scary good on both sides of the disc.
8. Colorado's depth.
With 25 players on the roster, the Quandary sideline may not be quite as packed as some of the other massive teams in Norco, but their talent and skill run deep into their bench. They utilized that depth to dismantle Pennsylvania 15-1 without relying too much on any one player. That depth again was apparent against Washington, where they were broken several times in the first half but kept battling back. They perhaps didn't quite have the horses to slow Element's top-end stars in the second half — then again, slowing Abby Hecko is a task too tall for most elite club teams. They're missing Stacy Gaskill (who is abroad trying to qualify for the US Olympic Boardercross team) to open up space downfield; that's a big loss, but they still have a depth of talent that should see them take care of Virginia and Binghamton to secure their bracket place on Saturday. From there, we'll see how far that depth can take them.