The games won't count, but SBI still marks the start of the competitive college season.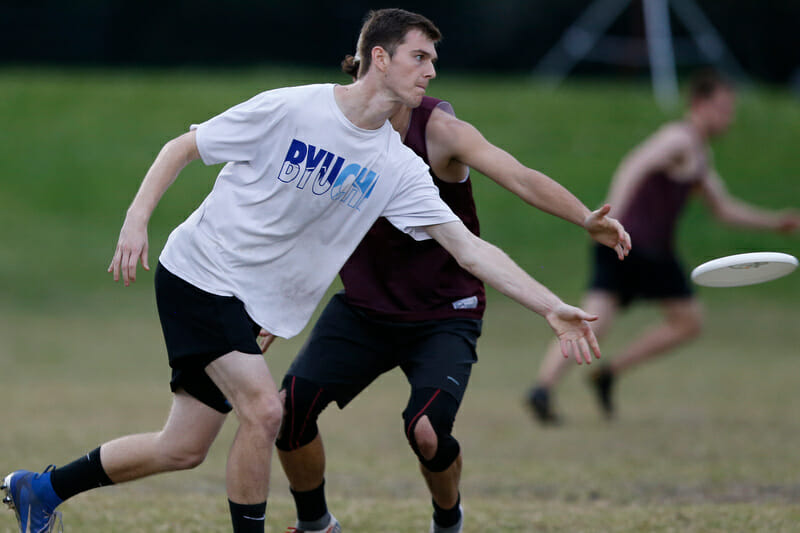 Our coverage of the 2022 college season is presented by Spin Ultimate. You can get 15% off all college uniforms and swag right now at Spin Ultimate!
The college season kicks off (unofficially) on the West Coast as a host of Southwest teams (and a handful of out-of-region opponents) gather in Santa Barbara for their first competition of the spring. Although a number of teams dropped out of the event due to COVID-19 travel restrictions or concerns, the event will still host a sizable group of teams.
Tournament Profile
Date: January 28-30
Location: Santa Barbara, CA
Weather Forecast: Upper 60s, Mostly Sunny
Top 25 Women's Division Teams (2021 rankings): #4 UCSB, #5 UCSD, #16 UCLA
Top 25 Men's Division Teams (2021 rankings): #9 Cal Poly SLO, #18 Colorado State, #21 UCSB, #24 UCLA1
Filming Schedule
These games will be available online next week for Ultiworld Full and Plus subscribers. They are being filmed, not livestreamed.
Men's Division
BYU v. Cal Poly SLO
UC Santa Cruz v. Washington University
UCLA v. Santa Clara
UCSB v. Utah
Utah v. Kansas
Three Power Pool Games TBD
Women's Division
BYU v. UCSB
Cal Poly SLO v. USC
UCLA v. UC Santa Cruz
BYU v. Cal Poly SLO
UCSD v. UCSB
UCSD v. UCLA
USC v. UCSD
College Team Packs are on sale now! Get video access and subscriptions for your entire team and coaching staff (including all of our 2021 college fall footage) along with a guaranteed filmed game, download access for highlight/Callahan/Donovan reels, and more. Save $45 if you buy a Team Pack by January 31st!
Big Picture Stories
Pool Play Only Format
During the summer club season, many Regional tournaments featured never-before-seen formats that had teams figuring out game implications at the last minute and scrambling to understand why there were eight thousand tabs in score reporter. Ultimate is due for some format experimentation, and an early season tournament with no rankings implications is the perfect place to try something new.
The men's division is playing pool play on Saturday and splitting into power pools on Sunday. The Women's division is just playing as one big round robin. While in either format a team could "win" the tournament by going undefeated, the purpose of early season tournaments is typically focused on getting a lot of playing time and experience for emerging players and working out what strategies will work for specific team dynamics.
While these adjustments are more due to team drops than to a desire to shake up the format, it may end up being popular. If there is a lot of positive feedback from the "just play the games" set up, expect other tournaments to consider adopting a bracketless format as well.
What is the Effect of Hyper-Local Competition?
With the Omicron surge of the COVID-19 pandemic starting to recede, it will surely feel great to be able to play ultimate at all as we prepare for what will hopefully be the first college season since 2019 to stick to a standard schedule. Of course, with USA Ultimate's recent adjustments to the college guidelines, these games do not count for the official rankings, but they're still happening. With much uncertainty in the weeks leading up to the tournament and travel plans needing to solidify before the Omicron wave began its descent, many of the teams outside of driving distance who usually travel down to sunny Santa Barbara are staying put this January.
With an intense local competition, especially in the women's division, expect to see teams holding a few cards close to their chest and trotting out some vanilla schemes knowing that their regional rivals are watching and scouting. Additionally, some teams have had limitations on their ability to practice as college campuses sought to limit Omicron's impact. Those teams may be using this early tournament as their de facto first practices of the spring, and we likely won't see the crisp, clean games from Norco just a month ago.
Even though the games have no rankings implications, each team at SBI has the chance to set the tone for their seasons. Some teams have a national championship in their sights. Others are plotting to make runs at regionals upsets or to build for their breakout season. Some teams are happy to be outdoors for the first time since early fall, while some will come prepared with polished plays after the first ever competitive fall season. After a quick offseason and with another college series coming before we know it, the college regular season is upon us, and it's time for the fun to begin once again.
Women's Division Storylines
How Far Ahead Are UCSB and UCSD?
UC Santa Barbara is the favorite to win their hometown tournament, inasmuch as a team can "win" with the current format. Their dynamic duo of Elsa Winslow and Julia Hasbrook wreaked havoc on opponents throughout the fall series and should pick up right where they left off. At Fall Nationals, the Burning Skirts played nothing closer than a 15-9 thumping throughout pool play and the early bracket until losing 15-7 to eventual runaway champions UNC in the semifinal round. Without Jasmine Childress or Kaitlyn Weaver this time around, UCSB does have some big shoes to fill, but the final four contender also comes stocked with players capable of stepping up and a coaching staff smart enough to help them do just that.
Their main southwest rivals are UC San Diego Dragon Coalition, and their matchup on Sunday afternoon will likely be the de facto title game of this tournament. Ava Hanna returns after a stellar fall season, but her fall running mate Alex Diaz is not on the spring roster, leaving a big hole downfield for someone to step into. An up-and-down fall Nationals saw UCSD make it to the bracket despite two pool play losses before losing to UNC one round before UCSB saw them. UCSD once again has an opportunity to build a new identity this spring and this early test will show them where they stand against the best in the division.
Who's the Best of the Rest?
After the three top 25 ranked teams (the aforementioned UCSB, UCSD, and also UCLA), there are four others looking to make a name for themselves. It's anyone's guess who else will stand out. BYU always brings a competitive team and should soon reap the rewards of the strong investment local coaches have made in the Utah youth scene much in the same way their men's counterparts have over the past three seasons. As long as Thalia Ward is on the roster, Cal Poly SLO Motion is always a threat to score an upset. USC and UC Santa Cruz may be on the quieter side coming in without any household names or YCC pedigree, but they'll gain valuable experience and playing time to develop their newer players. Without much knowledge of what these teams look like coming in, maybe they'll surprise us all with some early season success.
Is UCLA Closer to the Top or the Bottom?
After a stint in bid-earning position early this fall, UCLA was upset twice by UC Davis at Fall Regionals and missed the big show. Looking at the spring season as a chance at a rebound, BLU knows it will need to improve upon its fall performance in order to avoid another early end to their season. With just a brutal 15-4 loss to UCSD to compare to the SBI field, UCLA can use this tournament as a measuring stick to see if it's closer to challenging the regional favorites or if it will need to earn its own bid or gear up for a massive upset later this spring.
Men's Division Storylines
Will Anyone Score Even 10 Points on BYU?
I mean, come on, just look at the roster. Jordan Kerr, Jacob Miller, and Joe Merrill return. Since we last saw them in play in the college division, they've placed on Ultiworld's 2020 awards podiums and in the 2021 AUDL awards. Porter Oyler is one of the frontrunners for Rookie of the Year after his stellar showing for The Killjoys in the club division. He's already signed with Salt Lake Shred for the AUDL season too. Effective role players from seasons past like Luke Yorgason and Logan Clarke are ready to step into bigger roles, and the Utah youth scene is blossoming with ready-to-play rookies coming into the college ranks. The Friday night showcase against Cal Poly SLO will probably be CHI's toughest game, but I wouldn't expect even that to be particularly close. We may be in for another season of debating the merits of putting BYU as the #1 ranked team despite their current predicament that prevents the team from advancing past the first stage of the college series.
What do the Cold Weather Teams Look Like?
Every year, SBI sees a handful of teams fly in from colder regions where they might not have had as much outdoor (or at least snowless) field time. Often these teams will use SBI almost like an extended practice weekend, but sometimes they come looking for an upset of bid-shifting potential. This weekend, UChicago, WashU, and Kansas are all flying in. While the potential for a season changing upset is slim (and it wouldn't count in the rankings this early in the season anyway), getting their players on grass and into early competition will give these teams a leg up on their regional opponents. Besides, getting an early look at these teams will be nice for fans too. Those who were at SBI in 2020 saw the first steps to Tulane's rise to prominence, so keep an eye out for UChicago and friends in 2023-4.
How Does Cal Poly SLO Adjust?
Fresh off a heartbreaker of a quarterfinal loss in the Fall College Championships, Cal Poly SLO enters the spring season with its place as a regional favorite cemented, but its place in the national conversation up in the air. On one hand, SLOCORE was a point away from a spot in the final four. On the other hand, it took a herculean effort from KJ Koo just to get them that far after his fellow SoCal Condors star Calvin Brown went down with a torn ACL. On one hand, perennial coach of the year contender Cody Mills (and top assistant Caleb Merriam) retooled the offense around Koo on the fly in December. Another month of planning will help 'CORE figure out who to put around Koo to bring the offense to its full potential. But, on the other hand, losing someone as powerful and impactful as Brown is sure to dampen the team's potential for the spring season. It's hard to imagine the Cal Poly SLO leadership giving too much away in their first tournament of the season, and they may use SBI to test out new contributors in different roles.
Seamus Robinson, Matt Miller, and Garrett Bush are the key figures in SLO's next wave of great players. While each has shined in specific roles, their development into well rounded players who can be relied upon in multiple situations will be crucial to SLO's continued ascent up the college power rankings.
---
BYU is unranked because they did not compete in the College Fall ↩