Time for Tampa sunshine.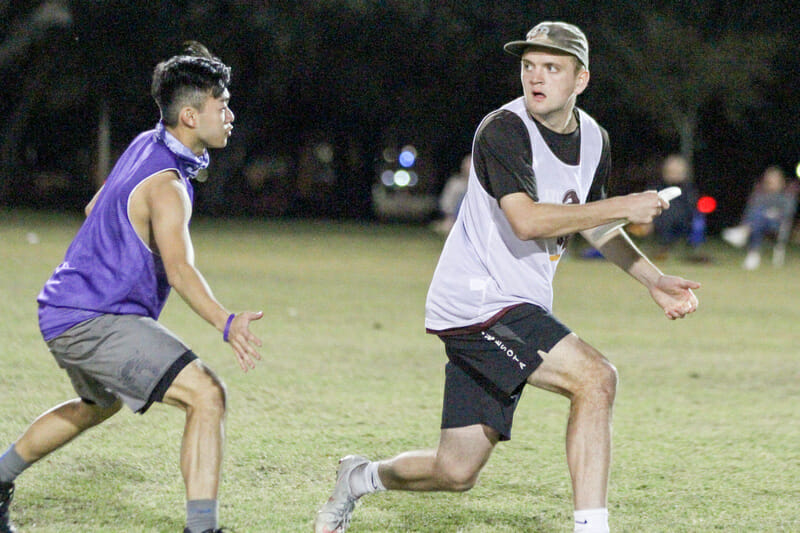 Our coverage of the 2022 college season is presented by Spin Ultimate. You can get 15% off all college uniforms and swag right now at Spin Ultimate!
Florida Warm Up is back.
Even in normal times, Warm Up is a rebirth, a rite of spring where teams emerge from their winter cocoons all glossy and eager to romp. It seems like an even more appropriate descriptor now, with many teams playing their first regular(ish) spring college tournament since the last time this tournament was held two long, strange years ago.
Several of the teams competing this weekend are in need of their own personal rebirths, either from pandemic dormancy, a stagnant performance at winter Nationals, or a years long decline into mediocrity. With the beginning of a new season for all, and the beginning of a new era for some, this year's Warm Up offers the rare opportunity for teams to set their programs off on a new trajectory.
It also offers an increasingly rare opportunity for teams in the college division: a chance to not lose to North Carolina. It's a reprieve that I'm sure every team, particularly those who were at Norco Nationals, will appreciate.
Tournament Profile
Date: February 4-6
Location: Tampa, FL
Weather Forecast: Highs in the 70s, sun and clouds
Top 25 Teams: #3 BYU, #6 Brown, #8 Minnesota, #13 Northeastern, #14 Massachusetts, #17 Pittsburgh
Filming Schedule
These games will be available online next week for Ultiworld Full and Plus subscribers. They are being filmed, not livestreamed.
Auburn v. Central Florida
BYU v. Pittsburgh
Florida v. Temple
FSU v. LSU
USF v. Georgia State
Brown v. BYU
Northeastern v. Temple
Texas A&M v. Massachusetts
Virginia Tech v. FSU
Minnesota v. LSU
Quarterfinals
Semifinals
Final
College Team Packs are on sale now! Get video access and subscriptions for your entire team and coaching staff (including all of our 2021 college fall footage) along with a guaranteed filmed game, download access for highlight/Callahan/Donovan reels, and more. 
Storylines
An Undefeated Weekend In The Cards For BYU?
When taking in an early season tournament, the natural inclination is to speculate on how these results will translate to the postseason. But at Warm Up, the most compelling storyline may come from the one team we know for certain won't factor into the Nationals picture.
#3 BYU CHI has been an intriguing wrinkle in the fabric of college ultimate, amassing ample evidence in recent years that despite not competing in the postseason they have to be considered an A-tier program. Warm Up is often one of their key spotlights, with the Friday to Sunday format giving them eight games to show off.
Last time around, CHI were one point away from running the table, losing to Brown on double game point at the end of Saturday after making it through a Carleton, Pittsburgh, UMass gauntlet earlier that day. So can they do it this year and put down that 8-0 marker? You have to like their chances.
Not only does BYU return 2020 POTY Jordan Kerr but they bring on Porter Oyler, Luke Yorgason, and a handful of players with Club Nationals experience, but the slate is not nearly so tough this year. There is no four-top-10-teams-in-one-day onslaught for CHI to navigate, and no Carleton, Michigan, or Texas in attendance.
If BYU is going to trip up, you'd circle the Brown–Northeastern double header midday on Saturday as the most likely snare. #6 Brown has the best player at the tournament in John Randolph and would love to once again stop BYU from completing a clean sweep of the competition when they meet on the showcase field in the second round on Saturday. And if BYU do manage to fight off Brown, they will have to immediately face a tricky Northeastern team in the next round. #13 Northeastern may not have the depth of talent to consistently perform like a top five team but they have the top end skill in Ben Field and Gus Norrbom, as well as a general programmatic fearlessness, to give anyone problems.
Outside of their contests with BYU, Brown and Northeastern will be looking solidify their places atop the New England region. For Brown, this has become a familiar position, but Northeastern is a more recent arrival to the top rungs of the division. Some statement wins this weekend, building on a promising showing this past fall, could move the Huskies up the marquee for the rest of the season.
Anticipated Debuts
Two of the other top billed teams this weekend attract the eye precisely because we didn't get to see them in Norco. #8 Minnesota and #14 Massachusetts were barred from attending Nationals this fall due to travel restrictions, and that absence adds a dose of intrigue to what we get from them this weekend. Both programs appeared to have been on upward trajectories the last time we saw them at Warm Up, but very different teams will take the field here in 2022.
The Tannor Johnson era is over in Amherst, but the heir apparent is already here in Orion Cable. The buzziest rookie in the division has already earned plaudits in club and the AUDL, eviscerating downfield coverage with his length and athleticism. Running the show along with Cable are a cadre of players like Issac Kaplan, Noel Sierra, and Gabe Franklin who gained valuable Nationals experience with Amherst Sprout this past club season.
They typify a UMass team that may be a bit under-the-radar heading into 2022 due to the lack of spotlight over the past two years but with the potential to turn that around in a hurry.
Minnesota are more a mystery. Beyond 7th year returner and POTY candidate Cole Jurek we don't know exactly who is going to turn up for Grey Duck, as several of their vets are trying to thread the eligibility needle for this spring season. We won't truly have our first real idea of what Minnesota is going to look like until they cleat up in Florida this weekend. Exciting stuff!
No matter who Minnesota is able to retain, we can expect the team to be competitive as more and more exciting youth talent from the Twin Cities and surrounding areas works its way through the Gray Duck pipeline. AJ Larson is one young player in particular who could be a household name by the end of the season, a massive presence in the deep space that unlocks the offense's vertical attack.
Minnesota take on Brown in the first round on Friday, which should provide an early indicator of Gray Duck's bona fides.
Question Marks For Teams Hoping To Get Back On Top
Arguably the most successful program of the 2010s, #17 Pittsburgh En Sabah Nur are off to a bit of a haggard start in the 2020s. After a decade of making quarterfinals every year, they stumbled around in a daze at Norco and completely missed the bracket. After being at the top for so long, Pitt find themselves teetering on the brink of sinking into the lukewarm bath of blue blood contentment that belies a lack of recent on-field success, akin to Wisconsin's trajectory on the back end of the last decade.
Warm Up gives Pittsburgh the chance to immediately cauterize the wounds of Norco and put any jackals hoping to feast on their decline off the scent. They get shots at BYU, Minnesota, and UMass in pool play, and some statement wins over those teams would go a long way towards convincing any doubters that Pitt is still a force to be reckoned with.
What do we make of the Southeast teams? We sometimes see a Warm Up-bounce for teams from the home region, as they've had more outdoor practice time leading up the tournament and the wide open play tends to lend itself to their athlete-forward playstyles. But right now it's unclear that any of these programs are in the ascendency.
With Georgia — the clear top dog in the region — not in attendance and Tulane likely to fall off a bit after losing key players from their plucky Nationals performance, Warm Up could be a springboard for one of the other teams in the region to launch themselves up a tier. But who is it going to be? Florida State? LSU? Will UCF find the Warm Up magic that put them back in bid contention in 2019? What is Auburn's ceiling? Is Florida going to make themselves relevant again?
Florida have always packed a punch at Warm Up in their home state and have played out many classics against their rivals under the lights in Tampa. They have an intriguing matchup against Temple, who came agonizingly close to making Nationals last fall, that will be filmed and available for Ultiworld subscribers. If either team are going to leave a big mark on this weekend and propel themselves towards a successful season, you get the feeling that this could be a big game.
Off We Go
It's just the start of the season, but there is plenty to get excited about this weekend. Beyond BYU's quest for perfection and the teams scrapping to show they are legitimate challengers to UNC's throne, this weekend is a chance to see the new faces of familiar programs who are ready for their moment in the sun after being shaded by circumstance for so long. Florida Warm Up is back, going through its own rebirth this weekend, and there is much to appreciate about that fact.