The West invites guests for the midseason classic.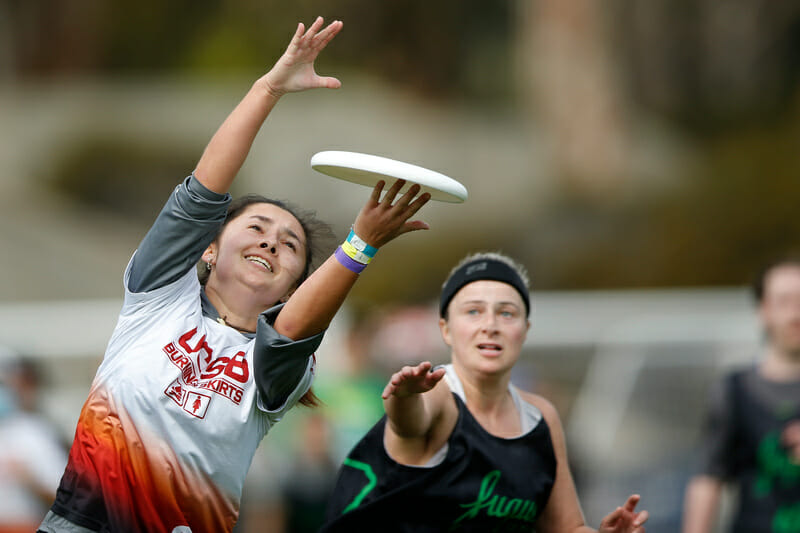 Our coverage of the 2022 college season is presented by Spin Ultimate. You can get 15% off all college uniforms and swag right now at Spin Ultimate!
As the college regular season nears its midpoint, the competitive landscape is starting to take place. USA Ultimate has shared its bid formula and teams are starting to plot which spots at Nationals might be open to them and refining their strategies for how they might get there. Considered the third leg of the 'Southwest Triple Crown' (after Santa Barbara Invite and Presidents' Day Invite), the Stanford Invite is usually a bit of a turning point as teams shift from early season development into midseason form. With teams flying in from five different regions, Stanford is sure to be as competitive as ever despite fewer Top 25 teams present than in years past due to the emergence and popularity of the Smoky Mountain Invite.
Tournament Profile
Date: March 5-6
Location: Stevinson, CA
Weather Forecast: Mid-High 50s, Partly Cloudy, 5-10 mph wind
Top 25 Women's Division Teams: #2 Washington, #3 UC Santa Barbara, #4 Carleton, #5 Tufts, #7 UC San Diego, #8 UC Davis, #9 Colorado, #12 Texas, #14 Oregon, #15 UCLA, #20 Western Washington, #23 California, #24 Stanford
Top 25 Men's Division Teams: #7 Washington, #14 California, #19 Tufts, #20 Oregon, #24 Tulane
Tournament Schedule
Filming Schedule
These games will be available online next week for Ultiworld Full and Plus subscribers. They are being filmed, not livestreamed. Additional games may also be recorded.
Women's Division
Tufts vs. Texas
Carleton vs. Oregon
Washington vs. BYU
UCSB vs Colorado W
Prequarter
Quarterfinal
Both Semifinals
Final
Men's Division
Florida vs. Western Washington
USC vs. UCSB
Tufts vs. Stanford
Cal vs. Tulane
Prequarter
Quarterfinal
Semifinal
Final
College Team Packs are on sale now! Get video access and subscriptions for your entire team and coaching staff (including all of our 2021 college fall footage) along with a guaranteed filmed game, download access for highlight/Callahan/Donovan reels, and more. 
Women's Storylines
Title Contenders Make Their Debuts
This weekend will be the first time this season that we'll get to see 2021 finalists #2 Washington Element and 2021 semifinalists #4 Carleton Syzygy take the field, and the 2021 semifinal opponents will each be hoping for a strong start to their 2022 season at Stanford Invite with their veteran-heavy rosters.
Element, led by wunderkind Abby Hecko, will look to reassert themselves as one of the best teams in the country over current Southwest leaders UCSB Burning Skirts, as well as Syzygy and East Coast visitors Tufts EWO. Hecko doesn't have to carry Washington alone, though, as many of the players that came up big for Element in Norco in December are back for an encore. Ikran Elmi, Amy Nguyen, and Alexa Yadama all return, alongside 2021 All-American Steph Phillips and rising star Sophia Palmer. Washington arrive in Stevinson as the top seed, and with their veteran experience and depth of talent, will aim to lay down a marker as the closest challengers to reigning champions UNC.
Carleton are reloading this season after the departure of an exceptional graduate cohort, including Karen Ehrhardt, Nariah Sims, and Maya Powell, but they still have plenty of high octane players. Emma Chin, Carly Campana, and Lauren Yamasaki-Liske all bring elite level leadership back for Syzygy, and 2021 Rookie of the Year Tori Gray leads a group of great rising young players. While they may not have the same dominant presence of years past, this Carleton team is still a threat and they'll have a chance to prove it this weekend.
Southwest Scramble
In the final leg of the "Southwest Triple Crown,"1 five teams from across the region make their way to the heart of the California Central Valley this weekend to try and knock off regional leaders #3 UC Santa Barbara Burning Skirts. #7 UC San Diego Dragon Coaltion have been the Burning Skirts' closest contenders so far this season, but fellow 2021 quarterfinalists #8 UC Davis Rogue are not far behind. UCLA BLU, California Pie Queens, and Stanford Superfly round out the Southwest contenders, all more than capable of pulling an upset out in Stevinson.
Although 2021 semifinalists UCSB no longer have the services of 2021 Callahan winner Jasmine Childress to rely on, there are still plenty of reasons to suspect the Burning Skirts will make another deep run in the bracket in May. Former YCC standout Vienna Lee steadily marshals the offense, while Elsa Winslow terrorizes opposing defenses and can lock down even the most potent of offensive threats. Add in 2021 ROTY runner-up Julia Hasbrook along with the experienced Yu Ishii and rising star Devin Quinn, and UCSB seems well-positioned to close out their dominance of the Southwest Triple Crown with another fictional title. That is, if Washington, Carleton, and the rest of the Southwest teams don't have something to say about it.
UCSD's runner-up showing at the Presidents' Day Invite puts them squarely at the top of the "best of the rest" so far in the Southwest. Powered by the incredible Abigail Shilts, who has shown at times already this season that she can take over a game on her own, and the gunslinging Ava Hanna, DCo has the firepower to hang with most teams they come up against. With a well-honed system drilled by a more-than-capable coaching staff, UCSD will come into the weekend hoping to continue their strong start to the season and put some distance between them and the rest of the Southwest field.
It's notable that at the Presidents' Day Invite Davis' semifinal finish felt underwhelming, which speaks to the talent and promise of this Rogue squad. Still helmed by 2021 Breakout Player of the Year Rani Shah, and with the star power of 2021 All-American Jules Madigan, Davis rightfully remains in the top ten of Ultiworld's power rankings despite the apparent disappointment in San Diego. Even though they won't be taking anyone by surprise any more, as they mostly did at the fall national championships, Rogue will still be looking for redemption and momentum heading into the second half of the season.
When it comes to #15 UCLA BLU in 2022, however, they seem a much harder case to pin down. a win over Davis in consolation play in San Diego is nice, but outside of that it's tough to find a fantastic result for this BLU squad so far this season. There's certainly plenty of potential for UCLA to grow into, but the pieces just haven't come together quite yet. Will this weekend be the weekend when BLU finds a way to string some consistent performances together? Perhaps, but in a tough Pool A with in-region rivals Cal and Northwest powerhouses Washington and BYU, it may still be an uphill climb.
Speaking of #23 California , they and San Francisco Bay Area rivals #24 Stanford round out the Southwest pack that will be out at the open fields of Stevinson in the coming two days. Both teams bring a history of program success into the 2022 season, and with exceptional coaching and emerging young players, both the Pie Queens and Superfly will see Stanford Invite as an opportunity to demonstrate that they belong firmly in the conversation for what may very well be four bids to 2022 Nationals out of the Southwest.
Out-of-State Unknowns Answered?
Outside of Washington and Carleton, there are a few more teams making the trip to California from outside the state to play their first (or first highly competitive) games of the season. Coming down from Washington state are #20 Western Washington Chaos, while #12 Texas Melee head west, along with Colorado Quandary, to rep the South Central in the Southwest.
Trying to get a line on Chaos coming into this season feels just like that: chaos. The fall college championships qualifiers have turned over roughly half their roster since December, and it's unclear what the blend will be between the highly experienced veteran core that helped take the team south to Norco and the up-and-coming newcomers that are coming out of the Seattle-area youth scene. They'll at least be plenty well coached, armed with slinging Ally Constantino, and will present an intriguing first round matchup with UCSB on Saturday morning.
Unlike Chaos, Melee were in action earlier this season at Big D in lil d a couple weeks ago, but went effectively untroubled as they faced no nationals-qualifying teams. That won't be the case this weekend as they face off against a strong field, which could bode well if Texas can play big to their reputation but will present a much larger hurdle than their season opener. For a team that did just make the fall Nationals, this will be a hopefully welcome test, and one that Melee certainly has the capacity to meet head on. Mindy Radike will be central, as she was last season, but without Caroline O'Connell, MC Robbins, Sanja Stojcic, and others will need to step up.
Men's Division
First Looks
Without requirements or rankings this season, and with the bevy of COVID restrictions many teams are facing from their schools, the regular season looks a bit different in 2022. Rather than being the centerpiece of the competitive west coast season that it typically is, Stanford Invite this year is some team's first chance for competitive games.
The #7 Washington Sundodgers were a popular semis pick at fall Nationals but fell to Michigan. With the updated USAU eligibility guidelines allowing for 7th year players, Manny Eckert, Sam Cook, and company are back for one more go around at cracking a Sunday night game at Nationals. Their season starts at Stanford and while there are quite a few familiar faces, Washington also brings on 6th year transfer students Stan Birdsong (formerly of Carleton CUT) and Justin Ting (from Cal Poly SLO). With an up-and-coming junior class behind them now with an additional season of club and semi-pro experience under their belts (Tony Venerri, Jack Brown, and Jasper Dean have all won various awards), Washington will be among the favorites at Stanford. How they fit all of their talent into one lineup will be an interesting subplot to watch out for.
Last time we saw the #19 Tufts E-Men on the field, they managed to bring Northeastern to the brink in a double game point thriller at Northeast Regionals. Four months later, it's a bit of a mystery what this team will look like, but challenging themselves by flying across the country and facing some tough out of region teams is a good place to start in a crowded New England region that already saw Brown, UMass, and Northeastern impress at Florida Warm Up. Caleb Seamon could be an All-American in their backfield, but they will need Benjamin Kass-Mullet, Oscar Graff, and others to play well in their larger roles.
Crossing over to D-I for the spring after a successful D-III campaign this spring, the Whitman Sweets come to Stanford ready to challenge themselves and see where they stack up with the likes of Oregon State and Utah as Northwest teams lurking to steal a bid to Nationals. With a high level offense headlined by lefty initiating cutter Corbin Atack, Whitman will be able to keep up with the teams in this field, but the big question is how many wins can they pull off?
After their fall Nationals run, there is a lot of positive momentum surrounding #24 Tulane Tucks. But momentum and hype doesn't win games. Kai Durvasula is back and will be called upon to help keep the offense in a flowy rhythm. After finally getting over the Nationals hump in 2021, Tulane's 2022 will be about continuing to improve and building the program into a perennial natties attendee. Flying out to California to take on some of the best teams in the country seems like a good place to start.
Time for Growth
For the teams who have already played this season, the Stanford Invite will be a chance to document growth and development as a team.
After a solid but unspectacular showing at Pres Day a few weeks ago, #20 Oregon Ego will take the field again looking to test itself against Nationals level teams like Cal, who they lost to at Pres Day, and their main regional rival, Washington. With a lot of new players and returners stepping into different roles, Ego needed some games at Pres Day to work out the kinks in their offense and figure out the best roles for everyone on their team. Showing improvement at Stanford just may be the boost Ego needs to get back to the high level this team played at before the pandemic.
It will be tough for #14 California Ursa Major to show major signs of improvement – but that's only because they've looked really good already this season. They've passed most major tests and are just missing a signature win on the season. They'll have their chances against some 2021 Nationals qualifiers here, and they're in a position to build on success at Stanford Invite ahead of a highly anticipated trip to Easterns at the end of the month.
UC Santa Barbara Black Tide quietly was just one point away from a semifinal appearance at PDI. While UCSB won't knock anyone's socks off and doesn't have any one particular superpower that stands out, Black Tide is also incredibly tough to beat. An athletic and well coached team, UCSB has shown that it can compete with the top teams around and might just hang in long enough to pull off a shocking upset. Rhys Gretsch has been a wildcard player on their d line. When he is locked in offensively, Black Tide can get breaks in bunches and really put a scare into opponents. If they're able to unlock a bit more dynamism in their offense this weekend, UCSB could develop into a scary team come regionals.
Stanford Bloodthirsty had a disappointing showing in their season opener at Pres Day. In their home tournament, they are hoping to improve their ability to keep pace with top level teams. The Stanford offense did not look the same once Kevin Tien went out with an injury and finding a few players who can step up will be key to Stanford's improvement. One bright spot: Simon Covington is a big addition to their D-line. Their pulls are among the best in the division and Covington can match up against multiple positions and apply pressure with smart positioning and top level athleticism. With him lurking around the Stanford defense, opposing offenses are forced to be careful with their throws.
Southern California Lockdown had a bit of a breakout tournament at Pres Day, coming up short in the quarterfinal round against an overpowering Cal Poly SLO team. Jake Shoyer, Dylan Baker, and Hari Sridhara lead a developing team that could become a dangerous spoiler come regionals. Using this weekend to further develop their depth (especially since an injury will sideline captain Chris Doehring for the foreseeable future) will be vital to their future success.
After an impressive performance at Florida Warm Up, #22 Florida is making the trek out to California for their second tournament of the season. With a win over Northeastern and two close losses to Pitt already on the docket, Florida has proven it can hang with tough teams. Michael Arbutine is a star in the making, and he'll need to play at his best to keep Florida competitive against some of the best teams in the west. At Warm Up, Florida struggled against zone defenses. If they've worked on their zone offense, it will be a big step forward towards getting Florida back to Nationals for the first time since 2014.
---
Santa Barbara Invite, Presidents' Day Invite, and Stanford Invite ↩