BYU proved to be in a class of their own while it was another good weekend for New England.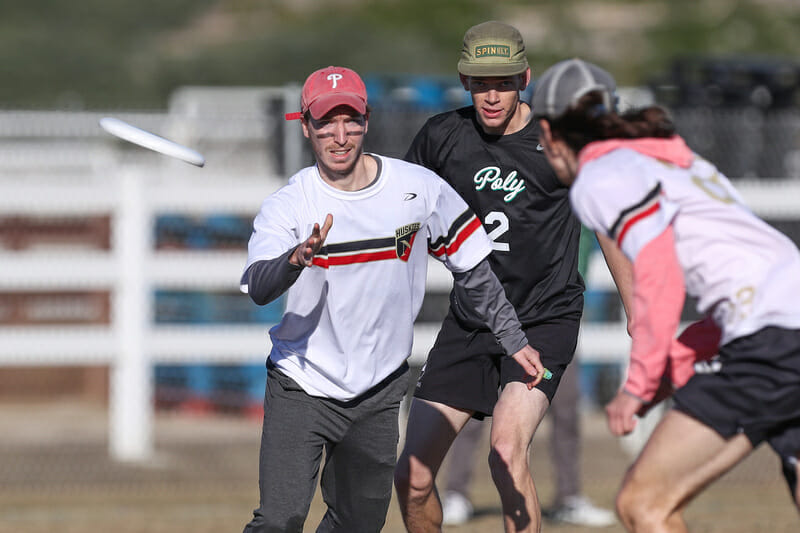 Our coverage of the 2022 college season is presented by Spin Ultimate. You can get 15% off all college uniforms and swag right now at Spin Ultimate!
#6 Brigham Young CHI blasted through a five game schedule on Friday and Saturday to add to their stellar season. On Sunday, a strong #17 Northeastern Huskies side capped an undefeated weekend of their own with a convincing tournament victory over #16 Michigan Magnum.
BYU Steamroll the Competition
BYU did everything possible at Missouri Loves Company to cement their status in the upper echelon of the national scene. Not only did they win out, but their average margin of victory across five games – a shade over 6.5 goals – suggests that nobody in the field would have been able to challenge them. (Notably, they did not play either Northeastern or Michigan, the eventual finalists.)
CHI jumped all over #22 Carleton CUT to start the weekend during a cold and wet Friday evening contest. While it took the BYU offense a few possessions to adjust to the sloppy conditions, they still pinned CUT beneath a four-goal deficit before allowing a score. Then they piled on another three points to take half in dominant fashion: 7-1.
While that half against Carleton does not mean so much on its own, it perfectly encapsulated the team's best qualities. CHI start many of their strongest players on the O-line: Jordan Kerr, Joe Merrill, Luke Yorgason, Jacob Miller, Brody Dobson, and Jensen Wells are as good a college core as you will find. Make no mistake, though, this is a defense-first team. It starts with deeps like Porter Oyler, Brandon Jordan, and Fischer Dastrup who punish anything that hangs for even a second. Jordan, Oyler, and Chad Yorgason thrive in transition after turnovers – efficiency for that unit remains on the low side, but they almost always get a look at the end zone, keeping the other team's O-line on their heels and tiring them out with hard cuts. Illinois and Minnesota fell into deficits they could not overcome on Saturday the same way as Carleton, unable to keep up in a battle of attrition. In a sloppy game, BYU showed an unmatched ability to keep pushing for more blocks until they could break through to the end zone.
Their final game of the weekend against #11 Vermont Chill was a different kind of test, however. Chill's D-line were sharp from get-go on both sides of the disc, and a couple of BYU mistakes put them down a break for the first time all tournament. BYU then barely held on their second point, as Vermont's defense confounded them near the end zone. Only a late-stall crossfield bailout cut from Jordan Kerr secured the hold. At that point, the gauntlet was down: BYU were going to have to work a lot harder to remain undefeated.
BYU put the game back on serve when an underthrown Chill huck set up a trademark throw-deep-immediately score, but otherwise the CHI defense, playing tight, could not seem to get a clean look at the disc. Kuochuan Ponzio, Carl Crawford, and Reed Browning continued to hound the CHI O-line throughout the first half. They gave up another break, and only managed to score on a pair of unbelievable plays. Jensen Wells, chasing down a speedy deep shot, bid a half-second too early, but managed a second-effort stretch from his belly to snag the disc. The next hold came on a long swing to Kerr late in the count when Vermont seemed to have BYU trapped in their own end zone. Kerr immediately launched a blade almost seventy yards and back across to the other side of the field that landed right in Merrill's breadbasket. These were fantastic moments, to be sure, but not the kinds of sustainable looks that BYU would need to weather Vermont's intensity.
That's when – with a run-through block by Jordan – the dam broke and washed out the resistance of Vermont's offense. It might have taken a little longer than in their other games, but the physical, no-easy-buckets CHI defense wore down the opposition yet again. BYU closed out the first half with consecutive breaks and never looked back, finishing the game on an 8-2 run.
Whether the offense would have truly bounced back was immaterial to the outcome of the game. That's exactly what BYU want: a game defined by their defense, who are on average bigger, stronger, faster, more physical, and more enduring than any other unit in the country. "We keep grinding until we get the job done," said Miller, one of the captains. He had trouble singling out teammates to praise. "The problem with this team is that there's too many guys to name a few. It's literally like 15, 20 deep at times."
They were unquestionably the best team at the tournament, and if they can beat #2 Colorado Mamabird in a scrimmage next month to cap off their season, they can make a legitimate case that they are the best in the country.
Northeastern Muscle Past the Field
Northeastern dominated the bracket proper, defeating Michigan 14-11 in the final. They finished the weekend a perfect 6-0, a record that includes four wins over the other semifinalists1 and – crucially, given their somewhat uneven play earlier this season – no trip-up losses against lower-level teams. Their results in Columbia leave no doubt that they will be one of the main forces in a tight New England region.
Anyone who arrived at MLC expecting to watch the Ben Field show would have come away disappointed. The longtime defensive standout made his share of athletic bids, and he took most of their quick-strike deep shots in transition, but it would not be accurate to say that the team relied on his considerable abilities to carry them through their matchups. Benjamin Centracchio was Field's equal – or better – until he left the final with an injury. Steven Tanguilig and Gabe Vordick stepped up to make plays beside them. Remarkably, the team has a goal to rely on Field even less than they did this weekend. "A lot of the ways we scored weren't that sustainable, and we could do a better job making our scores not need Ben Field," said coach Dan Hourigan.
But the Huskies won more on the strength of an indefatigable and multi-faceted offense than they did with their stable of defensive playmakers. The keystone piece was handler Gus Norrbom. While he showed a few cracks throwing into the wind, his focus and field vision kept Northeastern ahead of every zone thrown at them – to the chagrin of a Michigan team that had found success with zone sets until the final – and his quick cuts and pivots made red zone possessions close to automatic.
It probably helped take the pressure off of Norrbom that he has a flight of gifted cutters to work with. Simon Carapella's sense of timing for continuations led to several uncontested goals in the final. Ethan Pusch, Owen Cordes, and Alex Storrer each took turns in the limelight of the cutting lanes. The biggest revelation of the weekend, however, was cutter Peter Boerth. He has the cutting specialist's sense of never trying to do too much when he has the disc, he doesn't shy away from physical play or big moments, and he may have the best hops on the team – yes, that includes Centracchio and Field.
Northeastern's variety and depth were the factors that helped them to stay one goal ahead of feisty in-region rivals #11 Vermont Chill in their toughest Saturday game, hold off a major comeback attempt late in the game against #9 Minnesota Grey Duck in their semifinal, and cool off a suddenly hot Michigan team in the final. Outside of the encouraging all around performance, the tournament victory itself may be a good confidence booster for the team. "Big win," said Hourigan. "It's our first non-Conferences tournament win since I've started coaching [in 2018]." It might even be enough of a foundation to help them spring past a crowded New England field into Nationals.
Michigan & Vermont: Razor Margins
A single goal – James Hill skying two Vermont defenders to bring down an Eli Weaver huck on universe point – separated Michigan Magnum and Vermont Chill in the semifinal. In spite of the infinitesimal margin between the teams, however, Missouri Loves Company did more to emphasize the vast differences between their program histories, play styles, and 2022 postseason prospects.
After an up-and-down Queen City Tune-Up more than a month earlier, Michigan needed to rediscover the fire that propelled them to the national semifinal in December. They started to find it in a Saturday afternoon game against Carleton. Down two breaks at half, Magnum roared back and outscored CUT 7-2 the rest of the way to put the game away comfortably.
But it wasn't until late in a quarterfinal against Colorado State Hibida the next morning that Michigan really found their energy, grounded in a notable team-wide intensity on defense. With Colorado State hitting improbable shots and Magnum playing without captain and O-line mainstay Ashwin Pothukuchi, they risked an early exit from the bracket. All at once, everybody seemed to clamp down: Hill, Theo Shapinsky, Yipeng Wang, and Pavel Mazza frustrated Colorado State into mistakes and out of the game. "Anybody can be slotted in to make those plays. We trust each other, we grind in different spots, and whoever wants to shine and actually get the d's, we will make that happen through strong teamwork and communication," said Pothukuchi.
That energy carried over into the semifinal, where a fundamentally sound Vermont could not find any easy points of attack, even in transition. "That was when we brought the most intensity and focus," said Pothukuchi. On offense, meanwhile, Weaver started to find his throwing rhythm, usurping Aaron Bartlett's role from the previous day. Whether those two can continue to hit their spots in tough games – let it be said that Weaver continued to throw very well in the final – could be a question going forward. The ability of their receivers (Hill, Shapinsky, and a surprisingly effective Owen O'Neil) to find the weak points in deep space, however, seems sustainable. If the defense can match the pace they set this weekend, Michigan's perennial place at the top of the Great Lakes region is all but assured.
Newcomers to the national picture, Vermont proved they belong in the conversation with Brown, Massachusetts, and Northeastern as legitimate contenders in New England. Universe point losses to Northeastern and Michigan do not dampen that outlook in the slightest, aside from the caveat that it would be good for the team's culture – right now a mix of genuinely silly, chip-on-their-shoulder salt, and tentative self-belief – to prove that they can win on universe, too.
As far as team ability? Offensive fundamentals: check. Walden Ng and Johnny Sickles (who appeared to tweak his hamstring during Saturday's game against Northeastern and did not play for the remainder of the tournament) play the possession game as well as anyone in the country not named Norrbom or McDonnell. Offensive playmakers? Initiators Turner Allen and Eli Standard can hang with any matchup in the country. And the defense has too many stoppers to name: Kuochuan Ponzio, Reed Browning, Ryan Bliss, Declan Kervick, and Carl Crawford all play physical, intelligent defense. Chill put themselves in a position to contest passes more consistently than any other team I have watched this season.
As well as Standard played, darting crossfield from one cutting lane to the other and springing up to grab hanging break throws before the defense could converge on them, it's clear that Vermont needs Allen, their tallest player, to remain a credible threat throughout a game if they are going to win more games against good teams. He had a bit of an off-game against Michigan, which, combined with the absence of Sickles, may have been the difference. Of course, off-games and injuries happen to players on any team. Vermont's ability to weather those kinds of challenges at Easterns and in the postseason will likely determine how and when their spring ends. "We're still a very young team," said Browning. "So I think we're learning how to adapt to tough situations. But we're putting ourselves in a position to win every single one of these games, and I think that's all we need… It's going to start going our way very quickly."
For now, the early returns are great for Chill.
Grey Duck: Capability vs. Execution
Minnesota Grey Duck have a lot going for them. Whole line offensive cohesion and spacing continue to be strong suits. Paul Krenik and AJ Larson headline a list of explosive on-disc playmakers. The defense has a never-say-die mentality that has sparked a handful of ferocious second half comebacks over their last two tournaments. And they can trot out Cole Jurek, one of the finest all-around players in college today, any time they want.
But as things stand right now, Grey Duck have a fundamentals problem that threatens to override all of that. "At this point it's simple throws and catches for us," said captain John Helgeson. Simple execution errors plagued their entire weekend, not only in losses to BYU, Northeastern, and Vermont, but also in their wins. The 10-9 and 12-10 margins over Illinois and Colorado State, respectively, do not reflect the teams' disparities in potential, which are much greater.
When they threw and caught the disc consistently, as in the second halves of a successful come-from-behind win over Carleton in quarters and one that fell short against Northeastern, they outscored their opponents. The team will have to clean up their unforced errors, though, if they want to hit their performance peak (see: wins over powerhouses Brown and Massachusetts) with the kind of regularity that working their way through a Nationals bracket (or even pool) will require.
The good news for their postseason hopes is that Larson, Drew Barnard, and Brandon Macho can expect some D-line reinforcements as several members of that unit recover from injuries. That could help them lean even more into their comeback identity. "We're a second-half team," said Helgeson (who is among the expected returners later this spring). Even so, they'll only be able to dig themselves out of so many holes – it's on the Minnesota offense to raise the level of play.
Subscribe to read more about Missouri Loves Company, including five hot takes coming out of the weekend and the All-Tournament line.
---
they played Michigan on both Saturday and Sunday ↩
Bonus Content for Missouri Loves Company 2022: Tournament Recap is only available to Ultiworld Subscribers
Already have a subscription? Log in
Whether you visit Ultiworld for our reporting, our podcasts, or our video coverage, you can help us continue to provide high quality content with a subscription. By becoming a subscriber, not only do you receive benefits like bonus content and full article RSS feeds, you also help fund all of Ultiworld's coverage in general. We appreciate your support!