This elite field is the closest we'll get to a preview of Nationals.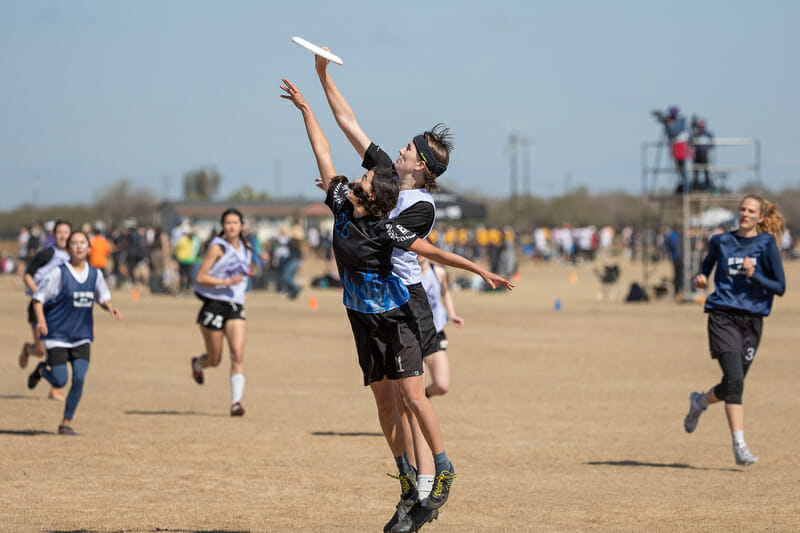 Our coverage of the 2022 college season is presented by Spin Ultimate. You can get 15% off all college uniforms and swag right now at Spin Ultimate!
With six of the top seven and 10 of the top 25 in Ultiworld's latest Power Rankings, the Northwest Challenge is set to be a fitting climax to the 2022 college regular season in the women's division. Teams are travelling from around country: Vermont from New England; North Carolina and Virginia from the Atlantic Coast; Carleton from the North Central; Colorado from the South Central; UC San Diego, Stanford, and UCLA representing the Southwest; and host club Washington, Western Washington, British Columbia, and Whitman defending the Northwest turf.
This year, the tournament has been scaled down to just 12 elite teams, and with the Men's Division being held a week later, the tournament will be played on the IMA turf fields on the scenic University of Washington Campus.1
Tournament Profile
Date: March 26-27
Location: Seattle, WA
Weather Forecast: Highs in the mid-to-high 50's, only an occasional sprinkle of rain, and light winds
Top 25 Women's Division Teams: #1 North Carolina, #2 Carleton, #4 UC San Diego, #5 Washington, #6 Vermont, #7 Colorado, #9 British Columbia, #12 Stanford, #20 Western Washington, #22 UCLA
Filming Schedule
These games will be available online next week for Ultiworld Full and Plus subscribers. They are being filmed, not livestreamed. Additional games may also be recorded.
Women's Division
Carleton vs UBC
UCSD vs Virginia
2A vs 3C Prequarter
8PM Showcase (Washington in prequarters or quarters)
3 Quarterfinals
Both Semifinals
Final
College Team Packs are on sale now! Get video access and subscriptions for your entire team and coaching staff (including all of our 2021 college fall footage) along with a guaranteed filmed game, download access for highlight/Callahan/Donovan reels, and more.
Pool Previews
Pool A
This looks like the NWC pool that seems most likely to go to seed. Defending national champions UNC Pleiades are undefeated on the year, even though they haven't been quite as dominant as expected. They have tons of top talent that carried over from their fall 2021 run, including 2021 DPOTY Dawn Culton, and All-Americans Ella Juengst and Alex Barnett. Ex-Carleton handler Maya Powell has solidified their backfield, while former Ohio State player Grace Conerly helps run their D-line O. However, we still haven't seen their most hyped additions — Anne Worth and Karen Ehrhardt — hit the field, and don't know when that could come if it ever does.
Colorado Quandary has shown flashes of great potential this season, but still seem less than the sum of their impressive parts. Perhaps, with the Olympics and Snowboard Cross World Cup season completed,  Stacy Gaskill's return to ultimate2 will elevate Quandary to the next level. They've earned quality wins at each of their previous stops, but missed opportunities have kept them out of big time bracket games. A deep and skilled roster means a variety of contributors, but it's unclear if someone is willing to step up in clutch time to lead the way.
UCLA BLU rounds out the pool. Athena Lynch and Cameron Jewett get a lot of touches, but the team runs deep and maybe this weekend is when it all comes together for BLU. Their resume is pretty red, with their 1-11 record against other ranked teams a particular eye sore, but UCLA still has plenty of experience to rely on and has played a very tough schedule. That doesn't project to slow down at NWC or in their challenging postseason.
Pool B
In contras to Pool A, Pool B features the two tournament wildcards. At the top of the pool sits Carleton Syzygy, who have been the most dominant team in the division this season and sit atop frisbee-rankings.com's simulated USAU standings. With a deep array of top talent including Carly Campana, Kate Lanier, and supplemented each year by the cream of youth talent such as reigning Rookie of the Year Tori Gray and Stanford Invite breakout Mia Beeman-Weber, Syzygy would be comfortable at the top of any of the other pools.
A seed line down, Stanford has demonstrated the ability to upset top-ranked teams, with wins over UCSD and Colorado, but Superfly have also suffered losses to weaker teams, including Oregon and unranked Cal. They won't be getting any assistance from the elements this weekend, so their suffocating zone will have to generate turns on its own. If they've managed to refine their offense, then they are a threat to even a powerhouse like Carleton.
UBC is a mystery — probably an underseeded one — having not been south of the border since the 2020 Stanford Invite, where they were clearly still a team in development. Remarkably, they probably exceed Carleton in number of players previously picked to represent their country (and not just Canada, with 2-time U20 US National Team selection Anna Dreher). This year, the big hype from north of the border is for Mika Kurahashi, who was a force for the Canadian U24 Mixed team in 2019 at 16 years old before being picked for the 2020 U20 team. But Ada Chang, Andrea Moir, Miu Shiraiwa, and Sandra Balitaan were on TC U20 teams and Denise Su played TC U24. Elite club experience? Check. Emma Best, Madison Ong (picked for Ultiworld's unofficial rookie line), Oliana Chan, Stephenie Siu, Helena Tremblay all attend club Nationals with Traffic. With all that talent and their freshmen likely to be well-represented on the 2022 TC U20 team, UBC could realistically win the tournament, or be still working out the kinks and get knocked out of the bracket early.
Pool C
UC San Diego has powered through the early season running through their top end by featuring a big play offense and leg-saving zone defense, and they land atop perhaps the weakest pool at the tournament. Ava Hanna and Abbi Shilts are the big stars, with Lauren Hanna and Charlotte Sue getting most of the rest of the touches. They earned a lot of close, but valuable wins at Stanford Invite, including knocking off Washington their semifinal, and gave Carleton a stiff test in the final. Another win over a real contender would be a big proof of concept.
Virginia's no.6 seed is based on reputation, as their 2022 results have been decidedly mixed. However, there is reason to rely on that reputation, as the Hydra program consistently builds their system during the course of the season to overachieve in the series (see 2016 or 2021). It appears their turnover from fall really forced them to redevelop, with Kira Flores, Jane Frankel, and Abby Herrod getting opportunities to shine, although they've always been a club that gets it done by committee.
Western Washington is clearly rebuilding after losing more of their 2021 Nationals squad than any other school, and they were overmatched at times at the Stanford Invite. However, with the dynamic Ally Constantino back in the lineup after she missed Stanford Invite and a few more weeks of development for their many rookies, expect WWU Chaos to be a much more dangerous team this weekend.
Pool D
The obvious highlight is the 4-5 matchup between Washington Element and Vermont Ruckus. The two teams sit adjacent on Ultiworld's Power Rankings.
Washington missed having core handlers Steph Phillips and Ikky Elmi running the show in Stevinson, but both should be back in action this weekend alongside Amy Nguyen. Downfield, 2021 POTY Abby Hecko leads the way, joined in swag with Nicki Chan, as well as the lower key Sophia Palmer, Alexa Yadama, and Kate Crawford. The Element team has been running 28 deep this season, and expect to see more of the same this weekend.
Northern New England is emerging as a potential top youth pipeline, with recently-earned HS varsity status for the sport in Vermont. Not quite rivaling Seattle yet, but Sarah VonDoepp is a hometown product, and New Hampshire's Kennedy McCarthy is the prime target downfield or cutting under to huck deep. Hopefully, we will also see the college debut of Maine's Emily Pozzy. Vermont is a tall team that likes to look deep early and often, with Allie Huresky, Marina Godley-Fisher, and Lylah Bannister expected in "big" roles.
Rounding out Pool D is Whitman. The Sweets were competitive, but came up empty at the Stanford Invite. They'll hope to continue to develop their depth around the core of Kaia Roast and Mira Anderberg, and maybe get an entry in the win column this weekend.
---
Attendees should take the time to detour onto the main campus, as the cherry blossoms on the quad are near their peak: https://www.washington.edu/video/campus-webcams/ ↩

Gaskill finished as the top American, 7th overall: https://www.fis-ski.com/DB/general/cup-standings.html?sectorcode=SB&seasoncode=2022&cupcode=WC&disciplinecode=SBX&gendercode=W&nationcode=. ↩