A first-time nationals attendee with a realistic chance to top their pool could be one of the feel-good stories of the tournament.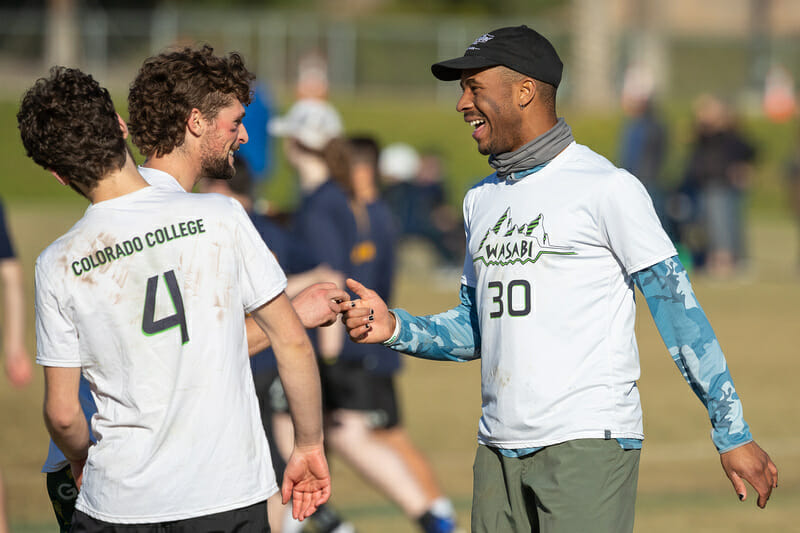 Our coverage of the 2022 College Series is presented by Spin Ultimate. Please support the brands that make Ultiworld possible and shop at Spin Ultimate!
Returning to its normal late-May slot in the calendar for the first time since 2019, the D-III College Championships are finally upon us. The irregularity of a spring season where there were no rankings to influence the bid allocation has produced a men's field where nearly half the qualifiers are either debutantes or haven't qualified for Nationals in over a decade. Still, 16 teams arrive at the campaign's final weekend ready to resume the regular business of crowning a national champion.
We've got you covered for all the exciting action this weekend, but before the first pull goes up tomorrow, let's get to know the teams who will be competing in Milwaukee. Then follow along at ultiworld.com/live for updates and livestreams throughout the weekend!
Pool A | Pool B | Pool C | Pool D
Seeding: D1; overall no. 4
Power Ranking: #4
Path to Nationals: Def. Missouri S&T 15-14 in South Central final
Past Nationals Appearances: 2011*,1 2016, 2017, 2021
Location: Colorado Springs, CO
Perhaps no team feels as if their 2021 Nationals finished prematurely more than Colorado College, where they lost a 15-14 prequarters thriller against Berry. However, Wasabi has bounced back with a vengeance this spring, winning the South Central and securing themselves the top seed in Pool D.
Wasabi's season resume is a combination of taking care of business against D-III teams and testing themselves against D-I competition. After Dust Bowl was canceled, CC was able to throw together a home tournament for some local Colorado teams, which they used to get reps for their full roster while still winning the tournament. Where we really saw their quality was at Midwest Throwdown the following weekend. Wasabi went 5-2 and finished second, only losing two games to Purdue and picking up a win over D-I Nationals qualifier Washington University.
A big and athletic team, Wasabi have really strong depth. Guys like Parker Rehmus, Simon Broan, and Graham Whiting would play big minutes on any team in the division. But the gamebreaker for CC is Lincoln Grench. A second-team All-American in the fall, Grinch is a tall handler who plays on both sides of the disc. He covers an incredible amount of ground on defense and is capable of being both extraordinary and relentlessly consistent.
Perhaps the biggest advantage that Wasabi brings into this weekend compared to the rest of their pool is that they are battle-tested. The South Central is the best region in the division this year, and even though it only took three games to do so, winning Regionals is no small feat. CC's championship game against Missouri S&T (available in our video archive) has the look and feel of a Nationals game, and Wasabi's pool play win over Sul Ross State is nothing to sneeze at either. Having close wins against Nationals competition is invaluable experience that nobody else in Pool D can claim.
Colorado College do, unfortunately, face a couple of big losses this weekend. Oliver Kraft broke his face right before Regionals, and 2021 Donovan finalist Josh Felton is out this weekend due to illness. Grench is going to have to shoulder a large burden, and Wasabi's role players will have to step up into bigger roles. But this is a resilient, battle-tested, and motivated team that should still put forth an effort this weekend reflective of their seeding.
Seeding: D2; overall no. 5
Power Ranking: #7
Path to Nationals: Def. Richmond 15-3 in Atlantic Coast final
Past Nationals Appearances: none
Location: Annapolis, MD
While we do our best to not play favorites here at Ultiworld, it's hard to not be happy for Navy Poseidon. After earning a Nationals spot in the fall, Poseidon were unable to accept the bid to California. However, Navy have bounced back even stronger in the spring; after earning the second bid from the Atlantic Coast in the fall, Poseidon won the region this spring, and in dominant fashion no less.
Navy started their season with an impressive 5-2 showing at FCS D-III Tune Up, with their only losses coming to two teams in the field this weekend (Berry and Oberlin) and picking up their first win of the season over Richmond. A 3-3 record at Atlantic Coast Open was better than it looked, with the three losses coming in close games against solid D-I competition. However, Poseidon really hit their stride in the Series, winning Conferences before absolutely demolishing the field at Atlantic Coast Regionals.
Navy went 4-0 at regionals with a point differential of +39, punctuating the weekend with a 15-3 win over Richmond in the final. "We've always had beating Richmond as a team goal, and being able to do that in a game-to-go was one of the best moments we've had as a team," said Navy captain Anthony Armad.
Poseidon are led on offense by Andrew Beck and Armad, with Max Benedetti holding down the defense. The team has highlighted Michael Pyle as their best defender and someone to watch out for this weekend. However, the team gives most of the credit for their success to their coach, Lieutenant Commander David Stira. "He came to the team back in 2015 and the team has been on an uphill climb ever since," said Armad. "He helped us learn how to play ultimate from the ground up. None of this would be possible without him."
A sneaky advantage that Poseidon has entering this weekend is that they qualified for Nationals just two weeks ago. While many teams have been waiting a month or longer for this event, Navy are still in the flow of their season. They were white-hot at regionals; can they carry that momentum with them to Milwaukee this weekend?
Seeding: D3; overall no. 9
Power Ranking: #10
Path to Nationals: Def. Brandeis 13-9 in New England semifinal, lost to Middlebury in the final
Past Nationals Appearances: 1995*, 1996*, 2003*, 2007*, 2009*2
Location: Williamstown, MA
A team that is known for knocking on the door to Nationals but coming up just short of a bid, Williams WUFO has broken through and secured a spot at Nationals for the first time in thirteen years. New England is perennially one of the deepest regions in the country; any team qualifying from it, including this WUFO team, is a threat to make a run at Nationals.
WUFO is one of the few teams in the division that played in three full regular-season tournaments. They started their season with a 4-3 showing at No Sleep Til Brooklyn, only losing in tight games to NYU and Columbia, before a much tougher 2-5 showing at Oak Creek Invite. However, Williams saved their best for last, going undefeated at Layout Pigout against D-III competition, and since that tournament, their only losses have come against #2 Middlebury at regionals.
Williams is a fun, lighthearted program that credits their success to their ability to stay loose and enjoy the moment. WUFO is a young team in 2022: sophomore Danny Klein and junior Harry Wilcox are their key handlers, and freshman Charlie Tantum is their primary cutter. That said, Williams' leadership is emphatic that any success they have this weekend will be attributed to their depth.
WUFO will be seen throughout the weekend dancing and staying loose on the sideline, but don't their silliness fool you. Williams earned their bid to Nationals with a comeback win over Brandeis; WUFO was down 8-6 at half and closed the game by winning the second half 7-1. Their nine postseason wins have come by an average margin of eight points. Should either one of the top two seeds in the pool overlook WUFO, they are in for a rude awakening.
Seeding: D4, no. 16 overall
Power Ranking: unranked
Path to Nationals: Lost to Ithaca 15-4 in Metro East final; def. SUNY Cortland 15-5 in game-to-go
Past Nationals Appearances: 2011, 2016
Location: New London, CT
Rounding out Pool D as the bottom seed for the whole tournament is the second qualifier out of the Metro East, Connecticut College Dasein. While the no.16 seed is always facing an uphill battle, this weekend in particular is going to be a growth opportunity for Dasein.
One of the annual obstacles presented by having D-III Nationals the weekend before Memorial Day Weekend is the inevitable conflict with graduations, and this year, Connecticut College is facing this conflict. The team will be without all of their seniors due to graduation, which has created an opportunity for younger players to get valuable reps against the best competition the division has to offer.
While this weekend is an opportunity for further growth, Dasein credit the maturation of their playing style with getting them to Nationals. "We used to be a team that would take quite a few shots and aim for explosive plays," said junior Kevin Scannell, "but we've made a conscious effort to value the disc in the past month and have been rewarded with a Nationals bid."
While the seniors will certainly be missed, perhaps the team's best player will still be in attendance: freshman Prosser Friedman. Friedman embodies the dichotomy of the team's two playing styles this year. He has the athleticism and big throws for the explosive plays, but his continued development this season has played a direct role in the team's evolution into a more possession-based offense.
Without their seniors, it will be a true surprise to see Dasein make it past pool play this weekend. However, the experience and reps that their underclassmen receive this weekend could set the program up for sustained success and more Nationals bids in the future.
---
Colorado College qualified for the 2011 D-I College Championships. ↩