Two of the top-performing teams from Norco will have to deal with a pair of unknowns who have little recent national exposure to scout.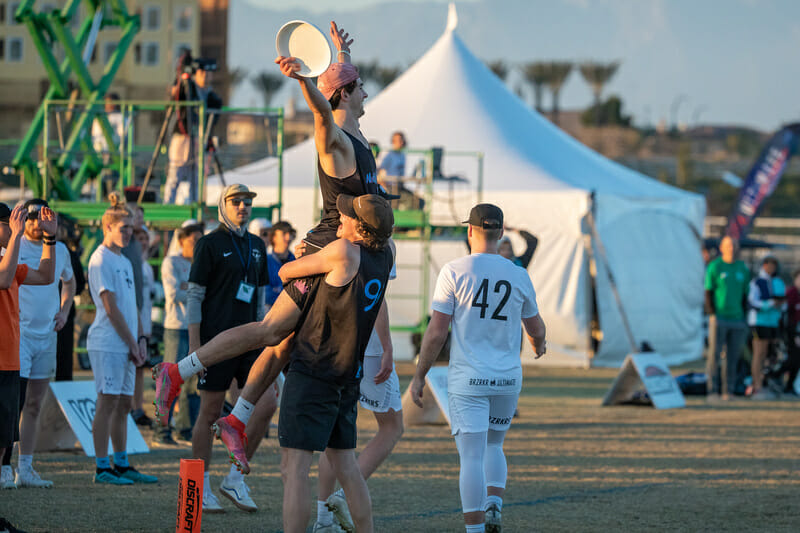 Our coverage of the 2022 College Series is presented by Spin Ultimate. Please support the brands that make Ultiworld possible and shop at Spin Ultimate!
Returning to its normal late-May slot in the calendar for the first time since 2019, the D-III College Championships are finally upon us. The irregularity of a spring season where there were no rankings to influence the bid allocation has produced a men's field where nearly half the qualifiers are either debutantes or haven't qualified for Nationals in over a decade. Still, 16 teams arrive at the campaign's final weekend ready to resume the regular business of crowning a national champion.
We've got you covered for all the exciting action this weekend, but before the first pull goes up tomorrow, let's get to know the teams who will be competing in Milwaukee. Then follow along at ultiworld.com/live for updates and livestreams throughout the weekend!
Pool A | Pool B | Pool C | Pool D
Seeding: B1; overall no. 2
Power Ranking: #2
Path to Nationals: Def. Williams 15-7 in New England final
Past Nationals Appearances: 2010*,1 2013, 2015, 2018, 2019, 2021
Location: Middlebury, VT
The team with a notorious reputation for nonsense and generally being "out there" is once again a contender for the national title. Their single loss this season was a 13-12 universe point loss to St. Olaf in March at Rodeo. While there were no official regular-season results used to determine seeding for these nationals, the head-to-head loss places the Pranksters correctly at the no.2 seed for this weekend.
What is left to say about the Pranksters? A small college in Vermont continues to churn out elite-level talent at both the D-III and club levels. 2021 D-III Men's Defensive Player of the Year and All-American First Team selection Leo Sovell-Fernandez, returns for his final year with the Pranksters. As in years past, he will continue to be the lockdown defender on D-line and the go-get-it guy on O-line. Middlebury also returns the—get ready, there's a few of them—2021 D-III men's Offensive Player, First Team All American, and 2nd runner-up Men's Player of the Year Walter Frankenberg to anchor the offense. Max Hanscom rounds out the current Middlebury "Big Three" that will certainly make a case for even more individual awards this weekend in Milwaukee.
The strongest part of Middlebury's game has always been their depth. This has allowed the Pranksters to stay competitive year after year, even when losing their top talent at the end of the season. They have an ability to develop already strong talent into elite-level players, a rarity for D-III programs both due to problems with recruitment and the general level of turnover in the division. But somehow Middlebury continues to cultivate their Prankster culture and have success on the national stage.
Middlebury's path to bracket should not be too difficult for a roster with this much talent. If they hold seed, they will earn a bye to the quarterfinal round and save their legs on Sunday. While it's never possible to rule out an upset at nationals, a healthy Middlebury bests the field in pool play—their near-blowout scores at every tournament this year speak for themselves. With their first two games against the no.13 and no.11 seeds, Middlebury won't have to burn through their top-end talent early Saturday. This bodes well for them, and poor for Claremont, in their last game of the day.
Middlebury can win a national title in 2022. They had minimal turnover from Norco at fall nationals, which is much less than can be said for defending champions Oklahoma Christian. If the Pranksters catch their stride early, there might not be another team in the field this weekend that can stop them from earning their second national title in three years.
Seeding: B2; overall no. 7
Power Ranking: #8
Path to Nationals: Won Southwest three-team round robin
Past Nationals Appearances: 2011, 2012, 2013, 2014, 2015, 2016, 2019, 2021
Location: Claremont, CA

The Claremont Braineaters are the second-seeded team in Pool B after making it to nationals with the sole bid from the Southwest region. Their regional tournament was light; a one day, three-team round robin format where the best record got the bid. Regardless of the format, their decisive wins over Occidental and Caltech were enough to send the Braineaters to Milwaukee.
The third consecutive nationals qualification is evidence that Claremont has been on the upslope in recent years. They took down 2021 D-I Nationals qualifiers UC San Diego at Southwest Showdown this spring, which gave a big ego boost to the younger team. "We were able to use our entire roster that game and I think it proved to the team…that we're a really good team who can compete against the best teams in the country," coach Alex Rubin said.
A key addition to the Claremont coaching staff this season is Callahan Award winner and 2x World Games selection Dylan Freechild. "He brought a lot of great ideas that brought a lot of improvisational skill to our practices, and he was instrumental in our player development and improvement this spring," Rubin said. While Freechild will be unable to attend this weekend due to World Games commitments, it'll be clear to see the impact of an elite-level player has on a growing college program.
Claremont has a tough draw against Middlebury in Pool B. If they are to pull off an upset, their key players will have to be at their best. Some players to watch this weekend are Lukas Karapin-Springorum, a dynamic offensive handler who stepped up for the injured Tristan Johnson. Ty Rocker and Andrew Baxter will be important assets on defense, along with Jack Weber, of whom coach Rubin had to say: "there is nothing Jack cannot do on the ultimate field and somehow he never gets tired." A rookie to watch is Rory Beals, who earned some minutes in Norco last year but is ready to step up to a bigger role this time out.
For Claremont, this spring felt like a return to the seasons pre-COVID. "This felt like a fairly normal season in that we got to play in regular-season events, which we did not get in the fall," said Rubin. The quality reps gained from those tournaments will be invaluable to the team's success this weekend. However, since their region was so small, Claremont has not played a competitive game since April 9. As they round out approximately a month and a half since their last competitive game, it will be interesting to see how Claremont handles the best teams in the division.
As the second seed in the pool, Claremont can hold seed and make pre-quarters. To upset Middlebury will be a very large ask of the Braineaters. But if the Southwest Showdown win over UCSD is any indication of what Claremont can do, they may be able to catch Middlebury late in the day and win the pool.
Seeding: B3; overall no. 11
Power Ranking: #17
Path to Nationals: Def. Whitworth 15-7 in the Northwest game-to-go2
Past Nationals Appearances: none
Location: Tacoma, WA
The Reign Men had earned their first-ever trip to nationals by winning the second bid in the Northwest region. As the no.5 seed at that event, they had a definitive 15-7 win over favored Whitworth in the game-to-go, after notching notable wins against Portland and Puget Sound.
Pacific Lutheran's success is the product of many factors: a positive team climate, a very deep roster, and buy-in from the players. The Reign Men made a big push towards inclusiveness this season which helped create a positive team culture. When everyone started to buy into the program, the positive attitudes lead to higher attendance at practices, which lead to more growth from players throughout the season.
With regards to some key players, the Reign Men pride themselves on being a bit of a faceless army. Instead of one or three players making all the impact on the field, the full roster is hitting their stride at the right time. This is good news, since there is obviously no better place to peak than at the last tournament of the season.
As is with many of the smaller programs in D-III, the Reign Men love to emphasize their positive culture and inclusive environment. This extends across divisions as well, where the school's women's team has also invested time and effort into building a proud team culture. It also extends through generations of players, as a long tradition of leaders on Reign Men have instilled in the current team a desire to "get 1% better each day." So far as we can see, their work has paid off.
Pacific Lutheran is excited to showcase their talent on the national stage. This Series, they have gone largely untested except for their one loss at regionals. Because of this, it is uncertain how the Reign Men will perform against the other teams in Pool B. And while they have a history of upsetting higher-seeded teams, the caliber of team they're facing at nationals will be much higher than that at Northwest regionals. Their toughest competition on Saturday will obviously be Middlebury, the highest caliber of team they'll face at this tournament. The game to be concerned about for Reign Men is the bracket-securing game for third place. Grinnell are hungry off a regionals upset victory, so if the Reign Men fail to keep their focus they could see an early exit from championship contention on Saturday.
Seeding: B4; overall no. 14
Power Ranking: #23
Path to Nationals: Lost to St. Olaf 15-4 in North Central final; def. Michigan Tech 13-12 in game-to-go
Past Nationals Appearances: 2011
Location: Grinnell, IA
The Grinnellephants are the dark-horse team emerging from the North Central region. After #16 Carleton CHOP had to withdraw from regionals due to COVID-19, the second bid for the North Central, which was CHOP's to lose, was anyone's to win. Grinnell beat Michigan Tech in a 13-12, universe point win to punch their ticket to Milwaukee. And while their win was opportunistic, their appearance at nationals was far from lucky.
Entering this season, the Grinnellephants wanted to create a team culture everyone could get behind. This included a commitment to individual growth throughout the course of the season, especially by bringing in new players to the program with limited ultimate experience. Some of these freshmen have been integral to Grinnell's success. Will Norry is the center handler on their O-line and has strong and reliable deep throws. Jack Connelly is another rookie on the O-line but will be the first to cross over to defense because of his ability to get blocks.
Grinnell also has some upperclassmen that should be on the radar for this weekend. Jacob Cowan is Grinnell's star player, coach, and initiating cutter. He was a U20 National Team Invitee in 2019 and plays for Blueprint out of New York City. Captain and Donovan nominee Jo Saito is a quick cutter for the Grinnellephants who specializes in attacking the deep space. Lastly, Ishai Melamede is another force for the team on offense, racking up goals and assists as a finisher on the goal line.
Grinnell comes into this weekend with something to prove to the field. "We know that opposing teams might see our regionals results and think that we only got to nationals because CHOP got COVID," the Grinnellephants leadership said. "But, we were up 5-3 against them at conferences and were very ready to play them again at regionals, and I think we're good enough to compete with teams of that caliber."
The Grinnellephants above all else pride themselves on being a spirited and friendly team, regardless of the situation. They are also an open team and have two non-male bodied players on the roster. One of these players is captain Zoe Mahler, who has been a dedicated part of the program over their past four years. Another player is Alex Hecht, an O-line handler who has brought, "an intensity and level of frisbee knowledge to our team that has inspired others to work hard outside of practice." At times these players have gone underestimated by opposing teams, which the Grinnellephants warn is not a smart decision.
Grinnell will need to play their best to make it out of pool play on Saturday. Middlebury is a team favored to win a national title, and Claremont is slated to make a run through the bracket as well. Their best shot to keeping their season afloat lies in their last game against Pacific Lutheran. Looking at their record from the season, Grinnell could pull off an upset and make it through to bracket. They have tight wins against D-I programs including Nebraska and Kansas, as well as some tight losses to Chicago and Iowa State. They can play teams close, and in most situations this season have come out victorious. So, if the score reporter starts to show a tight game with Grinnell, keep an eye on them to pull off another upset and keep their season going.
---
Middlebury qualified for the 2010 D-I College Championships. ↩

Lost to Whitman in the Northwest final, though Whitman chose to pursue a path to D-I Regionals. ↩