The title defense begins in a pool that could be defined by gritty zone defenses.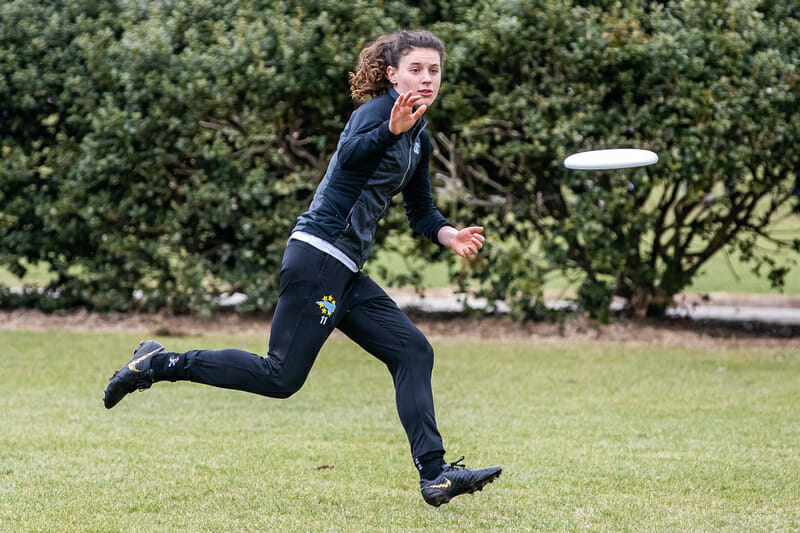 Our coverage of the 2022 College Series is presented by Spin Ultimate. Please support the brands that make Ultiworld possible and shop at Spin Ultimate!
The 2022 D-I College Championships return to Milwaukee, though they are partially back to a traditional Nationals. While the Fall championships felt wholly unique, this turn has some oddities — namely, the lack of a rankings-based regular season — but in many other ways is business as usual. Once teams hit the field, expect a lot of what you've come to know and love about Nationals: drama, surprises, and the memorable moments that make legends. From John Stubbs to Dena Elimelech, the legacy of college stars is built around what happens over these four days.
We will be there to bring you all of the action, with cameras pointed at more games than ever and a reporting team that will take you inside the huddle. In these previews, we'll offer a snapshot of each team and the competition they'll face when play begins on Friday, May 26. Watch ultiworld.com/live then for updates in all four college divisions!
Pool A  |  Pool B  |  Pool C  |  Pool D
Seeding: A1, no.1 overall
Power Ranking: #1
Path to Nationals: Def. Virginia 15-6 in Atlantic Coast final
Roster & Schedule
Well, they're back. As the top seed heading into College Nationals, UNC is hoping to join a prestigious list of teams that have won back-to-back titles. They'd line up alongside only four other teams in the history of the college women's division, seeing the same success as Stanford, UC Santa Barbara, UC Sanat Cruz, and Dartmouth. They're the odds on favorite to do it, too, as the team has not dropped a game all spring, boasting a 30-0 record on the season so far.
That's not to say that the Pleiades haven't played close games, but they have always been able to pull through when the game mattered most, largely thanks to the individual talents that make up the larger roster. Very few teams have as many household names as UNC, boasting the likes of Alex Barnett, Grace Conerly, Sydney Rehder, Ella Juengst, and Dawn Culton. What level of play can they expect from 2019 D-I Player of the Year and 2020 Callahan winner Anne Worth in her return from injury? Those players are barely scratching the surface of how deep this team goes, though.
The only teams that have made North Carolina seem fallible are those with elite offenses of their own who could stay in the game by not giving UNC's defensive line a chance to punch in breaks. UNC's offense is too clean to give their opponents many break chances and their offensive stars are just as good on the defensive end. If Chapel Hill is to lose a game, it'll only be by a point or two. They have too much talent to implode.
At this point, North Carolina is all but guaranteed a spot in quarters, and probably the final, if we're being realistic. Stanford's zone might give them trouble, depending on conditions, and Georgia could put up a strong fight like they did in Norco in the fall, but even so, it'd be inconceivable for us not to be talking about UNC in bracket play.
Seeding: A2, no.8 overall
Power Ranking: #10
Path to Nationals: Lost to UC San Diego 13-11 in Southwest semis; def. UC San Diego 13-6 in the second-place final
Roster & Schedule
It's been a long road for Stanford to get to this point, but they've made it back to Nationals, adding to their impressive total for second-most championships attended by any college women's program. At the start of the year, this was not a given. Superfly had a lot to work through after a rocky start at Presidents' Day. Losses to both Cal and Oregon made it seem like the team was well outside of the hunt for Milwaukee.
Stanford proved the doubters wrong. If it's ever not been apparent, good coaching at the collegiate level might be the most impactful factor in getting a team to the postseason. Superfly's coaches have brought a team made largely of rookies1 all the way to Nationals, and turned them into one of the 10 best teams in the US, to boot. If a draft of college players was happening right now, Stanford's coaches should arguably be a top pick.
It's a testament to this development from their coaches that it's not clear who Stanford's best player is. They have a number of standouts, including Anna Fisher Lopez, McKinley McQuaide, Amelia Farinas, Xinzhi Zou, and Hannah Huddleston, but parsing out the best of them is all but impossible. They all shoulder a load in their separate ways, making plays for a team that otherwise is content to let their opponents be the ones to make the mistakes. In many ways, this team uses the imperfections of their opponents against them, exploiting every opportunity they can get to punch in a break.
Their path to the bracket won't be easy, though. Along with a near-perfect UNC team, Stanford has to face off against a high-powered Georgia offense, a similarly zone-driven defense in Florida State, and a Northeastern team that is the strongest bottom seed in any pool. There's a lot to like about Stanford, it's just unfortunate that they are in one of the strongest pools of the tournament.
So the question remains: is Stanford going to be good enough to fend off the rest of the competition, despite all the rookies they field most lines? There's not a lot of certainty, but then again, Stanford has overcome the odds all season long.
Seeding: A3, no.12 overall
Power Ranking: #13
Path to Nationals: Def. Florida State 13-6 in Southeast final
Roster & Schedule
Athena has been one of the unkept secrets of the women's division so far this season. While the team hasn't yet had a defining win to put them on the map, everyone knows to be wary of the team. Georgia is a team that can get hot at a moment's notice, generating momentum that snowballs into a victory. That sort of reputation is part of the classic spoiler-team archetype, the one that shakes up the pool with results no one expects.
Of course, it helps that Athena have potentially the best player in college ultimate right now. There's no consensus POTY as of yet — as evidenced by our Top 25 player rankings — but do-it-all handler Marie Perivier is on the cusp of claiming that award. A good Nationals performance will be all that Perivier needs to raise her stock high enough. The work she's done for Georgia cannot be understated, as they're a completely different team without her. She adds an aggressive offensive element that Georgia lacks when she's off the field. Ask any of your favorite defenders in the college division, they'll all give credit to how difficult it is to stop Perivier.
She's not alone, though. Georgia has seen good production this season from players like Martha Wilber, Fiona Cashin, Molly Schneider, and Emma Jones. Together, these standouts have all kept Georgia in the running all spring and may have what it takes to get them to the bracket. Beyond that, they've been developing the depth of their roster all season long. "Nearly half our roster started playing with us in January," noted the Georgia captains. "Their growth has been so fun to watch. Hopefully [Nationals] is where they find their roles on the field and feel that growth come to fruition."
It won't be easy for this team, though. Alongside Stanford and UNC, Georgia will have to face FSU for the second time after beating them in the Regional final for the Southeast, and it's always tougher to beat a team on the second go-around. Their game against FSU could have monumental repercussions, as there aren't any easy games in the pool, and Georgia has been known to come out flat in their next game after a tough loss. That isn't their focus, though. Georgia wants another shot at UNC. "We haven't played UNC since early on in the spring season," said the captains, "so we're looking forward to that challenge first and foremost."
Still, the team's ceiling is just as high as many others seeded above them. While not a lock, it would be foolish to bet against Georgia making the bracket, and they could easily slot into a quarters berth. Regardless, they'll be a fun team to follow all tournament long thanks to their fast-paced style of play.

Seeding: A4, no.13 overall
Power Ranking: #14
Path to Nationals: Lost to Georgia 13-6 in Southeast final, beat Georgia Tech 13-5 in the second-place final
Roster & Schedule
Think of FSU as the Little Engine That Could. Despite barely making Nationals last season, fielding a smaller roster than any other team to qualify this season, and having to earn a bid for their region despite very few opportunities to test their strength against other elite programs during the regular season, FSU is at the big dance. This comes mostly from their persistence, optimism, and hard work, both on and off the field. What's even worse for their competition is that now FSU has what they lacked in 2021: elite college experience. Thanks to their run last fall, FSU's core has had the reps they need to take it to the next level. They've already defied the odds and they have plenty more left to prove.
The concern for FSU is that they're in a pool with plenty of battle-hardened teams that have just as much experience on the big stage. UNC isn't going to be flustered by a zone or some of FSU's less-than-conventional tactics, Stanford is in a similar spot to UNC, and Georgia's already faced off against their in-region rival. In most instances, the inability to scout FSU thanks to having very few filmed games this year would be to their benefit, just not in this pool.
This means that the SLadies will not be able to rely on the element of surprise, and instead will double down on perspiration. We're talking about a team that knows how to hustle. FSU has played 32 games so far this season, more than every other Nationals attendee aside from UC San Diego. Cami Lamont, Lindsi Allman, Natalie Wilson, Cam Curvey, and all of the team's other stars have embraced their roles in a system that requires them to overload on touches when on offense and hunt for blocks on defense. On top of that, they're banking on their unpredictability working in their favor.
"Our team is just weird on and off the field and that's what sets us apart," noted Allman. "Many of the plays that led to our Centex win were plays and zones we ran for the first time just in the game. We're like 'Ted Lasso' mixed with 'Kicking and Screaming.' How can another team know what to expect if we don't even know ourselves?"
While FSU does adopt a goofier demeanor off the field, they're all business when they're playing. You don't get to where they are now without a deeper understanding of the game than they let on. Still, it's going to be an uphill battle for FSU to make the bracket. The pool is too deep and the days are too long for FSU to withstand the barrage of defensive pressure they'll see from each and every opponent. They have a path to make the bracket, but even then, getting to quarters would require something a little shy of a miracle. However, FSU already surprised many with their near-perfect season so far, they may have just a little bit more magic left to overcome the challenges they'll face.
Seeding: A5, no.17 overall
Power Ranking: #21
Path to Nationals: Def. Brown 5-4 in New England third-place game
Roster & Schedule
It's been a fairly quiet year for the Valkyries so far, but that all could change with their return to the big stage. Competing in only one regular-season tournament and a very windy regionals means that we haven't had a chance to see what this team looks like when firing on all cylinders. They'll have their work cut out for them at Nationals, too. This is a deep pool with many teams that aren't afraid to grind out long points and whittle away at the mental fortitude of their opponents. For the Valkyries to have a chance, they'll need to be peaking at just the right time.
Despite how tough their pool may be, Northeastern is the most likely fifth seed to make the bracket. Pool A could provide plenty of chaos thanks to the similar skill levels of the teams within it, and we all know that chaos is a ladder. The Valkyries have the institutional experience, top-end coaching, and handler core to keep them tight in winnable games. Clara Stewart and Duschia Bodet remain as solid as ever in the backfield, although they'll be facing off against some of the best handlers in the division in UNC and Georgia.
Zone offense will be crucial for this team. Stanford and FSU are both known to throw zone, and FSU has already beaten the Valkyries this season thanks to their defensive sets. We're likely to see some wet weather this weekend, too, which will mean their zone offense will have to be even more crisp with the disc.
There's a chance Northeastern makes a Cinderella run and goes all the way to the bracket, even potentially as far as quarters. That scenario is dependent on miscues and poor play from their opponents, though. For them to make it out of pool play, they'll have to capitalize on the mistakes made by their competition. It's not the best shot, but it's the most realistic path forward for them.
---
Granted, most are postgraduates or red-shirted upper-level students. ↩