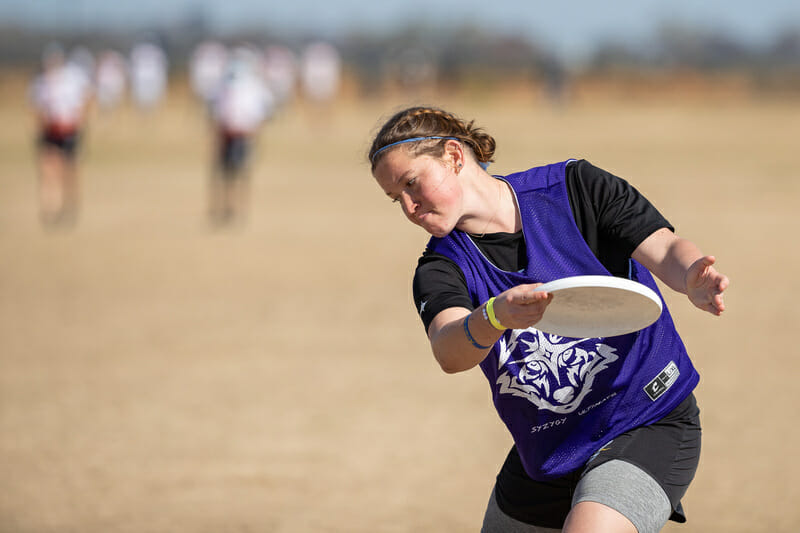 Our coverage of the 2022 College Series is presented by Spin Ultimate. Please support the brands that make Ultiworld possible and shop at Spin Ultimate!
The 2022 D-I College Championships return to Milwaukee, though they are partially back to a traditional Nationals. While the Fall championships felt wholly unique, this turn has some oddities — namely, the lack of a rankings-based regular season — but in many other ways is business as usual. Once teams hit the field, expect a lot of what you've come to know and love about Nationals: drama, surprises, and the memorable moments that make legends. From John Stubbs to Dena Elimelech, the legacy of college stars is built around what happens over these four days.
We will be there to bring you all of the action, with cameras pointed at more games than ever and a reporting team that will take you inside the huddle. In these previews, we'll offer a snapshot of each team and the competition they'll face when play begins on Friday, May 26. Watch ultiworld.com/live then for updates in all four college divisions!
Pool A  |  Pool B  |  Pool C  |  Pool D
Seeding: C1, no.3 overall
Power Ranking: #2
Path to Nationals: Def. Iowa 13-1 in the North Central final
Roster & Schedule
Carleton College Syzygy is a longtime returner to D-I women's Nationals, this year being their fourth consecutive year, with seven of the last eight North Central titles. In 2021, Syzygy made it to the semifinals before being ousted on universe point by Washington, despite coming in as the no.1 seed. But their storied program is again connected to high expectations, the top seed of a pool and a talented roster.
Carleton's strengths were only emphasized at North Central Regionals, where they won nearly uncontested, conceding just six goals on the way to recapturing the regional crown. While the competition wasn't quite at the level they'll see at Uihlein, it was a nice palette cleanser after dropping their final two games of the regular season at Northwest Challenge. With a Stanford Invite title also in the bag, it is clear this Syzygy team has the chops to take down any contender.
The roster for Syzygy has adjusted with time, as experienced seniors graduated. However, this leaves space for rookies, including Tori Gray, who was the 2021 Rookie of the Year, and was a runner-up for Defensive Player of the Year. Eva Fischer was invited to the U20 National Women's team tryouts, and Mia Beeman-Weber, who has been an instant-impact handler for Syzygy, is on the roster for that team. Meanwhile, veterans like Kate Lanier, Lauren Yamasaki-Liske, and Emma Chin bring plenty of experience, along with All-American Carly Campana.
Seeding: C2, no.6 overall
Power Ranking: #6
Path to Nationals: Lost to Washington 12-9 in the Northwest final
Roster & Schedule
It isn't uncommon for UBC to show up to the season as late arrivals and jump into the rankings. The Canadians have often made their entrance near the end of the regular season, and did so this year, going 5-2 at the Northwest Challenge. All four of their losses this season have come against 2021 semifinalists, though they did split with Carleton. The sample may be limited for the Thunderbirds, but it is hard to argue that a team that can topple the likes of Carleton and Stanford with few game reps has to be considered a threat to win a pool. It doesn't hurt that it is Carleton they will have to go through once more.
Another trend that has been consistent for British Columbia: a deep and skilled roster with plenty of Canadian national teamers. Denise Su, Andrea Moir, and Madison Ong all had significant roles on Vancouver Traffic, with Su's handler prowess offering a centerpiece for the offense to build around. Anna Goddu and Mika Kurashashi lend downfield expertise of their own. But UBC will win and lose together more than they will around any of their individual names, so it may matter more how their leadership, like vocal D-line presence Emily Chong, hold up than how their stars perform.
Despite their skill, UBC has had some trouble against zone defenses, a problem that could rear its ugly head if the conditions are windy. Perhaps it stems from a lack of reps together, but it is an issue they may have to squash quickly to be successful. The team also wasn't able to play in the Series last fall nor did they qualify in 2019, ending a string of quarterfinals-or-better showings that dated back to 2013. They'll have to come together in the unique environment of the college championships that will be novel to so many of them.
Seeding: C3, no.10 overall
Power Ranking: #7
Path to Nationals: Lost to USCB 13-6 in the Southwest final
Roster & Schedule
For three straight seasons, UC San Diego had trended upwards at Nationals: first missing the bracket, then make quarterfinals, then winning a title. There was no more rungs on the ladder to climb, so it was only natural to have to come back down, with their 2021 campaign concluding in quarterfinals. Maybe they were just giving themselves room to rise once?
Their fantastic title team was built on a beautiful blend of system and stars, and some of that seems to have been borne out in the 2022 edition. Markings of the mechanics put in place by Alisha Stoun and Carlos Mosca are still evident, particularly in the spacing and timing of their reset actions. But their more possession-based offense of yore has been replaced by one with a bit more combustibility, keyed by the duo of Ava Hanna and Abbi Shilts. Hanna's deep throwing is the class of the division, a harmonious hucker capable of lofting shots right into the throwing windows of her targets. It helps to have a target with a window as spanning as Shilts', the type of athletic playmaker that can thrive with a thrower of Hanna's caliber. Maggie Pierce, Lauren Hanna, and Jessica Wan, along with others, are the connective pieces and hardworking defenders that flank their attack.
The D-Co offense gets improved by their defense. They're still a team with disciplined zone defense, as they were in 2019, with their defenders displaying a nose for the disc that generates blocks. Ava is a terrifying deep presence in a deceptive form, while Shilts becomes just one of a number of capable defenders with active and able hands. Once in transition, UCSD's speedy, break-and-huck focused game can overrun on-their-heels defenders. This is not a train you want to see get off the tracks.
Don't let the double-digit seed fool you; this is still a team intent on a deep run. With wins over UC Santa Barbara, Washington, Colorado, Tufts, and Stanford, UCSD has proven they can outplay the most formidable competition. They also have yet to lose to a team seeded below them, even with some injury hampered games that have kept them from fielding their most competitive lines.
Seeding: C4, no.15 overall
Power Ranking: #20
Path to Nationals: Lost to UNC 15-6 in the Atlantic Coast final
Roster & Schedule
Virginia delighted in silencing the doubters at the 2021 College Championships. Some people at some unnamed ultimate media outlets might have called them "overseeded" at no.9, outmatched in Pool D. After kicking off day two with a confident 15-9 upset over Colorado and taking Washington to the brink, there were no calls to discredit Hydra, merely admiration for their teamwide energy and discipline.
Hydra's a proud program, the rulers of the Atlantic Coast for some time, prior to UNC's resurgence that has pushed UVA out of the limelight. Like their predecessors, they don't just benefit from great coaching; they enhance it with thoughtful play and healthy, impactful team culture. Through that lens, it is easy to see the pockmarks on Virginia's resume — a Conferences loss to Liberty, an inauspicious 3-3 Queen City Tune-Up showing, a 1-4 record at Northwest Challenge — as the type of opportunities for growth that great coaches use to impact valuable lessons. It shouldn't come as a surprise if this team looks wholly improved at Nationals.
Of course, you need good players to win at this level, while their 2021 team had some that won't be here to help. Blaise Sevier was a revelation and Khin Kyaw had a breakout weekend. Replacing Sevier's playmaking is a monstrous ask, but Abby Herrod is the most likely player to recover some chunk of those production. Meanwhile, Kira Flores, Maya Nir, and Jane Frankel all reprise their handling roles, and provide the type of continuity that this club has historically used to great effect.
Seeding: B5, no. 18 overall
Power Ranking: Unranked
Path to Nationals: Def. Texas 13-12 in the South Central second-place final
Roster & Schedule
One of the most surprising qualifiers for the 2022 D-I College Championships, Colorado State is making their first appearance at the Big Show after upending Texas in the South Central backdoor game-to-go. Given that they had lost to Texas by the same margin they beat them by — a single goal — in pool play Regionals, it is hard to call it a fluke. CSU fought their way into Nationals the old fashioned way.
The Hell's Belles are a young and tight knit group, boasting just five seniors and getting key contributions from some of their rosters most youthful members. Kiera Schreiber and Char Bokhof have each jumped in and made athletic impacts for Colorado State. They join senior speedster Elyse Bartucci, one of the South Central's most productive downfield pieces, to spark big plays. Hannah Renstrom steers to the ship from the backfield, providing ample opportunities to the team's athletes.
As such a young team, at their first Nationals, there is likely some happy to be there, some nothing to lose, and all opportunity. A muddled regular season can be forgiven for a team this green, but now at the big show, they have a chance to change the course of their program. In a region that's been dominated by the duo of Colorado and Texas, the pop-ups from Colorado College, Kansas, and others have been sporadic. CSU could establish a foothold behind their long-term talent and chance to compete and learn from the best.